Black Forest Mousse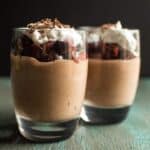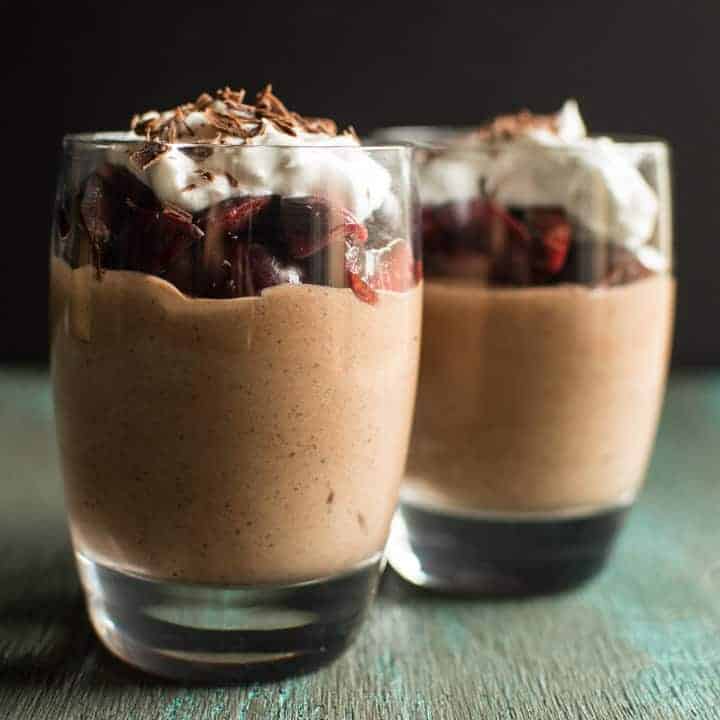 Five ingredients is all it takes to make this luscious black forest mousse. It's like a deconstructed version of the classic cake! Serves 6.
Scale
Ingredients
1

13.5-oz (400ml) can of full-fat coconut milk, chilled overnight

4 oz

. (

115g

) bar of bittersweet, chopped (use dairy free chocolate if vegan)

1 tsp

vanilla (I used vanilla bean paste but extract works fine)
handful of cherries, pitted and chopped
coconut whipped cream for topping (optional)
Open the can of coconut milk and pour only the white creamy portion of the milk into a mixing bowl. A spoon is super helpful for this. Save the clear liquid for a smoothie later.
Using a mixer, whip the coconut milk at medium speed for 2 to 3 minutes. You should see bubbles form and the coconut milk will start to thicken. Crank up the speed to high and whip the coconut milk until it looks like whipped cream. It should be a bit runny. Set aside.
Place the chopped chocolate into a bowl, and melt it in the microwave. Set the microwave to 30 seconds and check the chocolate. It probably hasn't melted too much yet. Keep microwaving at 20-second intervals until you see that most of the chocolate has melted. Use a spoon and stir the remaining chocolate chunks into the melted chocolate.
Pour melted chocolate into the whipped coconut milk and mix until well combined.
If you want to serve the mouse in glasses, you'll want to pipe some batter into the glass before refrigerating. It's easier this way. You can also stick the entire bowl into the refrigerator. Chill for 30 minutes.
Serve mousse with some chopped cherries and a dollop of coconut whipped cream on top. Refrigerate any leftovers in an airtight container for a few days.
Notes
1. Loosely adapted from Minimalist Baker's 3-Ingredient Dark Chocolate Peppermint Mousse.[br][br]2. This recipe probably won't work with low-fat coconut milk because it isn't thick enough.[br][br]3. If you don't have a bar of baking chocolate around, just use a cup of chocolate chips!