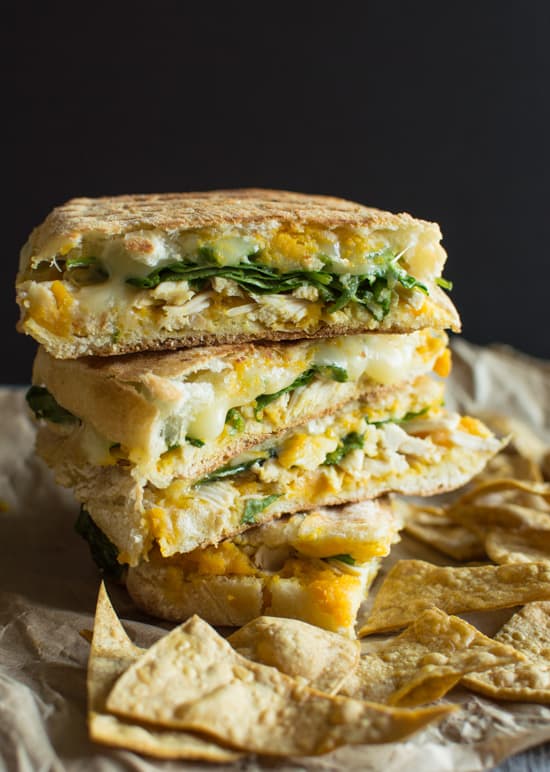 Disclosure: I received a Cuisinart Deluxe Griddler for review. I was not compensated for my time, and the opinions expressed are my own. Thanks for supporting the brands that keep me inspired in my humble kitchen!
My first grilled cheese sandwich had two slices of margarine-soaked bread with a tiny bit of melted mystery orange cheese in the center. That's public school lunches for you. Grilled cheese sandwiches made a weekly appearance on the lunch menu, and I was none too pleased. The idea of melty cheese in warm bread may sound pleasant, but not when the bread is slathered with generous coatings of margarine. Don't slap on that buttery spread to mask the awful taste of plasticky American cheese! School lunches ruined it for me.
When I first heard about a panini, I approached it with caution. Is this just another public school grilled cheese with a few extra bits inside? I'm so glad I was wrong. The panini is a classier grilled cheese sandwich: toasty bread (without all the margarine), melted cheese (not the mystery orange cheese), vegetables, and meat all in one bite. The griddle marks on the sandwich is just the icing on a cake.
Colder weather = more paninis.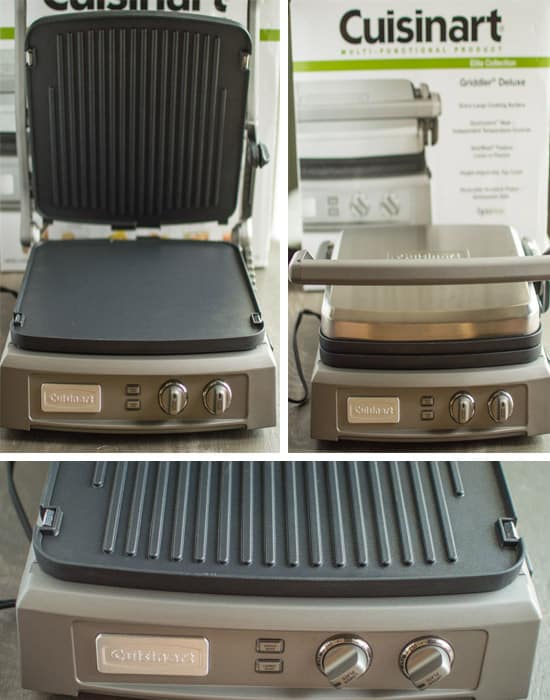 The lovely people at Cuisinart sent me this Griddler Deluxe for me to try (*affiliate link). Panini time!!!
One of the biggest problems I have when I'm making paninis on the stove top is that I have a hard time flipping them over. Do you have that same problem, too? I like to stuff my paninis with a lot of vegetables (of course), which always fall out of my sandwiches when I try to flip and grill the other side. The Griddler makes cooking paninis a lot easier because I could just cook both sides of the sandwich at the same time. Oh, and did I mention temperature control?? In the front, you'll see two buttons labeled "upper sear" and "lower sear," and it is set to sear your food to 500 degrees F for up to two minutes. There are also two knobs that allow you to control the temperature of both plates. When making the panini, I like the upper plate to be hotter than the lower plate because it helps melt the cheese much faster.
Aside from paninis, I also grilled chicken, fish, and made some of the BEST pancakes on this mini grill. Let me just say that the Griddler, hands down, has been my favorite tool for making pancakes!I don't know about you, but I'm not a fan of pancakes that look as brown as black coffee. I have burned so many batches of pancakes while cooking on my electric stovetop because I never know the temperature of the pan. On the Griddler, I set the lower plate (flat side up) to 375 degrees F, and magic—fluffy pancakes cooked to perfection. Remember these pancakes? Cooked on the Griddler!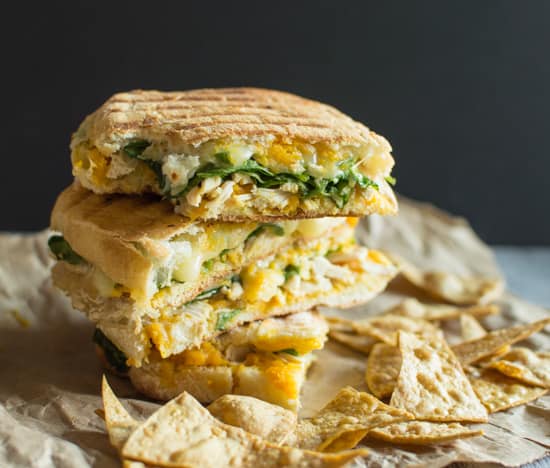 Ready to learn how to make this? Here's some of the ingredient's you'll need: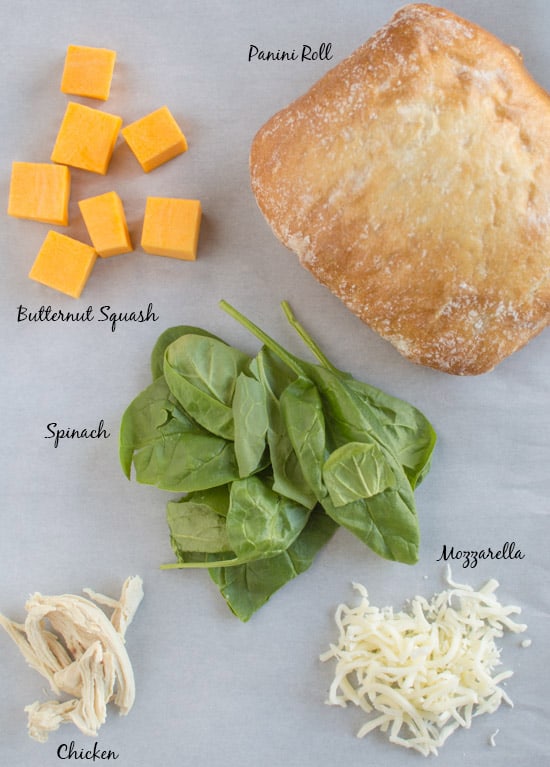 First, you're going to make the butternut squash spread. There'll be so much of this delicious spread leftover that you'll want to use it to dip your chips, carrots, crackers . . . ANYTHING.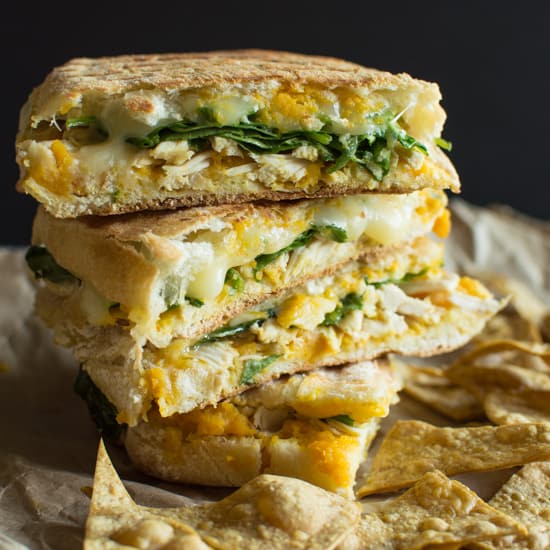 Then, you're going to assemble this sandwich and press it like nobody's business. While we're at it, why not make some delicious homemade tortilla chips on the side, too? Friends, this is seriously one of the best paninis I've ever made. Just LOOK AT IT! Perfectly crispy bread, generous amounts of melted cheese, and a punch of flavor from the butternut squash dip. Guess what I'm making for lunch later today . . .
Chicken Panini with Butternut Squash
Ingredients
Butternut Squash Spread
one medium butternut squash

,

about 30oz/850g

2

TBS

olive oil

2

cloves

garlic

2

tsp

sugar

1/2

tsp

salt

1/4

tsp

curry

1/4

tsp

cumin
Chicken Panini
1

panini roll

,

or any type of bread, sliced in half

3

TBS

butternut squash spread

1/3 to 1/2

cup

cooked shredded chicken

,

enough to cover one side of the sandwich

1/4

cup

baby spinach

,

about a pinch

1/4

cup

shredded mozzarella

,

enough for a thin layer of cheese
Instructions
Preheat oven to 375 degrees F (190 degrees C). Line a large baking sheet with parchment paper.

Take the butternut squash, and chop off the stem. Using a vegetable peeler, remove the skin of the squash. You'll see the green veins of the squash, but that's okay. Chop the squash into 2 large pieces by making a horizontal cut where the neck starts to meet the bottom bulb. Split the bulb in half, remove the seeds, and chop into 1-inch pieces. Chop the neck into 1-inch pieces also.

Toss the cubed squash with the olive oil and a pinch of salt, and spread it onto the prepared baking sheet in a single layer. Bake for about 25 minutes or until the squash can be easily pierced with a fork.

Once the squash is cooked, let it cool for about 10 minutes, then blend it with the rest of the butternut squash spread ingredients in a food processor.

To make the panini on the Griddler, set it to 400 degrees F for the lower plate, and 425 degrees F on the upper plate. Once plates have been heated (and the green light is on), spray both grill plates with cooking spray. Spread some of the butternut squash dip on each side of the panini roll. Place one half of the roll on the grill, then layer on the chicken, spinach, and cheese, and top with the other half of the roll. Press the top grill plate down, and cook for about 6 to 7 minutes, or until the cheese is adequately melted.

To make the panini on a regular grill pan, heat the pan over medium-high heat. Spray the pan with cooking spray, and assemble the sandwich on top. Press the sandwich down with a heavy pot, and let it cook for about 3 to 4 minutes. Flip the sandwich over, press the pot down, and cook for another 3 to 4 minutes.

Enjoy!
Notes
If you want to make the tortilla chips, chop a tortilla into small triangles and spread them on top of a lined baking sheet. Spray the chips with natural cooking spray and sprinkle some salt over them. Bake at 400 degrees F (205 degrees C) for about 6 to 7 minutes.
Did you make this recipe?
Tag @hellolisalin or leave a star rating and comment on the blog!
What's your favorite panini combination?