A hearty vegan bulgur bowl filled with juicy butternut squash pieces, wilted spinach, and toasted coconut. This bright, versatile dish is great for lunch, dinner, or gatherings!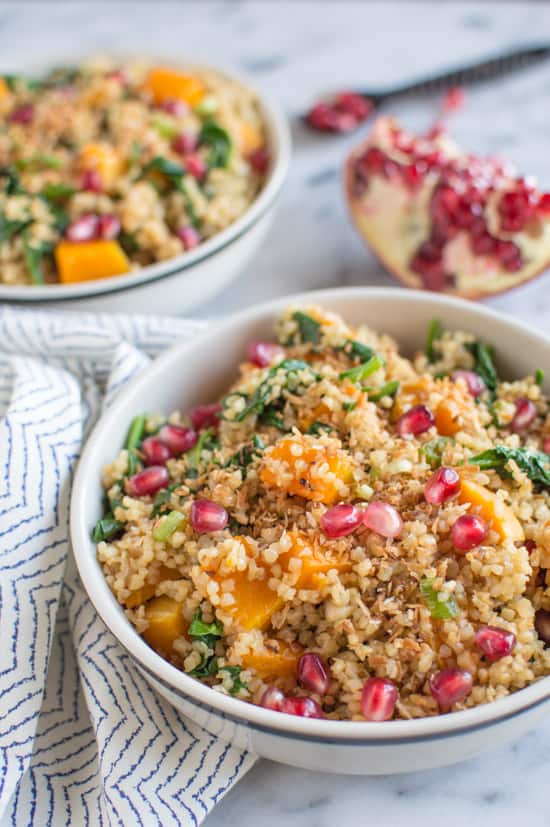 Is it possible for me to go 2+ weeks without cooking? The answer is one big fat N-O! I learned during this trip that I long to rinse vegetables, hear onions sizzling in some hot oil, make a house smell like sugar and cinnamon, and spray sauce all over my shirts while cooking. Santa forgot that I wanted an apron for Christmas, so I'll probably be covering my shirts with all sorts of spotted colors for another year.
Just watch, come Christmas time next year, I'll have a Jackson Pollack-esque masterpiece all over my clothing. As I always say, you're not cooking unless you're making a mess.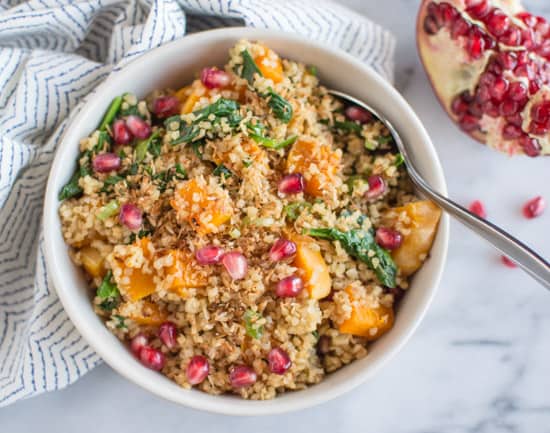 I volunteered to cook a meal for my family one evening during my trip. Now, before you say "That's so sweet of you," deep down, I think I offered just so I could learn more about grocery shopping and cooking in the UK. Questions such as, what kind of produce do they sell in big supermarkets; how the heck do I bake with fan-assisted ovens; how will I bake this recipe sans measuring cups; and what do you mean there's no such thing as applesauce, were promptly answered. I can't say that I was able to master cooking on the other side of the pond, but I did manage to bake this scrumptious cranberry orange pull apart bread from Broma Bakery. Everyone LOVED it. They also loved this bulgur and butternut squash bowl.
My friends accuse me of being a hippie because of my bulgur cooking, kale massaging ways and my allegiances to coconut oil and coconut sugar. That and the fact that I'm from California. I did have a minor I'm-such-a-California-girl breakdown when I couldn't find a stalk of lacinato kale at the UK supermarkets I shopped at (Tesco and Sainsbury's). Is this what has become of me—complaining that I can't make homemade kale chips while I'm on vacation? Someone, please help me.
With the kale chips option down, I went for the next best thing, baby spinach. Instead of making chips out of them, I quickly wilted them with my sauté pan so that they mixed better with the rest of the dish.
You'll note that this recipe calls for sesame oil—STICK TO IT. Sesame oil one of my favorite ingredients to use when cooking Asian recipes because just a tiny bit adds a deluge of nutty flavor into any dish. Trust me on this. So go out and get yourself a tiny bottle of sesame oil. (I'll also forgive you if you decide to cook this without it.)
KITCHEN TIP: HOW TO PEEL & CUT BUTTERNUT SQUASH
Print
Coconut Bulgur and Butternut Squash Bowl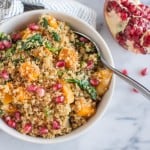 Author:

Lisa Lin

Prep Time:

20 minutes

Cook Time:

35 minutes

Total Time:

55 minutes

Category:

vegan, dinner, lunch
Ingredients
1 cup bulgur wheat
1 1/2 cups water
1 small butternut squash (about 1 and 1/2 pounds)
2 TBS olive oil, divided
pinch of salt
1/3 cup shredded unsweetened coconut
6 oz. baby spinach
3 TBS low-sodium soy sauce
2 tsp sesame oil
1 stalk of green onion, finely chopped
1/4 cup pomegranate tendrils
Instructions
Pour the water and bulgur in a small saucepan, and bring it to boil. Reduce the heat to medium low, and let the bulgur simmer until the liquids are nearly evaporated, about 10-13 minutes. Turn off the heat and cover the saucepan with a lid. The bulgur should continue fluffing up.
Preheat the oven to 375 degrees F. Line a baking sheet with parchment paper.
Peel and seed the butternut squash, and then chop the squash into 1/2-inch cubes. Toss the cubed squash with a tablespoon of olive oil and a pinch of salt. Spread the squash onto the baking sheet in a single layer. Bake the squash for 22 to 25 minutes, or until it can be easily pierced with a fork.
While the squash is cooking, toast the coconut in a pan. Heat the pan over medium heat, and spread the coconut in there. When the coconut starts to turn yellow, start stirring. Keep stirring until about 50% of the coconut is brown. Remove the pan from heat.
Heat another pan with a tablespoon of olive oil over medium-high heat. When the pan is hot, pour in the spinach and start stirring. You just want the spinach to soften, so wilting the spinach should take no more than a minute. Remove from heat.
In a large bowl, pour the bulgur and mix it with soy sauce and sesame oil. Mix in the butternut squash, spinach, green onion, coconut, and pomegranate tendrils.
Serve immediately, and refrigerate any leftovers in an airtight container.