The Easiest Egg Fried Rice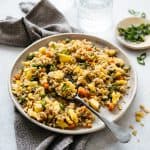 I like chunks of egg in my fried rice, which is why I scrambled 3 eggs separately. If you are feeling lazy, scramble all the eggs with the vegetables before you add the rice to the pan. You don't want to add all 4 eggs after the rice is in the pan because you'll likely end up with soggy fried rice, and no one likes that. 
You want to cook the rice at a pretty high temperature. This prevents the fried rice from being mushy. I can get quite a big flame on my stove at a medium-high heat, but some of you may need to turn the heat to high.
Author:
Prep Time:

5 minutes

Cook Time:

10 minutes

Total Time:

15 minutes

Yield:

Serves 4
Ingredients
4 large eggs, divided
2 tablespoons olive oil, divided
*1 cup diced red onion (about 1 small onion)
1 1/3 cups frozen mixed vegetables, thawed
3 stalks of scallions, sliced
4 cups cooked brown jasmine rice
2 tablespoons soy sauce (use tamari if gluten free)
1 teaspoon toasted sesame oil (optional)
Instructions
Crack 3 eggs into a small bowl and beat them together. Beat the last egg in a separate bowl.
Heat a large sauté pan or a wok with 1/2 tablespoon of the olive oil over medium-high heat. Once the pan is hot, add the 3 beaten eggs and scramble them for about a minute. Transfer the eggs to a dish and turn off the heat. Wipe off the pan or wok with a kitchen towel.
Drizzle the remaining 1 1/2 tablespoons of oil in the pan or wok over medium-high heat. Add the onions and cook them for about 2 minutes, stirring constantly. Add the mixed vegetables and scallions and cook for another minute. I like to save some of the scallions (the dark green part) for garnish.
Add the cooked rice into the pan or wok and cook for a few minutes, until the rice is heated through. If you have large clumps of rice, break them apart with the back of your spatula. Pour the single beaten egg over the rice and stir to coat the rice with the egg. Cook for another minute.
Add the soy sauce and sesame oil (if using) and stir to distribute the sauces. Add the 3 scrambled eggs and stir to mix again. Serve immediately.
Notes
NUTRITION INFORMATION: Amount per serving: Calories: 404, Total Fat 14.5g, Saturated Fat: 3g, Cholesterol: 186mg, Sodium: 530mg, Total Carbohydrate: 55.2g, Dietary Fiber: 5.8g, Sugar: 2.2g, Protein 13g
*I used red onion mainly for color. You can use yellow or white onions instead.
I love the nutty flavor that toasted sesame oil adds to dishes, which is why I included it in the recipe.  Not everyone likes sesame oil. My sister certainly doesn't. You can still make a tasty fried rice without the sesame oil, so feel free to omit it.