Easter Bunny Food Art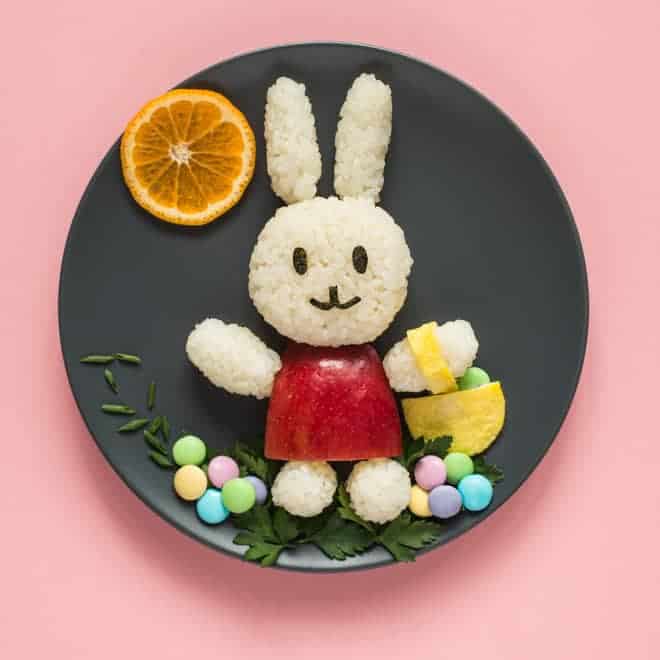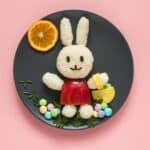 Author:
Prep Time:

17 minutes

Cook Time:

3 minutes

Total Time:

20 minutes

Yield:

1

1

x
1

large egg
cooking spray

2/3 cup

cooked rice
sushi seaweed

1/4

of an apple
parsley leaves
M&M's (pastel colors for Easter)
slice of tangerine or orange
chopped chives
Other Materials
plastic wrap
scissors
tweezers (optional)
For the basket: Whisk egg in a bowl. Heat a frying pan over medium heat and spray with cooking spray. Pour whisked egg in pan and swirl it around to make a thin omelette. Cook for 1 to 2 minutes and flip to the other side and cook for about 30 seconds. Turn off heat and dish up omelette to let it cool. Once it is cool enough to handle, cut out a semicircle shape and a long rectangle.
For the face: Scoop up 1/3 cup of cooked rice and place it in a piece of plastic wrap. Shape rice into a ball and flatten it a little. Set aside.
For the ears: Scoop up 2 teaspoons of rice and shape into a log about 1 1/2 inches long. Repeat for other ear and set them aside.
For the arms: Scoop up 1 1/2 teaspoons of rice and shape into a log about 1 inch long. Repeat for other arm and set them aside.
For the feet: Scoop up 1 teaspoon of rice and shape into a small ball. Repeat for other foot and set aside.
For the eyes and mouth: Using the tips of your kitchen scissors, cut out small eyes and the mouth.
For the body: Take 1/4 of an apple and chop it in half, crosswise. Cut out a bit of the core so that the apple can lay flat when you position it on the plate.
Assembly: Place the face on the plate, and then add the ears. Use tweezers to help place the eyes and mouth on the face. It's much easier to use tweezers. Next, place the piece of apple below the face. Make sure that the shorter side of the apple is touching the face. Place the arms on both sides of the apple and feet underneath the apple. Place omelette basket under an arm and wrap the omelette basket handle (the rectangular shape) around the arm. Decorate the rest of your plate with parsley leaves, M&M's, and chopped chives. Place the slice of tangerine or orange at the top as the sun.
Notes