How to Cut a Pineapple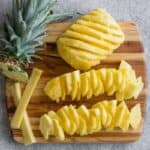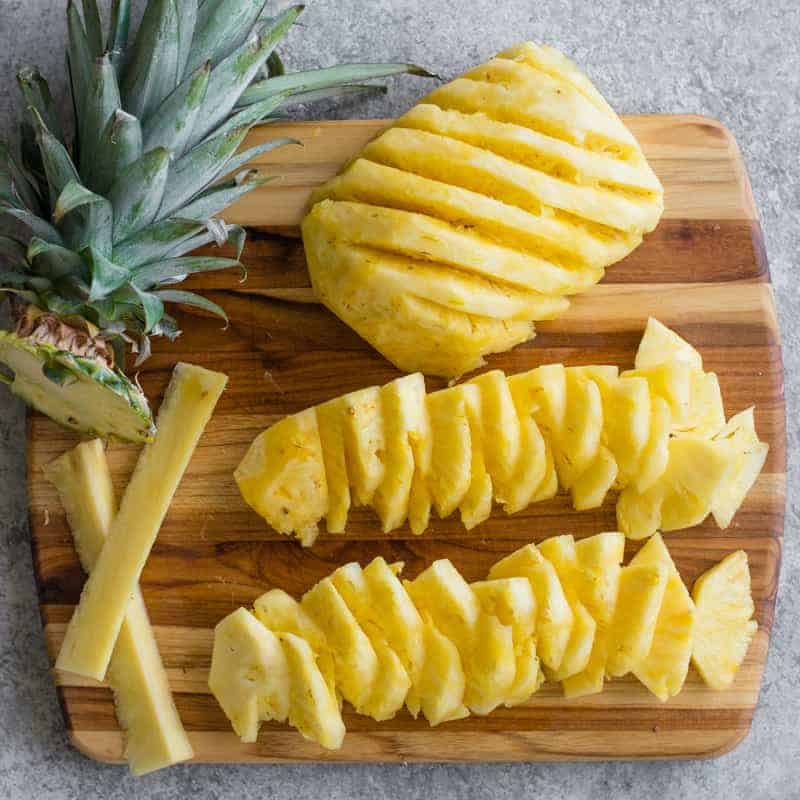 Author:
Prep Time:

15 minutes

Total Time:

15 minutes
Instructions
Slice off the top and bottom of the pineapple, about 1/2 to 3/4 of an inch away from either end. (I don't like wasting too much pineapple.)
Stand the pineapple on the bottom end. Slice off a small section of the skin. Continue working your way around the pineapple until all the skin has been trimmed off.
Lay the pineapple on its side. You'll notice that the eyes run along diagonal lines. Cut off the eyes along those diagonal lines. Slide your knife at an angle underneath three or four eyes, making a small cut. Do the same on the opposite side of those eyes. You should be able to remove a small wedge of pineapple containing those eyes. Continue removing the rest of the eyes along the diagonal lines. When you're done, the pineapple should look like it has a spiral pattern on it.
Stand the pineapple up again, and slice the pineapple in half, and then into quarters. Slice off the hard core from each wedge. You can usually feel the difference between the core and the fleshy fruit.
Lay each wedge flat and cut into slices. Use the sliced fruit in my pineapple fried rice or freeze it for smoothies!