Learn how to make potstickers at home! Here is a video tutorial on how to pleat potstickers and a vegetarian potstickers recipe. Make it a dumpling party with your friends and family!
The first time I ever made potstickers on my own was during college. It was my rite of passage, a sign that I had become a grown woman who could make some dang dumplings whenever I wanted to.
To be honest, I wasn't 100% sure what I was doing. I vaguely remembered Mama Lin mixing ground pork with cabbage, ginger, green onion and salt, so I fashioned a recipe from those snipets of memories. I can't even recall how they tasted—they were that unremarkable. Come to think of it, I never offered any of the potstickers to my roommates because I wasn't sure if they tasted good!
Potstickers are cooked through a combination of pan frying and steaming. The word "potstickers" is a literal translation of the Chinese term guotie (锅贴). During the cooking process, the dumplings stick slightly to the pan, creating a nice crispy texture on the bottom of the dumpling. That's why they're one of my favorites!
Traditional potsticker recipes have a pork-based filling. There aren't many good vegetarian potsticker recipes out there, so I thought I'd develop one with cabbage and carrots. These taste so good! I used Chinese chives (also known as garlic chives) in this recipe, but it can be easily substituted with scallions. Feel free to modify the filling to your liking.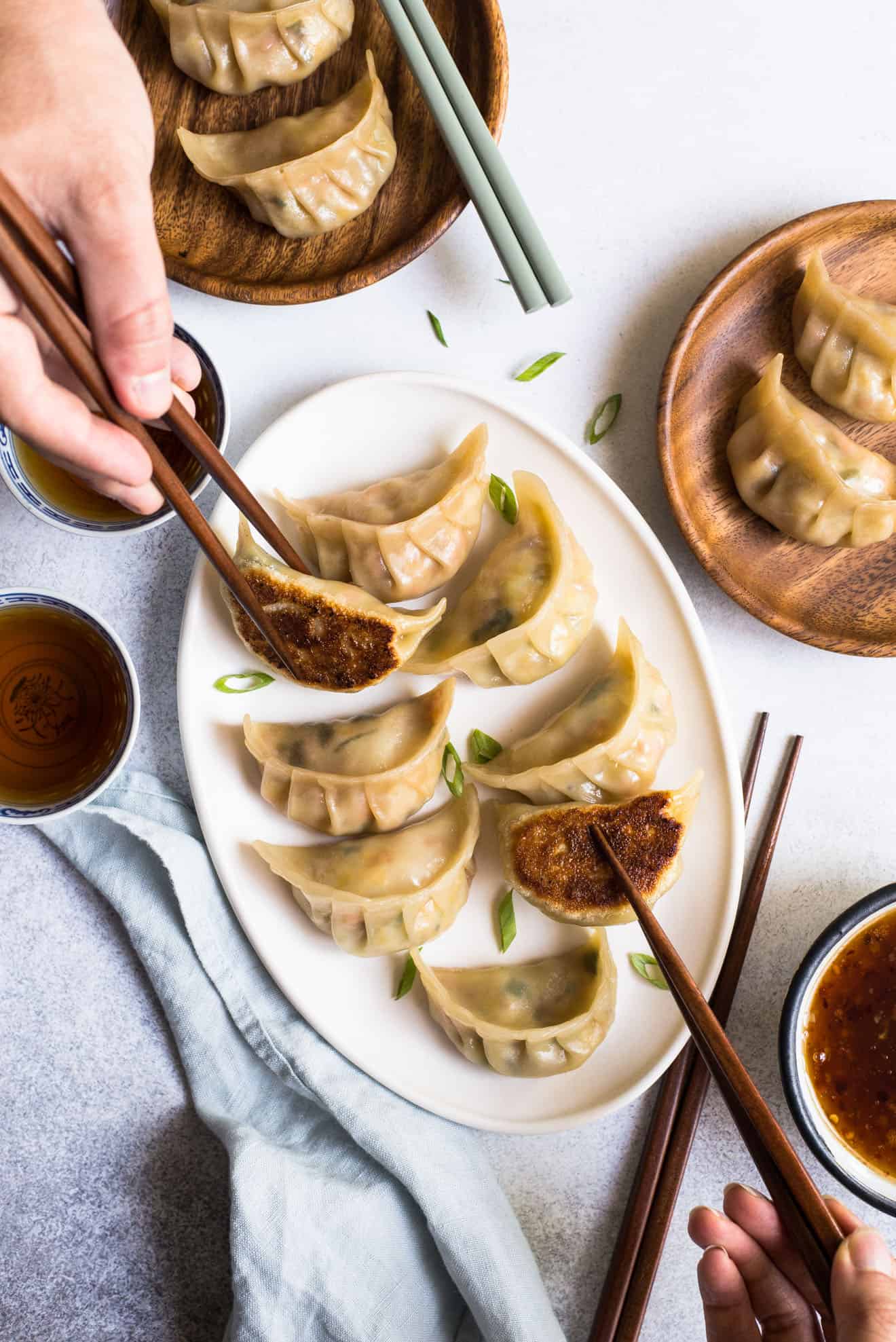 MASTERING MY MISTAKES / COOKING NOTES
Using a cast iron or nonstick pan: Because the potstickers will stick to the pan when they cook, you want to make sure to use the right pan for frying them. Many recipes I've seen online suggest using nonstick pans, but I prefer cooking them in a cast iron skillet. I have found that potstickers brown better in a cast iron pan, yielding dumplings with a crispier texture.
Choosing your potsticker wrappers: I'm lazy, and I don't usually make potsticker wrappers from scratch (though I will develop a recipe for it some day!). I buy my wrappers from Asian supermarkets because they usually carry the thick, round dumpling wrappers that are meant for potstickers. They are usually located around the tofu section and they're labeled "potsticker wrappers/skins" or "gyoza wrappers." Be sure to select the package where you can clearly see the different layers of the wrappers. Avoid the ones where the layers have clumped together into a solid block. They're difficult to separate and you'll probably stretch out the wrappers as you pull them apart. I've seen round dumping wrappers at major supermarkets that work for making potstickers. They're usually smaller, not as thick, and they tend to puncture more easily when cooked.
Store-bought wrappers are usually not gluten free: Traditional wrappers are made with wheat. I haven't found a good recipe for gluten-free wrappers yet, but I am experimenting with them!
Freezing ahead: If you want to cook the potstickers at a later time, freeze them. DO NOT refrigerate raw potstickers. The moisture from the filling will turn the wrappers soggy, and the dumplings will lose their shape. Freeze potstickers by placing them on a baking sheet or several large dishes and cover them with a cling film or a plastic bag. Once the dumplings are firm, take the dumplings off the baking sheet or dish and store them in a freezer bag.
Dipping Sauce: Usually, potstickers are served with a dipping sauce made of soy sauce and rice vinegar. However, I've found that they taste amazing with my honey chili sauce, too! That's the one that you see in the videos. Click here for the recipe.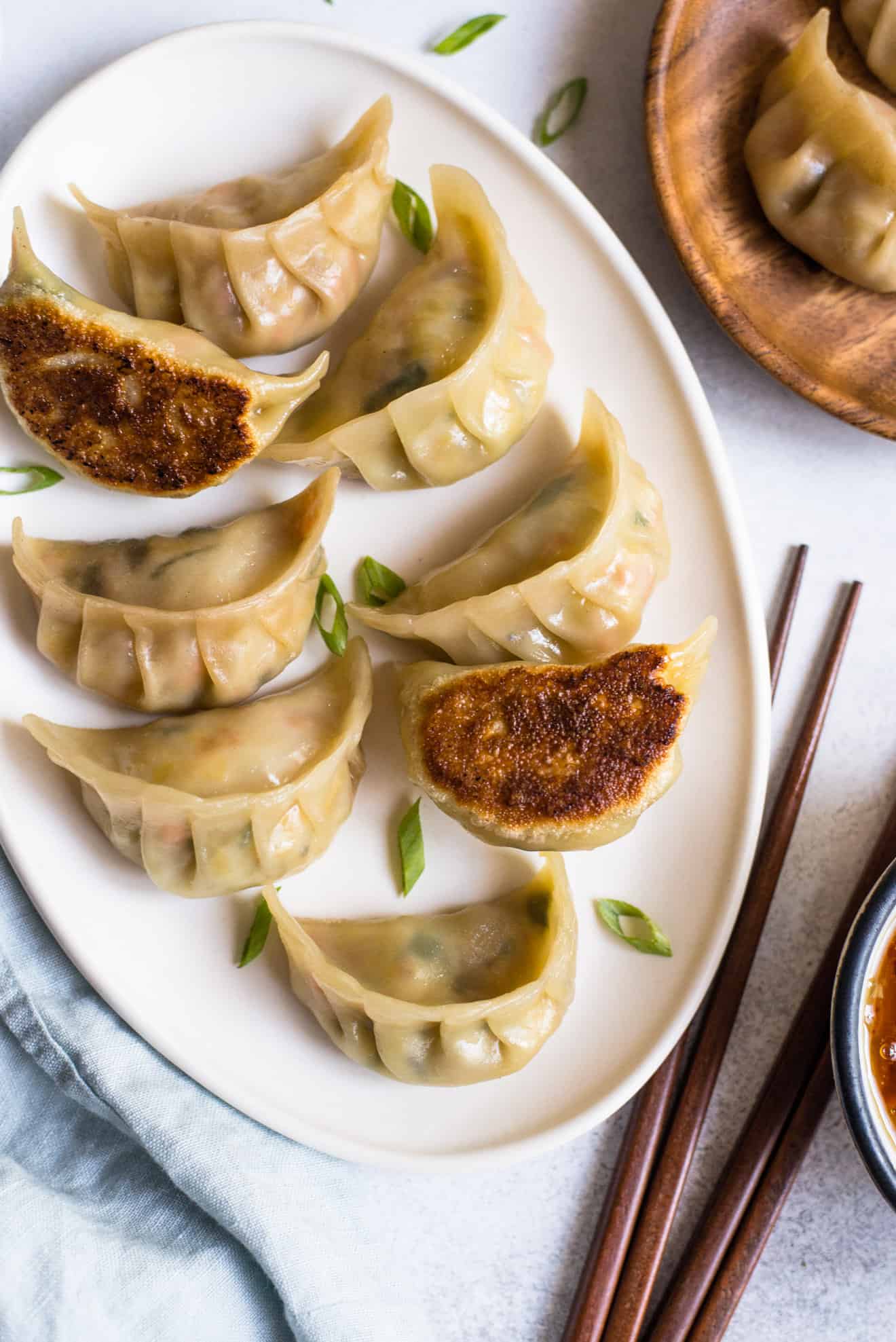 Print
How to Make Potstickers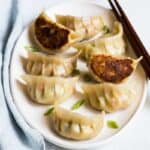 You can freeze these potstickers for later! Place all the dumplings on a baking sheet or a large dish and cover with a layer of cling film. Freeze the potstickers until firm and store them in a freezer bag. When you're ready to cook, just add the frozen potstickers directly on the pan—there is no need to defrost them. Give the dumplings a few more minutes to cook, but start checking the dumplings after they've been cooking for 8 minutes. If the pan is completely dry, you add a few tablespoons of water, cover the lid and continue cooking for a few minutes. 
Author:
Prep Time:

1 hour

Cook Time:

35 minutes

Total Time:

1 hour 35 minutes

Yield:

25

to

28

Potstickers

1

x
Scale
Ingredients
25

to

28

potsticker wrappers

5

 tablespoons safflower or olive oil, divided

2/3

 cup chopped shallots

1

heaping tablespoon of minced ginger

2

cloves of garlic, minced

5 cups

thinly sliced cabbage*

1 teaspoon

kosher salt

1

large carrot, grated

1 cup

chopped Chinese/garlic chives (can sub with scallions)
Instructions
Prep the filling: Heat 1 tablespoon of oil in a sauté pan over medium heat. Add the shallots and cook for about 2 minutes, until they start to soften. Add the ginger and garlic and stir for 30 seconds to 1 minute, until they become fragrant. Stir in the cabbage and cook for about 2 minutes, stirring frequently. Sprinkle the salt on the cabbage and stir. Add the carrots and chives and cook for another minute or so. Taste the filling and add more salt if necessary. Remove from heat and let cabbage cool for 10 minutes.
Prep your station: Fill a small bowl with water. You'll use the water to help seal your potstickers. Have a baking sheet handy so that you can place the pleated dumplings on top. Get a small spoon for scooping the filling into the wrappers.
Pleat the potstickers: Dip a wrapper into water, about 1/2 inch deep. Circle the wrapper around so that about 2/3 of the wrapper is moist. Lay the wrapper on your left hand with the dry side facing you. Add about 1 to 1 1/2 tablespoons of vegetable filling. Using your right hand, make a small pinch on the right side of the wrapper. Then, using your index fingers, create a pleat and seal the pleat by folding it over to the right. Repeat until the entire dumpling is pleated and sealed. You're done with one dumpling! Continue making dumplings until all the filling or wrappers are used up.
Cook the potstickers: Heat a large cast iron skillet or nonstick pan with 2 tablespoons of oil over medium-high heat. When the pan is hot, line the pot stickers in the pan, bottom side down. Let the pot stickers fry for about 2 minutes.
Have the lid of your pan ready for the next step. Pour 1/3 cup of water into the pan. The oil will splatter immediately, so use the lid as a shield as you pour the water to keep the oil from splattering onto you. Cover the pan with the lid. Reduce the heat to medium and cook for about 6 to 8 minutes, until the bottom of the dumplings are a deep golden brown. I like the bottom of the potstickers to be extra crispy, so I cook them for 8 minutes.
Transfer the finished dumplings to a plate and repeat steps 4 to 6 for the remaining potstickers.
Serve the potstickers with soy sauce or my honey chili sauce!
Notes
NUTRITION INFORMATION: Amount For 2 Dumplings: Calories: 135, Total Fat 5.3g, Saturated Fat: 0.4g, Sodium: 292mg, Cholesterol: 2.3mg, Total Carbohydrate: 19g, Dietary Fiber: 1.8g, Sugar: 2g, Protein 3.3g
*Slicing cabbage: I usually slice the cabbage into 1/2-inch strips before slicing them thinly. The dumplings will be easier to pleat and seal if the cabbage pieces are smaller.
Leftover wrappers: If you have any remaining wrappers, you can freeze them for cooking at a later time. You can also make baked crisps with the potsticker wrappers. Slice the wrappers into 1/2-inch strips. Brush or spray a baking sheet with oil. Spread the strips over the baking sheet in a single layer. Brush or spray some oil on top of the wrappers. Sprinkle a generous amount of cinnamon and sugar over the strips. Bake at 400ºF for about 6 to 10 minutes, until they're browned. Let them cool completely before eating! They continue to crisp up as they cool.
Dumpling wrappers tend to dry out: I usually make dumplings by myself, and I notice that the dumpling wrappers tend to dry out before I'm done making all the dumplings. I usually cover the unpleated wrappers and the finished dumplings with a towel or a large napkin to prevent them from drying.