Mini Strawberry Scones with Sweet Red Bean Paste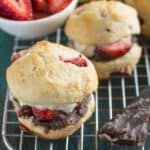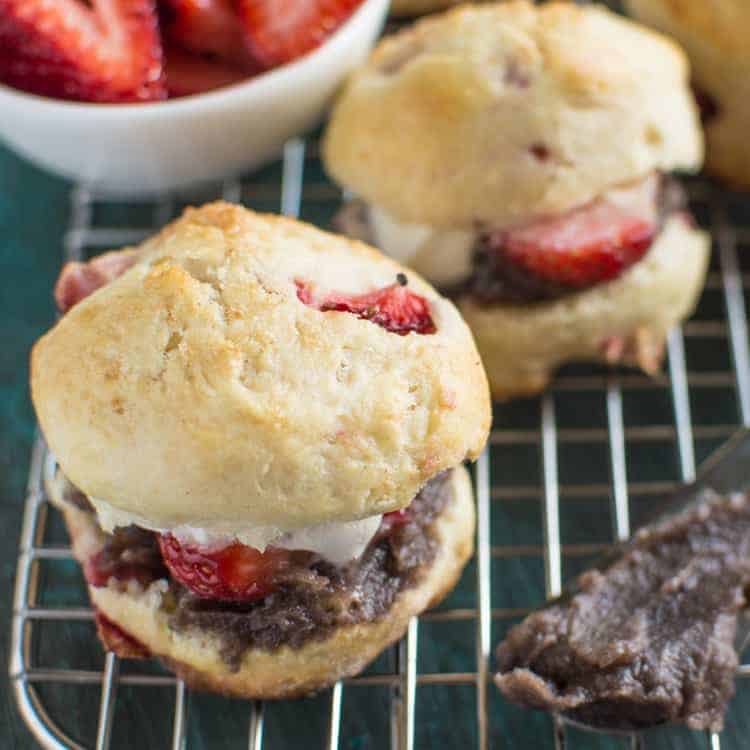 Scale
Ingredients
Red Bean Paste
10 oz

. dried adzuki beans

1 1/3 cups

granulated sugar

1

TBS coconut oil
Strawberry Scones
3 cups

all-purpose flour (add

1/4 cup

if dough is too wet)

1 tsp

baking powder

1 tsp

salt

1/3 cup

sugar

4

TBS butter, softened at room temperature

1 1/3 cups

whole milk + more for brushing

1 tsp

pure vanilla extract

3/4 cup

chopped fresh strawberries
turbinado sugar for topping (optional)
Toppings
8

to

10

large strawberries, sliced
whipped cream
PREPARE THE BEAN PASTE:
Soak the beans overnight. You can skip this step, but the cooking time will be longer.
Pour the beans in a small pot and add enough water so that there's about two inches above the beans.
Boil water and turn it to a low simmer. Let it simmer for 50 minutes to an hour, until the beans are soft and easy to mash. If you didn't soak the beans overnight, keep checking the beans at 15 minute intervals to see if they are ready yet.
Drain water and let beans cool for about 20 to 30 minutes. Place a large fine mesh strainer or sieve above a medium bowl. Press the beans through the mesh with your hands. This helps separate the bean's skin from the paste. You can also skip this pressing step and just blend the beans in a blender or food processor until smooth.
In a small saucepan, melt the coconut oil. Mix the bean paste with the sugar on medium-low heat. Start stirring once you notice that the sugar has started to melt. Continue whisking until all the sugar is melted. Remove from heat. There were a few pieces of hardened sugar lumps in mine, so I pressed the paste through the strainer again.
PREPARE SCONES
Preheat oven to 425 degrees F. Line 2 baking sheets with parchment paper.
Sift the flour, baking powder, and salt together. Add the sugar and mix. Stir in the softened butter. I used my hands to mix the butter and flour. Keep incorporating ingredients until the butter and flour pieces are about the size of small peas.
In a small bowl, mix the milk and vanilla together. Add the milk to the dry ingredients. Stir until all ingredients are well combined. Fold in chopped strawberries. The dough was quite sticky at this point, so I added 1/4 cup of flour (I used 3 1/4 cups flour total).
Lightly flour a work surface and knead the dough a little. Gather the dough into a disk, roll it out to about 3/4 inches thick. Use a small cookie or biscuit cutter to cut small dough circles.
Place circles onto the baking sheet. Make sure to leave about an inch of space between each circle to prevent them from baking into each other. Brush milk on the top of dough and sprinkle turbinado sugar on top. Bake for 12 to 14 minutes.
Let the scones cool for 5 to 10 minutes before eating. Cut open the scones and spread some red bean paste over one half of the scone. Add a slice of strawberry and some whipped cream, and top with the other half of the scone.
Store leftover scones in an airtight container at room temperature for a few days