There are many things that I wonder about in life.
How many stars are there in the galaxy?
When will Chinese Muslim food every make it over here in the U.S.?
How many brownies are "too many"? (I recently figured this out. The answer is there aren't too many, but I do need to take a 2 day break between feedings.)
Which genius melted milk and white chocolate together, topped it with bits of candy cane, and called it peppermint bark?
I remember tasting a square of Ghirardelli peppermint bark for the first time, and it felt like a tiny piece of heaven gradually melting away in my mouth. Of course, one square was not enough. It never is. Ever since I discovered how easy it was to make peppermint bark at home, I've whipped up a batch at least once every year. It is always a crowd pleaser. This year, I wanted to do something different, something with that funny popping corn.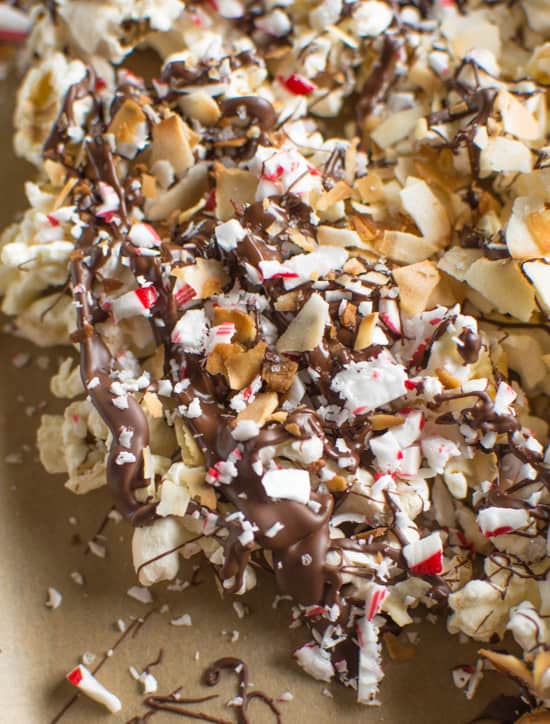 Initially, I was thinking about making a decadent caramel popcorn. But after a long visit to the dentist, I figured that I should probably lay off things that are overly sweet. I don't want my dentist to be wagging her finger the next time she sees me. Then, I decided to drizzle tiny streams of chocolate on top of the popcorn. The dentist will approve of my decision.
One of the benefits of making peppermint bark at home is that you can let out your day's frustration as you crush the peppermint. And if you don't have any frustration to let out, it's just plain fun.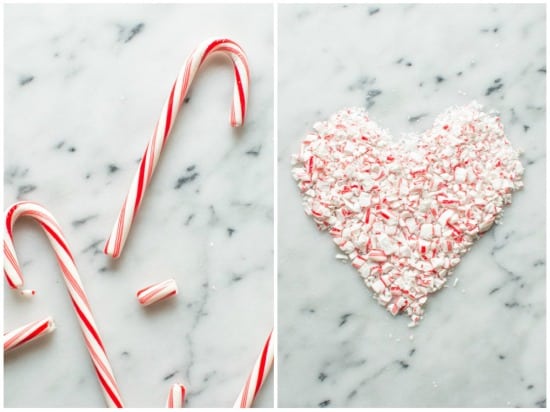 To make this yummy Christmas party snack, here's what you'll need: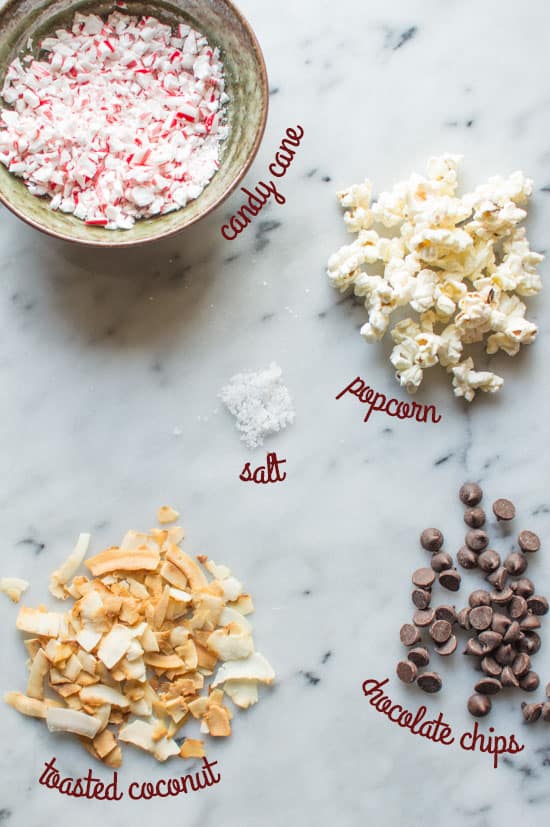 What do you like to put in your peppermint bark?
Peppermint Bark Popcorn with Toasted Coconut
Makes about 10 cups.
Ingredients
1

bag

unsalted butter-free popcorn

5

peppermint candy canes

1 1/4

cup

(300g) semi-sweet chocolate chips

,

use vegan chips if vegan

1

cup

(50g) flaked unsweetened coconut

pinch

of sea salt
Instructions
Pop the popcorn in your microwave according to the directions on the package. When the popcorn is done, pour it out onto a big bowl and let it cool for a few minutes. Line a large baking sheet with parchment paper, and scoop out the popcorn onto the paper. Leave out the unpopped kernels.

Unwrap 5 candy canes, and place it into a sandwich bag. Crush the candy cane by using a hard object. I used a meat pounder. Be careful, some of the peppermint powder may spray out of the bag.

Heat a small sauté pan over medium-high heat and spread the coconut on top. Stir frequently until about half of the coconut is browned. Remove from heat. The coconut will continue browning as it sets. Let it cool for 5 minutes.

Microwave the chocolate chips in a microwave-safe bowl for a minute. Continue microwaving at 15-second intervals until nearly all the chocolate chips are glossy. Stir the chips until you get a smooth chocolate mixture. Using a spoon, drizzle the chocolate over the popcorn. The chocolate may get a bit out of control and a huge dollop may land on one spot. That's okay.

Sprinkle the crushed peppermint, toasted coconut, and sea salt over the popcorn. I like to crush the coconut in my hand before sprinkling it on the popcorn.

Let the chocolate set by freezing the popcorn for 10 minutes, or leave it in room temperature for one to two hours.

Serve immediately or store in a sealed bag for a day or two. The popcorn may get stale after 2 days.
Did you make this recipe?
Tag @hellolisalin or leave a star rating and comment on the blog!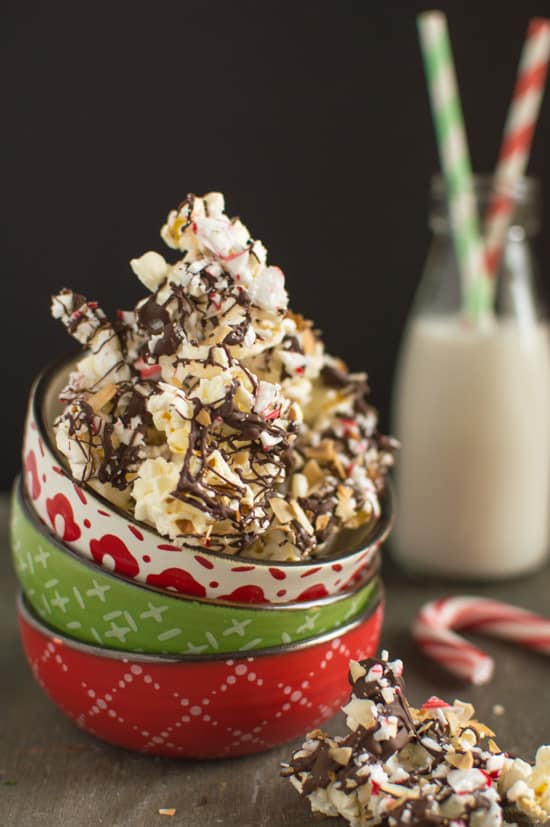 Looking for more holiday recipes?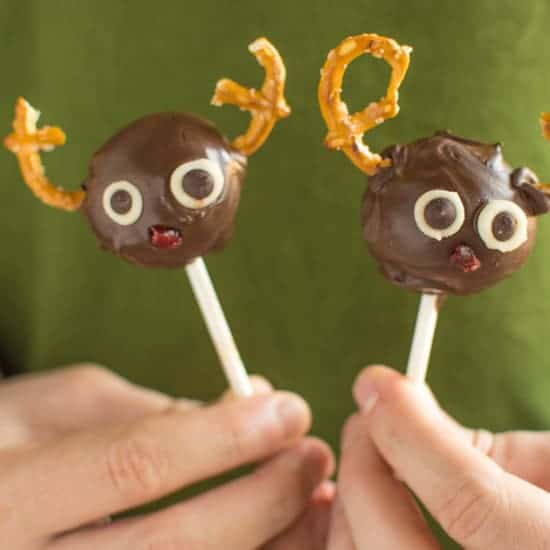 Gluten-Free Rudolph Brownie Pops