Roasted Garlic Hummus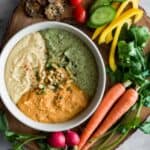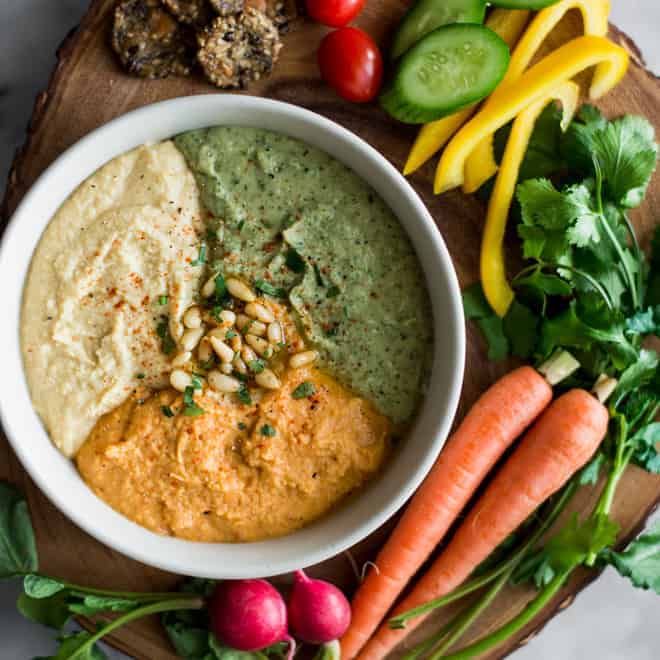 Author:
Prep Time:

15 minutes

Cook Time:

40 minutes

Total Time:

55 minutes

Yield:

3

batches of hummus

1

x
Scale
Ingredients
Roasted Garlic Hummus
1

bulbs of garlic

1

can of garbanzo beans (about

15.5 oz

/

440g

), drained, liquid reserved

2

TBS lemon juice

2

to

3

TBS water or liquid reserved from chickpeas

1 1/2

TBS tahini

1 1/2

TBS olive oil, plus more for drizzling on garlic
Carrot Harissa Hummus
1

large carrot

1/2

bulb of garlic

1 1/2

TBS olive oil, plus more for drizzling on carrots and garlic

1/2 tsp

salt, plus a small pinch for roasting carrots

1

can of white beans (about

15 oz

/

425g

), drained, liquid reserved

2

TBS lemon juice

2

to

3

TBS water or liquid reserved from white beans

1 1/2

TBS tahini

1/2

to

1

TBS harissa

1/2 tsp

salt
Cilantro Jalapeño Hummus
1

can of cannellini beans (about

15 oz

/

425g

), drained, liquid reserved

1/3 cup

packed cilantro (leaves and tender stems)

1

jalapeno pepper, seeded

1/2

bulb of garlic

2

TBS lemon juice

2

to

3

TBS water or liquid reserved from cannellini beans

1 1/2

TBS olive oil

1/4 tsp

salt
Optional Toppings
olive oil
pine nuts

1/4 tsp

salt
Preheat oven to 375 degrees F (190 degrees C). Line a small baking sheet with parchment paper.
Chop off the top of the 2 bulbs of garlic. Drizzle a tiny bit of olive oil on each bulb and wrap in aluminum foil. Drizzle a bit of oil on the carrot and sprinkle a small pinch of salt. I actually roasted a whole bunch of carrots because it seemed silly to roast only one. Bake for about 35 to 40 minutes until the garlic has softened and the carrots can be easily pierced with a fork.
Unwrap garlic bulbs from inside the foil and let it cool for 10 minutes before handling.
Take one bulb of garlic. In a medium bowl, squeeze out each clove from its papery skin. Add the rest of the ingredients for the garlic hummus into the bowl and blend with an immersion blender until smooth. You can also blend all ingredients in a food processor. Use more or less water to get the right consistency for your hummus.
Chop up the large roasted carrot and place carrot pieces in another bowl (or food processor). Add half of the roasted garlic cloves from the other bulb. Add remaining ingredients for the carrot harissa hummus and blend everything until smooth.
In a third bowl (or food processor), add remaining roasted garlic bulbs and ingredients for the cilantro jalapeño hummus. Blend everything until smooth.
Serve all three hummus dips together or separately. Top with an extra drizzle of olive oil, pine nuts, cilantro, paprika, and pepper, if you like.
Nutrition
Calories:

0

Sugar:

0 g

Sodium:

0 mg

Fat:

0 g

Saturated Fat:

0 g

Unsaturated Fat:

0 g

Trans Fat:

0 g

Carbohydrates:

0 g

Fiber:

0 g

Protein:

0 g

Cholesterol:

0 mg