This jollof rice is a vegan version of a classic West African dish. Filled with tomatoes, onions and spices, this jollof rice makes a flavorful side dish. Ready in 45 minutes!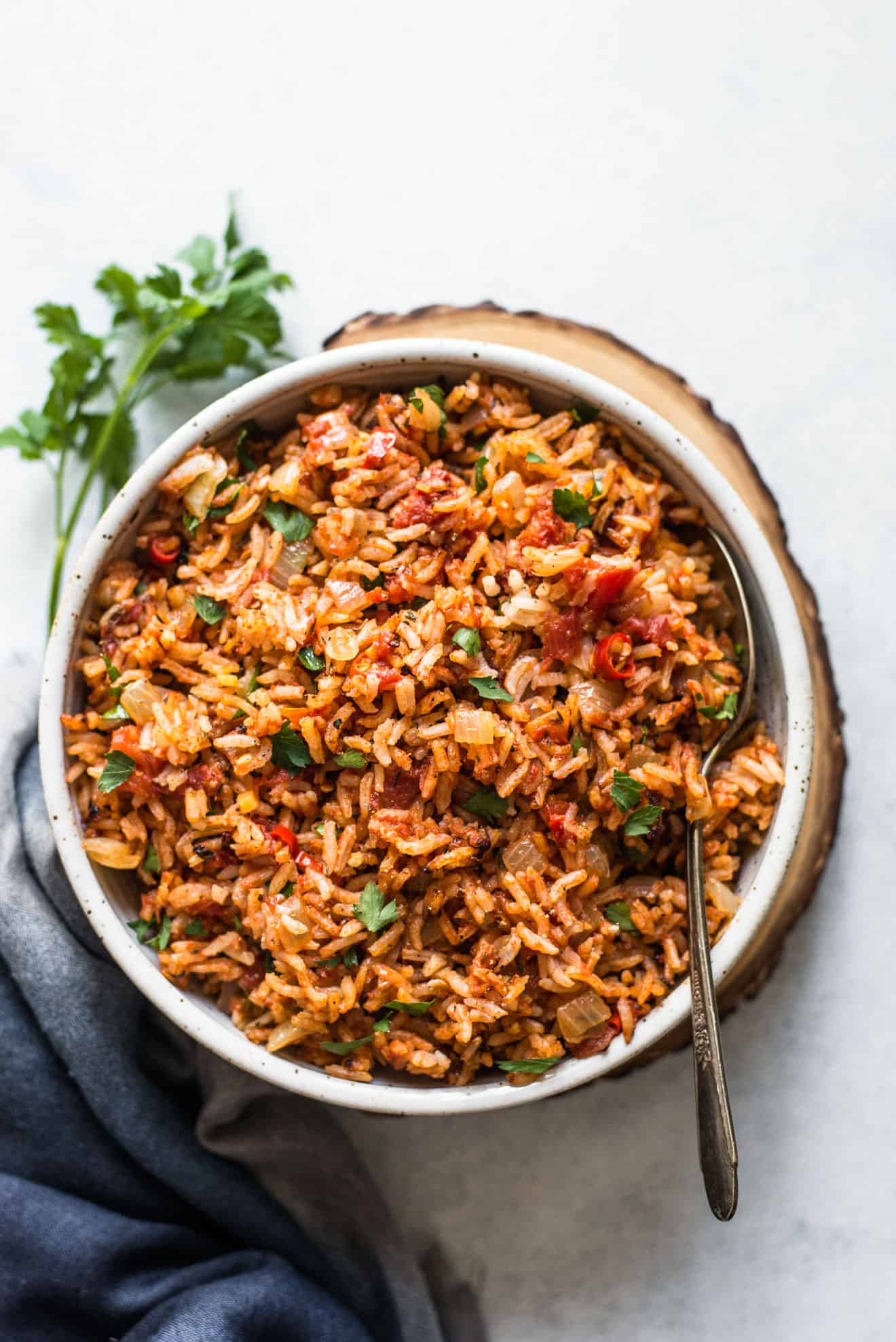 When I was in England over Christmas, I was meandering one of the open markets in Winchester. It was a pretty cold day, and I desperately craved a hot meal to stay warm. On a whim, I decided to go for some jollof rice instead of a Cornish pasty, my usual guilty pleasure whenever I visit England. That jollof rice filled me with all sorts of happy. It was a perfect blend of rice, tomatoes, onions, garlic and some good heat coming from Scotch bonnet peppers. That sinus-clearing spice was exactly what I needed.
Jollof rice is a classic West African dish. The exact origins of the dish are unknown, but it is common in countries like Ghana, Nigeria and Senegal. Often times, jollof rice is cooked with chicken; the rice absorbs all the savory flavors of the chicken as it cooks.
After coming home from my trip to England, I started experimenting with a vegan version of jollof rice. Instead of chicken, I used vegetable broth to enhance the flavors of the dish. I also swapped Thai chili peppers instead of Scotch bonnet peppers for spice. Scotch bonnet peppers are not easy for me to find, and I always have a bag of frozen Thai chilis on hand. You can always use another variety of pepper or even red pepper flakes for heat. If you don't like too much spice, feel free to skip the peppers entirely.
MASTERING MY MISTAKES / COOKING NOTES
Cooking the Rice: The rice needs to be covered with a lid as it cooks. Resist the urge to lift the lid too check on the rice! The rice needs the steam in order to cook properly. It's perfectly fine to sneak a peek once or twice to see if the liquids have evaporated, but keep that to a minimum.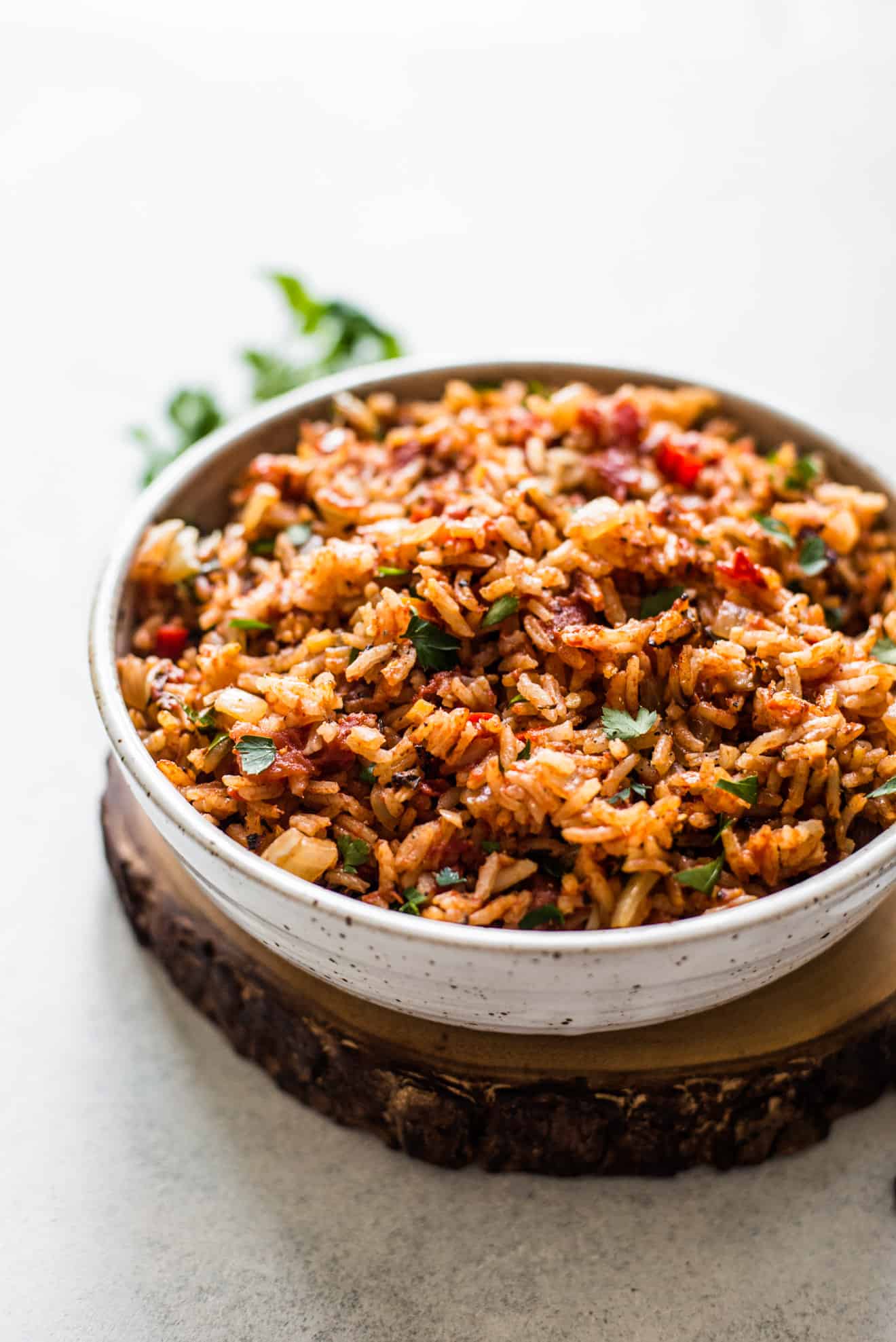 If you make this recipe, let me know! Take a photo of your creation and tag me on Instagram so that I can give you a fist bump!
Print
Vegan Jollof Rice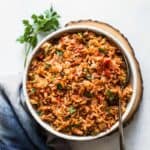 This dish is great served with your favorite protein or a side of fried plantains! If you want more vegetables to the dish, consider adding a diced carrot and a diced bell pepper the same time when you add the crushed tomatoes and broth. In this recipe, I'm using Thai chilis. You can also substitute it with another type of chili or a pinch of red pepper flakes. 
Author:
Prep Time:

10 minutes

Cook Time:

27 minutes

Total Time:

37 minutes

Yield:

4

Servings

1

x
Scale
Ingredients
2 tablespoons

olive oil

1/2

large yellow onion, diced (about

1 1/3 cups

diced onions)

3

large garlic cloves, minced

1

inch piece of ginger, minced (about

1 1/2 teaspoons

)

3

to

4

Thai chili peppers, sliced

1 teaspoon

salt

1 cup

uncooked basmati rice

1/2 teaspoon

paprika

1 teaspoon

dried thyme

14

-ounce (400g) can of crushed tomatoes

1 cup

(250ml) vegetable broth or water
chopped parsley to serve
Instructions
In a large pan, heat the olive oil over medium-high heat. Add the onions and cook them for 4 to 5 minutes, until they start to turn translucent, stirring frequently. Mix in the garlic, ginger and chilis and cook for 30 seconds, until the spices turn fragrant. Add the salt and basmati rice and stir. Continue toasting the rice for 2 minutes.
Add the paprika, thyme, crushed tomatoes and broth and stir until well combined. Cover the pan with a lid and reduce the heat to low. Let the rice simmer for 15 to 18 minutes, until all the liquids are absorbed.
Remove the pan from heat and let the rice sit for 8 to 10 minutes. The rice will finish cooking as it rests. Fluff up the rice with a fork and sprinkle with chopped parsley to serve.
Notes
NUTRITION INFORMATION: Yields 4 servings. Amount per serving: Calories: 290, Total Fat 7.6g, Saturated Fat: 1.1g, Sodium: 783mg, Cholesterol: 0mg, Total Carbohydrate: 51g, Dietary Fiber: 4g, Sugar: 7.4g, Protein 6g