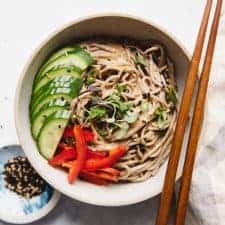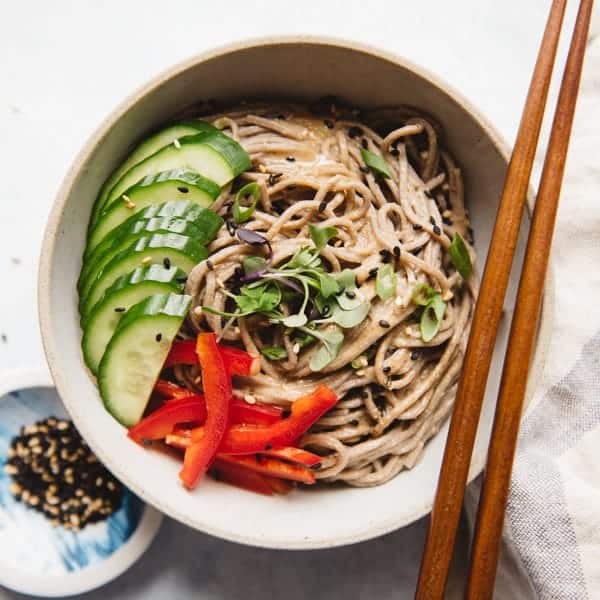 PRINT
Cold Soba Noodles with Almond Butter Sauce
If you prefer another nut/seed butter, feel free to use it instead of almond butter. However, avoid flavored nut/seed butters, such as coconut peanut butter or vanilla almond butter. These additional flavors will alter the taste of the dish significantly (perhaps not in a good way).
Bring a pot of water to boil. Add the soba noodles and cook for about 4 to 5 minutes. Drain the noodles and rinse under cold water.

In a bowl, mix the soy sauce, almond butter, rice vinegar, sugar, sesame oil, and onion powder (if using). If you have an immersion blender, use it! It will save you a lot of time. Transfer the ingredients to a jar, and blend the sauce with the immersion blender.

Divide the noodles, cucumbers, peppers, and scallions into 2 bowls. This will make tossing the noodles a lot easier. Drizzle half of the sauce into each bowl. Toss everything together. Taste and add a pinch of salt to the noodles, if necessary.
NUTRITION INFORMATION: Amount per serving: Calories: 434, Total Fat 11.1g, Saturated Fat: 1g, Cholesterol: 0mg, Sodium: 994mg, Total Carbohydrate: 76.4g, Dietary Fiber: 2.8g, Sugar: 15.8g, Protein 15.3g
*Because the light green and white parts of scallions have a stronger raw bite, chop those parts more finely.
Tag @hellolisalin or leave a star rating and comment on the blog!