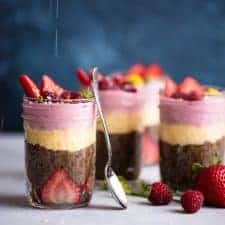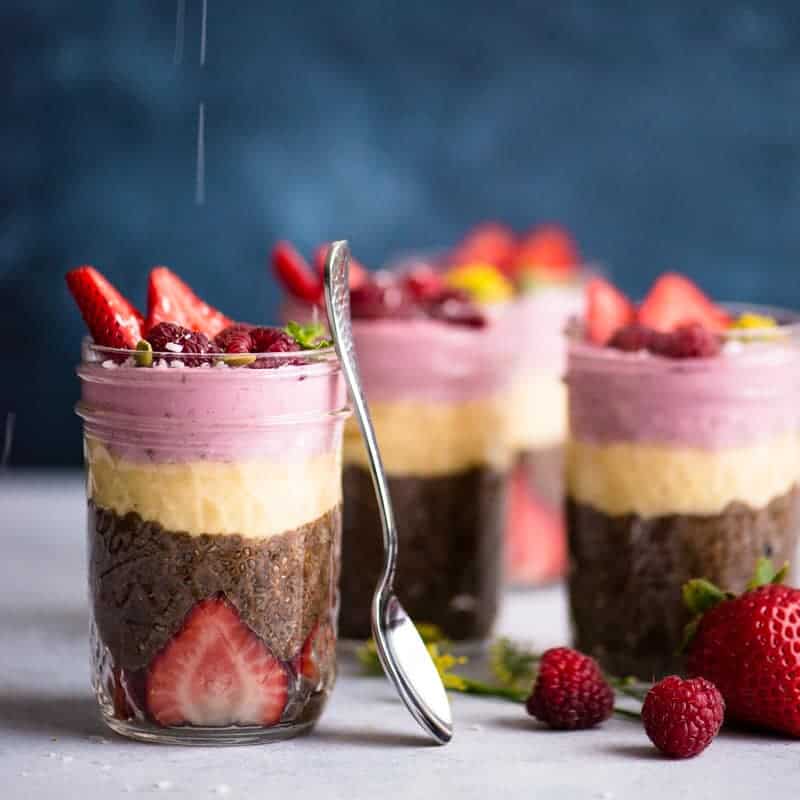 PRINT
Vegan Chocolate Chia Pudding Parfaits
I recommend making the chia pudding overnight because that will give the chia seeds enough time to expand fully. I also prefer making the pudding in 2 separate jars (i.e., 3 tablespoons and 1 cup almond milk in each jar). Chia seeds tend to clump together very easily. When I made the chia pudding in one large jar, it was difficult to stir the chia seeds throughly, and I kept finding clumps of seeds that were not fully plump. 
Chocolate Chia Pudding
6

tablespoons

chia seeds

2

cups

unsweetened almond milk

2

tablespoons

unsweetened cocoa powder

1

teaspoon

ground cinnamon

3

tablespoons

maple syrup

1

teaspoon

vanilla extract
Mango Mousse
8

ounces

silken tofu

1

cup

mango chunks

1

tablespoon

maple syrup
Mixed Berry Mousse
8

ounces

silken tofu

3/4

cup

raspberries

4 to 5

large strawberries

,

about 3/4 cup

1 1/2

tablespoons

maple syrup
Toppings (optional)
sliced strawberries

raspberries

shredded coconut

pumpkin seeds
Make the Chocolate Chia Pudding: Take 2 medium-sized jars and fill each of them with 3 tablespoons of chia seeds, 1 tablespoon of cocoa powder and 1/2 teaspoon of cinnamon. Top each jar with 1 cup of almond milk. Use a fork to stir everything together. Let the chia seeds sit for 15 minutes, then stir again to break up any clumps of chia seeds or cocoa powder. Refrigerate the pudding for at least 4 hours or overnight. Once the chia pudding is plump, add 1 1/2 tablespoons maple syrup and 1/2 teaspoon vanilla into each jar. Stir to combine.

Make the mango mousse: Add all the mango mousse ingredients into a food processor and blend until smooth. Taste the mousse and add another teaspoon or two of maple syrup if you want the mousse to be sweeter. Pour the mousse into a bowl and rinse your food processor bowl and blade.

Make the berry mousse: Add all the mixed berry mousse ingredients into the food processor and blend until smooth. Taste the mousse and add another teaspoon or two of maple syrup if needed.

Build the parfait: Fill four small jars with about 1/2 cup of the chocolate chia pudding. Top with each jar with some of the mango mousse and then some of the mixed berry mousse. Finally, top with sliced strawberries and raspberries and sprinkle some shredded coconut and pumpkin seeds on top. Serve immediately.
NUTRITION INFORMATION: Amount Per Drink: Calories: 309, Total Fat 12.3g, Saturated Fat: 2.3g, Sodium: 107mg, Cholesterol: 0mg, Total Carbohydrate: 41.3g, Dietary Fiber: 12.5g, Sugar: 25g, Protein 14.3g
To make the parfaits with the strawberries in the chocolate chia pudding layer, gather 3 to 4 slices of strawberries and line them around the bottom of the jar. Carefully fill the center of the jar with the chocolate chia pudding. Be careful not to pour the chia pudding between the strawberry slices and the jar.
Substitutions: You can use your favorite sweetener for this recipe. If you're not vegan, honey works very well, too.
You can use frozen fruit for the mousses. Quickly defrost the fruit by soaking them in lukewarm water for about 10 to 15 minutes.
Tag @hellolisalin or leave a star rating and comment on the blog!