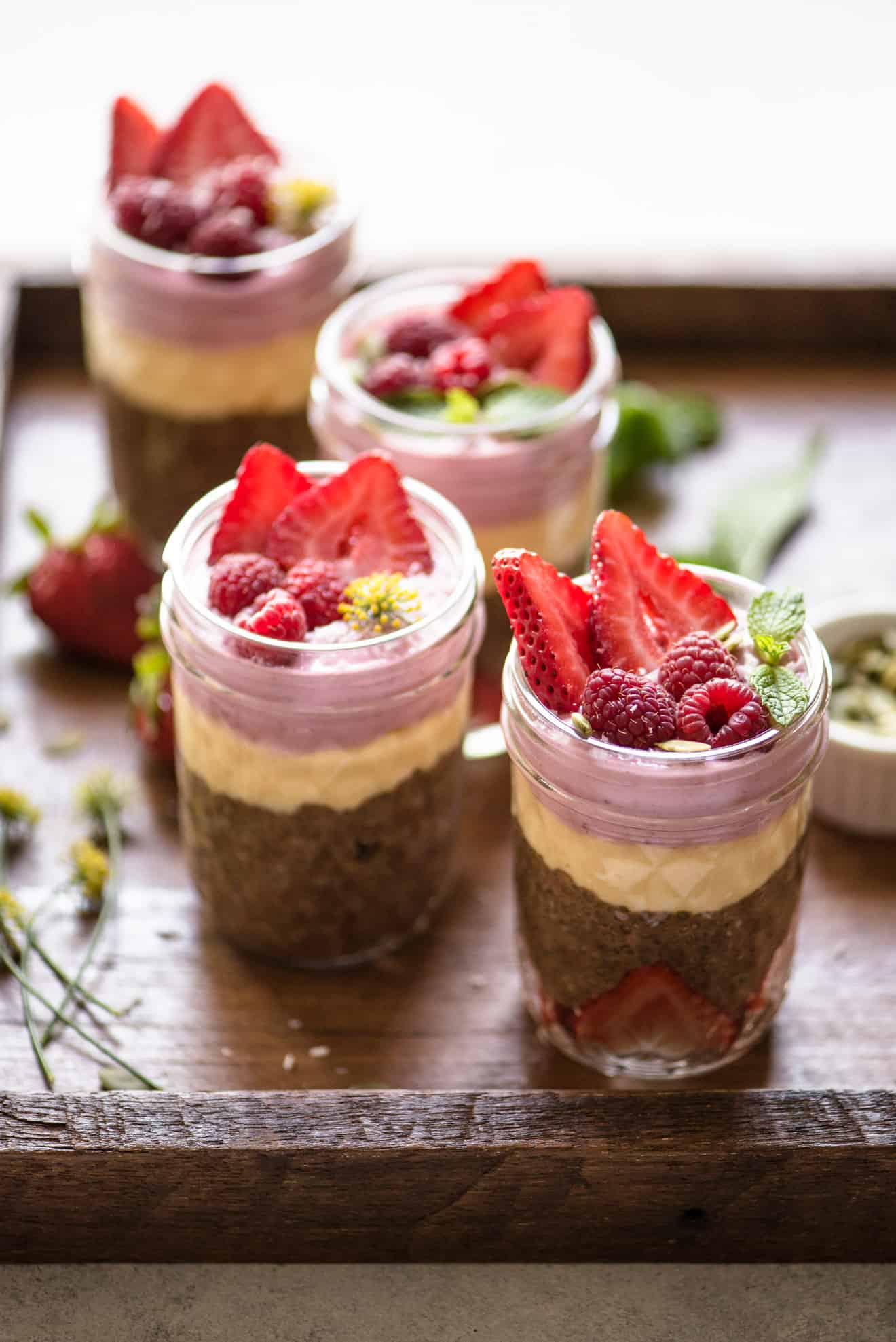 Thank you to Nugget Markets for sponsoring this post!
People often ask me when I started to cook for myself, and I tell them that it was during my college days at UC Davis. More than anything, I cooked out of necessity. There was no other way to satisfy my cravings for garlicky bok choy or fried rice like the way Mama Lin cooked it!
But when finals came along, all bets were off. There was just no time to even care about cooking, so I would make my way to the local Nugget Markets, trying to figure out what to eat for dinner. More often than not, I filled my basket with tubs of their potato salad and hummus, bags of sweet onion chips and raisins. I'm not even sure if those things were actually brain food, but they sure helped make paper writing and studying more bearable.
Fast forward to 10 years later, I'm still shopping at Nugget! (Of course, I'm no longer searching for sustenance to get me through finals week.) I'm very fortunate to live in California, where fresh ingredients are just a stone's throw away, and I try my best to cook with the food around me. Nugget Markets is a family-owned and operated company, and I love that they offer a wide range of local produce and meats. Even the food sold under their "Fresh to Market" label are developed in partnership with local producers. I also do a lot of gluten-free cooking, and I appreciate that Nugget labels their gluten-free products clearly. They also label products that are suitable for other lifestyles, like vegan, non-GMO, organic, fair-trade, etc.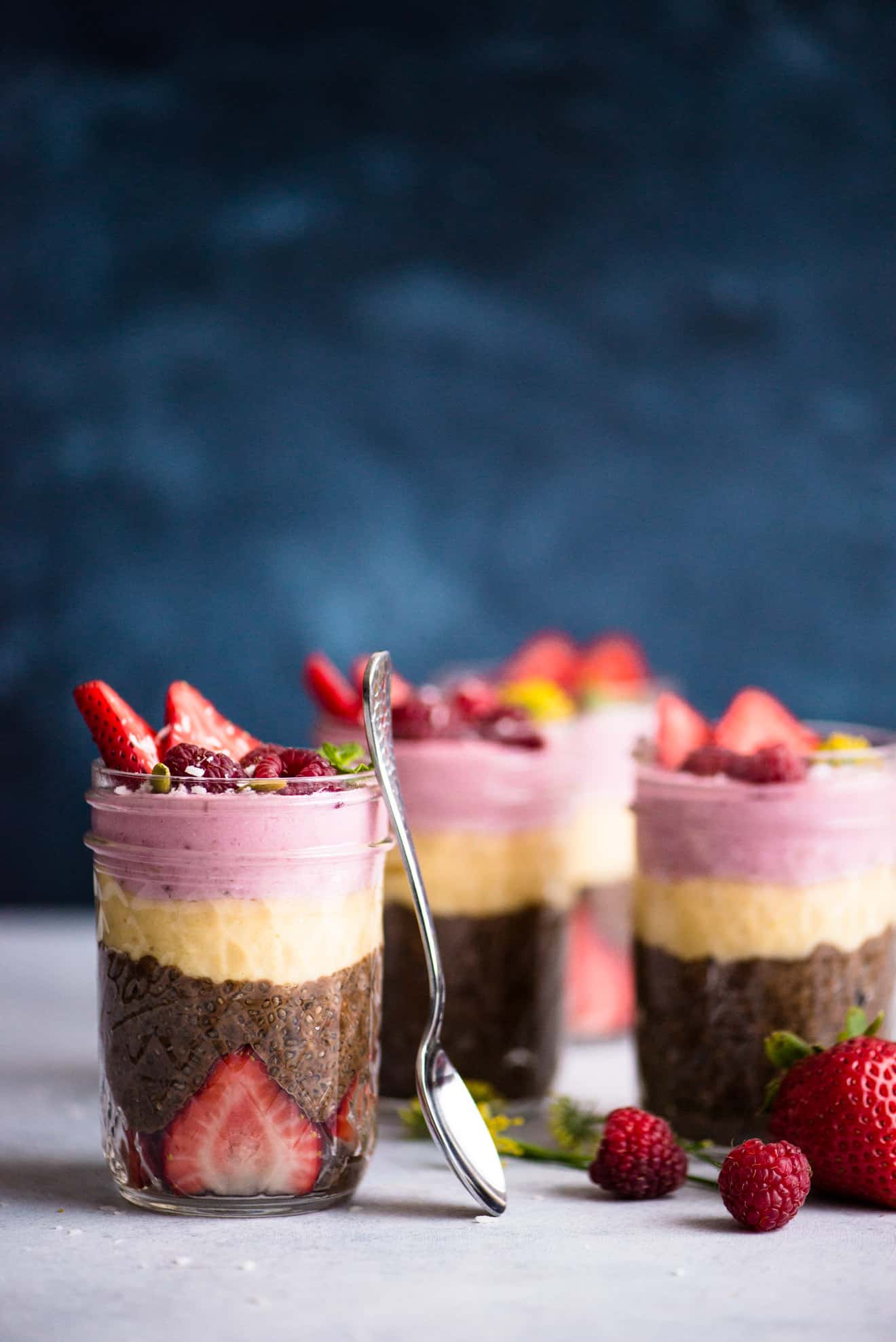 Now that it's properly summer, I find myself reaching for chilled desserts every day. I don't eat ice cream very often because I usually find it too sweet (I know, call me weird). Instead, I make healthier desserts like this chocolate chia pudding parfait. All of the ingredients for the parfaits came from Nugget!
The chia pudding layer is made of chia seeds that are soaked in almond milk for at least a few hours. Over time, the seeds expand and you'll be left with a treat that has a pudding consistency. If you've ever had bubble tea before, the chia pudding will remind you a lot of the tapioca pearls.
For the fruit mousses, I'm blending fruit with silken tofu. The tofu gives the mousse it's creamy texture. The mousse layers are light and contain much less fat than traditional cream-based mousses. This is a great refreshing dessert on a summer day!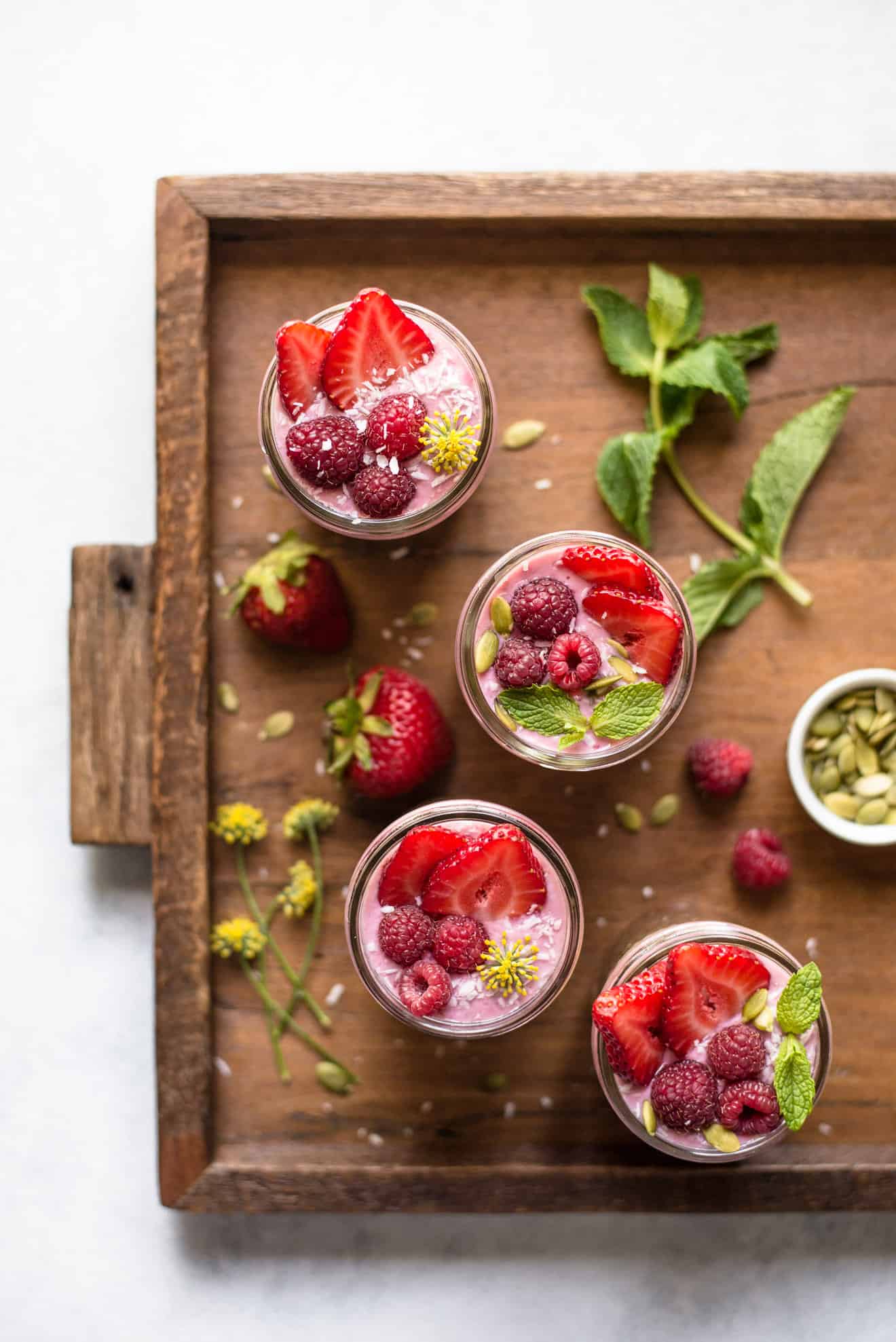 Vegan Chocolate Chia Pudding Parfaits
I recommend making the chia pudding overnight because that will give the chia seeds enough time to expand fully. I also prefer making the pudding in 2 separate jars (i.e., 3 tablespoons and 1 cup almond milk in each jar). Chia seeds tend to clump together very easily. When I made the chia pudding in one large jar, it was difficult to stir the chia seeds throughly, and I kept finding clumps of seeds that were not fully plump. 
Ingredients
Chocolate Chia Pudding
6

tablespoons

chia seeds

2

cups

unsweetened almond milk

2

tablespoons

unsweetened cocoa powder

1

teaspoon

ground cinnamon

3

tablespoons

maple syrup

1

teaspoon

vanilla extract
Mango Mousse
8

ounces

silken tofu

1

cup

mango chunks

1

tablespoon

maple syrup
Mixed Berry Mousse
8

ounces

silken tofu

3/4

cup

raspberries

4 to 5

large strawberries

,

about 3/4 cup

1 1/2

tablespoons

maple syrup
Toppings (optional)
sliced strawberries

raspberries

shredded coconut

pumpkin seeds
Instructions
Make the Chocolate Chia Pudding: Take 2 medium-sized jars and fill each of them with 3 tablespoons of chia seeds, 1 tablespoon of cocoa powder and 1/2 teaspoon of cinnamon. Top each jar with 1 cup of almond milk. Use a fork to stir everything together. Let the chia seeds sit for 15 minutes, then stir again to break up any clumps of chia seeds or cocoa powder. Refrigerate the pudding for at least 4 hours or overnight. Once the chia pudding is plump, add 1 1/2 tablespoons maple syrup and 1/2 teaspoon vanilla into each jar. Stir to combine.

Make the mango mousse: Add all the mango mousse ingredients into a food processor and blend until smooth. Taste the mousse and add another teaspoon or two of maple syrup if you want the mousse to be sweeter. Pour the mousse into a bowl and rinse your food processor bowl and blade.

Make the berry mousse: Add all the mixed berry mousse ingredients into the food processor and blend until smooth. Taste the mousse and add another teaspoon or two of maple syrup if needed.

Build the parfait: Fill four small jars with about 1/2 cup of the chocolate chia pudding. Top with each jar with some of the mango mousse and then some of the mixed berry mousse. Finally, top with sliced strawberries and raspberries and sprinkle some shredded coconut and pumpkin seeds on top. Serve immediately.
Notes
NUTRITION INFORMATION: Amount Per Drink: Calories: 309, Total Fat 12.3g, Saturated Fat: 2.3g, Sodium: 107mg, Cholesterol: 0mg, Total Carbohydrate: 41.3g, Dietary Fiber: 12.5g, Sugar: 25g, Protein 14.3g
To make the parfaits with the strawberries in the chocolate chia pudding layer, gather 3 to 4 slices of strawberries and line them around the bottom of the jar. Carefully fill the center of the jar with the chocolate chia pudding. Be careful not to pour the chia pudding between the strawberry slices and the jar.
Substitutions: You can use your favorite sweetener for this recipe. If you're not vegan, honey works very well, too.
You can use frozen fruit for the mousses. Quickly defrost the fruit by soaking them in lukewarm water for about 10 to 15 minutes.
Did you make this recipe?
Tag @hellolisalin or leave a star rating and comment on the blog!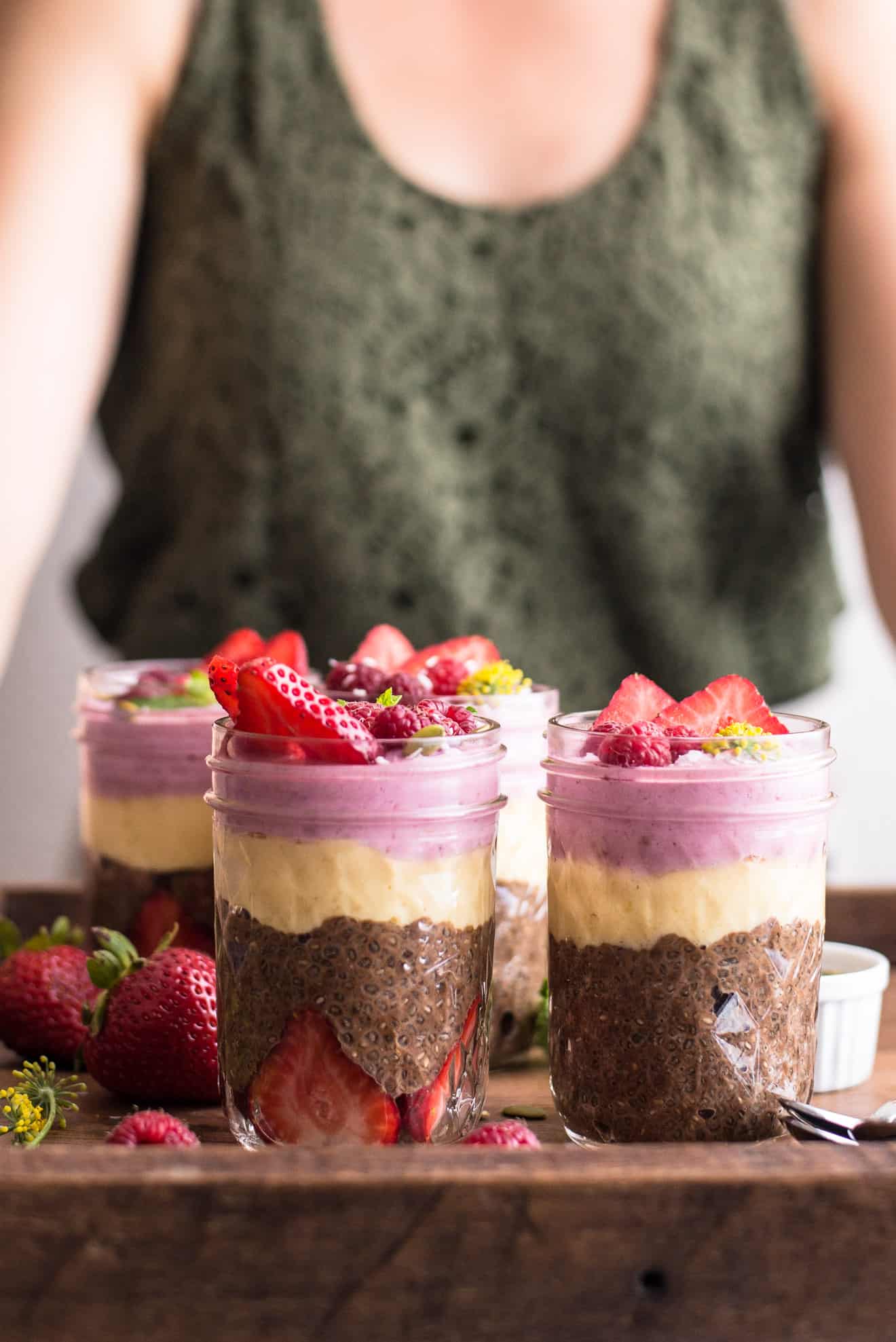 Disclosure: This post was sponsored by Nugget Markets. Visit their website for more information or follow them on Facebook or Twitter! Click here find a location near you.