Have you ever eaten Asian rice crackers? Here's a guide on various popular rice snacks that you can find in Asian supermarkets. This list also includes information on where to buy these Asian rice snacks. Watch the video below for a visual guide.
Asian rice crackers were a staple of my childhood. They are light, not too greasy, and bursting with umami flavor. The range of Asian rice crackers is vast. The list below is merely the tip of the iceberg, but I tried to feature as wide of a range as possible for this review.
A NOTE ABOUT MSG IN ASIAN RICE CRACKERS
Many of these Asian rice crackers contain various seasonings, including MSG (short for monosodium glutamate), which gives the snacks umami flavor. MSG is a combination of sodium and glutamate, an amino acid that naturally exists in foods such as mushrooms or Parmesan cheese (read this article from U.S. News for more information). Although MSG received a bad reputation for being harmful to the body for decades, more recent research has refuted the claim. In fact, the FDA has stated that adding MSG to foods is "generally recognized as safe." You can also read this article from Vice about why MSG is fine to eat.
DIFFERENT TYPES OF ASIAN RICE CRACKERS

BIN BIN RICE CRACKERS (可口賓賓米菓)
These crackers have been one of my favorites since childhood. Wrapped in small packages of 2 crackers each, the crackers are lightly coated in powdery seasoning that is teeming with umami flavor. You can also taste a hint of toasted rice in these crackers. When you bite into a Bin Bin rice cracker, you'll detect its light and airy texture. I don't think any other brand has been able to master the sweet and savory balance quite like Bin Bin rice crackers.
Where to Buy:

HOT KID SHELLY SENBEI RICE CRACKERS (雪の月)
Slightly larger than Bin Bin rice crackers, Hot Kid shelly senbei rice crackers also come in small packages of 2 crackers per package. The distinctive feature of these crackers is the hardened icing on one side of the cracker. My memory of the Hot Kid senbei rice cracker is that it's lightly seasoned with savory flavor, which balances the sweetness of the icing. However, the ones I've purchased in recent years seem to be lacking in savory flavor. As a matter of fact, I'm not getting much flavor besides a hint of toasted rice and the sweet icing. I think you should give them a try, but I don't know if I'll buy them often.
A NOTE ABOUT SENBEI
Senbei (煎餅) is a type of Japanese snack made of rice and they're usually large and circular. Traditionally, they were seasoned with shoyu (Japanese-style soy sauce) and other seasonings and then toasted or grilled. Nowadays, you can find senbei flavored with wasabi, Chinese mala spice, and even edamame.
There is a style of senbei that is called yuki no yado (雪の宿), literally snow roof. One side of the cracker is drizzled with a lot of hardened icing, just like the Hot Kid shelly senbei rice crackers. I'm inclined to think that the Japanese version is the original one, and the Hot Kid crackers are just a version inspired by yuki no yado.
Where to Buy: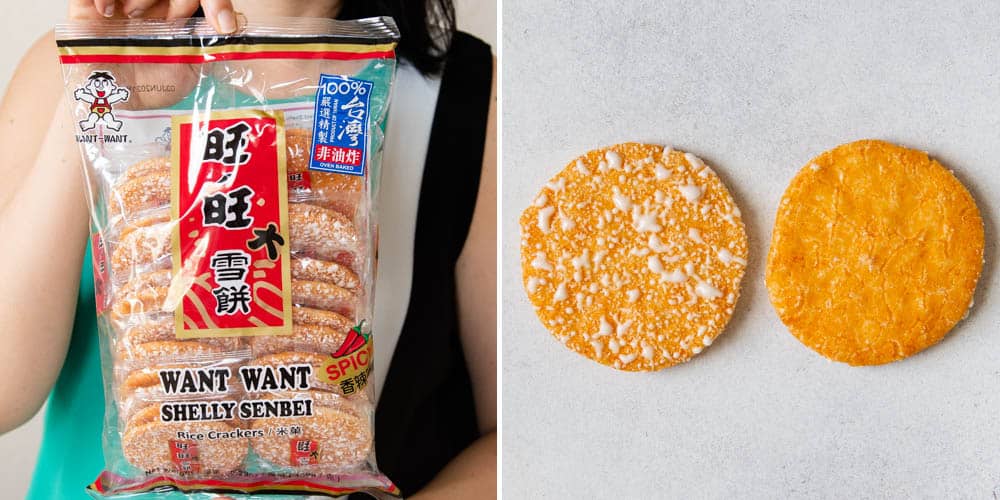 WANT WANT SHELLY SENBEI, SPICY (旺旺雪餅, 辣味)
These spicy senbei crackers look practically the same as the senbei crackers above, except that the former is coated in an orange layer of seasoning. I prefer this version much more as the crackers actually have savory flavor to balance the sweetness of the icing. Interestingly, the seasoning clings to your teeth slightly when you bite into a cracker. Despite the "spicy" label on the packaging, I don't find these crackers spicy at all.
Another confusing thing about these crackers is the branding. Although these Want Want crackers share the same logo as the Hot Kid crackers above, they have different English names. Does anyone know what's the deal with that?
Where to Buy:

WANT WANT SAVORY RICE CRACKER (旺旺仙貝)
Like the Bin Bin and senbei crackers described above, these oven-baked crackers also come in small packages of 2 crackers each. However, they are significantly smaller than the other crackers. Each cracker is dusted with a considerable amount of powdery seasoning that is savory. They're quite delicious, though they don't have the hint of sweetness that I love in Bin Bin rice crackers. Because of their smaller size, I think they're great if you want to eat them with a topping like poké or tapenade, or spread a dip on top.
Where to Buy: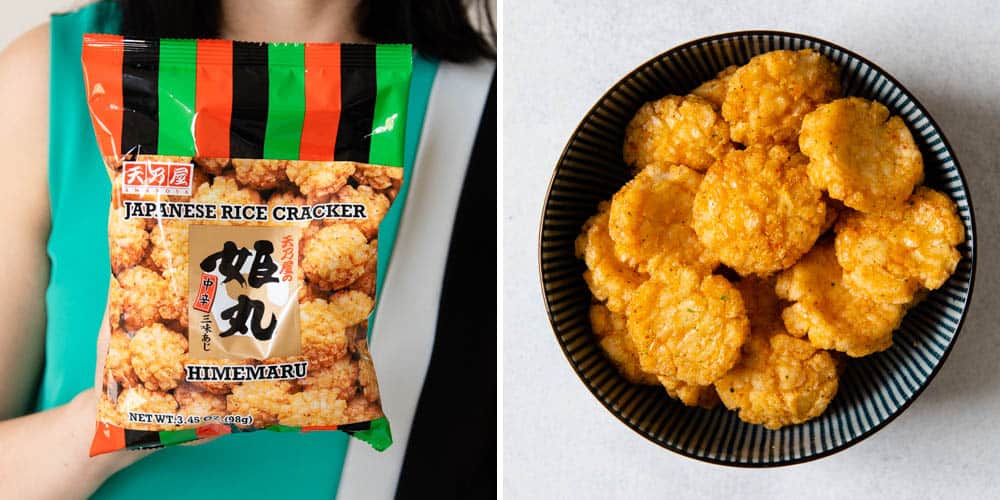 AMANOYA HIMEMARU (天乃屋姫丸)
Himemaru roughly translates to "small circle," and they usually refer to a deep fried rice cracker that's coated in a sweet and savory seasoning. What I love about Amanoya's himemaru is the texture and flavor. There are a lot of deep ridges on the surface of the cracker, which makes them crunchy once deep fried. I also think the ridges trap more seasoning on the cracker. In terms of its flavor, the himemaru are savory and sweet. I can also detect a light seaweed flavor in the crackers. These himemaru are so good that it's tough to not eat an entire bag in one sitting. Note that these crackers contain bonito extract, so they are not vegetarian.
Where to Buy: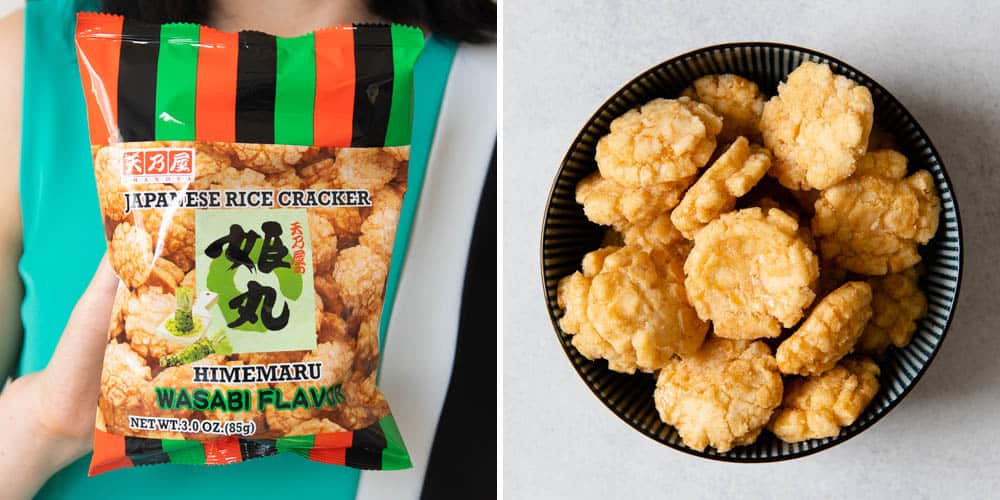 AMANOYA HIMEMARU, WASABI FLAVOR (天乃屋姫丸, わさび味)
Amanoya also makes a wasabi-flavored himemaru. Wasabi is Japanese horseradish that is often made into a paste to be served with sushi or sashimi. Eating wasabi is an experience. You'll feel a slight tingle on your tongue that intensifies immediately. Then, the spicy sensation travels to your nasal passages and you can feel them flare up. It's not one of my favorite condiments in the world, but my husband loves it.
In these particular crackers, the wasabi flavor is mixed with the savory flavors of soy sauce. I don't find the wasabi to be too intense when I eat one cracker, but the spice builds as I eat a few more himemaru. As you can imagine, I don't love the wasabi-flavored himemaru, but my husband will polish off a bag in haste.
Where to Buy: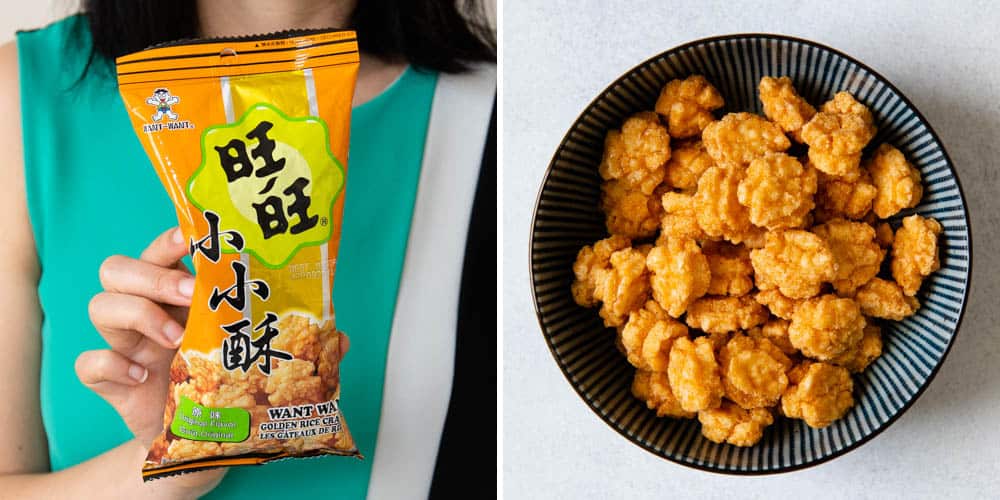 WANT WANT GOLDEN RICE CRACKER (旺旺小小酥)
These rice crackers look a lot like the Amanoya himemaru, except they are much smaller. In the photo below, I have placed the Want Want cracker alongside Amanoya's himemaru so that you can see the difference in size. The crackers have a nice crunch but not enough flavor. When you first pop them into your mouth, you can taste some sweet and savory seasoning. However, that flavor quickly dissipates. This brand also makes these crackers in several other flavors (such as spicy flavor and spring onion chicken flavor), which I'd like to try.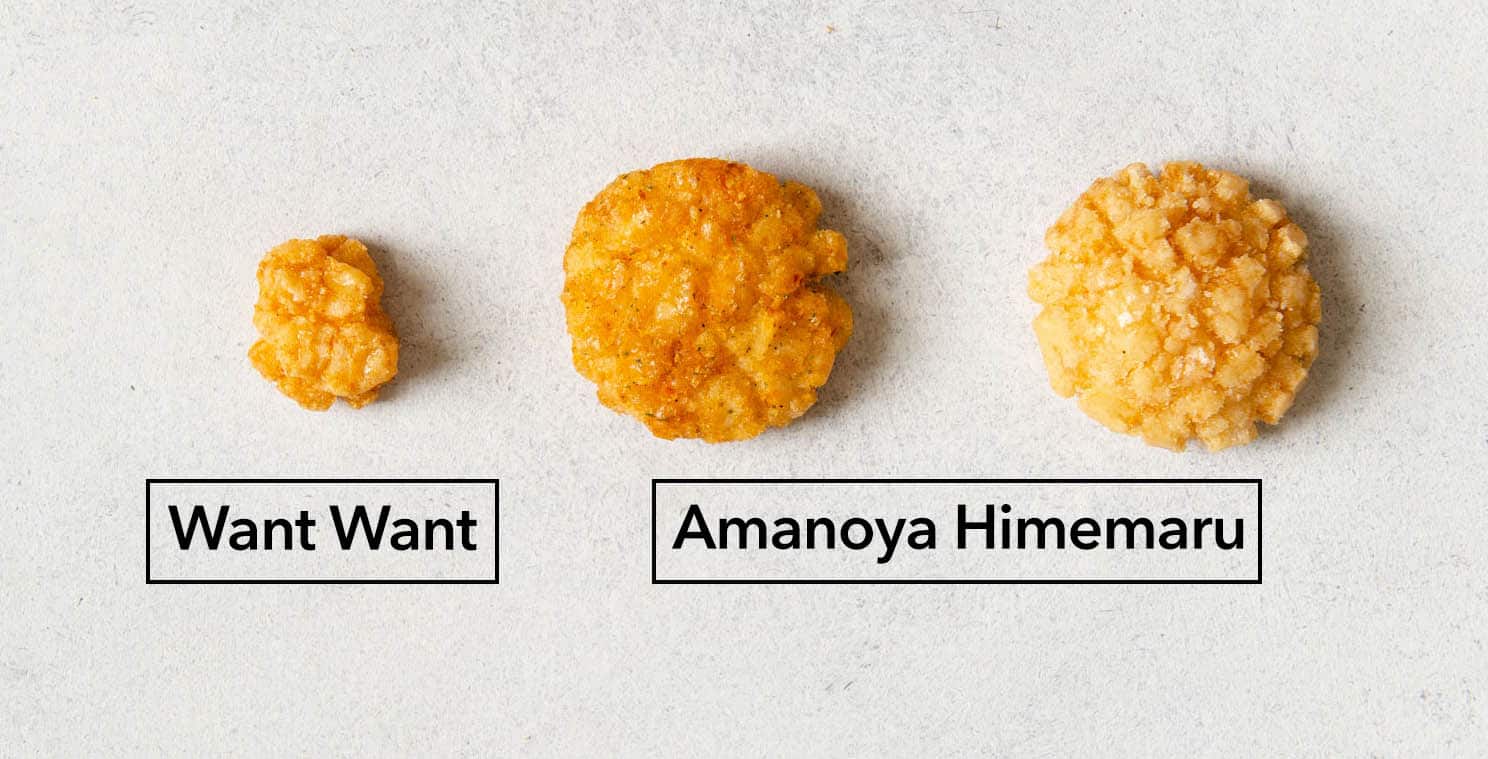 Where to Buy: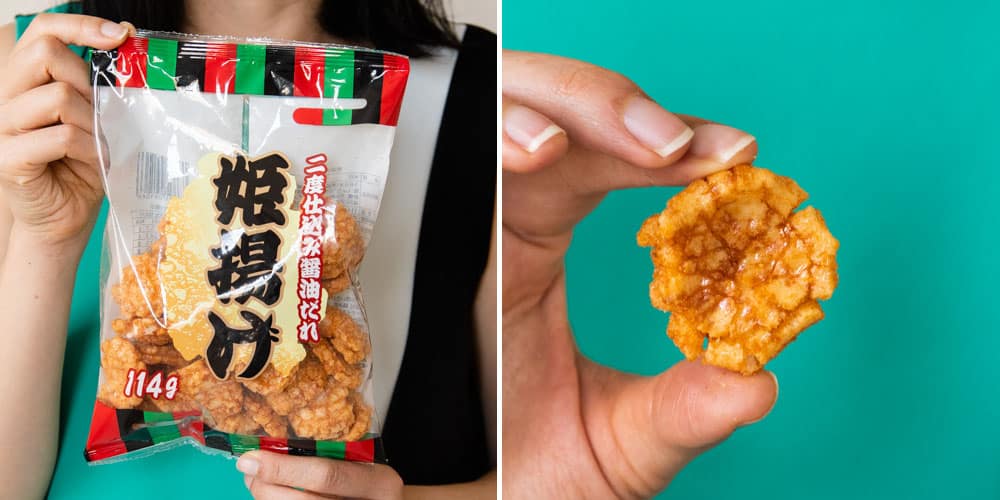 HIMEAGE (姫揚げ)
This rice cracker is similar to Amanoya's himemaru, except they're slightly larger. There is a sweet and savory glaze on the crackers and they're pleasantly flavorful.
Where to Buy:
I found this at my local Japanese market, Oto's Marketplace. I have a feeling you'll be able to find them at other Japanese supermarkets. Unfortunately, I have not been able to find any links online, as I can't seem to find the brand name of this product.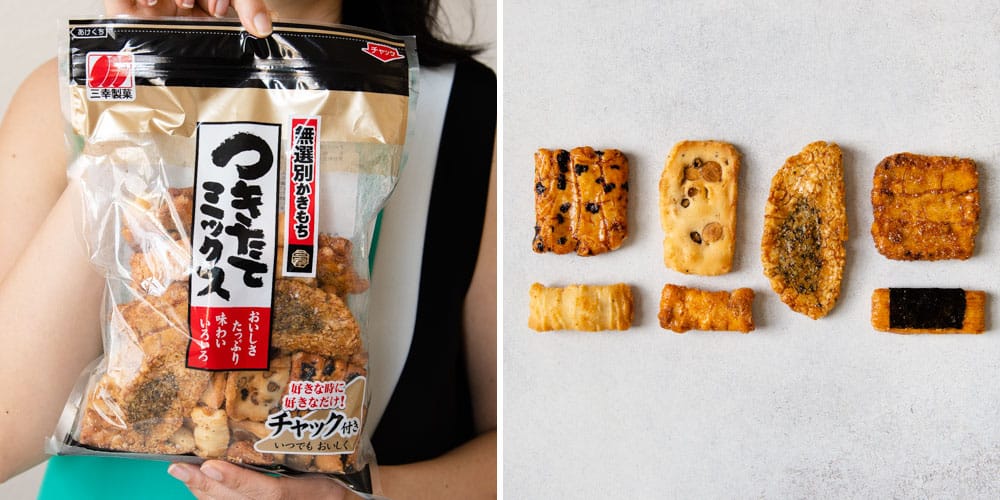 SANKO SEIKA TSUKITATE MIX (三幸製菓つきたてミックス)
This is a grab bag of various rice crackers that are sweet and savory. The brown pieces are coated in a soy sauce seasoning that is also a little sweet. Some pieces are encrusted with large grain sugar that looks like either demerara or turbinado sugar. There's also nori embedded or wrapped around some of the brown pieces of crackers. The lighter brown pieces are seasoned with salt and a few other seasonings and are purely savory.
Where to buy:
Unfortunately, this particular bag of rice crackers is difficult to find. I bought this at Oto's Marketplace in Sacramento, and you can probably find them in other Japanese markets.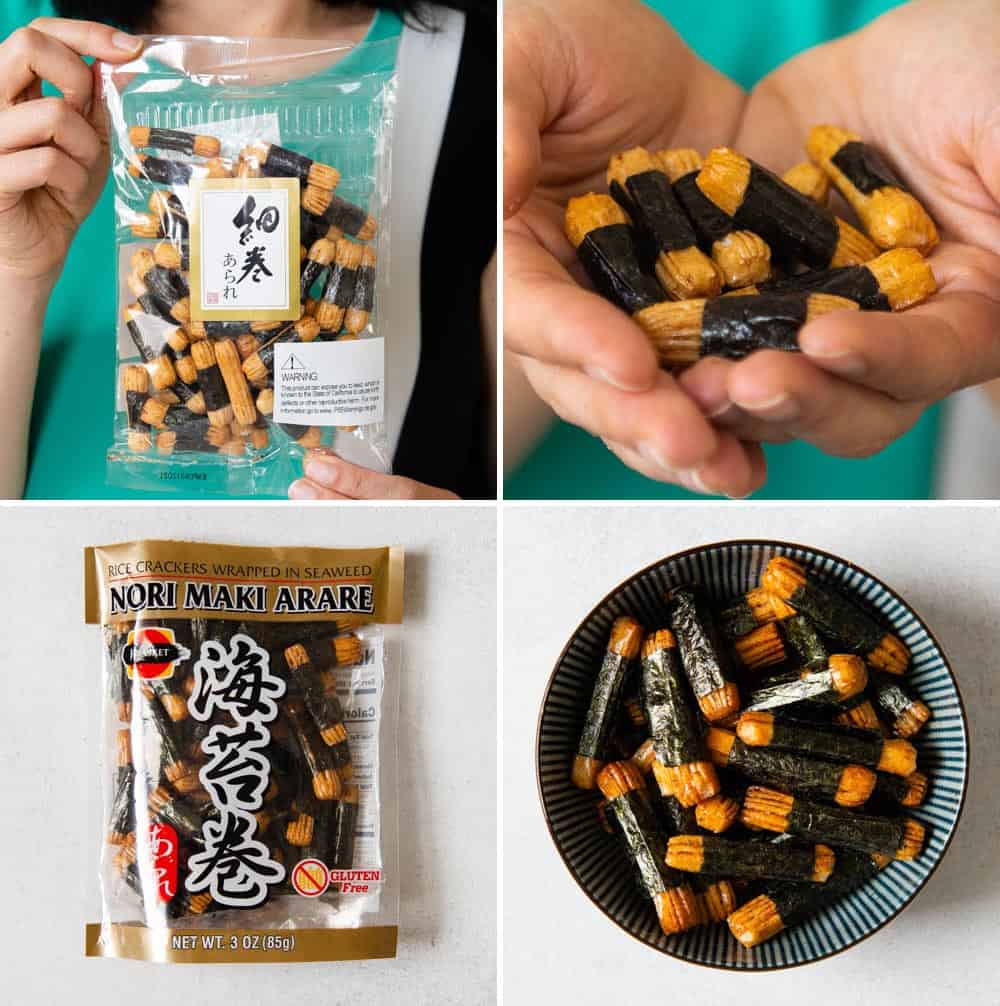 NORI MAKI (海苔巻きあられ)
Nori maki translates to "seaweed roll," and it often refers to small baton-shaped seasoned rice crackers that are wrapped in nori. These crackers have a good mix of savory and mildly sweet flavor. Nori maki is another one of my childhood favorites. As a matter of fact, I am polishing off a bag as I write this post. If you have several brands of nori maki to choose from, go for the bag with crackers that are darker brown in color. They're likely going to be more flavorful.
Where to Buy:
(NOTE: Some of the listings below lead you to the nori maki made by Shirakiku, which I find comparable to the ones by J-Basket)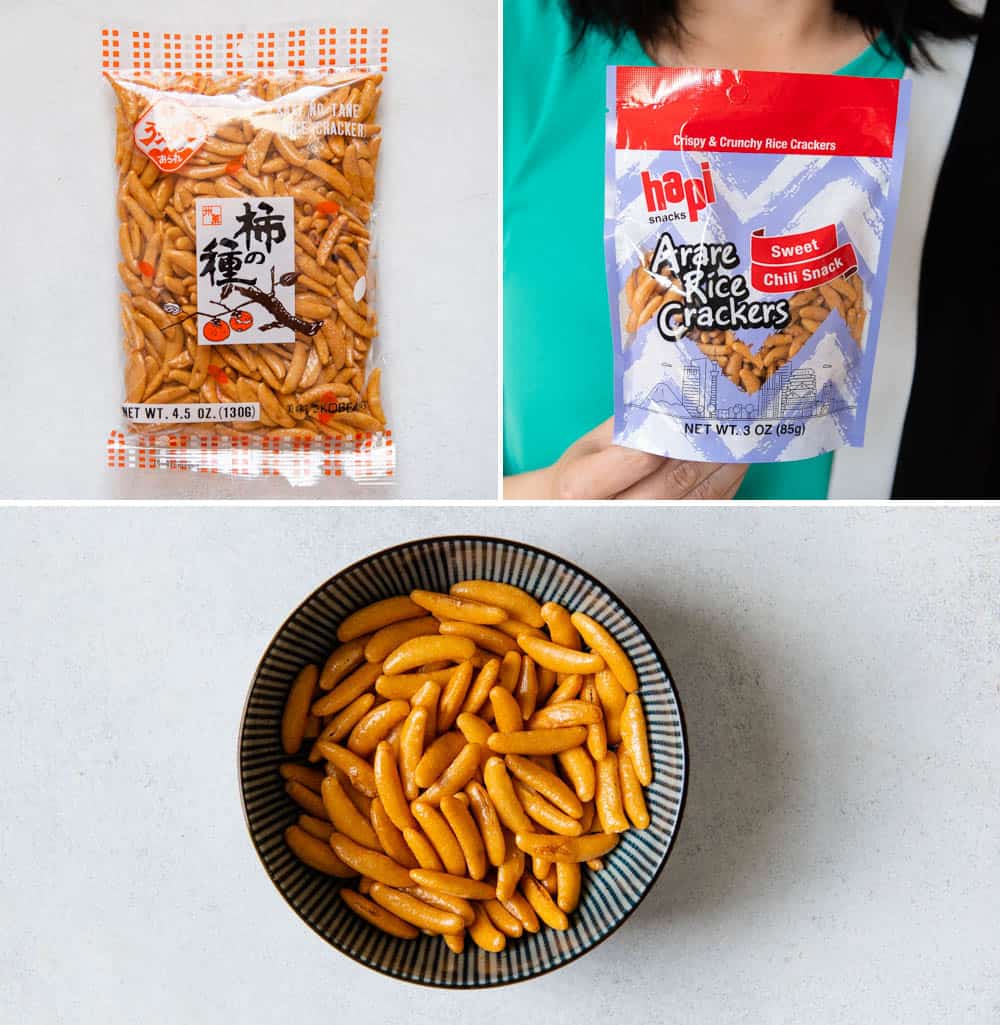 KAKI NO TANE (柿の種)
These mini crackers are called kaki no tane, "persimmon seed," because the shape of the crackers are supposed to resemble that of persimmon seeds. Kaki no tane is a type of arare (あられ), which are small Japanese rice crackers that are usually seasoned with soy sauce. I'm not sure if this distinction is official, but I usually think of senbei being larger rice crackers, while arare are smaller. Also, senbei are usually made of uruchimai rice (everyday rice) while arare are made of mochikome (mochi rice).
Some brands like Hapi call these "chili bits" or "chili snacks" in English because they do also look like chilis. Spice levels also vary between brands. I didn't find the crackers by Hapi to be spicy at all and I wish they had more flavor.
Uegaki's kaki no tane is much more flavorful and I could actually taste the spice in the crackers. They also make a version that is spicier.
Where to Buy Hapi Sweet Chili Snacks (they're sometimes packaged as "kaki no tane"):
Asian sections of grocery stores

Japanese supermarkets (e.g., Oto's Marketplace

)

Asian supermarkets (e.g., 99 Ranch, SF Supermarket)
Amazon

(affiliate link; sold in bulk)
Where to Buy Uegaki Kaki No Tane:
Are there any other Asian rice crackers I should buy? Let me know in the comments!