Now that I've flipped my calendar to "November," my mind can begin to digest the holiday season. By the way, even though we're in November, it's not time for Christmas yet. So, Best Buy, Michaels, and every other retail store, can we please hold off on the Christmas commercials and ads until I've had my turkey and pumpkin pie?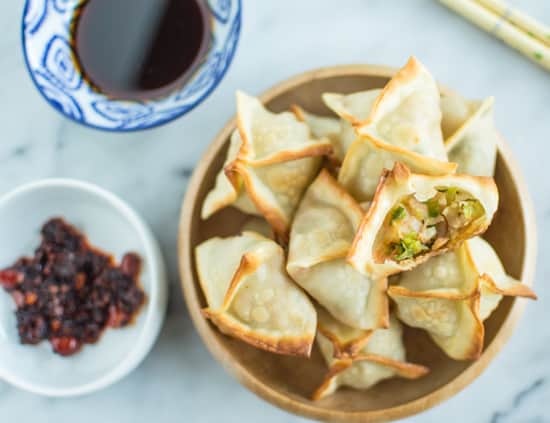 When I lived in the East Coast, I never went home for Thanksgiving because (1) I had to start studying for finals and (2) holiday plane tickets are ridiculously expensive! (<— Nothing new there.) Instead, I celebrated friends-giving. Even though I have moved back to California, I want to keep this friends-giving tradition alive, so I'm planning 2 food-centric gatherings. Why have one when you can have two, right? But really, I'm just looking for any excuse to gather my friends together to eat. Bring on the stretchy yoga pants!!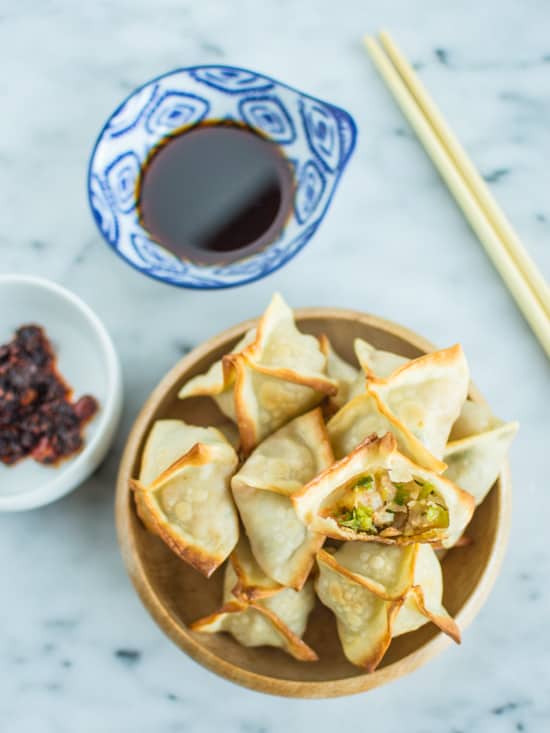 Have you ever tried Trader Joe's Thai Shrimp Potstickers before? For frozen potstickers in a bag, they're pretty darn good. These baked Thai shrimp wontons are inspired by those TJ potstickers I ate a month ago when I was too lazy to cook. Yes, food bloggers eat frozen meals, too. Once in a while . . .
I haven't actually decided which dishes to make for my friends-giving meals yet, but these shrimp wontons might make an appearance. And by the way, it's definitely not weird to have shrimp for Thanksgiving. My Thanksgiving dinners growing up were seafood affairs, with the occasional appearance of a soy sauce chicken. Mama Lin was not accustomed to the big bird.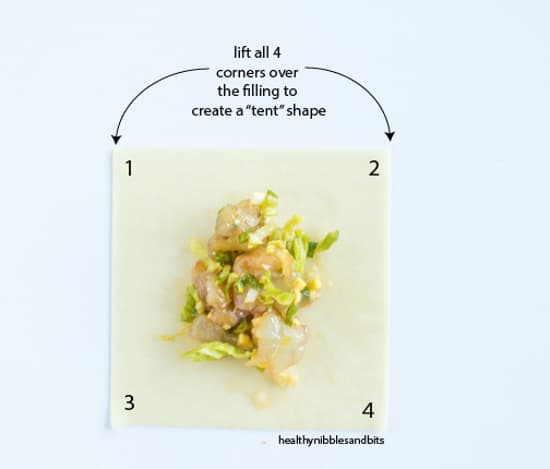 Folding these wontons are not as intimidating as it looks! All you're doing is just gathering up all the corners and sealing the dumpling by pinching the edges together. The "X" shape just magically appears! If you want to practice the folding technique before making these wontons, just cut out a sheet of square paper and fold away.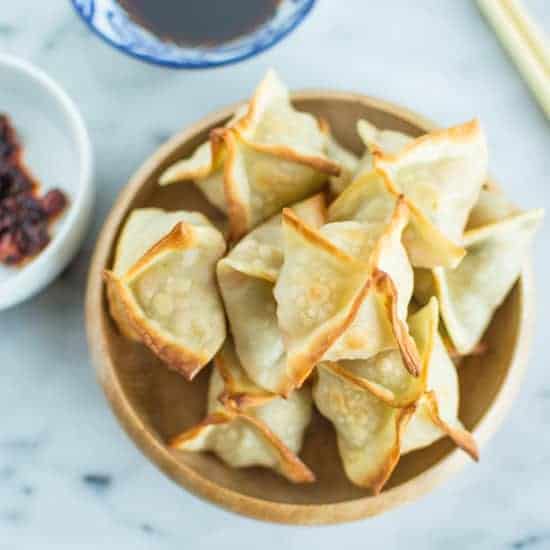 Baked Thai Shrimp Wontons
Makes 25 wontons
Ingredients
8

oz

(225g) raw shrimp or jumbo prawns

,

with shells still on

2/3

cup

(40g) chopped savoy cabbage (any other cabbage works also)

2

green onion stalks

,

finely chopped

2

garlic cloves

,

minced

1

TBS

minced lemongrass

1

TBS

minced ginger

,

about a 1″ piece of ginger minced

1

TBS

low-sodium soy sauce

1

tsp

sesame oil

25

wonton wrappers

1

large egg
Instructions
Preheat oven to 400 degrees F (205 degrees C). Grease a baking sheet with oil or cooking spray.

In a small bowl, mix the cabbage with 1/2 teaspoon of salt and set aside. After 10 minutes, squeeze out all the excess water from the cabbage.

Shell and de-vein the shrimp. Then, chop it into smaller pieces.

In a medium bowl, mix the shrimp, cabbage, green onions, garlic, lemongrass, ginger, soy sauce, and sesame oil together.

Scramble the egg in a small bowl.

Take a wonton wrapper, and fill it with around 2 teaspoons of filling. Resist the temptation to put a lot of filling in the wontons! It'll make the wontons less crispy and more difficult to wrap. Using your index finger, rub the egg along all 4 edges of the wonton wrapper. Fold 2 corners together, and seal up that side of the wonton. Fold in the other two corners so that all corners meet together. An X-shaped tent should start to form. Seal up the wonton by pressing the edges together.

Place the wontons onto the baking sheet. Bake the wontons for 10-12 minutes, or until the edges are golden brown.

Serve with your favorite dips. The wontons are best when they're still warm!
Did you make this recipe?
Tag @hellolisalin or leave a star rating and comment on the blog!
A look into the produce in my refrigerator . . .