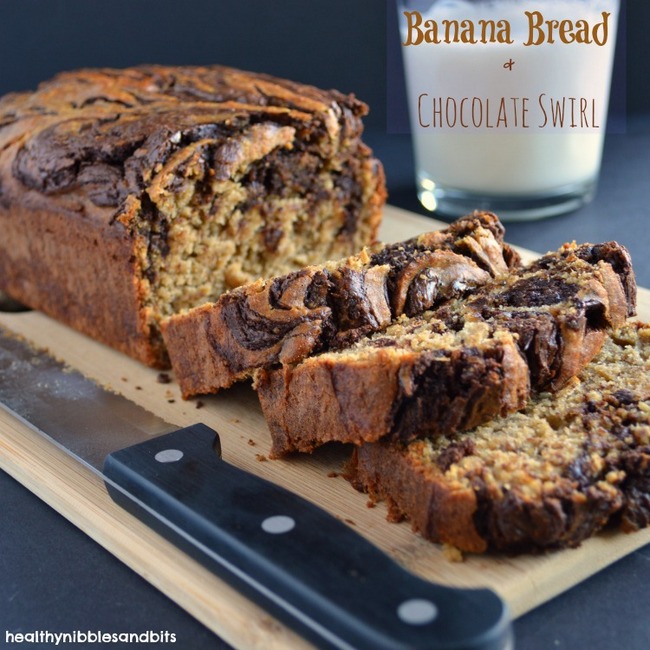 Spotted or not spotted, that is the question. For me, bananas are best consumed when they have a couple spots on them. Not quite dalmatian-style, but enough to indicate that the banana has lost most of its starchy texture. I have friends who prefer bananas with a bit of green on the skin. I think they're crazy. But when I have bananas that look like this, I know it's time for a baking session: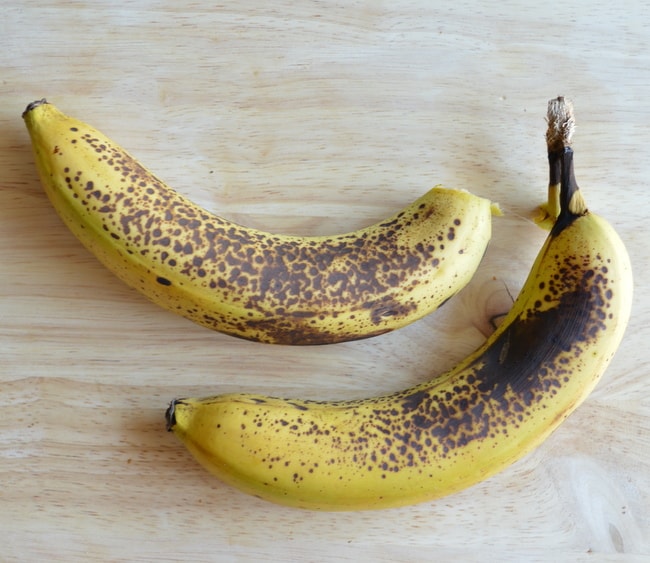 Initially, I wanted to make a cinnamon chocolate swirl for the banana bread. A few weeks ago, I fell in love with Joanne's recipe for chewy cinnamon white chocolate chip coconut cookies at Eats Well With Others. The recipe called for cinnamon chips, something I had never heard of. I was on a quest for them last week, but alas, none of the supermarkets I frequent carried these cinnamon morsels.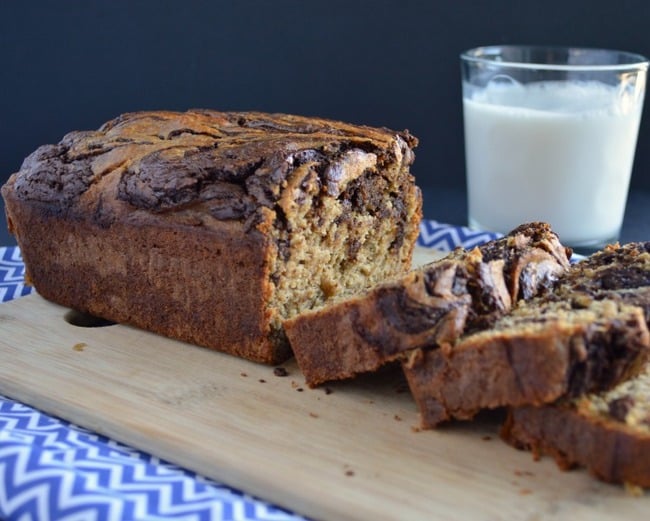 When it came time to baking, I thought, wouldn't it be great if I added a cinnamon chocolate swirl to the bread?! Cinnamon + chocolate perfectly co-existing. I was sold on the idea, so I melted a 1/2 cup of chocolate chips and added a tablespoon of ground cinnamon to the sauce. Next, the moment of truth—the taste test. The verdict: a disappointment. The cinnamon flavors were muted by the semi-sweet chocolate chips. The chocolate certainly tasted different, but not enough for me to detect cinnamon in it.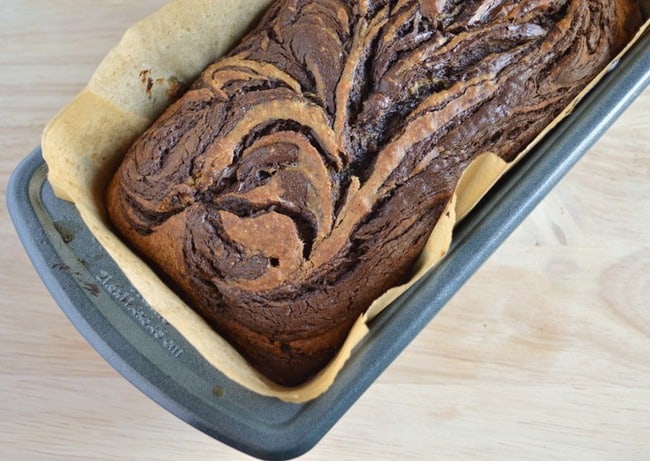 I made a fresh batch of chocolate sauce for my banana bread, using chocolate chips only and added it onto the banana bread batter. To make the chocolate swirl on the bread, I poured the banana batter into a greased loaf pan first. Then, I added dollops of the chocolate sauce and, with a butter knife, swirled the batter and chocolate together.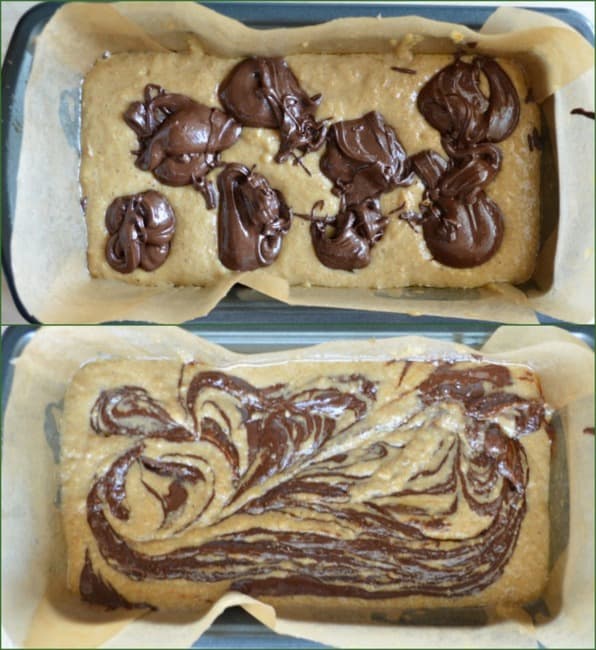 If you want more layers of chocolate inside the banana bread, add half of the banana bread into the loaf pan and top it with a few dollops of chocolate sauce. Next, add the remaining banana mixture and top it with the chocolate. Then, use a butter knife to create a swirl.
Even though the cinnamon chocolate experiment wasn't a success, the final version was wonderful! Oh, and did I mention that it is gluten-free?
Gluten-Free Banana Bread with Chocolate Swirl
Moist banana bread topped with a luscious swirl of chocolate.
Ingredients
Natural cooking spray or regular oil for greasing pan

3

overripe bananas

,

mashed

1/3

cup

canola oil

1/2

cup

coconut sugar

2

large eggs

2

TBS

non-fat greek yogurt (or plain yogurt)

2

tsp

pure vanilla extract

1 1/4

cup

rolled oats

,

ground (or a bit over a cup of oat flour)

3/4

cup

brown rice flour

1

TBS

ground psyllium husk

1

tsp

ground cinnamon

1/2

tsp

ground nutmeg

1/2

tsp

salt

1/2

tsp

baking soda

1/2

tsp

baking powder

1/2

cup

semi-sweet chocolate chips
Instructions
Preheat oven to 375º F (180º C). Either grease a loaf pan directly with cooking spray or oil, or line the pan with parchment paper and then spray the insides. Be sure to have at least half an inch of parchment paper above the loaf pan.

In a large bowl, mix the mashed bananas, oil, coconut sugar, eggs, yogurt, and vanilla together.

In another bowl, mix together the ground rolled oats (or oat flour), brown rice flour, psyllium husk, cinnamon, nutmeg, salt, baking soda, and baking powder.

Mix the dry ingredients with the wet ingredients. I like to add the flour mixture in three batches.

In a microwave-safe bowl, melt the chocolate chips. Set the microwave for about a minute and then check the chocolate. Be careful with hot bowls! If the chocolate has barely melted, continue microwaving at 15-second increments until the chips are partially melted and very soft. The chocolate doesn't need to be saucy–just melted enough so that you can stir the chips together into a creamy consistency.

Pour the banana batter into the loaf pan. Add dollops of the chocolate sauce on top of the batter.

Using a butter knife, swirl the chocolate around so that you create a nice psychedelic swirl pattern.

Bake the bread for about 50-55 minutes, or until a toothpick comes out clean when you pierce through the banana bread portions. Try not to test the bread by sticking the toothpick in the chocolate portions, as the toothpick will always come out with gooey melted chocolate.

Let the bread cool for at least 45 to 50 minutes before taking it out of the pan for slicing.

Store any leftovers in sealable container. Refrigerate any bread that you haven't finished in several days.
Did you make this recipe?
Tag @hellolisalin or leave a star rating and comment on the blog!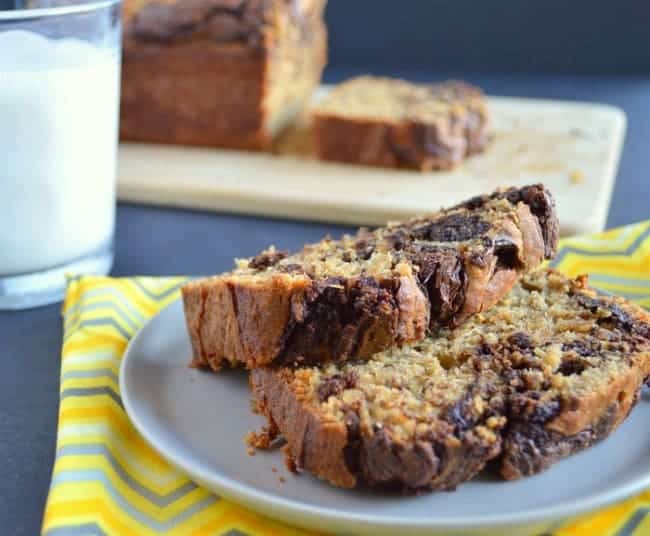 FUN BANANA FACTS
The word "banana" comes from the Spanish and Portuguese words banana (for the fruit) or banano (for the tree).
Until the late 19th century, bananas were considered to be luxuries in America. Now, they're less than a dollar for a pound (at least for now)!
The most common variety of banana that we see in supermarkets are from the Cavendish subgroup. There are increasing news reports suggesting that the global production of Cavendish bananas could be at risk because of a fungus, also known as the Panama disease. The cause: lack of genetic diversity in the crop. What will I do without bananas??