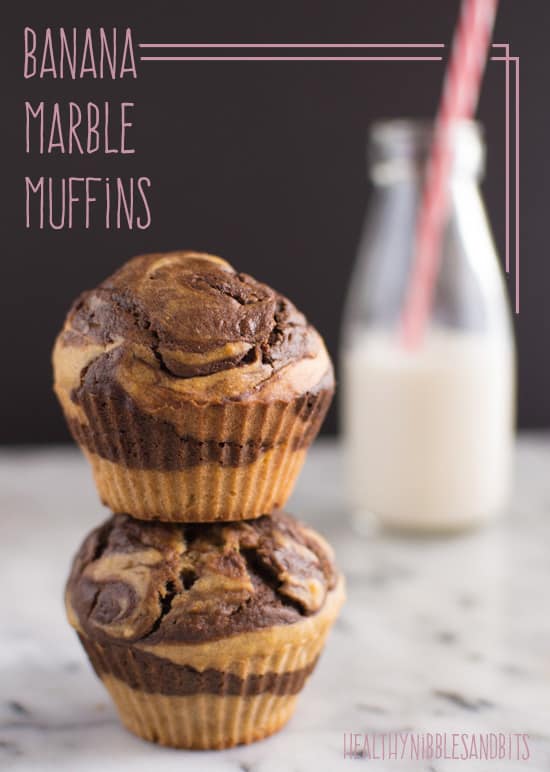 Has anyone ever seen "The Rye" episode on Seinfeld, the one that centers around a loaf of marble rye bread? Believe it or not, watching that episode years ago introduced me to that two-toned loaf. I was quite mesmerized by the possibility of creating swirly designs inside a loaf of bread. I should probably mention that I was quite young when I first saw that Seinfeld episode. At that point in my life, I was easily fascinated by little things, including plasma globes and color-changing mugs (which I still love).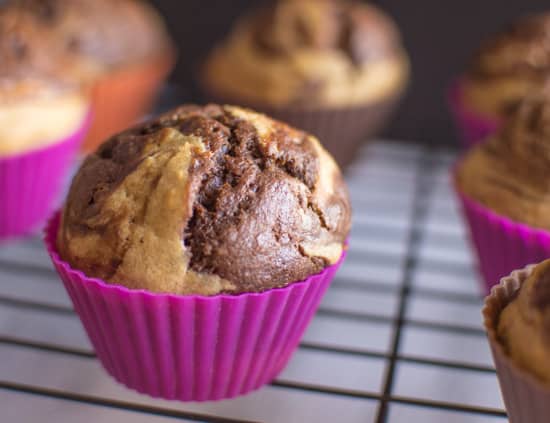 After all these years, I haven't learned how to make marble rye yet, but I can make delicious marble muffins! I think I'll be fine for now.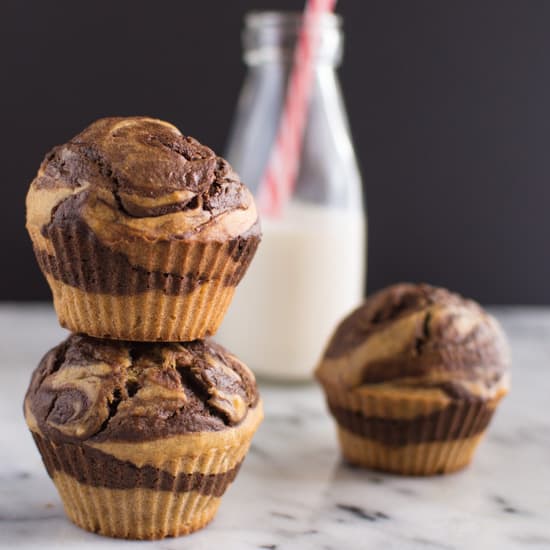 These muffins look a bit complicated, but the trick is all in the layering. Just prep one banana batter, one chocolate batter, layer, swirl, bake, and lo and behold: soft, moist, delicious, yummy, chocolatey muffins. (Coincidentally, at the International Food Bloggers Conference, we were told to stray away from using these adjectives such as yummy and soft because they're not descriptive enough. Well, I'm doing it anyway. If you're not sold, just look at the photos. Tell me you don't want one of them.)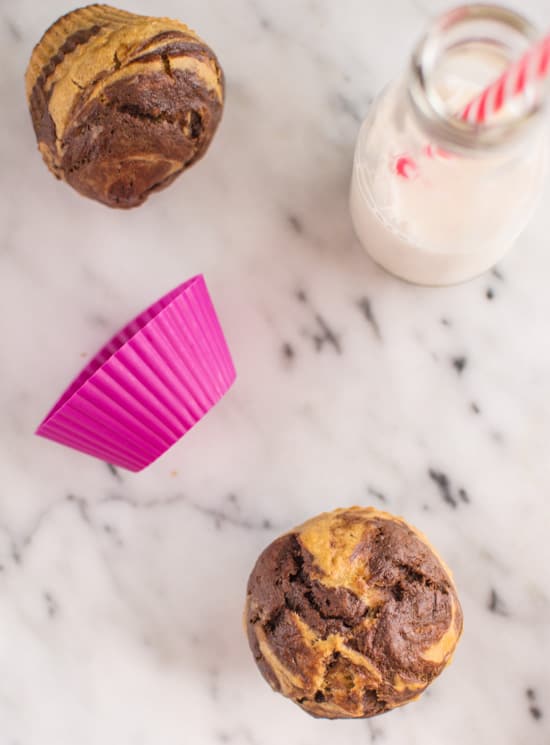 Banana Marble Muffins
Makes 12 muffins
Ingredients
natural cooking spray

2

medium ripe bananas

,

mashed

1/3

cup

plus 2 tablespoons

,

110ml canola oil

1/2

cup

(115g) unsweetened applesauce

2

large eggs

2/3

cup

(125g) coconut sugar

2

teaspoons

pure vanilla extract

2

cups

(240g) all-purpose flour

1

teaspoon

cinnamon

1/2

teaspoon

baking powder

1/2

teaspoon

baking soda

1/2

teaspoon

salt

2/3

cup

(115g) semi-sweet chocolate chips
Instructions
Preheat oven to 375 degrees F (180 degrees C). Grease a 12-muffin pan with cooking spray.

In a large bowl, mix the mashed bananas, oil, applesauce, eggs, sugar, and vanilla together.

In another bowl, mix together the all-purpose flour, cinnamon, baking powder, baking soda, and salt.

Mix the dry ingredients with the wet ingredients.

In a microwave-safe bowl, heat the chocolate chips for a minute and check them. Continue microwaving the chips in 20-second increments until all the chips have a glossy sheen. Stir the chocolate together until you get a thick chocolate sauce. Mix this melted chocolate with 1 cup of the muffin batter.

Pour a layer of the banana batter into all of the tins, then top it with a chocolate layer. Continue alternating layers until all the muffin tins are full with the batter. I made the top layer half-banana and half-chocolate. Run a toothpick on top to create a swirl pattern.

Bake the muffins for 22-25 minutes or until a toothpick comes out clean.

Store any leftovers in room temperature in an airtight container.
Did you make this recipe?
Tag @hellolisalin or leave a star rating and comment on the blog!