This gluten-free baked butternut squash mac and cheese is a great way to add more vegetables into a classic comfort dish! Plus, the butternut squash gives the entire dish a beautiful, natural golden orange color. This butternut squash mac and cheese recipe is a favorite at home and at my cooking classes!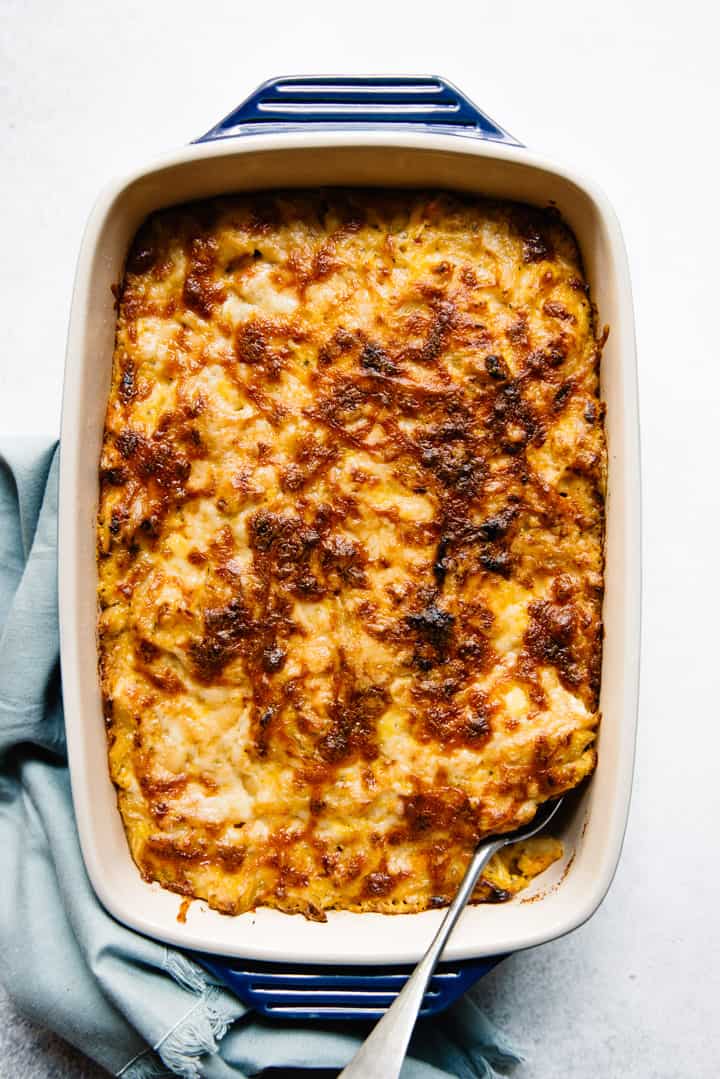 Note: This is an updated version of the baked butternut squash mac and cheese that I published in March 2016. I simplified the cooking method and added new photos and a video tutorial on how to make the dish. 
Every fall and winter, I make this butternut squash mac and cheese at least several times. It is a celebration of my favorite winter squash. Besides, I love that I can sneak in a few vegetables into a dish that we would normally deem "unhealthy." The combination of squash, carbs, and melty cheese genuinely comforts my soul.
This butternut squash mac and cheese was originally inspired by the Three-Cheese Baked Mac from Better Homes & Gardens. I made a number of changes to the original recipe, including cutting the amount of cheese in half, using gluten-free pasta, and adding a butternut squash puree to the dish. The butternut squash puree move was inspired by my friend Sabrina and her baked mac with carrot. The idea of adding a bit of sweetness to a mac and cheese dish sounded so intriguing, I had to try it for myself. Friends, butternut squash in mac and cheese tastes PHENOMENAL.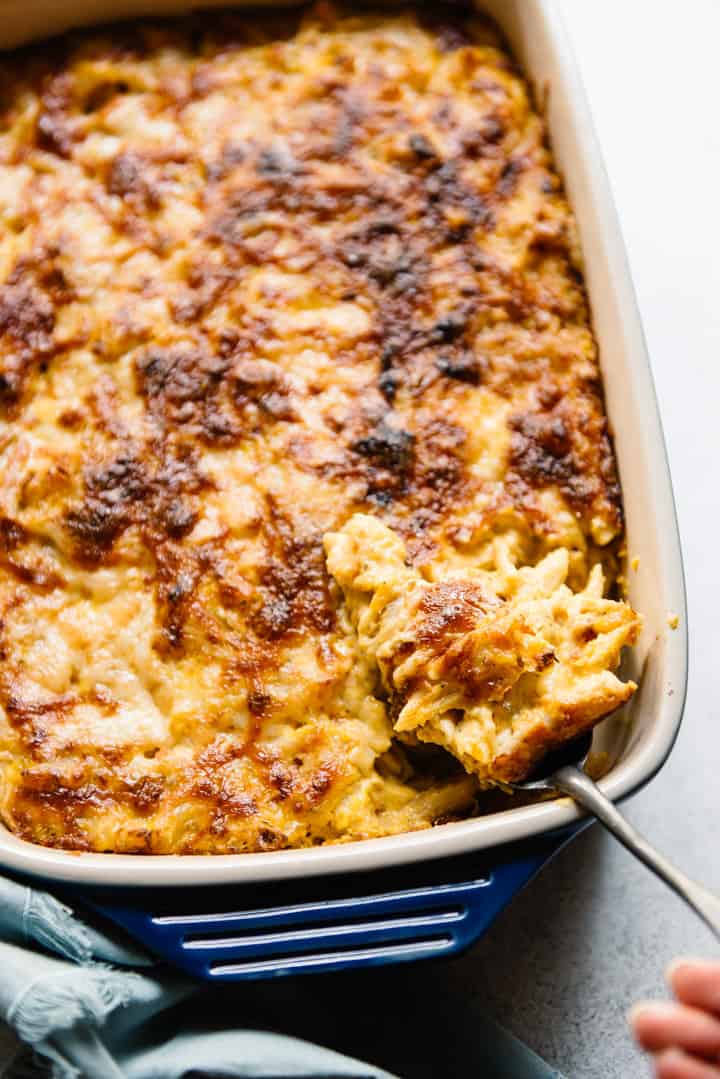 COOKING NOTES FOR THE BUTTERNUT SQUASH MAC AND CHEESE
Choosing the right gluten-free pasta: When I first created this recipe, I was on a gluten-free diet, which is why I used gluten-free pasta. After trying out quite a number of brands, I've found that Ancient Harvest, Tru Roots, Bionaturae and Banza work very well for this butternut squash mac and cheese recipe. I have been eating Banza's pasta more lately because they contain a lot more protein and dietary fiber than other pastas. Because their pastas are made from beans, you will detect a slight beany flavor in the pasta. Don't worry, you won't be able to detect it in this baked mac and cheese!
Substitutions: This recipe works well with pumpkin puree!
Adding Broccoli: I made a version of this with chopped up broccoli florets, and it tasted great. I mixed some of the florets into the mac and cheese and spread some on the top. The florets at the top get nice and crunchy!
KITCHEN TIP #1: HOW TO PEEL & CUT BUTTERNUT SQUASH
If you like my videos, I would love it if you could give it a thumbs up on YouTube! For the latest updates, subscribe to my YouTube channel.
Print
Baked Butternut Squash Mac and Cheese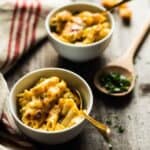 This butternut squash baked mac and cheese is great with about 1/2 to 3/4 cup of chopped broccoli florets on the top, too. Adapted from Better Homes and Gardens.
Author:
Prep Time:

15 minute

Cook Time:

45 minutes

Total Time:

1 hour

Yield:

8

Servings

1

x
1

pound (450g) gluten-free penne pasta (use regular penne if not glu

ten

free)
Cheese Sauce
2 tablespoons

unsalted butter

2 tablespoons

gluten-free all-purpose flour

2 cups

(475ml) low-fat milk (I used 2% milk)

1 teaspoon

dried oregano

1 teaspoon

dried thyme

1/2 teaspoon

black pepper

1 teaspoon

salt

1 1/2 cups

butternut squash puree (pumpkin puree also works)

1 1/2 cups

shredded part-skim mozzarella cheese

1 1/3 cups

shredded white cheddar cheese
olive oil for greasing baking dish
Instructions
Cook pasta according to package instructions. Drain pasta and rinse under cold water.
Position an oven rack to the center. Preheat oven to 375ºF (190ºC). Grease a 9×13-inch baking dish with olive oil. Set aside.
Melt 2 tablespoons of butter in sauté pan over medium-high heat. Add flour and stir immediately until a soft paste, or roux, forms. Add milk and begin to stir everything immediately to prevent the roux from clumping up too much.
Once the milk boils, reduce heat to medium-low and let the sauce simmer for about 3 to 4 more minutes, until the sauce thickens. Reduce the heat to low.
Add the oregano, thyme, black pepper and salt and stir. Add the butternut squash puree and mix until everything is incorporated. Mix in 2/3 cup of mozzarella, 2/3 cup of white cheddar. Save the rest of the cheese for topping later. Turn off the heat. Stir in the cooked pasta, until it's well coated with the butternut squash cheese sauce.
Pour mac and cheese into the prepared baking dish. Top with remaining mozzarella and white cheddar cheese. Bake for 20 minutes, then broil for about 3 to 4 minutes to brown the cheese on top. Check the mac and cheese after 3 minutes to see if it has been adequately browned.
Notes
NUTRITION INFORMATION: Amount per serving (using Banza pasta): Calories: 404, Total Fat 17.6g, Saturated Fat: 8.2g,Cholesterol: 43mg, Sodium: 644mg, Total Carbohydrate: 42g, Dietary Fiber: 9.4g, Sugar: 10g, Protein 26g
*In the original method, I made a butternut squash puree by sauteing 2 cups of cubed butternut squash (11 ounces) in a pan with a tablespoon of olive oil, a few cloves of crushed garlic, a splash of water and salt. The squash will need 10 minutes to cook, covered. If the water evaporates before the squash is ready, add another splash of water. Then, I blended everything in a food processor until smooth. I thought that this method was more time consuming than adding pre-made butternut squash puree into the cheese base, so I rewrote the recipe.