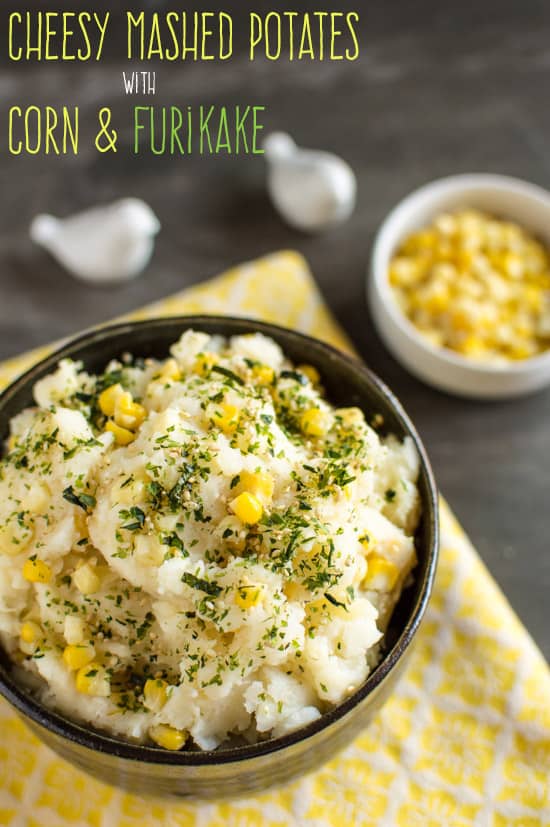 Would you believe me if I told you that the first dish I learned how to cook well was mashed potatoes? Ok, so maybe I didn't actually make it from scratch and used potato flakes instead, but don't tell anyone!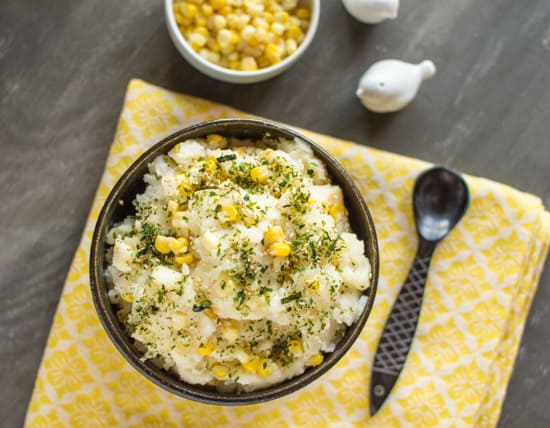 At a young age, I knew that mixing in some "fixins" to my mashed potatoes would knock it out of the park. Don't get me wrong, there's a time and a place for garlic mashed potatoes with gravy. But mashed potatoes with some sautéed onions and chopped Chinese sausage blew my mind. And I did all of this before bacon + mashed potatoes was even a thing!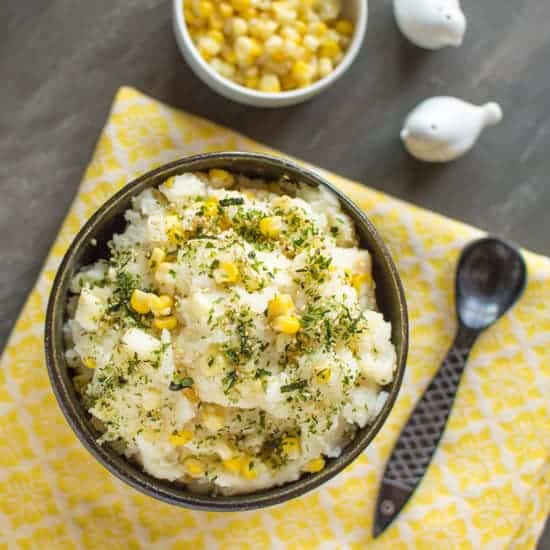 Some of you may be happy to know that I no longer cook mashed potatoes by pouring flakes into a bowl and mixing it hot water. However, I still haven't shaken off that habit of mixing additional veggies into my mashed potatoes. This time, I mixed in a bit of fresh, sweet corn kernels. I might as well shove as much corn as I can into my dishes before they're out of season (sigh). As for the furikake, well, I just add to everything now. I'm not even exaggerating.
Cheesy Mashed Potatoes with Corn & Furikake
Ingredients
3

large russet potatoes

,

~2 lbs/1 kg

2/3

cup

75g shredded Gruyère cheese (or any kind of cheese)

1

cup

110g fresh yellow corn kernels

1

TBS

olive oil

salt and pepper to taste

furkikake

,

Japanese rice seasoning for topping
Instructions
Peel the potatoes, and chop them into large chunks. Place the potatoes in a small pot, and fill it with water so that there is about an inch of water above the potatoes. Bring the potatoes to boil.

While the potatoes are cooking, heat a small skillet with the oil over medium-high heat. Once the skillet is hot, add the corn kernels and cook for a few minutes, or until the kernels turn into a vibrant yellow. Add a pinch of salt to draw out the corn's sweet flavor.

Once the water in the pot has boiled, leave it for another few minutes until the potatoes can be pierced with a fork. Drain the boiling water, and place the potatoes in a large bowl. Use a masher or a wooden spoon to mash the potatoes. Stir in the cheese and corn. Add more salt and pepper to taste.

Serve the mashed potatoes with some furikake on top. Enjoy while warm!

Refrigerate any leftovers in an airtight container.
Notes
1. Feel free to use your favorite cheese in this recipe and substitute the furkikake with your favorite spice blend![br][br]2. Add more cheese if you want cheesier mashed potatoes!
Did you make this recipe?
Tag @hellolisalin or leave a star rating and comment on the blog!
What do you like to add to your mashed potatoes?