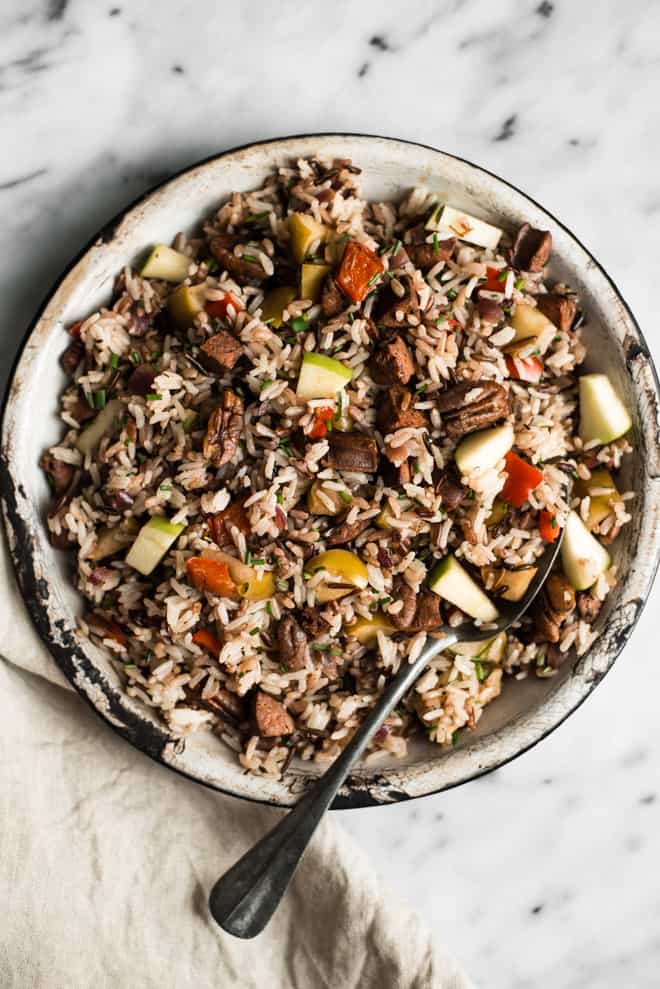 The married life is about keeping secret the amount of money you spend on certain things. He doesn't need to know that you spent $80 on a pair of new flats; you don't need to know that he donated $40 for the privilege of streaming someone playing video games. Everyone is happy.
Along the same lines, the married life is about finding ways to hide big purchases from your spouse. Sometimes, it's better to avoid those "How much did that cost?" conversations outright. Have that package delivered to work or hide it in the deep corner of your closet for a month. That way, when you bring that out in the open, and your spouse asks if it's new, all you need to say is, "No, I've had it for a while!"
The married life is about relishing over small moments, like moving your pillow to the center of the bed while your spouse is out of town. Yes! Stretch your legs and enjoying having the bed all to yourself!
The married life is about debating over who has more belongings around the house and who needs to start tossing things away. (For the record, I own fewer clothes than the hubs now, thanks to Marie Kondo.
Most importantly, the married life is about sharing your life with someone wonderful, someone who is just as nerdy as you are, someone who understands you, and someone you can laugh with for the rest of your life.
Okay, enough of this mushy stuff. Let's eat.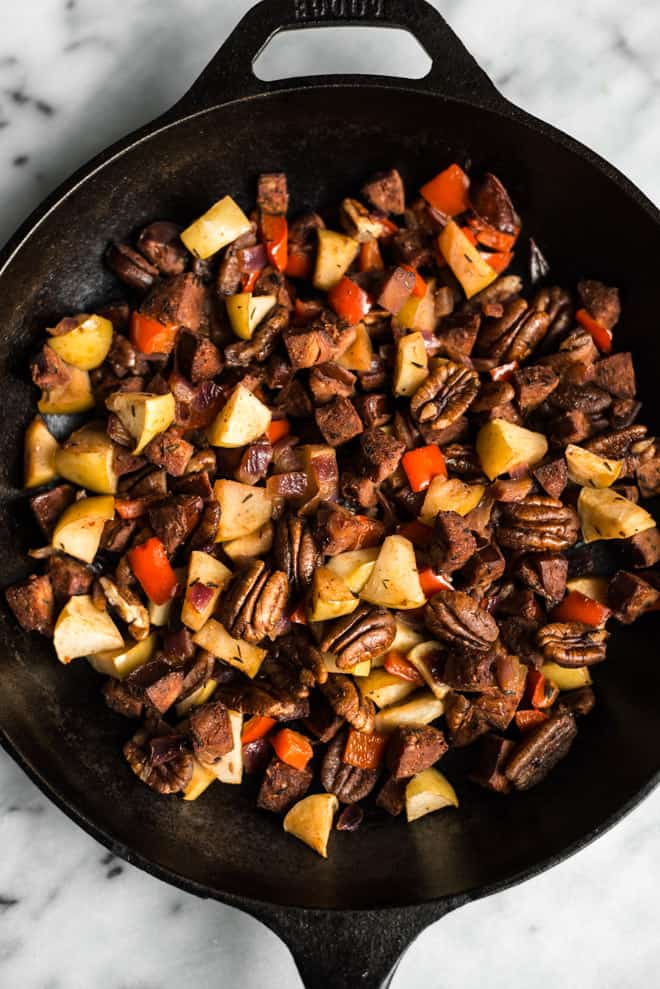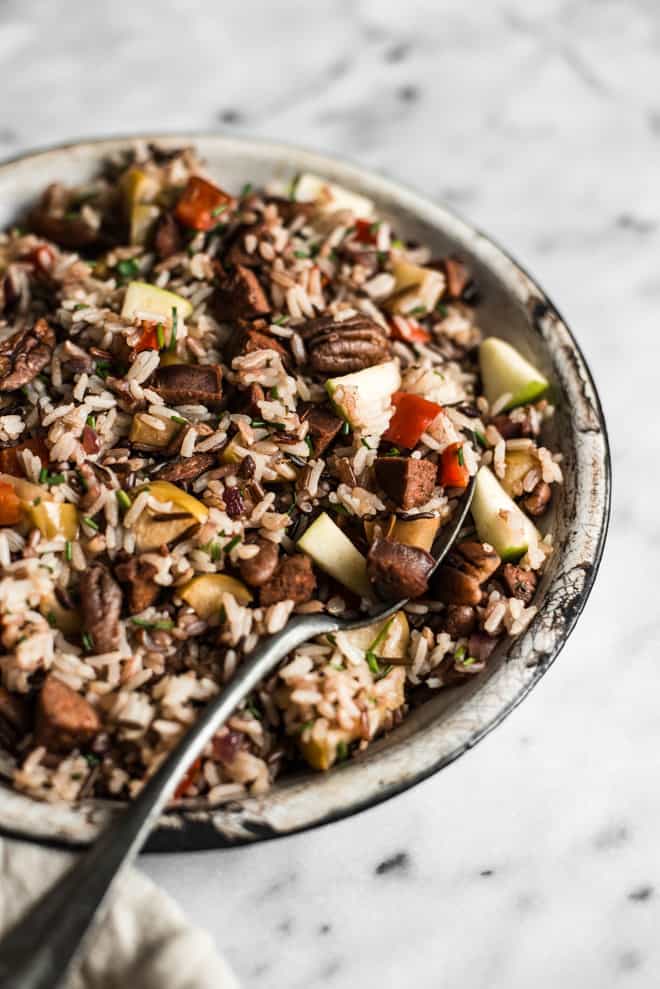 MASTER MY MISTAKES / COOKING NOTES
Recipe Inspiration: The chorizo and apple rice salad was adapted from a recipe from Jamie Oliver's Great Britain. The original recipe called for pork belly, which I love to splurge on occasionally, but a bit much for a regular weeknight meal. That's why I substituted the pork belly for chorizo.
Note on Chorizo: The sausage I'm using in this recipe is Aidell's chicken chorizo. I like that it's fully cooked, and it has great flavor.
Note on Rice: You can use any kind of rice you like, but I opted for a wild rice and white rice blend purely for aesthetic reasons. By the way, I finally decided to buy myself a rice cooker after realizing that I hate to babysit rice as it's cooking on the stove. I bought this Instant Pot, which is a 7-in-1 cooking tool (it's a slow cooker, pressure cooker, rice cooker, steamer, etc.). It takes up as much space as a slow cooker, but I love that it performs so many more functions. The price point is usually around $100+, but keep an eye out for sales! I bought mine for about $75.
If you try this recipe, let me know how it goes by leaving a comment or sending me a message! Or take a photo of the food and tag me on Instagram so that I can give you a fist bump. I love seeing your creations!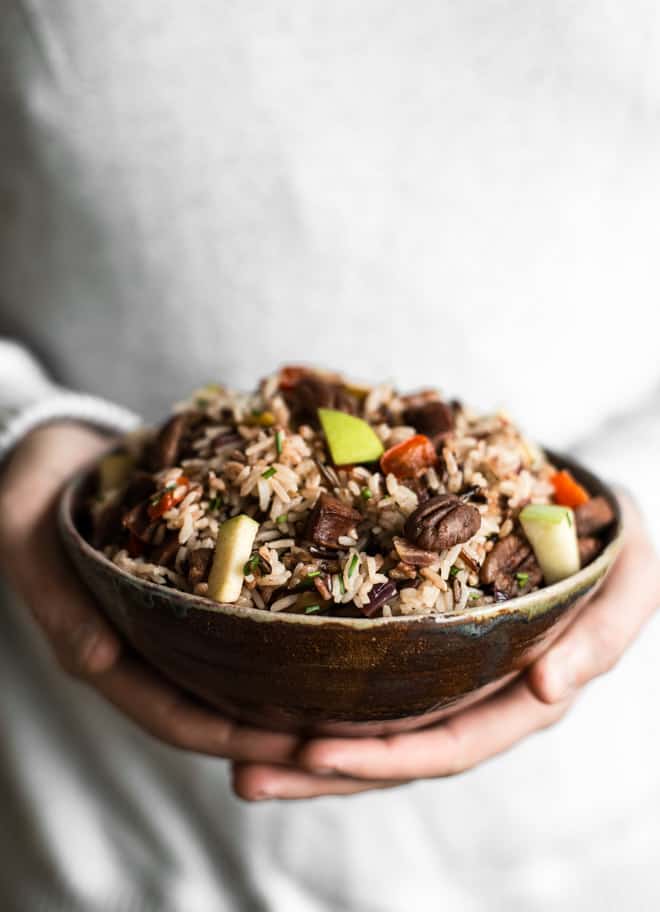 Chorizo and Apple Rice Salad
Ingredients
2

cups

uncooked rice

,

I used a wild rice and white rice blend, but any rice works

3

chorizo sausages

,

chopped

1/2

medium red onion

,

diced

1

medium red pepper

,

seeded and diced

2

apples

,

cored and chopped (I used Granny Smith apples)

small handful of pecans

,

1/3 cup

juice from 1 medium orange

,

about 1/2 cup juice

1/2

tsp

dried thyme

salt and pepper

,

to taste
Optional toppings
chopped chives

lemon juice from 1/2 a lemon
Instructions
Preheat oven to 400 degrees F (205 degrees C).

Cook rice according to package instructions. Use a fork to fluff up the rice once it is done.

Heat a sauté pan or skillet over medium-high heat. Add chorizo and diced onions. The fat released from the sausage is enough to cook the onions. Add red peppers and a pinch of salt, and sauté for another minute. Turn off heat. Add 3/4 of the chopped apples, thyme and orange juice and stir. If you're using a skillet or a heat-proof sauté pan, transfer it directly into the oven. Otherwise, pour the sausage and apple mix into a baking dish, and transfer to oven. Bake for 15 minutes.

In a large bowl, mix rice and the baked sausage and apples. Add remaining apple chunks, more salt and pepper, chopped chives, and a bit of lemon juice, if you like. Serve immediately.
Did you make this recipe?
Tag @hellolisalin or leave a star rating and comment on the blog!
Disclosure: This post contains affiliate links. These are all products that I've found useful in my household, and I hope they're great for you, too. Thanks for supporting my humble kitchen!