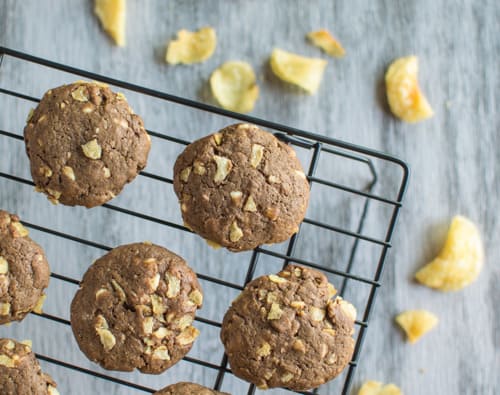 On Tuesday, one of my dear college friends and I had a big cooking marathon. I'm not kidding—we were in the kitchen for SEVEN hours. Well, I suppose we took a few breaks to test out the food and take photos of our creations. But we were hard at work. Actually, my friend probably worked the hardest. Not only did he help out with the cooking, but he even cleaned and dried all the dirty bowls and utensils. You can't beat that!
It's always great to have another friend who knows how to cook around because they can tell you when something is brilliant or a miss. I love getting feedback on my recipes. Something that tastes great to me, might be awful to other people for all I know. Food bloggers, do you feel the same way?
Actually, I wish I had a food taster around to test everything I cooked! Anyone want to sign up for that?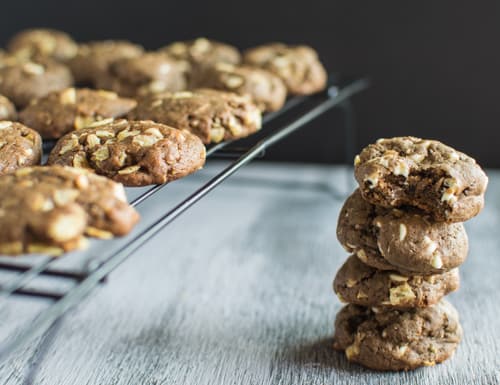 For this month's Leftovers Club, I was paired with Angela from Mind Over Batter. Let me just say, this woman can cook (and take beautiful photos to boot)! These Homemade Samoa Cookies, Baileys Irish Cream Oreo Cookies, and Chocolate Caramel Banana Upside Down Skillet Cake are to die for. I had a bit of a problem when I was trying to figure out what to share with Angela. She bakes so much amazing food already, what can I make that would taste good to her?
I finally decided to make some chocolate chip cookies with a tiny surprise in them—kettle chips! I've been quite into sweet and savory treats lately, so I thought the potato chips would add a nice bit of saltiness to the cookies.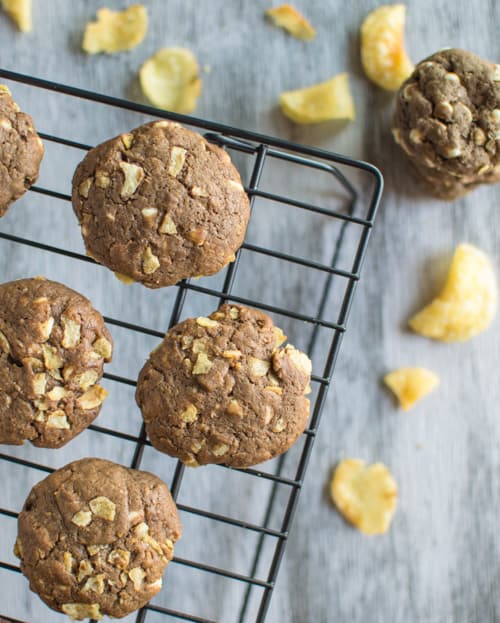 As it turns out, the Whole Foods brand of kettle chips weren't salty enough to make them noticeable in these cookies. There's Whole Foods for you for creating lower sodium chips. However, the potato chips added a nice textural contrast in the cookies, and helped balance out the flavor so that the cookies weren't overly sweet.
I was "taste testing" quite a few of these before I realized that I should save some to send to Angela. I can't control myself when freshly baked cookies are around.
Double Chip Chocolate Coconut Cookies
Makes about 30-32 cookies
Ingredients
6

TBS

unsalted butter at room temperature

3/4

cup

(180g) sugar (I used unrefined cane sugar)

2

TBS

unsweetened applesauce

1

large egg

1

tsp

pure vanilla extract

1 1/2

cups

(180g) all-purpose flour

1/3

cup

(25g) unsweetened cocoa powder

1/2

tsp

baking soda

1/2

tsp

baking powder

1/2

tsp

salt

1

cup

salted kettle chips

,

about one large handful

5

ounces

(142g) white chocolate chips

1/4

cup

(20g) unsweetened shredded coconut
Instructions
Cut the butter into smaller cubes and mix it in a large bowl with the sugar, applesauce, egg, and vanilla extract.

In a medium bowl, sift together the all-purpose flour, cocoa powder, baking soda, baking powder, and salt together. Gradually stir the flour mixture with the wet ingredients. I added the flour in three batches.

In a small bowl, crush the kettle chips. I tried using my hands to crush them, but the stiffness of the chips actually hurt my hand! The potato masher was excellent for this step.

Fold in the crushed potato chips, white chocolate chips, and unsweetened coconut until well incorporated. Cover the bowl with plastic wrap and refrigerate for 30 minutes.

After 30 minutes, preheat the oven to 350 degrees F (176 degrees C). Line two baking sheets with parchment paper or silicone mats.

Scoop out a tablespoonful of the dough and shape it into a ball. I used the measuring spoon for this. If you want flatter cookies, press the dough down slightly into a disc.

Bake for 11-12 minutes. The cookies will still be soft when you pull them out of the oven, but they will set once they cool.
Notes
Did you make this recipe?
Tag @hellolisalin or leave a star rating and comment on the blog!