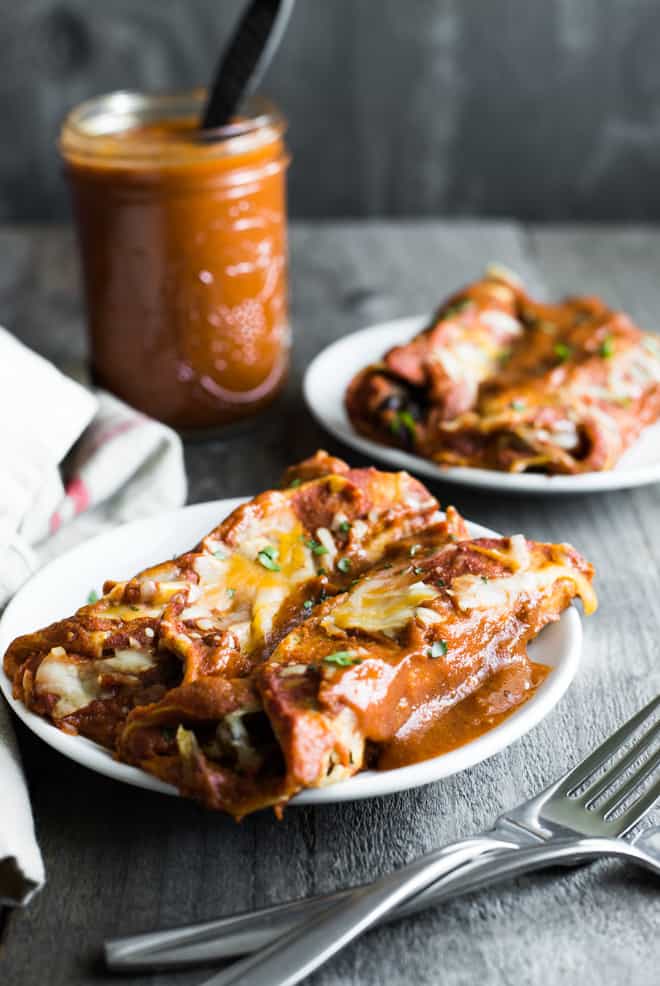 Just before I headed out for my trip, I shared this picture on my second Instagram account (yes, I have 2 now).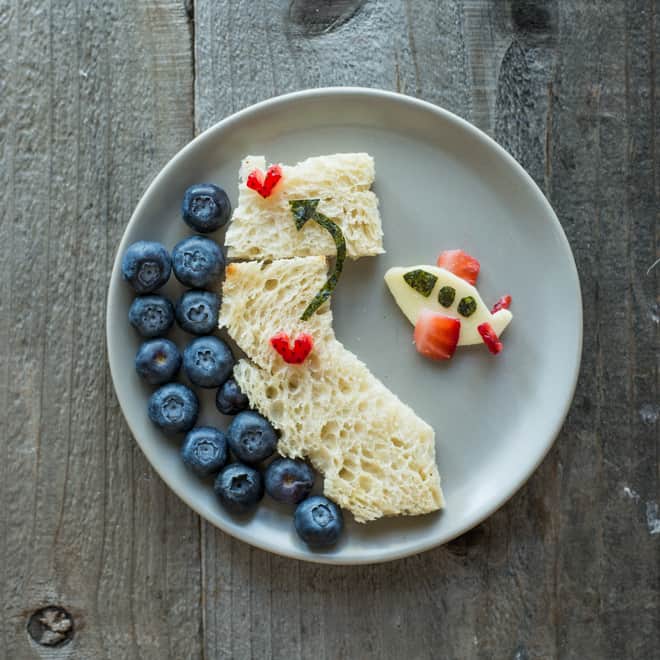 One of my friends left this comment to me:
"From now on, Lisa, please convey all messages via photos of meticulously arranged food items. Thanks."
Challenge accepted.
My trip to Portland will be a short one, but I still made sure to leave enough healthy provisions behind for my husband. You would think that a 30-something-year-old grown man could be able to sort this all out, but that cannot be further from the truth. The last time I went away for a few days, I came home to find that his lunch and dinners consisted of Star Wars-themed Lucky Charms, Drumstick ice cream, Milanos, and Ghirardelli chocolate.
I think our bodies are too old to metabolize all that sugar now . . .
I left a huge batch of these enchiladas at home so that I won't find my husband in a sugar coma when I get back. I can only cross my fingers and hope.
But on a more serious note, these enchiladas are some good stuff. That enchilada sauce I shared yesterday is the absolute STAR of this show. 8 ingredients – that's it! You're only 45 minutes away from one tasty meal, my friends!
Let's dig in.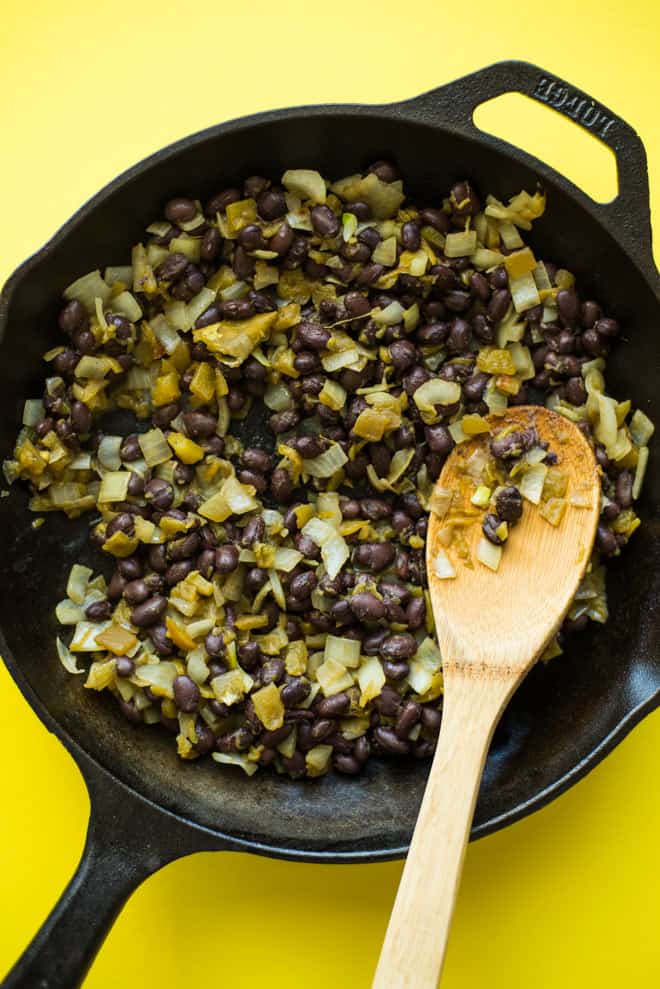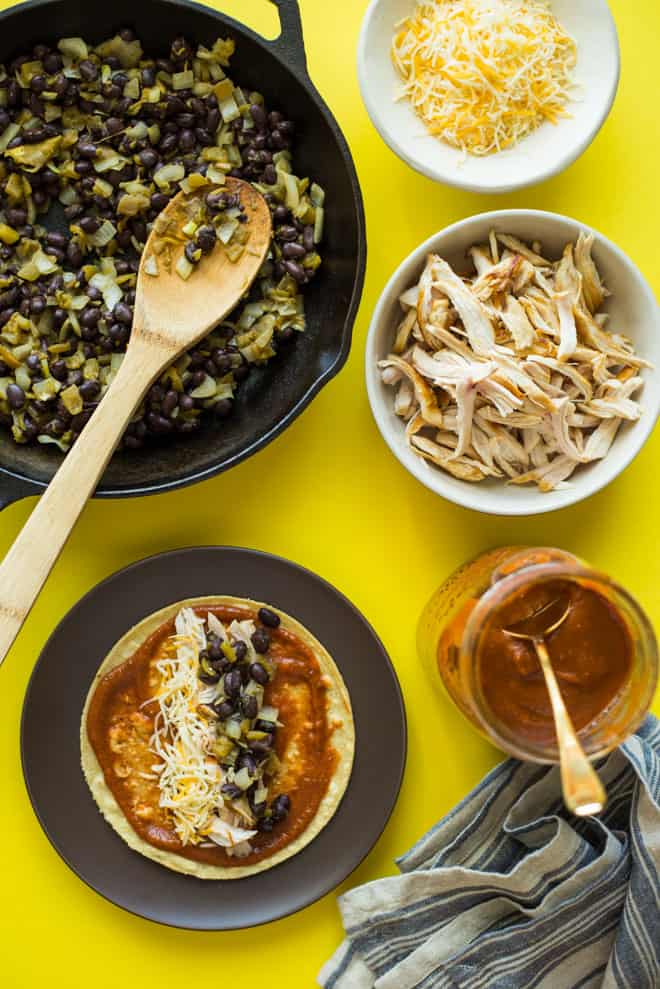 MASTER MY MISTAKES / COOKING NOTES
Using the right tortillas: If you're gluten free, make sure to use corn tortillas for this. I used a flour-based gluten-free tortilla the first time, and they just ripped apart too easily. I recently tried TortillaLand corn tortillas, and I think they're great! They come refrigerated, and you have to cook them at home, but they're well worth the effort.
Cooking the chicken: My personal preference is to cook the chicken breasts whole and shredding it with my hands, but you can definitely chop everything up and cook them cubed.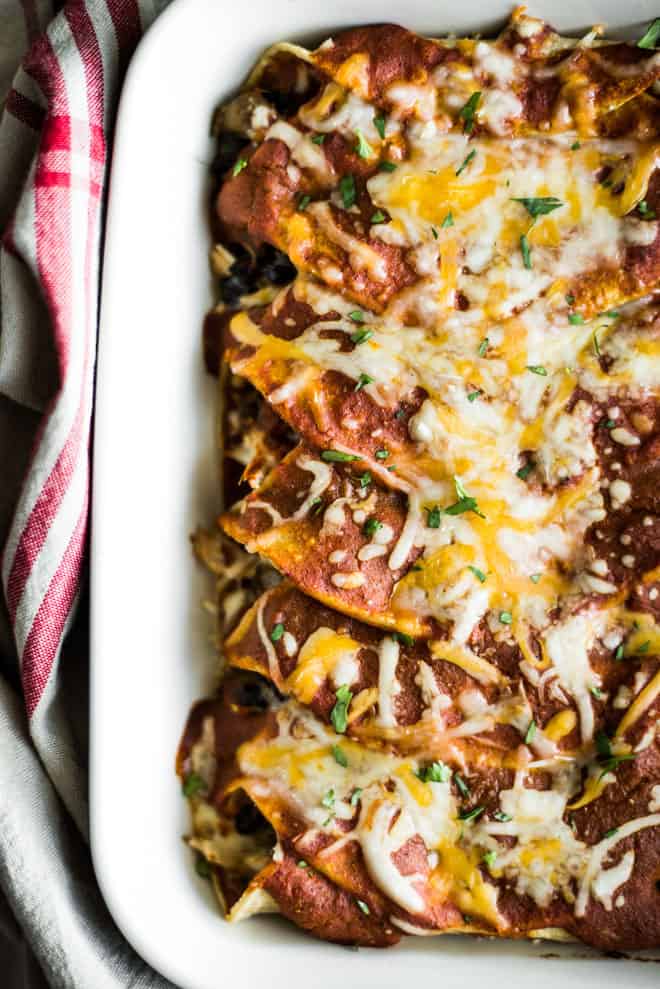 If you make this recipe, please let me know! Take a photo of your creation and tag me on Instagram so that I can give you a fist bump! Seeing your creations make my day!
Easy Chicken Enchiladas
Ingredients
1 1/4

lbs

(565g) chicken breasts

kosher salt

3

TBS

olive oil

,

divided

1

small onion

,

diced

1

4-oz can (115g) of diced green chiles

1 15.5

oz

(440g) can of black beans, rinsed and drained

10

corn tortillas

,

the 6″ size works well

2

cups

red enchilada sauce ,

use more if you want saucier enchiladas

1 2/3

cups

shredded Mexican cheese blend

cooking spray

chopped cilantro for topping

,

optional
Instructions
Slice chicken breasts in half, crosswise, so that they're thinner and easier to cook. Sprinkle kosher salt on sliced chicken.

Heat 2 tablespoons of olive oil in a pan or skillet over medium-high heat. When the pan is hot, add the chicken breasts but be careful to not overcrowd the pan. You may need to cook the chicken in batches. Cook each side for 4 to 5 minutes. Once they're cooked, plate the chicken breasts. Once they're cool enough to handle, shred chicken.

Add another tablespoon of olive oil in the same pan over medium heat. Cook onions for 2 to three minutes and add diced chiles. Cook for about a minute and add the beans and a small pinch of salt. Once the beans are warmed, about 30 to 45 seconds, turn off the heat.

Preheat oven to 350 degrees F (175 degrees C). Spray a casserole dish with cooking spray and set aside. I actually used 2 pans for this.

Arrange an assembly line on your counter with the tortillas, chicken, onions/chiles/beans, and cheese ready. Spread about 1 1/2 tablespoons of enchilada sauce over a tortilla. Make sure that the edges are saucy so that you can seal the enchiladas later. Add some shredded chicken, onion/bean mixture, and about 1 1/2 tablespoons of cheese. Wrap up the tortilla and place it in the prepared casserole dish. Repeat for the rest of the tortillas.

Pour leftover enchilada sauce and sprinkle leftover cheese on top of all the enchiladas. Bake for 15 minutes. Garnish enchiladas with chopped cilantro, if you like.
Notes
You can also chop the chicken in cubes and cook them for about 8 minutes.
Nutrition
Did you make this recipe?
Tag @hellolisalin or leave a star rating and comment on the blog!