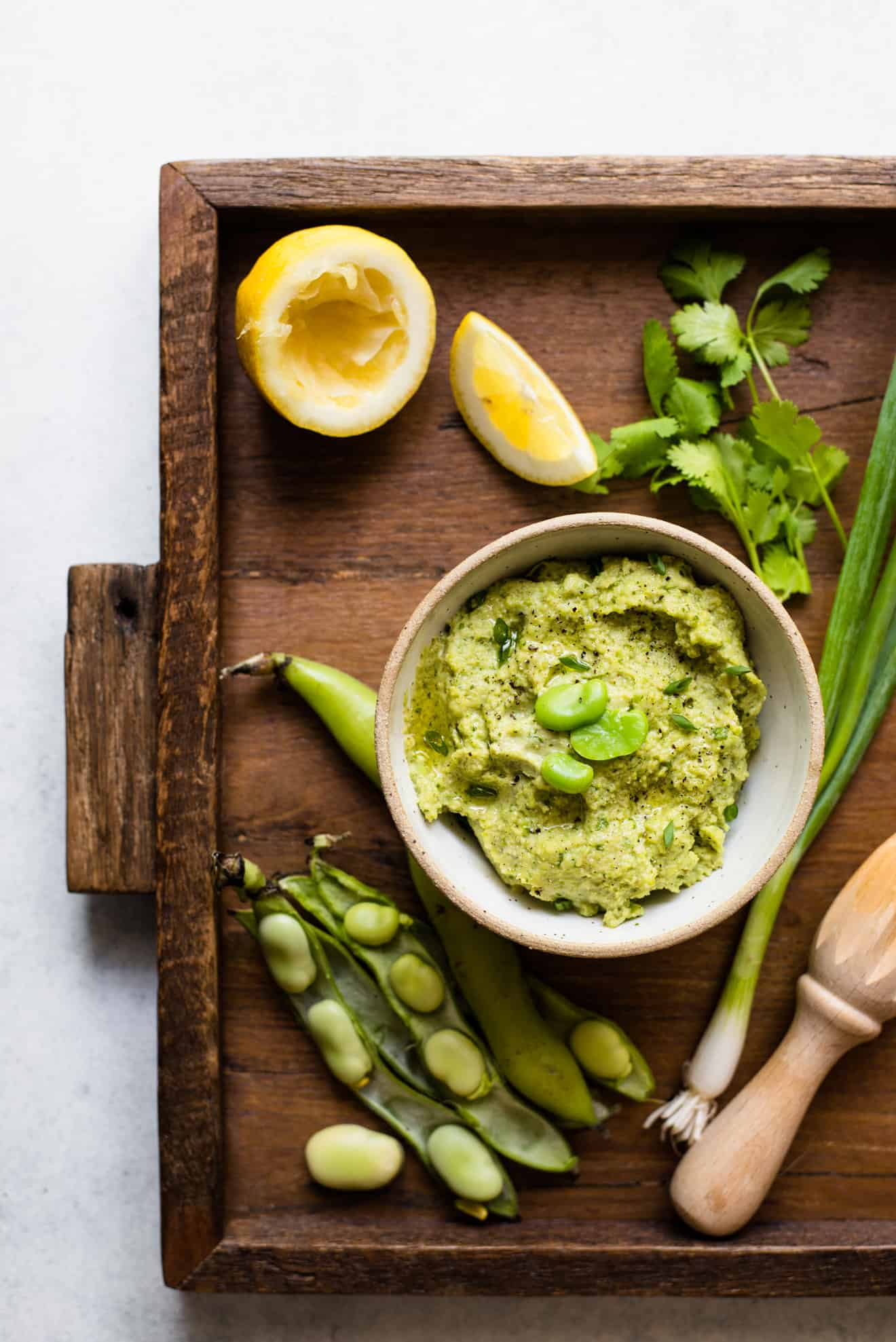 When I was a kid, I snacked on a lot of fried, salted fava beans. They're crunchy, nutty and ridiculously addictive. I haven't eaten them in years, and just talking about them makes me want to go to an Asian supermarket to pick up a few bags of them!
It wasn't until I started shopping at farmers markets that I realized how fava bean pods actually look like. They look like giant sugar snap peas, but when you cut them open, you'll notice that the pods have a furry lining.
I'll be honest, cooking fava beans requires effort. After you shuck the beans from the pods, you need to peel each bean to get rid of the waxy outer skin. Trust me, that skin doesn't taste nice. However, the delicate beans nestled within the skin makes the effort worth while. They're very light and have a slight grassy flavor.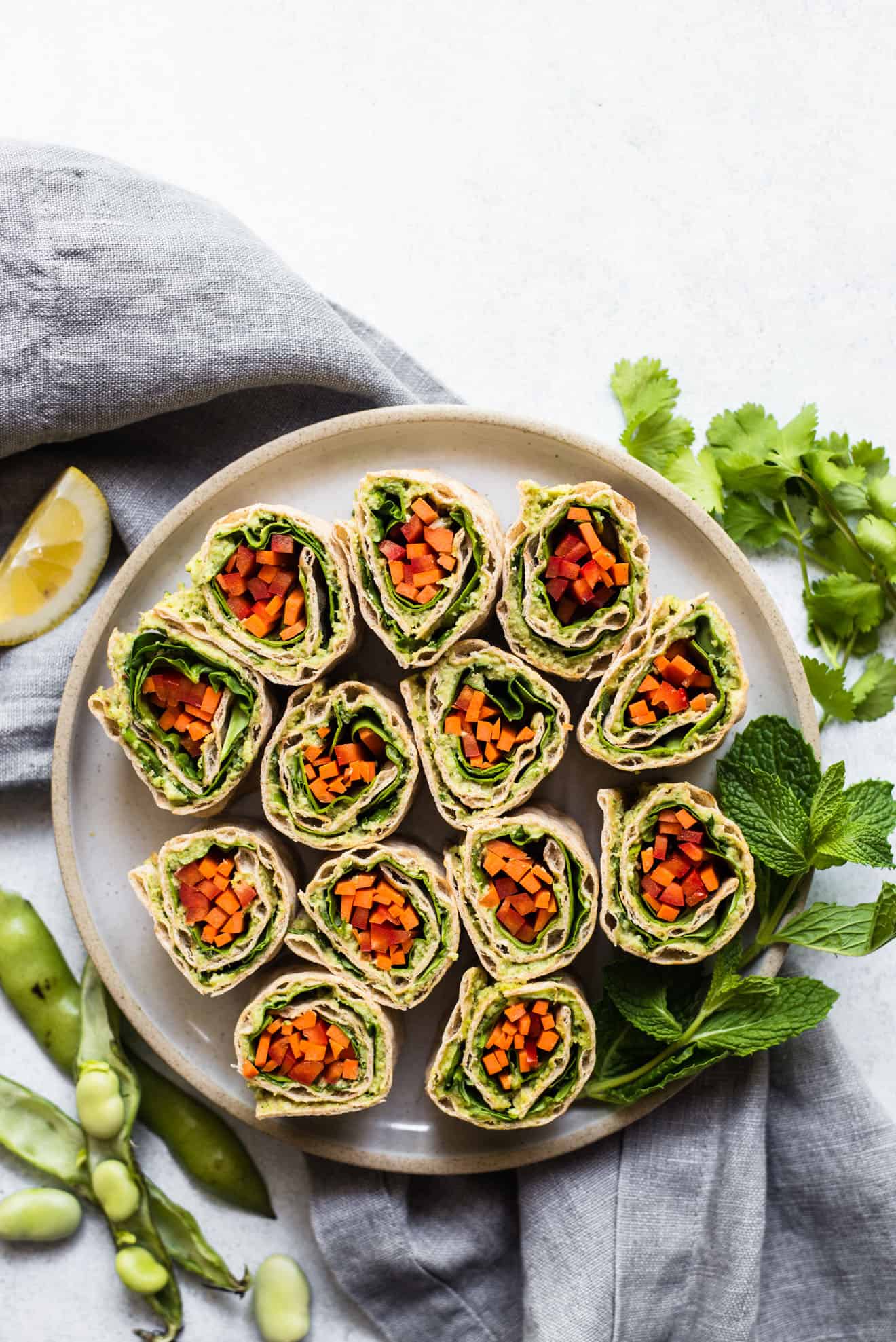 This fava bean dip is very versatile. You can use it as a dip for crackers and vegetables, or use it as a spread for wraps and sandwiches. I have even used the dip to flavor penne pasta. The dip is quite thick, so if you want to toss it with pasta, I recommend mixing in a few tablespoons of water to thing out the dip.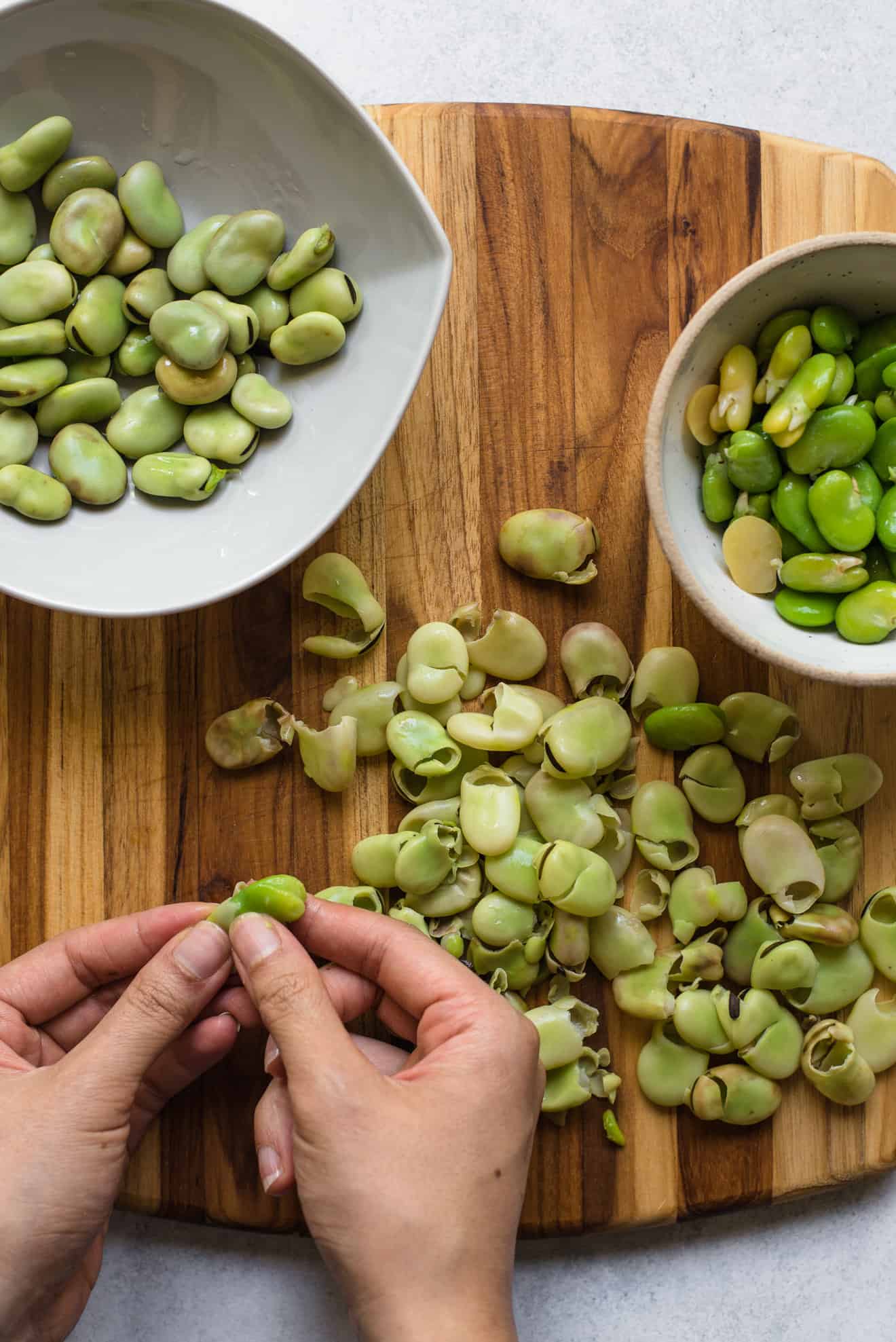 MASTERING MY MISTAKES / COOKING NOTES
Variations: Besides fava beans, you can also make a similar dip with 1 1/3 cups peas. The dip made with the peas will be slightly sweeter.
Testing Notes: In one of my test batches, I added 1/3 cup of shredded parmesan cheese and 1/2 tablespoon of white miso to the dip. It tasted good, but I thought the flavors of the cheese and miso were distracting. I also made a batch of the dip where I didn't remove the beans from the skin, mainly because I couldn't be bothered. That dip didn't taste nearly as good as the one I've outlined in the recipe.
Fava Bean Dip
This dip works wonderfully as a spread for wraps. I'm sharing a simple recipe to show how you can make vegetable pinwheels. I'm using large lavash wraps for the pinwheels because they're rectangular, but you can also use large tortillas.
Ingredients
Fava Bean Dip
2

cups

shelled fava beans

6

tablespoons

olive oil

2

tablespoons

lemon juice

,

about 1/2 lemon

1/4

cup

walnuts

1

clove

of garlic

2

stalks of scallions

,

sliced

1/3

cup

cilantro leaves

1/2

teaspoon

salt

,

more to taste
Pinwheels
4 to 5

lavash wraps or tortillas

1/4

cup

chopped mint

4

cups

baby spinach

2

large carrots

,

peeled and cut into matchstick pieces

1

red bell pepper

,

seeded and thinly sliced
Instructions
Fill a bowl with ice water and set it aside.

Bring 4 to 5 cups of water to boil in a large saucepan. Add the fava beans to the boiling water and cook for 2 to 3 minutes. Turn off the heat.

Using a skimmer or a slotted spoon, transfer the fava beans to the bowl with the ice water. The ice water will stop the fava beans form cooking further. Let the beans sit for about 5 minutes before draining.

Remove the outer skin of every bean. You end up with about 1 1/4 cups of beans.

Add the beans and the rest of the ingredients for the dip into a food processor. Blend until smooth, scraping down the sides of the bowl if necessary. Taste the dip and add more salt if you like. Transfer the dip to a bowl.

To make the pinwheels, spread 1/4 to 1/3 cup of the dip over a lavash wrap or tortilla. Make sure that the edge of the wrap facing away from you has a good amount of dip on it. The dip will help you seal the wrap once it's rolled up.

Sprinkle some chopped mint over the wrap. Next, cover with a layer of baby spinach. Line the carrots and pepper along the edge closest to you. Roll up the wrap. Slice into 1 1/2-inch slices and transfer pinwheels to a plate. Repeat for the remaining wraps.

Serve immediately.
Notes
NUTRITION INFORMATION: Amount for 1/5 of Recipe: Calories: 200, Total Fat 17.5g, Saturated Fat: 2.4g, Sodium: 247mg, Cholesterol: 0mg, Total Carbohydrate: 10g, Dietary Fiber: 4g, Sugar: 5g, Protein 4.4g
If you want to make the pinwheels ahead, make sure to cover them with plastic wrap or foil. The pinwheels tend to dry up quite easily.
Did you make this recipe?
Tag @hellolisalin or leave a star rating and comment on the blog!