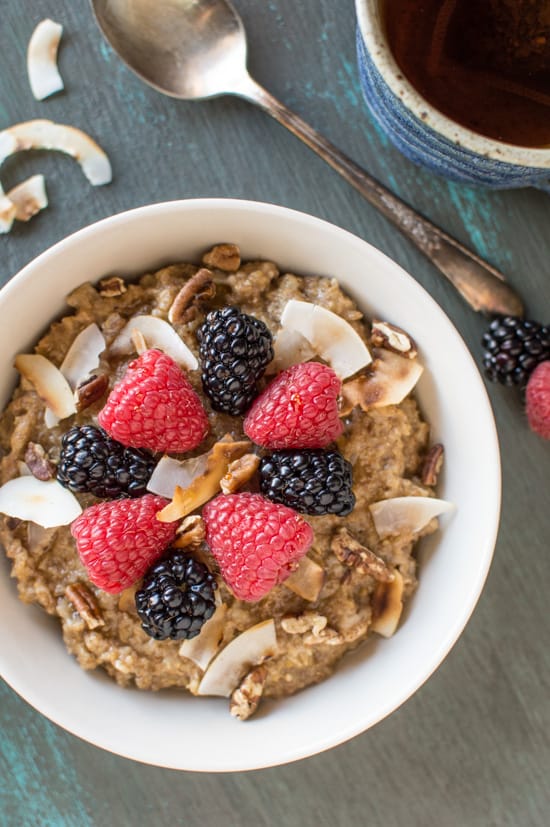 By the time you read this I'll be on a flight heading to Anaheim for the Natural Products Expo West. On a 6:00 a.m. flight. Oy, why do I do this to myself and schedule such early flights? Let's just hope I'm not that annoying person who leans into their neighbor while trying to catch a few Zs. Okay, maybe I will be that annoying person.
I'm getting quite excited for the expo because it will be like walking into one giant Whole Foods, but with free samples everywhere. Oh, and I also found out that I get to check in a bag for free! Friends, I might need you to check up on me to make sure that I don't get too overboard. I'm prone to snag any free thing I see. Seriously, shoot me a message, hound me on social media, and stop me if I decide to bring back 45 pounds of loot.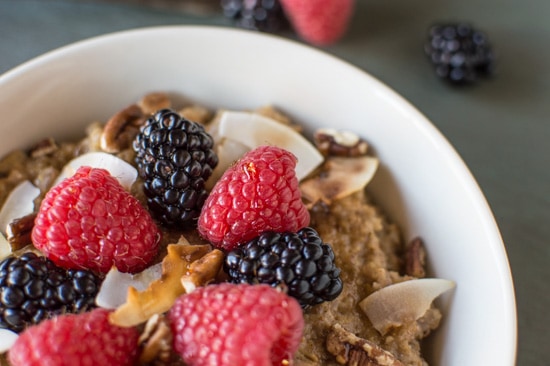 Since I'm going to be waking up very early in the morning, I'm going to want to have breakfast ready in no time. Mornings are still a bit chilly here, so I've been cooking a lot of hot breakfasts lately. (As I write this sentence, I can hear my friends from the East Coast snickering at me for daring to describe the weather in the Bay Area cold.) In anticipation for this trip, I cooked up a big batch of chai tea oatmeal for reheating in the morning. I always cook my oatmeal with plain water but decided to cook it in brewed chai tea instead for some extra flavor. The chai flavor was subtle, but I loved that it was something different from my normal breakfast routine.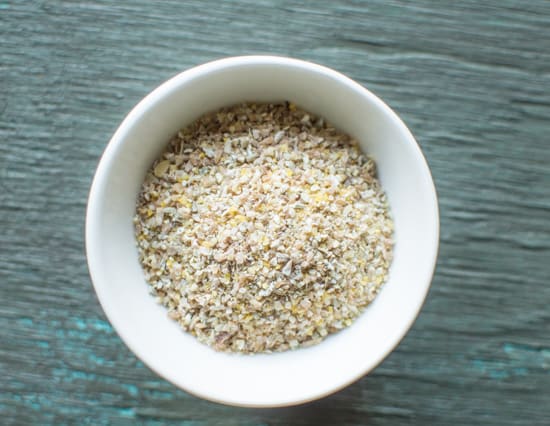 I don't know about you, but I'm quite picky about the texture of oatmeal. Cooked plain rolled oats is much too mushy for me. What I do is mix in a bit of Bob's Red Mill 10 Grain Cereal to the oatmeal for some extra texture. The additional cereal adds a nice chewy, gritty texture, so I don't feel like I'm eating baby food for breakfast. If you don't fancy the overly mushy texture of plain oatmeal either, you should definitely try mixing in some other grains. I promise you won't regret it!
So tell me, how do you like your oatmeal?
Chai Tea Oatmeal
Ingredients
1 1/3

cups

(325ml) brewed chai tea

1/4

cup

(20g) oatmeal

2

TBS

10 grain cereal

1

tsp

cinnamon

1/2

TBS

maple syrup

fruit

,

nuts, or toasted coconut for topping (optional)
Instructions
Bring the tea, oatmeal, and 10 grain cereal to boil. Once the tea boils, reduce the heat, and let it simmer for another minute or two.

Stir in the cinnamon and maple syrup and turn off the heat.

Serve with your favorite toppings, such as fresh fruit, nuts, or toasted coconut.
Did you make this recipe?
Tag @hellolisalin or leave a star rating and comment on the blog!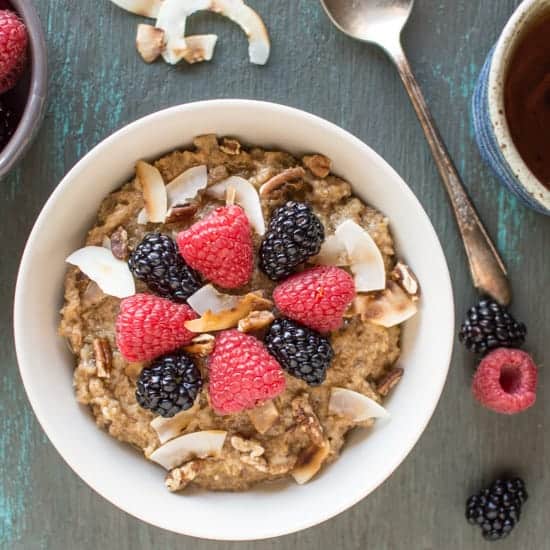 Disclosure: This is not a sponsored post for Bob's Red Mill. I just happen to enjoy the 10 Grain Cereal very much and wanted to share the knowledge with you!