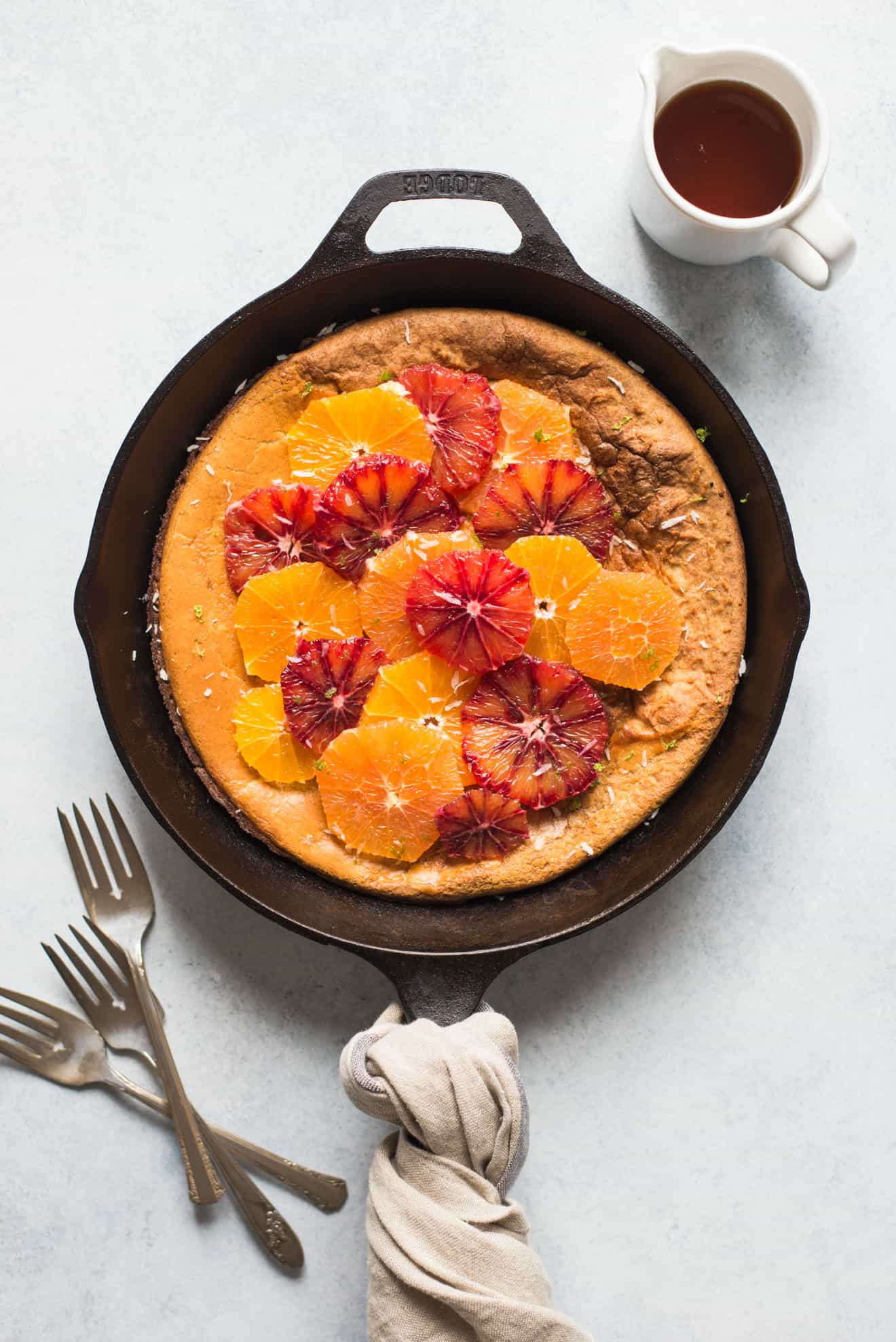 Now that citrus fruits are in season, I am buying all the blood oranges and cara cara oranges that I can get my hands on. Lately, I've been making a lot of Dutch babies for breakfast and topping them with fresh slices of oranges.
WHAT IS A DUTCH BABY?
A Dutch baby, which is sometimes called a German pancake, is a large, fluffy popover that's cooked in a hot skillet. It's usually made of flour, eggs, milk, sugar and some spices and served for breakfast. Often times, they're served with a generous dusting of powdered sugar and a bit of lemon juice.
HOW THIS VERSION IS DIFFERENT
Unlike traditional Dutch baby recipes, I blend rolled oats (instead of white flour) with milk and eggs. Not only is it a nice gluten-free alternative, but I prefer eating oats in the morning because it's healthier and it keeps me full. This gluten-free Dutch baby doesn't rise quite as spectacularly as traditional Dutch babies, but the batter does puff up a little on the edges. You'll still end up with a nice, fluffy oven baked pancake.
One of the big reasons why I like this recipe is the simple preparation: heat a skillet in the oven, blend the batter, pour it into the hot skillet and bake. That's it! Top it with oranges or your favorite fruit and enjoy!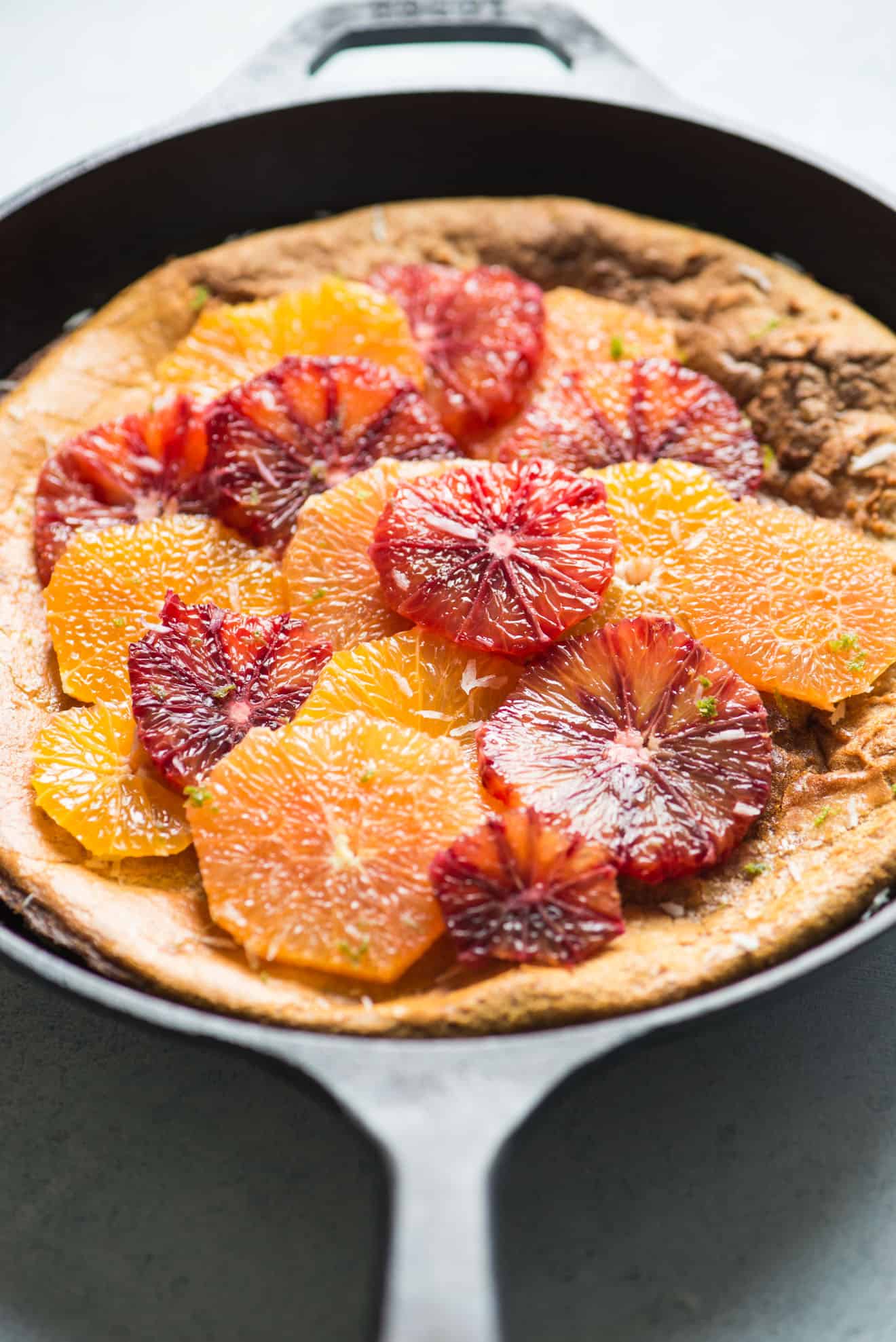 MASTER MY MISTAKES / COOKING NOTES
Dairy-free option: You can substitute the milk with soy milk and the butter for vegan buttery spread, such as Earth Balance. The Dutch baby won't brown as nicely, but it still tastes good.
Eggs: I know it's odd that the recipe calls for 2 large eggs and a large egg white. I tried this recipe with 3 large eggs and the Dutch baby was too dense.
Oat flour versus rolled oats: I tried a version of this recipe with 1/2 cup of oat flour, and it didn't rise quite as much as the Dutch baby that I made with rolled oats. I decided to ditch the oat flour version because rolled oats is more commonly found in our pantries.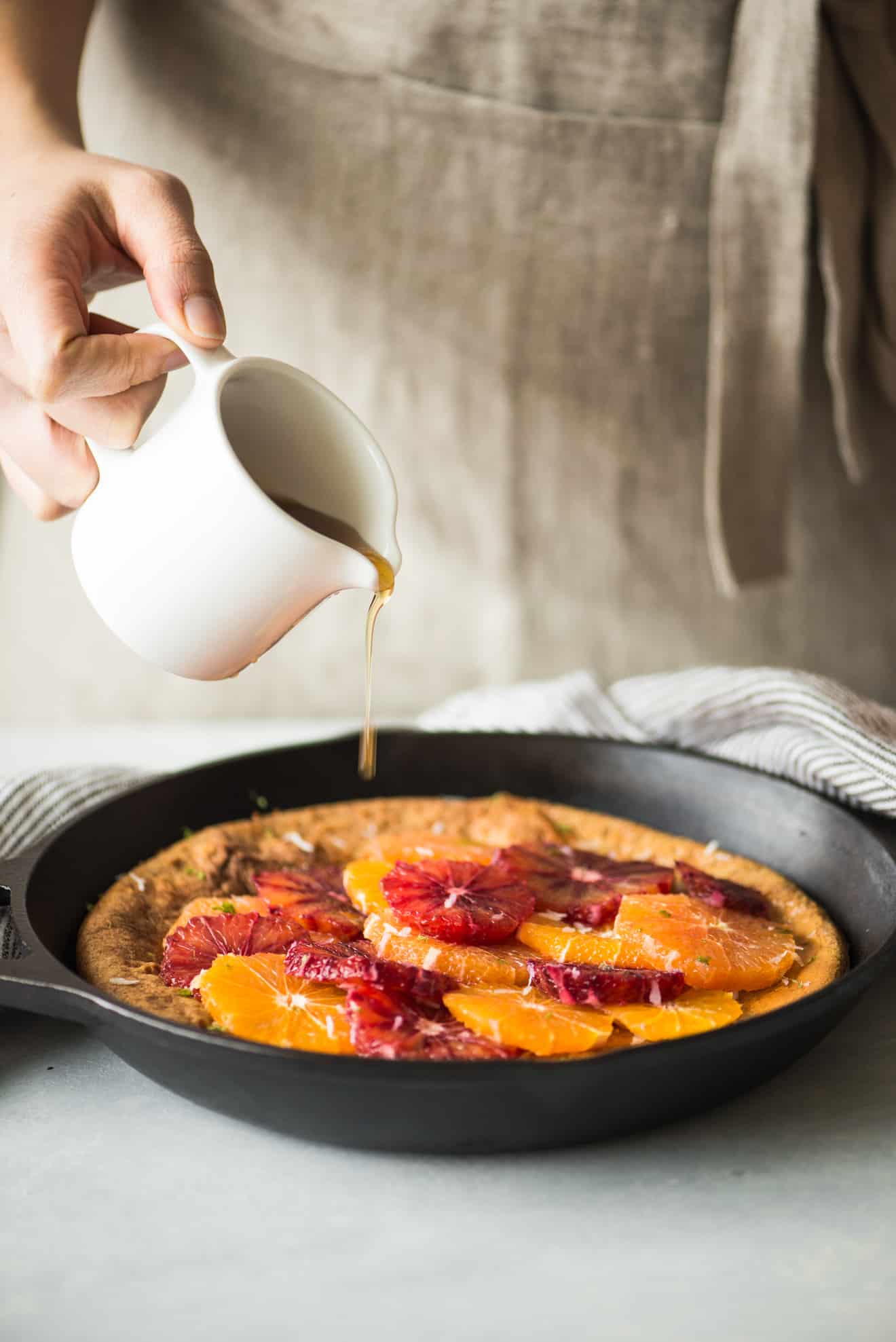 Gluten-Free Dutch Baby with Oranges
This gluten-free Dutch baby is made with rolled oats and it's low in sugar! I topped it with fresh oranges, but you can also try fresh berries, thinly sliced apples or pears.If you don't have maple syrup, you can substitute it with runny honey or your favorite liquid sweetener.
Ingredients
2/3

cup

(155ml) low-fat milk

2/3

cup

(55g) rolled oats

2

large eggs + 1 large egg white

1

tablespoon

maple syrup

3/4

teaspoon

vanilla

1

teaspoon

orange zest

1/4

teaspoon

cinnamon

1

tablespoon

unsalted butter
Toppings
orange slices

shredded coconut

,

optional

lime zest

,

optional

maple syrup
Instructions
Position an oven rack to the center position and place a small,

10-inch skillet

on top of the rack. Preheat the oven to 450 degrees F (230 degrees C). 

Add the milk, oats, eggs, maple syrup, vanilla, orange zest and cinnamon into a blender. Blend everything until smooth, about 20 to 30 seconds.

Once the oven is heated, use an oven mitt to remove the skillet from the oven. Be very careful because the skillet is hot!

Add the butter to the hot skillet and swirl it all over the bottom. Pour the batter into the skillet and carefully transfer into the oven. 

Bake for 18 to 20 minutes, until the Dutch baby is a nice golden brown color. 

Remove Dutch baby from the oven and let it cool for a few minutes. Top with orange slices, shredded coconut and lime zest. Serve with maple syrup. 
Notes
NUTRITION INFORMATION: Makes 2 Servings. Amount per serving: Calories: 362, Total Fat 13g, Saturated Fat: 6g, Sodium: 276mg, Cholesterol: 205mg, Total Carbohydrate: 47g, Dietary Fiber: 6g, Sugar: 25g, Protein 16g
Did you make this recipe?
Tag @hellolisalin or leave a star rating and comment on the blog!