After posting Part 1 of my Butternut Squash Series yesterday, I realized that I had not even touched upon the basics of cooking butternut squash.
My favorite way to prepare butternut squash is by roasting it. The first step is to peel and cut the squash, and I had no clue how to properly do this until several weeks ago. I had hated to peel butternut squash because I used a chopping knife and hacked away at the skin. But as this slideshow from Cooking Light demonstrates, there is a much easier way to peel the squash: using a vegetable peeler. My life has changed. Seriously. More to the point, how did I not think of using a vegetable peeler earlier?
I usually cut the butternut squash into cubes before roasting. This way, I can easily incorporate the squash to other dishes throughout the week. I tossed the squash with about 1/2 TBS olive oil and sprinkled a bit of salt and dried herbs on it. Then, I put them into the oven at 375 degrees F for about 40 minutes, or until I can easily pierce the butternut squash with a fork.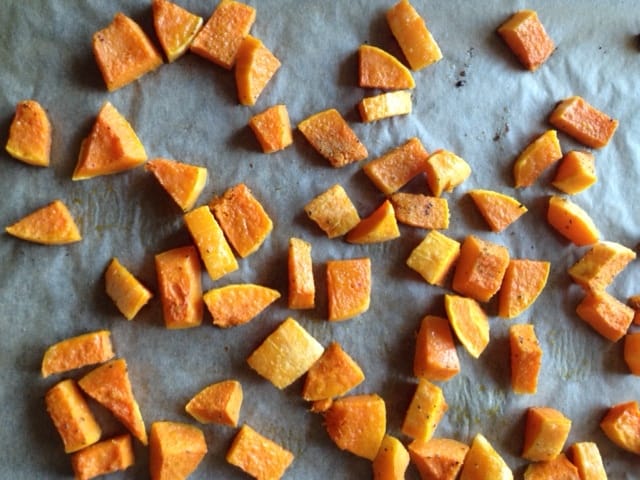 This is how I devoured some of the butternut squash beauties: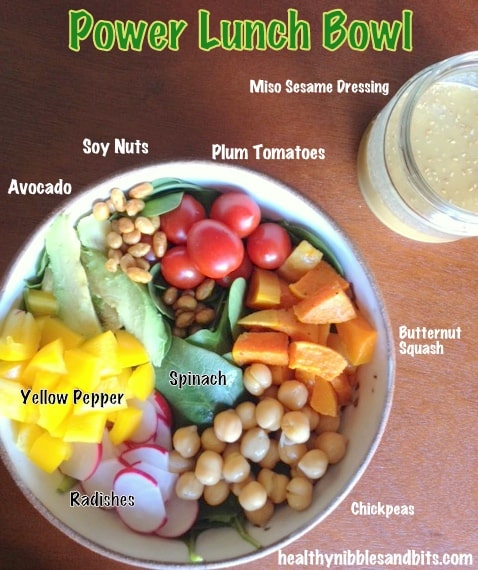 Ingredients for Power Lunch Salad Bowl
Makes 1 Serving
Prep Time: 5 minutes; Cooking Time: None (assuming the squash is cooked)
1 1/2 cup baby spinach
1 1/2 cup arugula
1/3 cup chickpeas
1/3 cup roasted butternut squash
1/3 cup plum tomatoes
1/3 cup chopped yellow pepper
2 radishes, sliced
1/4 medium avocado
1 TBS soy nuts
I also adapted a miso sesame dressing recipe, and it was amazing! I have bought miso dressing at my local farmers market for $6 a bottle. NEVER AGAIN!
Ingredients for Low-Fat Miso Sesame Dressing (adapted from All Recipes)
Makes about 2/3 cup of dressing
Prep Time: 5 minutes; Cooking Time: None
3 TBS white miso paste
4 TBS rice vinegar
2 TBS agave nectar
1 TBS fresh ginger, minced
1/2 TBS sesame oil
1 tsp toasted sesame seeds
1/4 lemon, juiced
Directions
Pour all ingredients into a bowl and stir.
Enjoy with the power lunch salad bowl!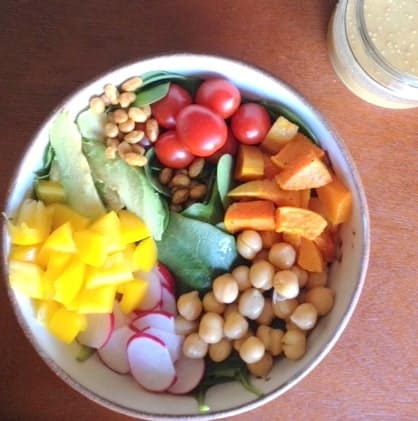 Notes
I love adding garlic to my cooking (if you haven't noticed already), so I'm going to add a few cloves of minced garlic to this recipe the next time I make it.
Q: What are your favorite ways to eat butternut squash?