Years ago, I learned how to roast garlic so that I could make roasted garlic hummus at home. (It's one of my favorite things to snack on.) For some reason, I had thought that roasting garlic is a very involved process, but it's actually quite simple. All you need to do is slice off the tops of garlic bulbs, drizzle them with a bit of oil, wrap in foil and bake. That's it!
It seems wasteful to turn on the oven just to roast a few bulbs of garlic, so I always roast them alongside something else. For example, if I'm roasting potatoes, I'll roast garlic on a separate rack. Roasted garlic usually keeps in the refrigerator for a little while, so I usually roast 3 or 4 bulbs at a time. I love adding them to my dips, sauces or spreading them on my lunch wraps.
What's your favorite way of eating roasted garlic?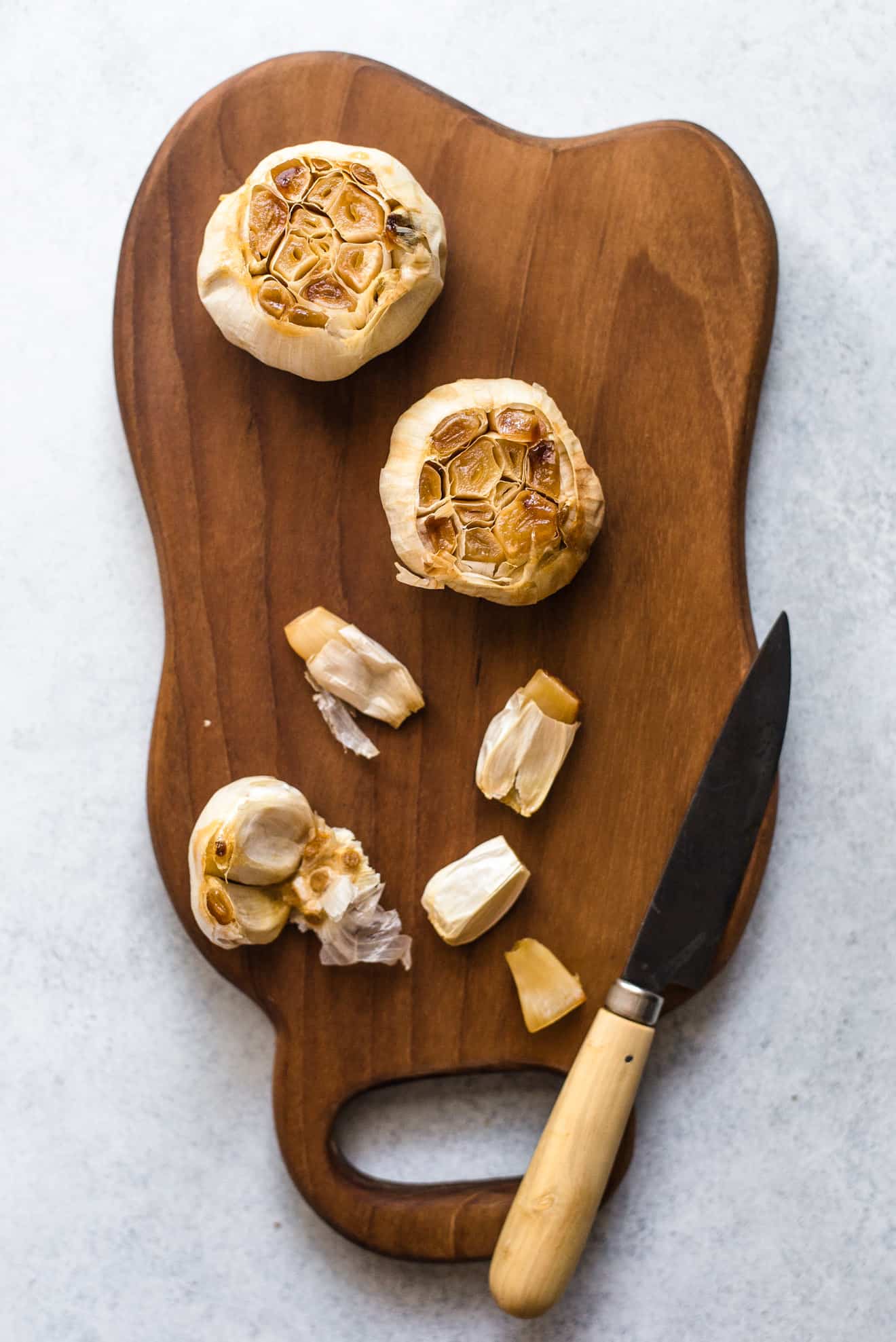 COOKING NOTES FOR ROASTING GARLIC
Cooking time: If you are roasting the garlic alongside something else and the desired oven temperature isn't 375ºF, don't worry. You can still roast the garlic at a different temperature—just adjust the cooking time. For example, I often roast my potatoes at 400ºF. If I'm roasting garlic on a separate rack, I will start checking the garlic after 35 minutes to see if they're done.
Slicing off the tops: When roasting garlic, you want to expose the tops of the garlic cloves, so don't be shy about slicing away a considerable portion off the top. I usually dig out the garlic chunks that are still stuck to the top and save it for something else. Alternatively, I'll lay the garlic chunks on top of the sliced bulb and roasted everything together. The bottom line is, don't throw away those garlic chunks!
Wrapping the garlic bulbs in foil: I have found that wrapping each bulb of garlic in foil helps to soften the garlic faster. If you need to roast a huge batch of garlic at once (say, 10 to 15), lay all the bulbs on a baking dish. Cover the entire thing with one or two sheets of foil and bake. You may need to bake the garlic for an extra 5 to 15 minutes.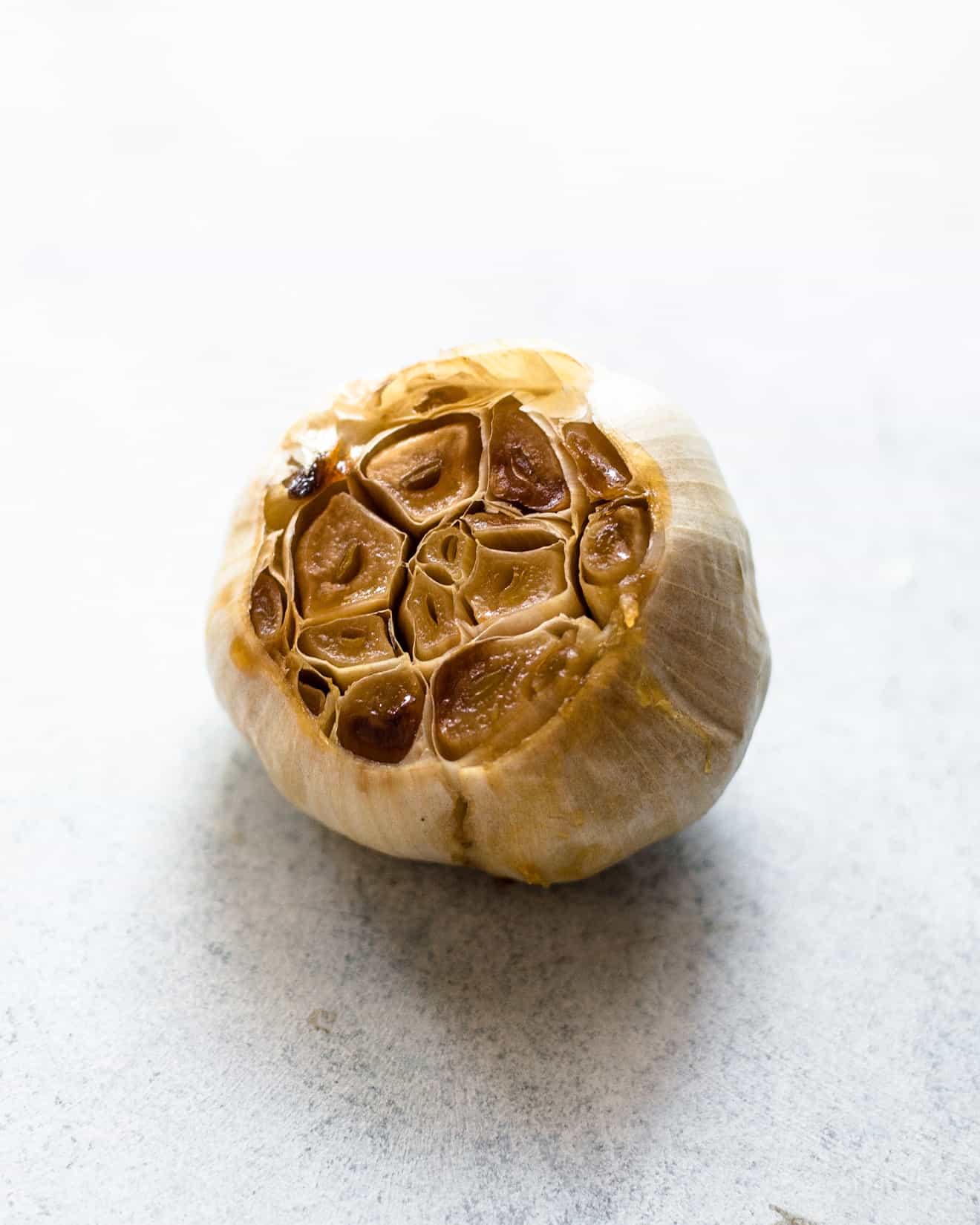 WAYS TO USE ROASTED GARLIC
Besides adding them to hummus, I love mashing up the garlic and adding them to my fried rice and stir fries. They also add a lovely mellow flavor to my salad dressings. Because roasted garlic is less intense than raw garlic, you can add a generous amount to your dishes. I usually add an entire bulb of roasted garlic to a batch of hummus!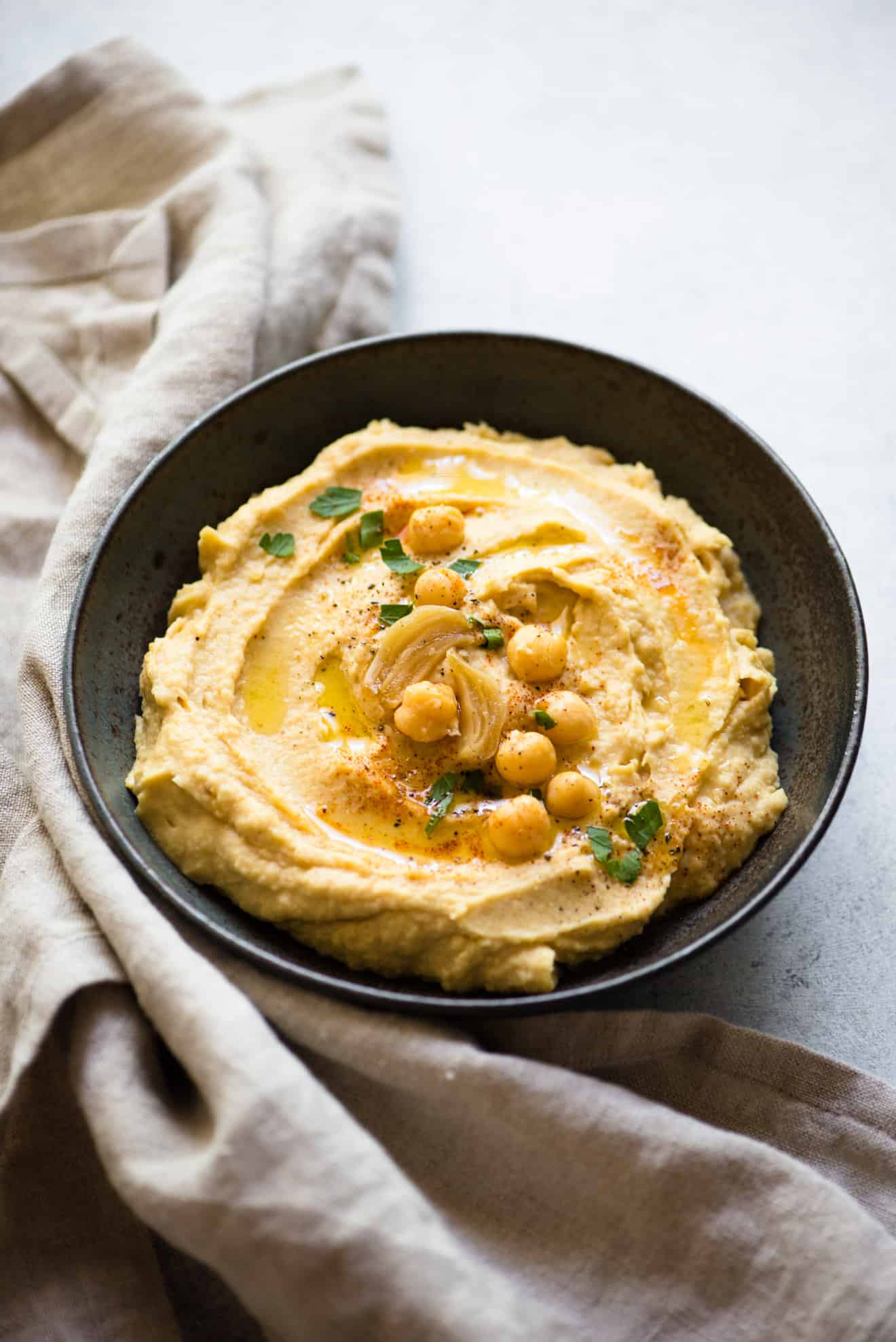 Servings:
4
bulbs roasted garlic
How to Roast Garlic
Use the roasted garlic to make hummus, dressings or mash and toss them with vegetables!
Ingredients
4

bulbs of garlic

drizzle of olive oil
Instructions
Preheat oven to 375ºF (190ºC).

Slice off the tops of the garlic, exposing the cloves. You'll probably have large chunks of garlic still stuck to the tops. Save them for another dish.

Place each bulb of garlic on top of a small sheet of foil. Drizzle each bulb of garlic with a tiny bit of oil (about 1/2 to 1 teaspoon). Wrap the garlic in the foil. Make sure that the garlic is completely encased in the foil.

Place the garlic on top of a pie dish (or any other baking dish) and bake for 45 to 50 minutes. Check to see if the garlic cloves are brown and softened. You want the cloves of garlic to be soft enough to be mashed by a fork. Bake the garlic for an additional 5 to 15 minutes if you want them to be more caramelized.

Unwrap the foil and let the cloves cool. Squeeze out the garlic cloves from the papery skin. If you want to save the roasted garlic for later, keep the garlic cloves in tact. Refrigerate the roasted garlic in a sealed container for up to 1 to 2 weeks.
Did you make this recipe?
Tag @hellolisalin or leave a star rating and comment on the blog!