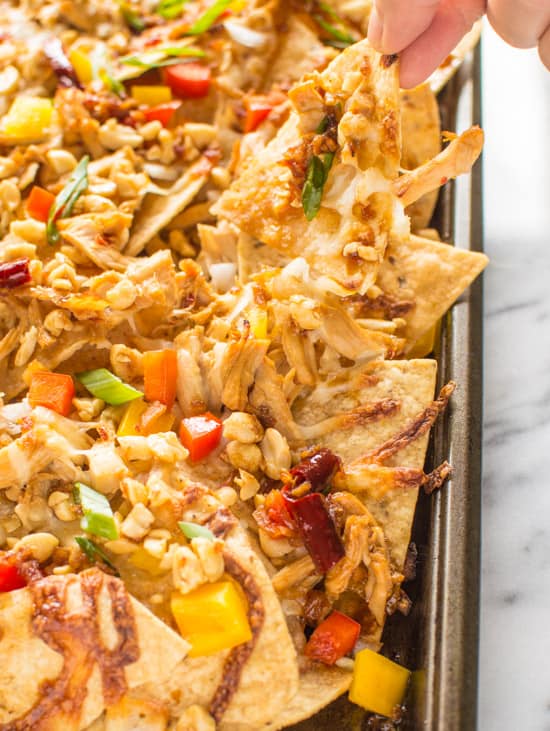 The first time I ever had kung pao chicken was when I was studying in China six years ago. I know, how is it possible that it took me that long? Here's the truth. When it comes to eating out at a Chinese restaurant, my family can get a bit particular. Mama Lin's famous line is: "Why order this when I can easily make this at home?" Based on that logic, nearly half the menu is usually off-limits. With horror and shame, I recently found out that I say that line at restaurant, too. But that's besides the point.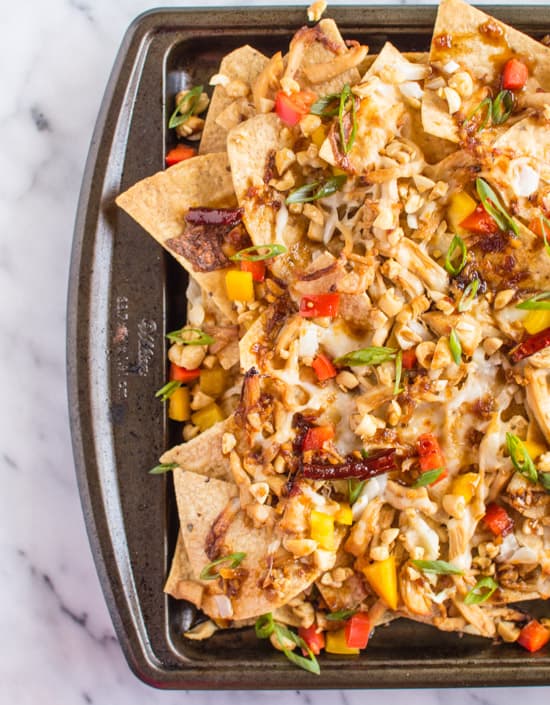 As you can imagine, kung pao chicken, a dish with just chicken pieces, chilis, peanuts, and sauce, never made it onto our dinner plate when we ate out. Of course, when Mama Lin says, "it's so easy, I can make it at home," it actually means "it's so easy, why make it at home?" That's just typical of mothers, isn't it?
When I finally tasted kung pao chicken in Nanjing, I was hooked immediately. That sugar and spicy sauce mixed with freshly toasted peanuts is an addictive combination. It's just one of those dishes that even a hole-in-the-wall restaurant couldn't mess up. Thank goodness for that. Kung pao chicken got me through so many lunches and dinners in China that I have a fondness for them now. My love runs so deep that I decided to add them to my nachos.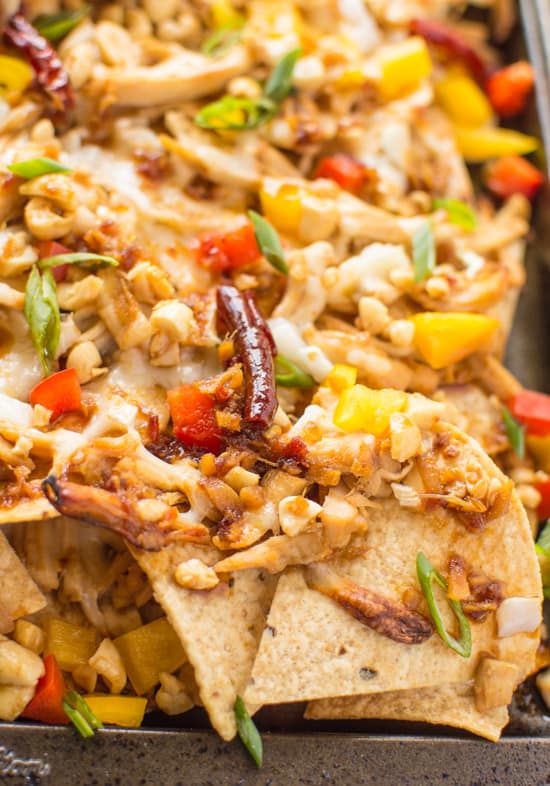 Wait…are we actually doing this? Kung pao chicken…on chips…with cheese? I can sense your hesitation, but believe me, it works! If barbeque nachos can be a thing, why not this? It's the perfect marriage of two delicious dishes.
Kung Pao Chicken Nachos
Crisp, cheesy nachos loaded with the sweet and tangy flavors of kung pao chicken and peanuts. Nachos will never be the same for you again! Serves 6
Ingredients
1

lb

(450g) cooked chicken breasts

1 1/2

TBS

cornstarch

1/2

cup

(120ml) + 1 TBS water

1

TBS

canola oil

4

garlic cloves

,

finely chopped

1-

inch

piece of ginger

,

peeled and finely chopped

1/2

cup

(120ml) low-sodium soy sauce

1/4

cup

(50g) granulated sugar

4

chiles de arbol

,

chopped in half

1 1/2

tsp

shaoxing wine

,

optional

1/3

cup

(40g) roasted peanuts, roughly chopped

1 14-

oz

bag

,

400g bag of tortilla chips

1 1/2

cups

(225g) shredded part-skim mozzarella cheese

1/2

medium yellow onion

,

chopped

1

medium red or yellow bell pepper

,

chopped

1

green onion

,

sliced
Instructions
Preheat oven to 350 degrees F (175 degrees C). Grease a rimmed baking sheet with oil or cooking spray

Shred the cooked chicken breast. Give it several rough chops if you think the pieces are too big.

Prepare the sauce. Mix the cornstarch with 1 tablespoon of water and set aside. Heat the canola oil in a saucepan over medium-high heat. Place the chopped garlic and ginger in the oil. When the garlic starts to brown, add the rest of the water, soy sauce, sugar, chiles, and wine. When the sauce starts boiling, add the cornstarch mixture and reduce the heat to medium-low. Let the sauce simmer for about 3 minutes, or until the sauce starts to thicken.

Place shredded chicken in a small bowl, and stir in half the sauce. In another small bowl, stir the chopped peanuts with just enough sauce to coat the peanuts (about a tablespoon). Set everything aside for about 10 minutes.

Start building the nachos. Spread half the chips on the baking sheet. Spread half of the chicken on top. Layer with half of the onions, pepper, and cheese. Drizzle two tablespoons of sauce over this layer. Add another layer of chips on top, then chicken, onions, and cheese. Bake for about 20 minutes, or until the cheese is melted.

Top the nachos with the remaining pepper, green onions, and peanuts. Drizzle any leftover sauce over all the nachos. Best served immediately!
Notes
1. Shaoxing wine adds a slightly malty flavor to the sauce. Feel free to leave it out if you don't have it on hand.[br][br]2. If you're starting with raw chicken breasts, bake them at 425 degrees F (220 degrees C) for about 18 to 22 minutes, or until the chicken reaches 165 degrees F (75 degrees C).[br][br]3. Feel free to add more cheese if you're looking for cheesier nachos.
Did you make this recipe?
Tag @hellolisalin or leave a star rating and comment on the blog!