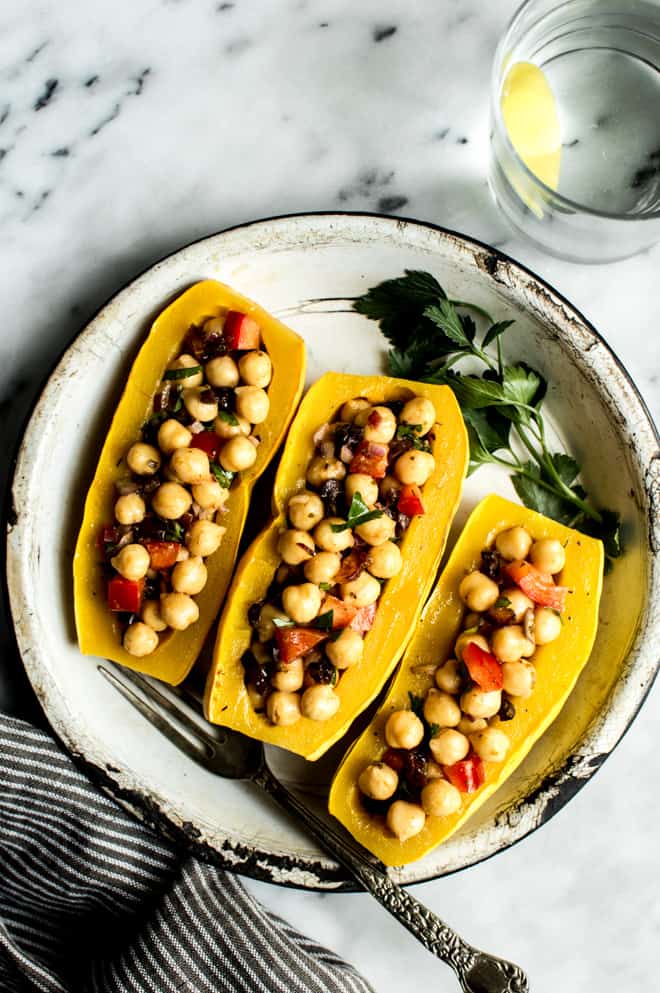 So for the final week of 2015, I decided to pull away from everything and give myself room to breathe. And to color. (By the way, if you haven't picked up an adult coloring book yet, do it! I'm serious. It's been a great form of stress relief for me. There are a ton of them out there now, but this splendid cities coloring book was the best Christmas gift that I bought for myself.)
I can't say that I've found all the answers after that short break, but at the very least, I'm ready to take on the new year with renewed focus. That's all that I can ask for now, right?
Now, on to this scrummy dish. One of my (many) resolutions this year is to eat healthier. For someone who runs a blog with the word "healthy" in the name, it's embarrassing to admit that my eating habits need to be cleaned up. They do, though. Ever since I started blogging, I've gained about 15 pounds.
But there is a caveat. I was on a pretty rigorous diet right before I started my blog, which involved working out 6 to 7 times a week and making sure that I consumed only a certain number of net calories a day. I became very obsessive with calorie counting and declined dinner invitations with friends because I was afraid that one meal out with them would completely derail my weight loss. I felt miserable. Of course, as with most fad dieting, that kind of lifestyle was not sustainable, and I regained all the weight that I lost.
By no means do I want to go on a diet again, but I would like to be in better physical shape for my next race (I've decided that I would sign up for 3 big events this year). This Mediterranean chickpea salad stuffed in roasted squash is my first effort to reaching that goal. Here's to a healthier new year!
(Eek! This post sounded more like something I would say at a support group meeting than an actual recipe post, but it certainly felt good to let all of this out in the open. Hope you don't mind.)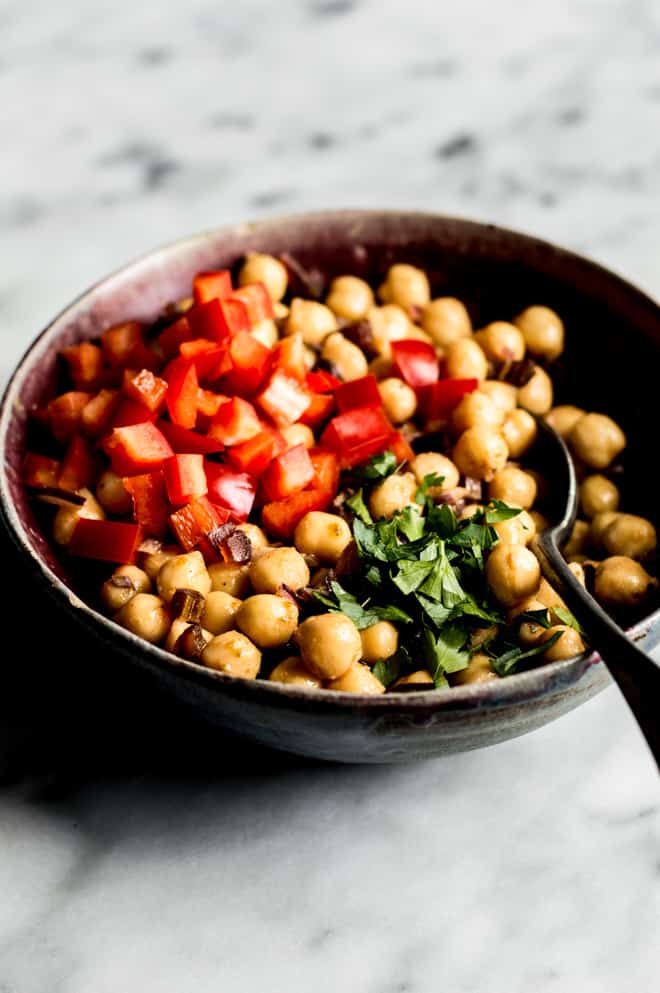 MASTER MY MISTAKES / COOKING NOTES
Baking the squash: The first time I made this dish, I baked the squash cut-side up and drizzled olive oil on top to keep the squash from drying out. It tasted fine, but to save a few more calories, I decided to bake the squash cut-side down with water. Both methods work well—it's just a matter of what you like more.
Chickpea Salad: The Mediterranean chickpea salad was inspired by a salad that I buy from time to time at the Sacramento Co-Op. The original version had a much stronger dijon mustard flavor, which I've toned down significantly. Can you skip the mustard? Sure. I don't want you to go out buying an entire jar of dijon mustard only to use a teaspoon of it for this recipe!
Nutrition Information: Starting this year, I'm going to include nutrition information in my recipes (located at the bottom of my recipe cards). I've been resisting this move for the longest time because I just don't think there is any way for me to get reliable information for my recipes. (Case in point: I used 3 different recipe calorie calculating tools for this recipe and got 3 sets of results.) However, I always receive comments and e-mails asking for the nutrition information, so I decided to take a stab at this. They're only meant to be a guideline and may not be 100% accurate.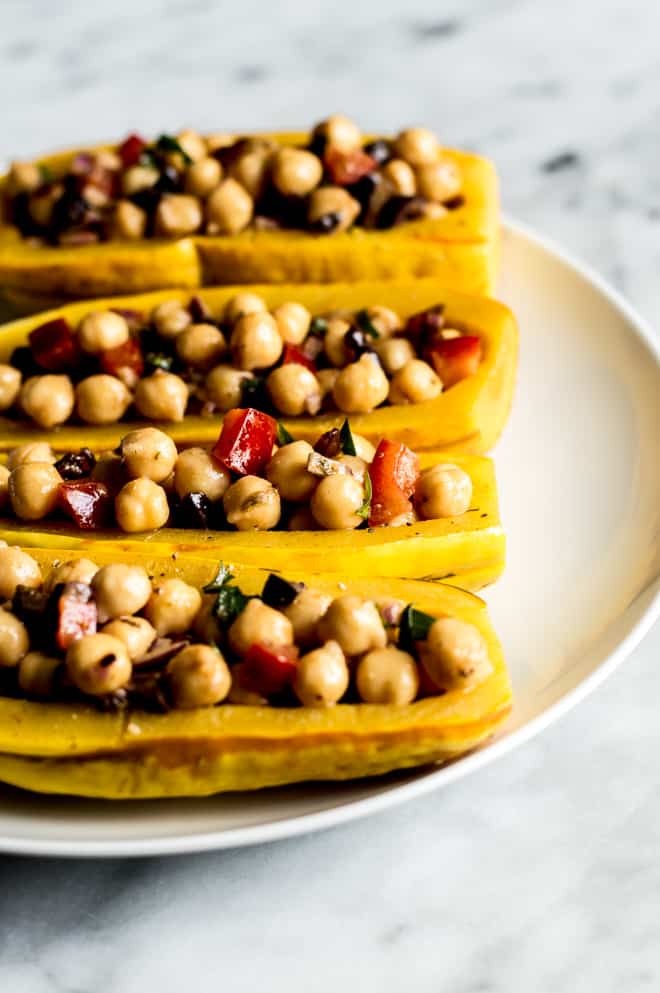 If you try this recipe, let me know how it goes by leaving a comment or sending me a message! Or take a photo of the food and tag me on Instagram so that I can give you a fist bump! I love seeing your creations!
Mediterranean Chickpea Salad Stuffed Squash
Ingredients
2

pounds

delicata squash

,

cut lengthwise and seeded
Chickpea Salad
2

cups

(340g) canned chickpeas, rinsed

1/2

large red pepper

,

finely chopped

3

tablespoons

chopped red onion

6

pitted kalamata olives

,

chopped

2

medjool dates

,

pitted and chopped

1 1/2

tablespoons

extra-virgin olive oil

1/2

tablespoon

red-wine vinegar

1 1/2

teaspoon

dijon mustard

1

teaspoon

dried oregano

1

teaspoon

dried marjoram

,

optional

1/4

teaspoon

granulated garlic

1/4

teaspoon

paprika

1/4

teaspoon

ground cumin

salt and pepper

,

to taste

chopped parsley

,

optional
Instructions
Preheat oven to 350ºF (175ºC).

Place delicata squash, cut-side down in a baking pan. Fill pan with about 1/4 inch of water and place in the oven. Bake for 23 to 27 minutes, until squash can be easily pierced with a fork.

While baking the squash, prepare chickpea salad. In a large bowl, mix chickpea salad ingredients together and set aside.

Serve by scooping chickpea salad into the cavity in the squash. You may have some chickpea salad leftover.
Did you make this recipe?
Tag @hellolisalin or leave a star rating and comment on the blog!