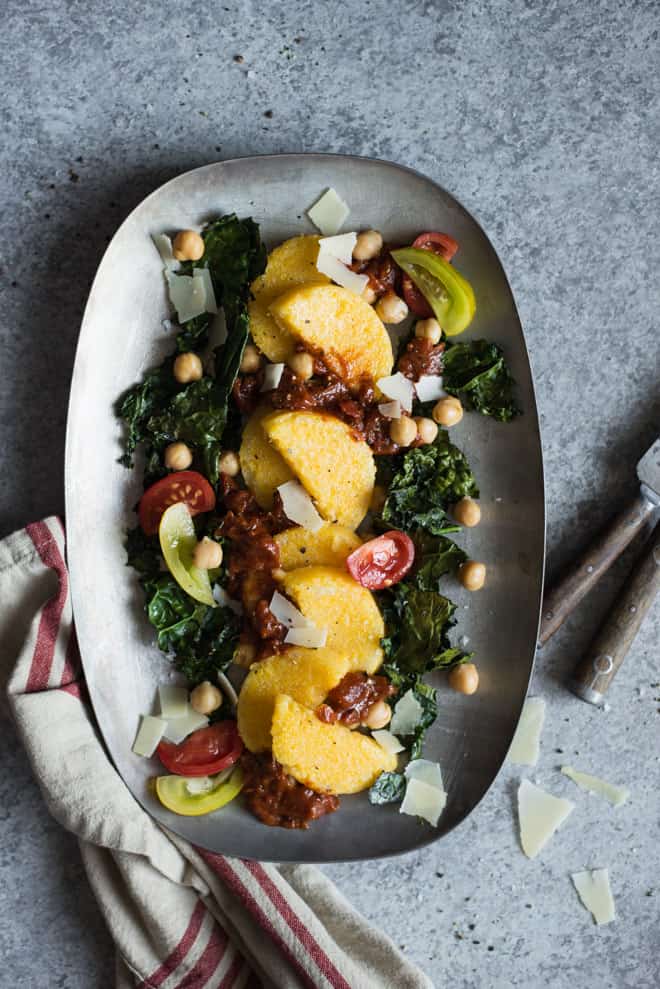 During my law school days, I always stocked my pantry with those yellow tubes of pre-cooked polenta. They were nothing special but good to have around when I barely had time to cook, which was often. I usually tossed them in a frying pan, along with sauce and whatever I had in my fridge. I nearly forgot how simple and tasty these meals were until a month ago, when I was scrambling to cook dinners while packing for Europe. You would think that as a food blogger, I should be able to get it together in the food department, right?
In this version, I paired the pan-fried polenta with roasted kale, chickpeas, tomatoes and my enchilada sauce. It might sound odd to add enchilada sauce to a recipe like this, but believe me, it works. However, if you don't like tomato-based sauces, hummus or a yogurt sauce will work well for this recipe, too!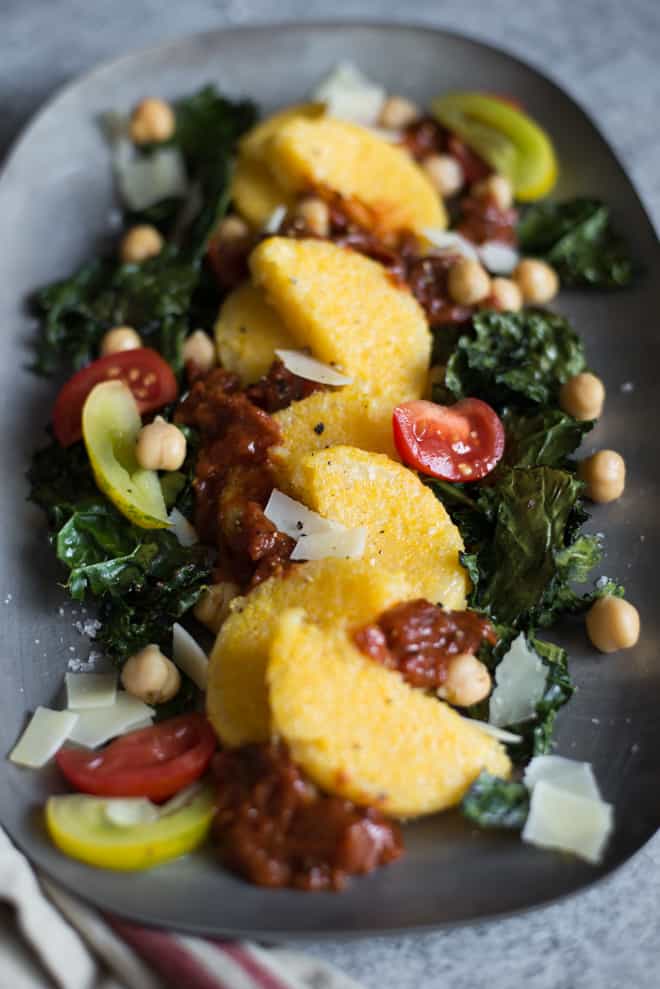 MASTERING MY MISTAKES / COOKING NOTES
Beware of splatters when cooking the polenta: I noticed that when I pan fry the tubed polenta, oil tends to splatter much more than when I pan fry homemade polenta cakes. So be careful when you're cooking this!
Don't slice the rounds too thinly: Initially, I thought that slicing the polenta rounds thinly would yield crispier fried slices once cooked. Wrong! Thinly sliced polenta rounds actually soften significantly in the pan, making them difficult to pick up and flip. Also, wait until the polenta is done before slicing them into half moons.
Crunchier kale: If you want crunchier kale, leave it in the oven for a few more minutes. Be careful not to leave them in the oven for too long, as the kale can burn and turn bitter.
Substitutions: I like eating the polenta with my enchilada sauce, but you can use pasta sauce, salsa, hummus or a dressing!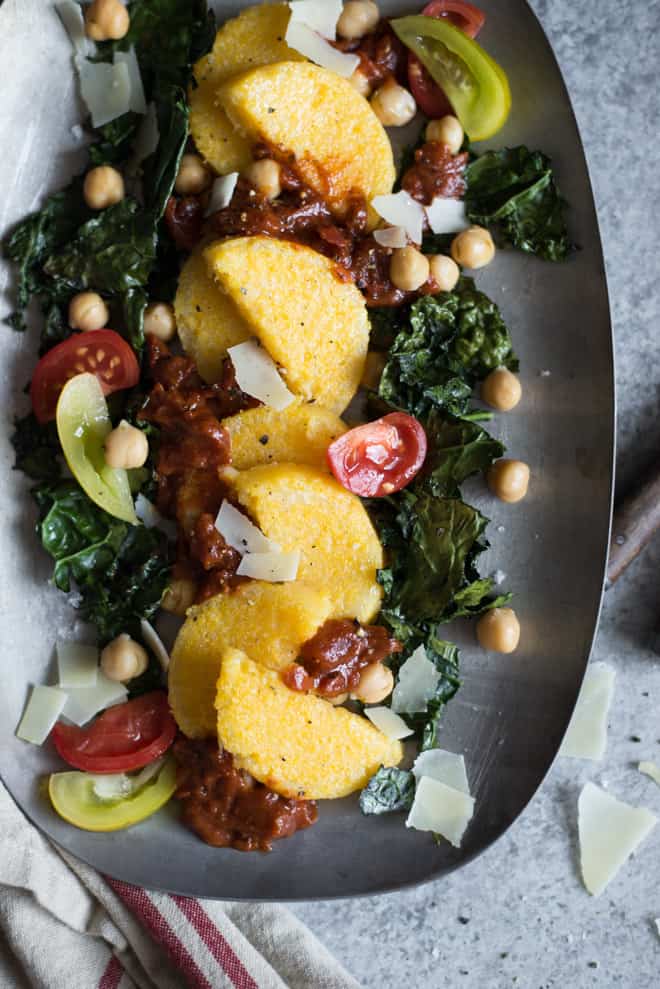 If you make this recipe, let me know! Take a photo of your creation and tag me on Instagram so that I can give you a fist bump!
Pan Fried Polenta with Roasted Kale & Chickpeas
Ingredients
1

18-ounce

(510g) tube of pre-cooked polenta

3

tablespoons

olive oil

,

divided

6

cups

(80g) chopped kale (about 6 large handfuls)

salt

1

15-ounce

(425g) can of chickpeas

,

drained and rinsed

1

cup

cherry tomatoes

,

sliced into quarters

enchilada sauce or pasta sauce

shaved or shredded parmesan

salt and pepper
Instructions
Slice the polenta into 1/3-inch thick rounds. You don't want to slice them too thinly, or else they'll be difficult to handle when you fry them. Set them aside.

In a bowl, massage 1 tablespoon of olive oil into the chopped kale. Sprinkle a pinch of salt on the kale. Line a medium baking sheet with parchment paper. Spread kale on top of the sheet and bake for 8 to 10 minutes at 350ºF (175ºC), until they start to turn crispy. You can leave the kale in the oven for a few more minutes if you want them crunchier.

Heat 1 tablespoon of olive oil on a sauté pan or skillet over medium heat. Spread half of the sliced polenta rounds on the pan. Pan fry each side for 3 to 4 minutes. Dish up fried polenta and add the rest of the olive oil to the pan. Finish frying the rest of the polenta rounds. Dish up the rest of the polenta.

While the pan is still hot, pour the

enchilada sauce

in the pan to warm it up. Turn off the heat after a few minutes.

Serve polenta rounds with roasted kale, sliced tomatoes, chickpeas, enchilada sauce and parmesan. Season with salt and pepper to taste.
Notes
NUTRITION INFORMATION: Yields 4 servings; Amount per serving: Calories: 390, Total Fat 15g, Saturated Fat: 3g, Sodium: 1248mg, Cholesterol: 5mg, Total Carbohydrate: 52g, Dietary Fiber: 11g, Sugar: 10g, Protein 15g
Did you make this recipe?
Tag @hellolisalin or leave a star rating and comment on the blog!