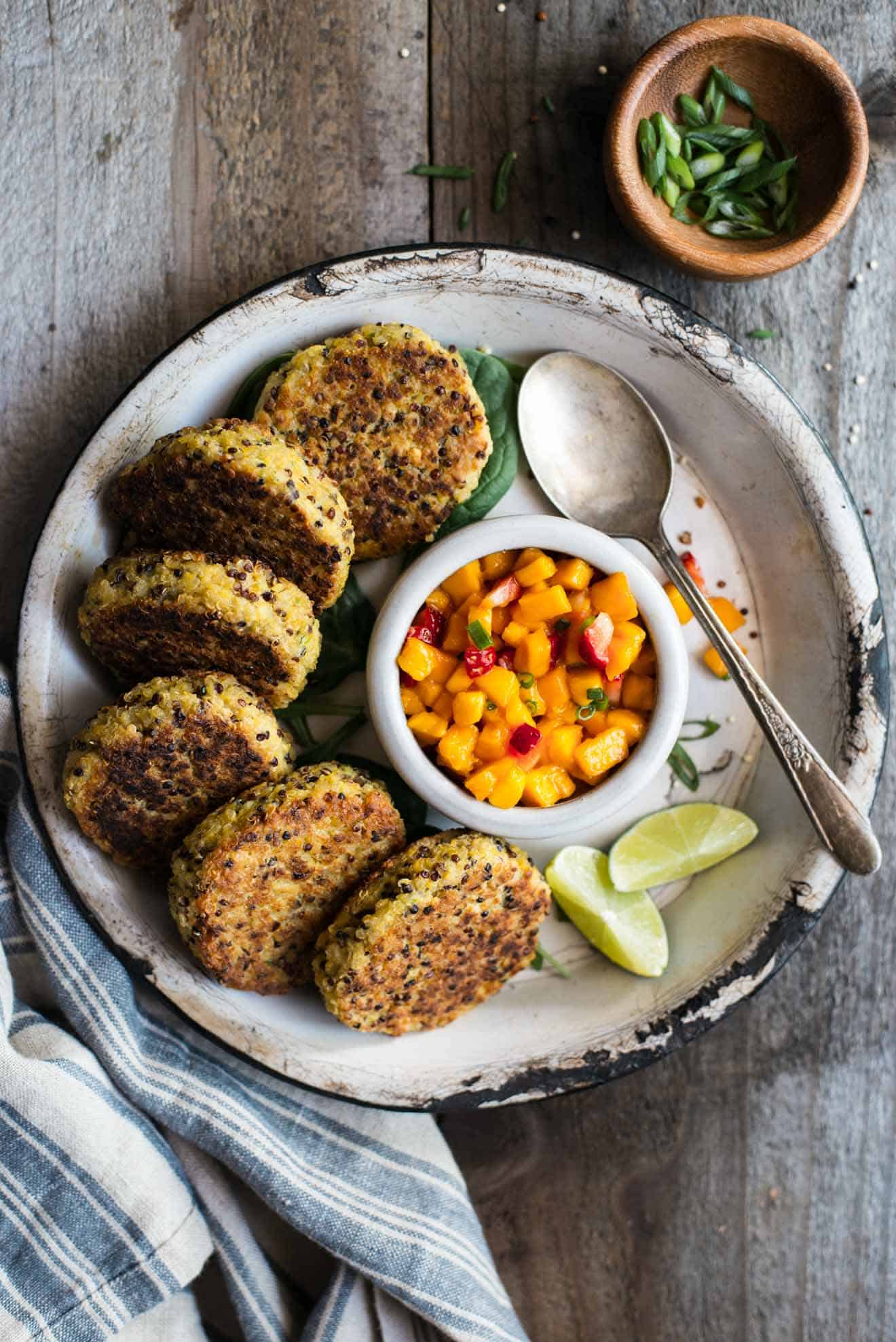 Eight years ago, one of my roommates introduced me to this thing called quinoa. At first, I was perplexed. Judging by the spelling, quinoa should be pronounced "keen-NOAH" and not "KEEN-wah." Clearly. Then, I was skeptical. My roommate described quinoa as if it was some sort of miracle grain, and I wasn't ready to believe that anything could be better than rice. Mama Lin would have felt the same way.
It wasn't until I tried out a quinoa cake recipe from Heidi Swanson's Super Natural Every Day that I actually started to like quinoa. The method is very simple: mix some cooked quinoa, herbs, cheese, and eggs together, shape them into small cakes, and give them a quick pan fry. It was healthy comfort food that sustained me throughout law school.
I nearly forgot about those quinoa cakes until a few weeks ago, when my husband reminded me. I made fish cakes from Naomi Daguid's Burma (best use of tilapia, by the way), and he asked me why I didn't make those grainy cakes anymore. It took me a while to figure out exactly what he meant, but when I did, I decided to make those quinoa cakes the next day. They were every bit as good as I remembered them to be.
Drawing from the recipes in those two cookbooks, I came up with these quinoa cakes. I swapped out the cheese and herbs in Heidi's recipe, and added mashed up chickpeas, shallots, ginger, and scallions—flavors that are ubiquitous in Burma. These cakes are extra special right off the pan with its crispy crust on the outside and delicate flavors on the inside. I've made so many batches of these cakes already, and we always finish them with no trouble.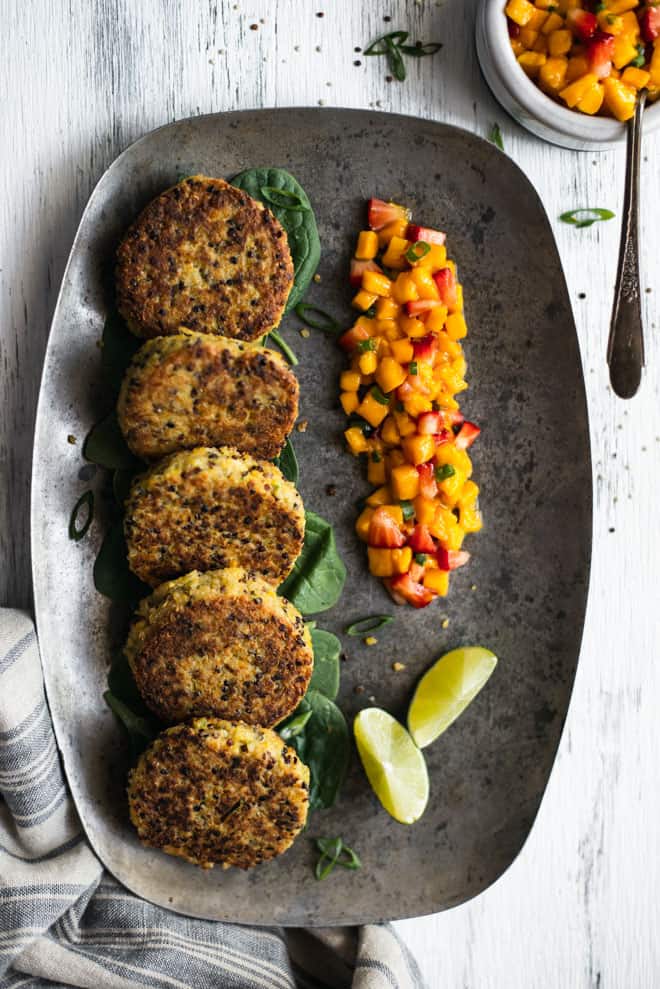 MASTERING MY MISTAKES / COOKING NOTES
Why didn't you wash the quinoa before cooking it? That's what I say to myself every time I get too lazy to give the quinoa a rinse. The thing is, quinoa has this saponin coating on the outside that gives it a slightly bitter flavor. It comes off once you rinse it, so don't skip that step! By the way, the best way to rinse quinoa is to wash it over a mesh strainer. It took me 6 years to figure out that one.
Vegan Option: I made these cakes without the eggs, and they tasted good, too. The only problem was that the cakes couldn't hold their shape well sans eggs. Plus, I thought that the eggs gave the cakes more of a crisp on the outside.
Use a food processor. It will save you from tears, literally: I highly recommend using a food processor to blitz the chickpeas, shallots, and scallions together. I cry every single time I chop shallots. My handy dandy food processor saved me from a few tears!
Variation: I added 1/2 teaspoon of ground turmeric to a batch, and they added a lovely color and flavor.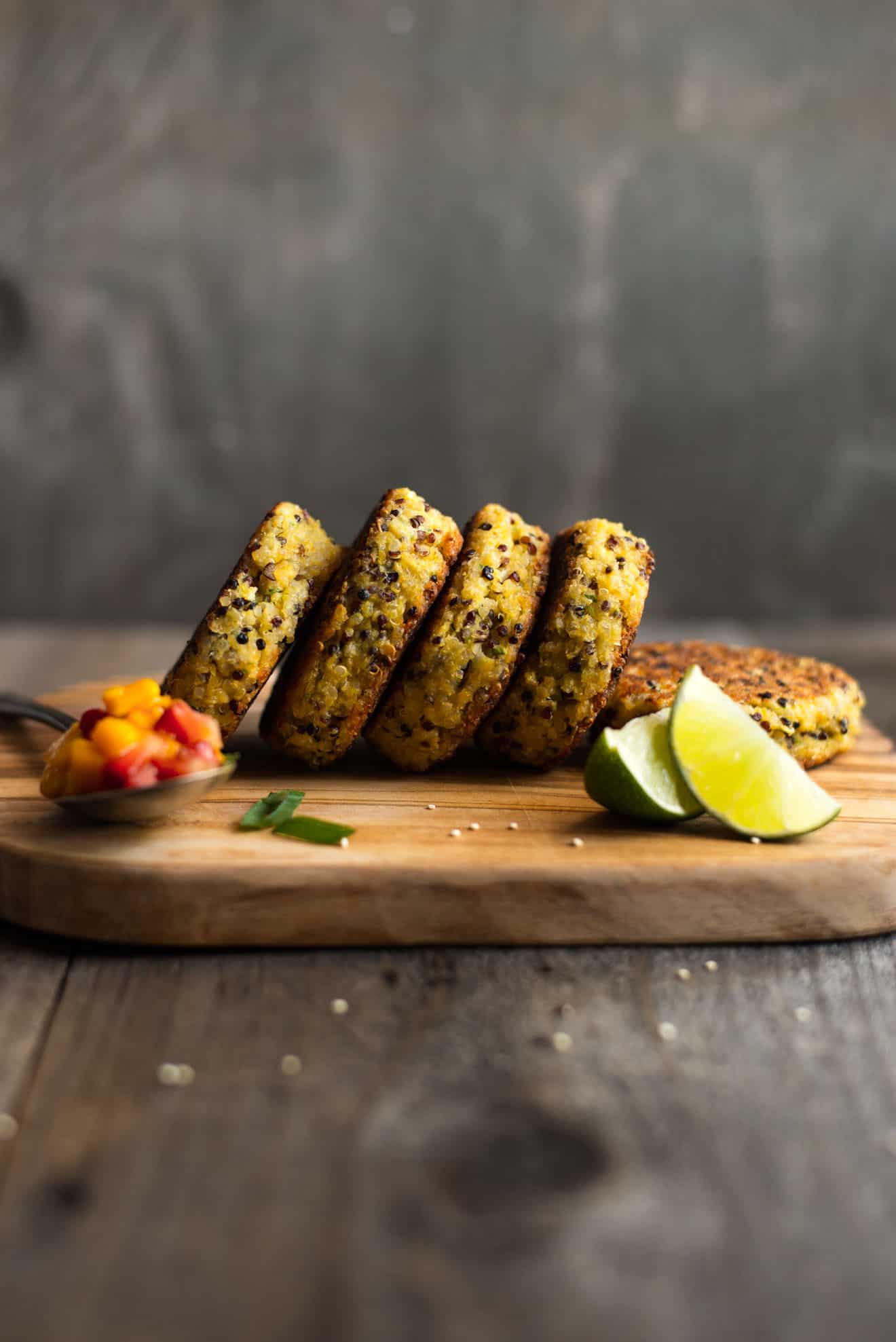 Quinoa Cakes with Chickpeas and Mango Salsa
Ingredients
1

15.5-ounce

(440g) can of chickpeas (drained and rinsed)

1

shallot bulb

,

roughly chopped (about 1/3 cup)

3

scallions

,

or green onions, roughly sliced

2

teaspoons

minced ginger

1

teaspoon

sea salt

2

cups

(275g) cooked quinoa

2

large eggs

2 1/2

tablespoons

olive oil
Mango salsa
1

medium mango

3

strawberries

squeeze of lime juice

small pinch of salt
Instructions
Add chickpeas, shallots, scallions, ginger, and salt to a food processor. Pulse until the chickpeas form into a thick paste. You may need to use a spatula to scrape down the sides.

In a large bowl, combine quinoa, chickpea mixture, and eggs.

Scoop out 1/4 cup of the mixture and shape into a cake, about 3/4 inch thick. Set them on a plate or a baking sheet until you're ready to cook them.

Heat half of the olive oil in a large non-stick pan or skillet over medium heat. Add 5 cakes and pan fry each side for 4 to 5 minutes. Plate and repeat with remaining cakes. Add more oil if necessary.

To make mango salsa, finely dice mango and strawberries. Mix in a small bowl with a squeeze of lime juice and a small pinch of salt. Serve with quinoa cakes.

Serve quinoa cakes with mango salsa.
Notes
1. You can make the patties overnight. Put them on a plate, wrap it in plastic wrap, and refrigerate it. They'll cook well straight out of the refrigerator. I've never tried freezing them.
2. You can also skip the eggs entirely, if you want to make these vegan. Do note that the cakes are more crumbly without the eggs.
Nutrition information includes 1/5 of the mango salsa.
NUTRITION INFORMATION: Yields 10 cakes; 2 cakes per serving. Amount per serving: Calories: 195, Total Fat 12g, Saturated Fat: 2.2g, Sodium: 413mg, Cholesterol: 74mg, Total Carbohydrate: 38g, Dietary Fiber: 7g, Sugar: 6g, Protein 11g
Nutrition
Serving:
2
cakes
|
Calories:
195
kcal
|
Carbohydrates:
38
g
|
Protein:
11
g
|
Fat:
12
g
|
Saturated Fat:
2.2
g
|
Cholesterol:
74
mg
|
Sodium:
413
mg
|
Fiber:
7
g
|
Sugar:
6
g
Did you make this recipe?
Tag @hellolisalin or leave a star rating and comment on the blog!