Before that happens, here's a roasted acorn squash dinner that I made yesterday.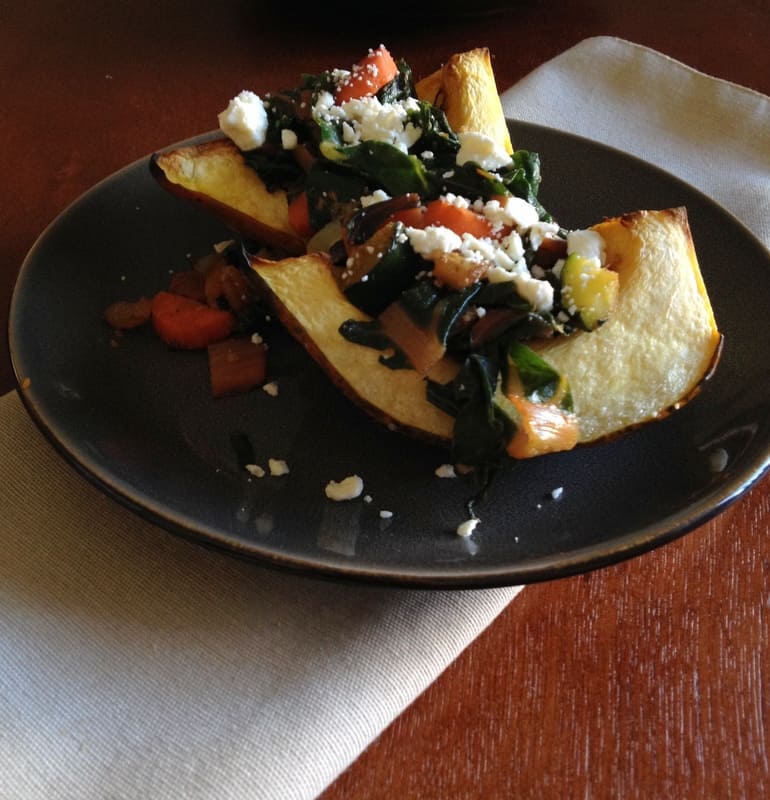 Roasted Acorn Squash with Mixed Vegetables
Ingredients
1

medium acorn squash

1

bunch of swiss chard

1/2

medium yellow onion

,

diced

1

medium zucchini

,

diced

2

medium carrots

,

peeled and diced

3

garlic cloves

,

minced

1

TBS

olive oil

,

divided

1

TBS

fresh parsley

,

chopped

1

TBS

fresh basil

,

chopped

salt and pepper to taste

feta cheese for topping

,

optional
Instructions
Preheat the oven to 400°F. Line a baking sheet with parchment paper or aluminum foil

Chop off the stem of the acorn squash, and cut it in half. Remove the seeds from the acorn squash. Cut each half down the middle so that you end up with four quarters of the acorn squash. Brush about 1/2 tablespoon of olive oil onto the acorn squash. Sprinkle a tiny bit of salt onto the acorn squash pieces.

Place the acorn squash onto the baking sheet, cut side down, and put it into the oven. Bake for about 40 minutes, or until the pieces are easily pierced by a fork.

While the squash is cooking, prepare the vegetables. Rinse and roughly chop the swiss chard (including the stems). Rinse and chop the other vegetables.

Pour the other 1/2 tablespoon of olive oil into a saute pan over medium-high heat.

When the pan is hot, place the diced onions into the pan. Cook for about 1 to 2 minutes and add in the minced garlic. Cook for another minute.

Add the carrots and zucchini into the pan and stir. Let the vegetables cook for about 2 minutes.

Add the swiss chard and cover the saute pan. Let everything in the pan cook for about 4 to 5 minutes, checking the vegetables occasionally to make sure that the pan is not too dry. If necessary, add a tiny bit of water to the vegetables.

Add the chopped parsley, basil and salt to the vegetables and stir.

Once the vegetables are fully cooked, remove the pan from heat.

When the acorn squash is roasted, remove from the oven. Once they are ready to handle, place the quarter pieces on to plates. Dish up the vegetables and place them on top of the roasted acorn squash. Top with feta cheese.
Did you make this recipe?
Tag @hellolisalin or leave a star rating and comment on the blog!