These roasted sticky chicken thighs are finger lickin' good. The thighs are cooked in a delicious sweet and spicy honey sauce. Serve them with a side of roasted broccoli and brown rice for a tasty and filling weeknight meal!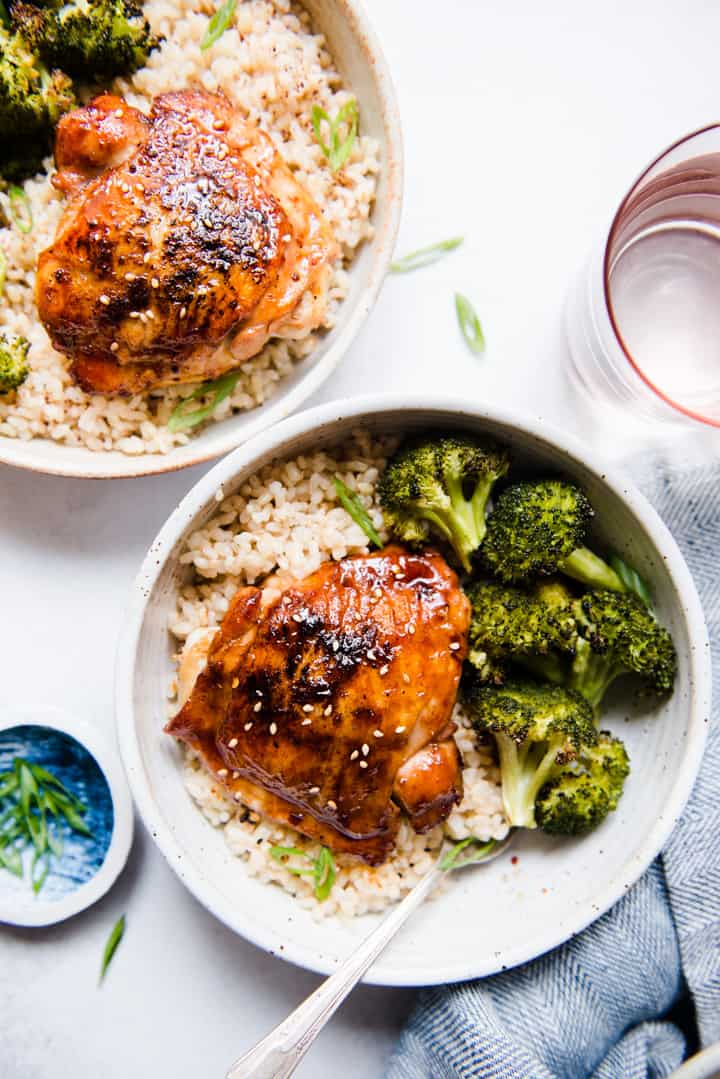 Thank you Safeway for sponsoring this post!
Whenever the holiday season comes around, I always find myself falling into bad eating habits. It is usually the time of year when work picks up, and I'm constantly in a hectic state of mind. I often find myself grabbing cookies, cheese and crackers and calling it a meal. Not this year! I am determined to end this year on a healthy(ish) note. All I think about on most days (besides dumplings) are good dinner recipes.
This sticky chicken thighs recipe is inspired by my trip to Earthbound Farm last month with Safeway. Located around the central coast of California, Earthbound Farm is an organic food producer, well known for their pre-washed packaged salad mixes. We visited their farms last month to see them harvest salad greens and broccoli.
Because baby greens are so tender, I thought they were grown in greenhouses or a covered field. I was so wrong. Rather than greenhouses or covered fields, there were vast open fields of baby greens. To harvest these greens, you drive over them with a large harvester that cuts and collects the greens at the same time. Imagine a huge tractor driving over the greens row after row. The harvester can harvest a long row of baby greens in a matter of minutes!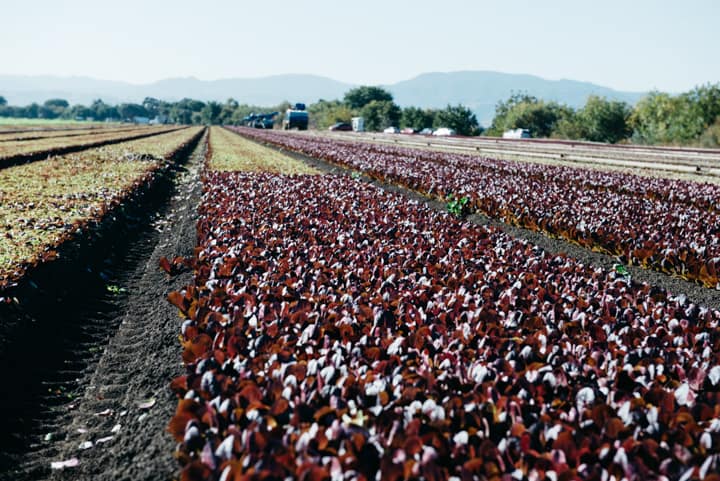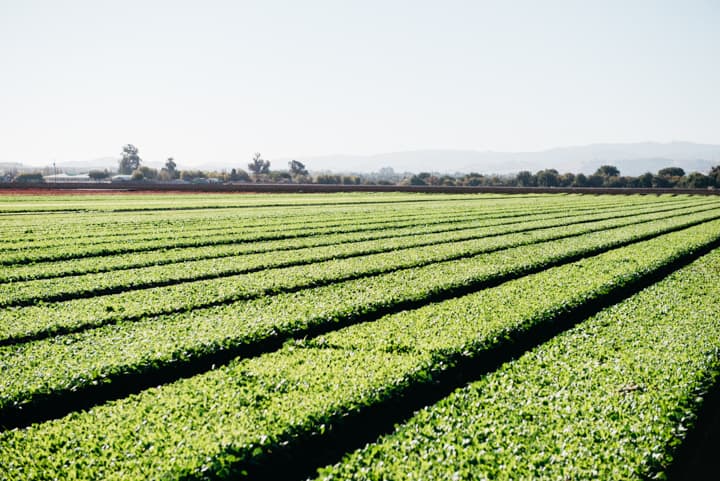 Our next stop on the harvest tour was at the broccoli fields. Again, I had no idea how broccoli was grown and harvested (I feel like such a city girl). The broccoli plants grew quite high— almost up to my waist.
Harvesting the broccoli is similar to harvesting the baby greens. Farm workers drove large harvesters over the broccoli fields. These harvesters cut and collected the broccoli at the same time. There are also many farm workers stationed in the tractor. When you cut the broccoli, you cut the stalks and broccoli greens at the same time. The farm workers need to pick the broccoli greens from the stalks, bundle the broccoli, and pack them in boxes.
These harvest tours remind me of how much effort it takes to grow the food we serve on our tables. It makes me appreciate all the hard work required in this process.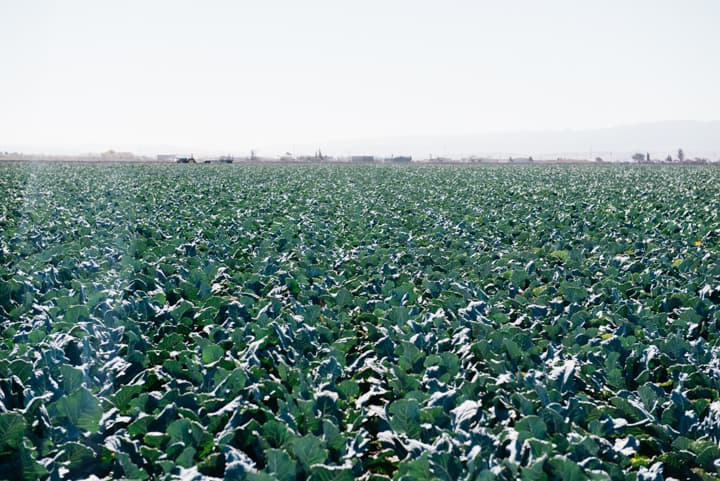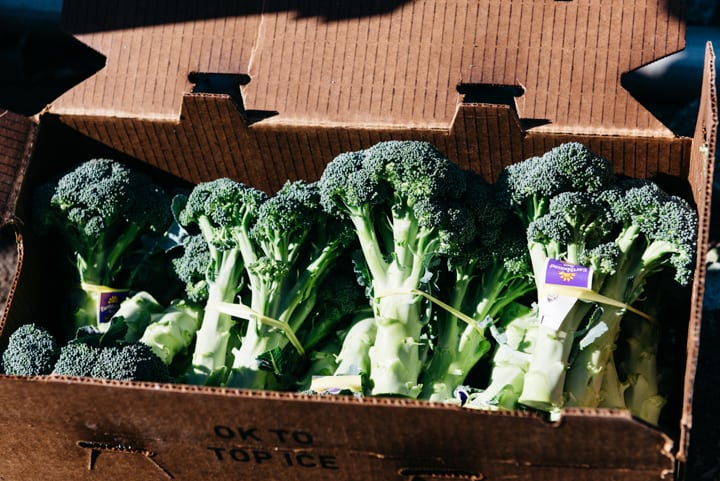 Our final stop was at Earthbound Farm's farm stand in Carmel. There, we got a chance to sample food from their new cafe (love their smoothies!) and make salads of our own. We broke into several groups and made salads with Earthbound Farm's salad mixes, fresh herbs and vegetables from their farm stand, Foster Farms chicken, and La Tourangelle oils. I had so much fun picking herbs and making a giant salad with Sarah (Snixy Kitchen) and Irvin (Eat the Love).
Before we ate a delicious meal prepared by Earthbound Farm's Executive Chef Sarah LaCasse, we all participated in a pumpkin stacking contest. Our goal was to make the tallest free-standing stack of pumpkins. All I can say is that Sarah, Irvin, and I tried our best. Unfortunately, there are no photos because our pumpkin stack toppled over! Again, we tried.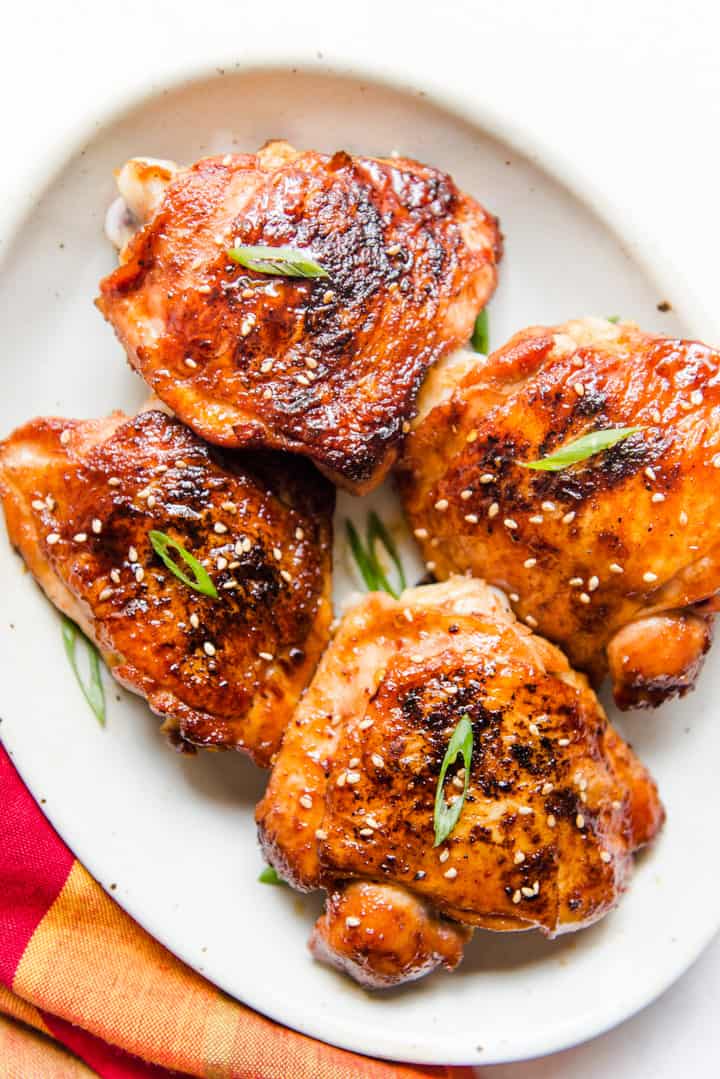 Gathering inspiration from my recent Safeway Trip to Earthbound Farm, I created Roasted Sticky Chicken Thighs recipe. This entire meal takes about 45 minutes to make, and it is absolutely delicious. My husband LOVED the chicken thighs! The honey sauce that I use to cook the chicken is sweet and mildly spicy, and they make the thighs finger lickin' good.Yes, I ate these with my hands because I just couldn't resist!
COOKING NOTES FOR THE STICKY CHICKEN THIGHS
I like using skin-on chicken thighs for this recipe because the thighs get a lot more flavor and won't dry out as they're roasting in the oven. You can also use skin-on chicken breasts if you want a less fatty meat. Boneless skinless chicken thighs will work as well, but they probably need less cooking time.
WHAT IF I DON'T HAVE A CAST IRON SKILLET?
If you don't have a cast iron skillet (or one that you can stick into the oven for roasting), pan fry the chicken for a few minutes. Then, transfer the chicken thighs to a foil-lined baking dish (skin side down), and drizzle the honey sauce over the chicken. You'll still need to flip the chicken halfway through the baking.
CLEANING YOUR CAST IRON SKILLET
Because of the high sugar content in the sauce, there is going to be a lot of burnt sauce on the bottom of your cast iron skillet. In an ideal world, I would rinse the skillet right after I take the chicken off the pan. The sticky honey sauce will come off a lot easier. However, that rarely happens because I'm usually preoccupied with eating rather than cleaning when dinner is ready. I don't usually get to the dishes until an hour later. By then, the sauce will be caked into the pan.
To clean the skillet, I run very hot water over it and use a bristled dish scrubber to clean off the sauce. The caked-in sauce will be stubborn in the beginning, but hot water will soften it, making it easier to clean from the pan.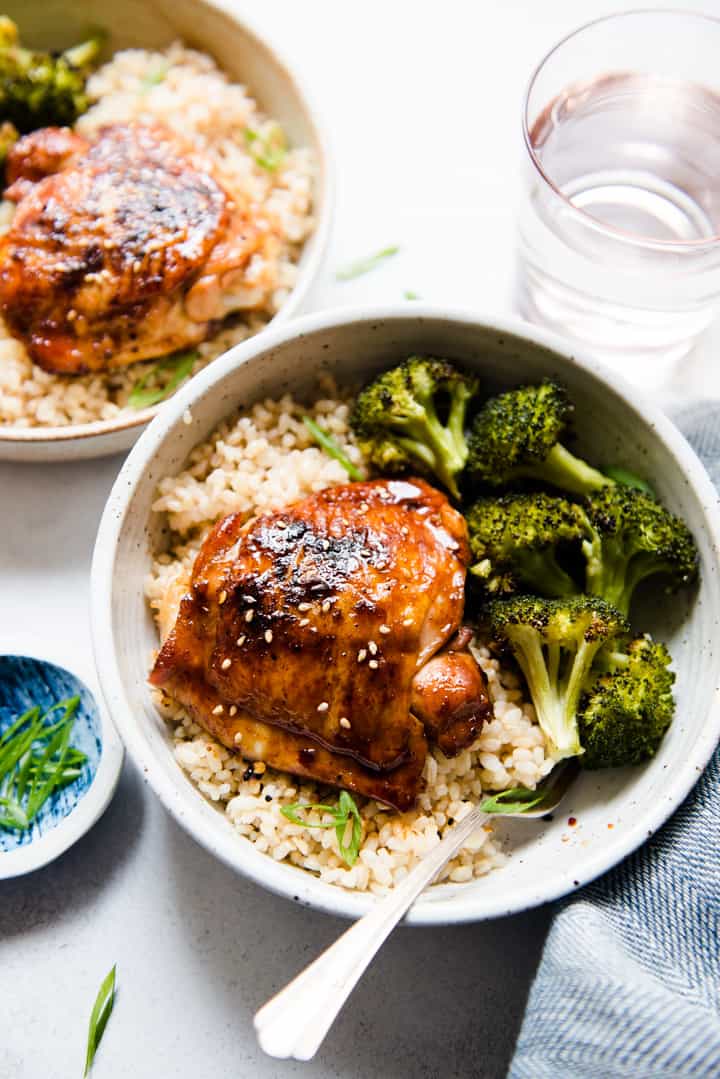 Print
Roasted Sticky Chicken Thighs with Broccoli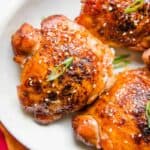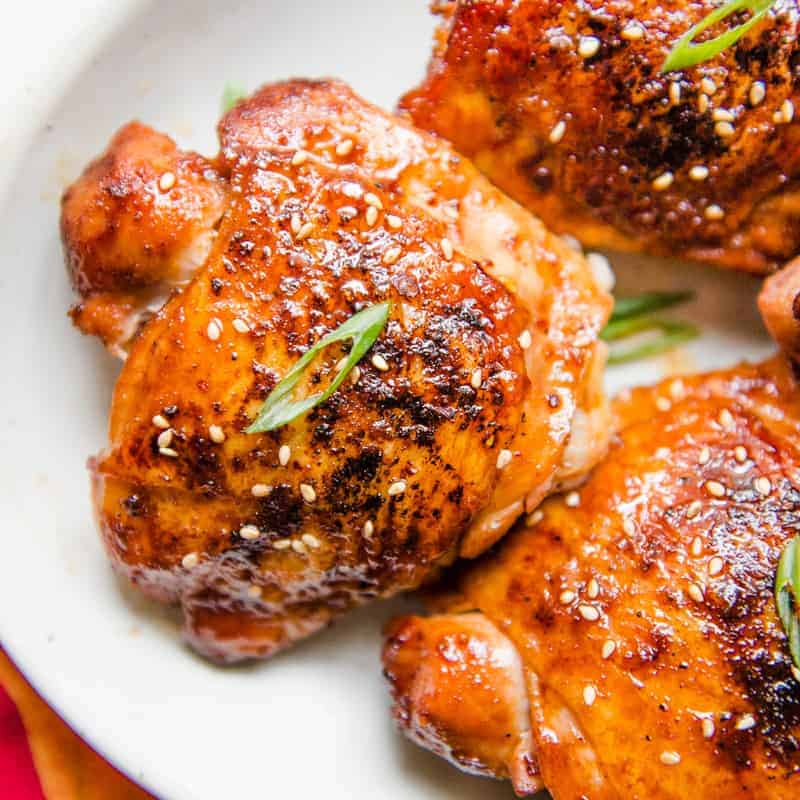 I like using skin-on chicken thighs because I quite enjoy eating chicken skin. You can use boneless, skinless chicken thighs for the recipe as well. The chicken will probably be cooked sooner, so check the chicken at the 20-minute mark when baking.
Author:
Prep Time:

10 minutes

Cook Time:

35 minutes

Total Time:

45 minutes

Yield: Serves

4

1

x
For the Rice
1 cup

short-grain brown rice, rinsed

1 1/2 cups

water
pinch of salt
For the Chicken
4

bone-in chicken thighs (about

1 1/2

to

2

pounds)

1 teaspoon

paprika

1/2 teaspoon

kosher salt

1/2 teaspoon

garlic powder

1/4 teaspoon

freshly ground black pepper

2 teaspoons

olive oil
Honey Sauce
4 tablespoons

soy sauce

3 tablespoons

honey

1 tablespoon

sambal oelek*

1 teaspoon

toasted sesame oil

1/2 teaspoon

garlic powder

1/2 teaspoon

red pepper flakes (optional)
For the Broccoli
12 ounces

broccoli

1 1/2 tablespoons

olive oil
small pinch of salt
Garnish
toasted sesame seeds
sliced scallions
Instructions
Add the rice, water, and pinch of salt to a saucepan. Bring the water to boil. Then, reduce the heat to low and cover the saucepan with a lid. Let the rice cook for 35 to 38 minutes, until all the water is absorbed. I use one of the smaller burners on my stove when I'm simmering the rice. Leave the pan covered until you are ready to serve.
Preheat the oven to 400ºF. Position the oven racks to the upper third and lower third positions.
Trim off any excess fat or skin from the chicken thighs. You don't want to skip this step because the skin gets too chewy in you leave too much skin on the thighs.
In a small bowl, mix the paprika, kosher salt, garlic powder, and black pepper for the chicken. Sprinkle these spices over the chicken thighs, making sure to cover both sides.
Heat a large cast-iron skillet with the olive oil over medium-high heat. When the skillet is hot, add the chicken thighs, skin side down. Cook the thighs for 3 to 4 minutes, until the skin starts to brown.
While the chicken is cooking, mix all the honey sauce ingredients together. Scoop out 2 tablespoons of the sauce and set it aside. Once the thighs have browned, pour the rest of the sauce over the chicken pieces and turn off the heat.
Transfer the skillet into the oven (over the bottom rack) and cook for 22 to 25 minutes, until the thighs are fully cooked (they should be 165ºF when they're cooked). Flip the chicken thighs halfway through so that both sides are cooked in the sauce.
While the chicken is baking, prepare the broccoli. Break up the broccoli into smaller pieces. Toss the broccoli with 1 1/2 tablespoons olive oil and a small pinch of salt. Spread the broccoli over a lined baking sheet and roast in the upper rack for about 20 to 25 minutes.
When you take the chicken out of the oven, you can baste it with the reserved honey sauce. If you have any extra, just toss it with the rice.
Serve the roasted chicken and broccoli with a side of brown rice. Sprinkle the dish with toasted sesame seeds and scallions for garnish.
Notes
NUTRITION INFORMATION: Amount for 1/4 of recipe with 3/4 cup cooked brown rice: Calories: 768, Total Fat 42.5g, Saturated Fat: 10.3g, Cholesterol: 189mg, Sodium: 1576mg, Total Carbohydrate: 58.4g, Dietary Fiber: 4.2g, Sugar: 16g, Protein 39.3g
Important note about the nutrition information: a lot of the fat from the chicken is rendered out during the cooking process, and you don't actually consume all of the sauce used to cook the chicken. That's why the nutrition information is a rough approximation.
*If you do not have sambal oelek, replace it with 2 teaspoons of rice vinegar and 1/4 teaspoon red pepper flakes. You can also use sriracha instead.
Disclaimer:This post is sponsored by Safeway. You can find all the ingredients for this recipe at your local Safeway or purchase them through Safeway Home Delivery. You can get $20 off + Free delivery on your first online order when you spend $75 or more.