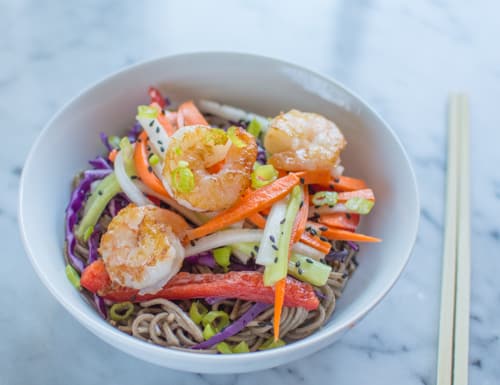 Is it normal that I still enjoy slurping my noodles loudly? In many Asian cultures, that slurping noise means that you're actually enjoying the food. So, when I'm making obnoxious slurping sounds while eating my noodles, I'm merely tipping my hat to the chef. Completely valid excuse.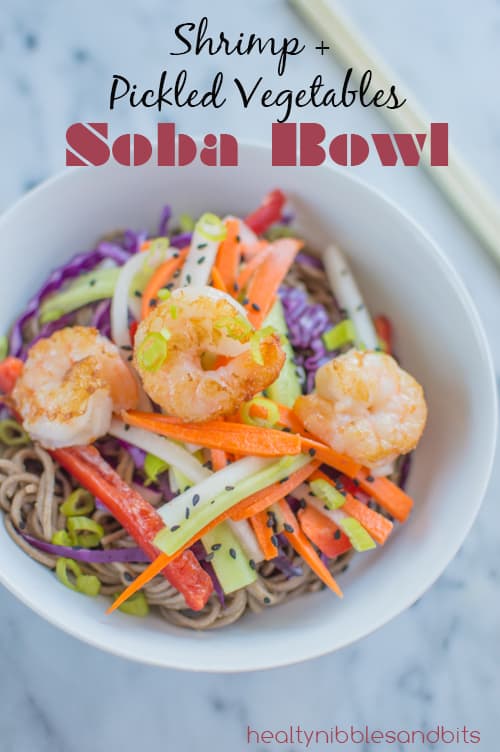 I don't know why, but I have been quite into pickling lately. I've never done any canning or significant pickling before, so I would like to get my feet wet before the summer is over!
This pickled vegetable medley of carrot, cucumber, and daikon (Japanese radish) is inspired by the pickles I usually get inside Vietnamese spring rolls. Sweet and tangy, just the way I like it.
Speaking of pickling, I'm still not a big fan of dill pickles. I'll definitely eat homemade ones, but I won't go out of my way to get one of those huge dill pickles that you find at county fairs.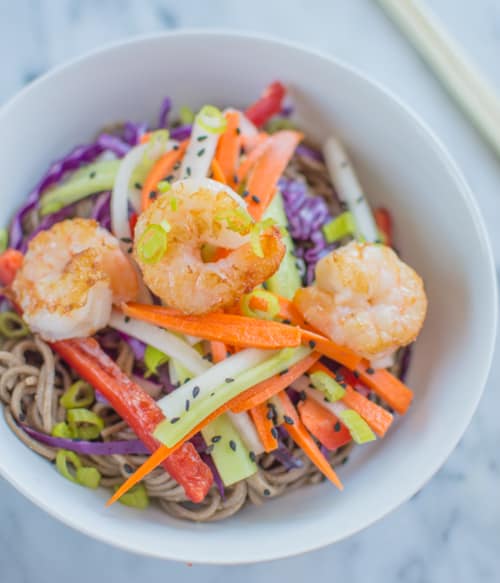 I attempted to recreate the famous noodle scene from Lady and the Tramp with this soba bowl, but it's not that easy when you happen to be the only person around the house at dinner time. Lesson learned.
Shrimp and Pickled Vegetables Soba Bowl
Ingredients
Pickled Vegetables
1

small daikon (about 10 oz/280g)

,

peeled

1

large carrot

,

peeled

2

Persian cucumbers

,

peeled (half of an English cucumber or 2 small Japanese cucumbers work also)

1/2

cup

(118ml) + 2 TBS rice vinegar

1/4

cup

(48g) sugar

1

tsp

fish sauce

1

tsp

sesame oil
Soba Noodles
3

bundles of soba noodles (~13 oz/360g)

1/3

cup

(~80ml) soba sauce (soba tsuyu)

2

TBS

low-sodium soy sauce

,

add more to taste

2

tsp

sesame oil
Pan-Fried Shrimp
1

lb

(~450g shrimp)

,

shelled

1 1/2

TBS

olive oil for frying

pinch

of salt

pinch

of garlic powder
Garnish
1

large red bell pepper

,

thinly sliced

1

cup

95g shredded red cabbage

1

scallion

,

finely chopped

sesame seeds
Instructions
Cut the daikon, carrot, and cucumbers into matchsticks. In a medium bowl, mix the vinegar, sugar, fish sauce, and sesame oil. Place the vegetables in the bowl, mix it with the liquid, and wrap the bowl with plastic wrap. Refrigerate for at least 3 hours or overnight.

To prepare the noodles, bring about 5 cups of water to boil in a large saucepan. Once the water boils, place the noodles in the saucepan. The noodles will curl naturally. When the water starts to boil again, reduce the heat to medium, and let the noodles cook for a few more minutes. When the noodles are done, drain and run the noodles under cold water.

Pour the noodles into a large bowl, and add the soba sauce, soy sauce, and sesame oil and mix.

To pan fry the shrimp, heat a skillet with the olive oil over medium-high heat. When the pan is hot, place the shrimp in one layer on the pan. Let it cook for a few minutes or until the shrimp start to turn orange and curl. Flip the shrimp onto the other side and let it cook for a few more minutes. Season the shrimp with a pinch of salt and garlic powder. Turn off the heat.

Serve the noodles with some shrimp, pickled vegetables, red peppers, cabbage, and the other garnish.

Refrigerate any leftovers in an airtight container.
Notes
1. If you do not have soba sauce, just add 2 tablespoons of low-sodium soy sauce. Keep adding more soy sauce, one tablespoon at a time until you reach the desired level of saltiness. You should be able to find soba sauce in any Japanese market.[br][br]2. I didn't pickle the cabbage and red peppers because I wanted other flavors in the soba bowl. Feel free to pickle them with the other vegetables if you like.
Did you make this recipe?
Tag @hellolisalin or leave a star rating and comment on the blog!