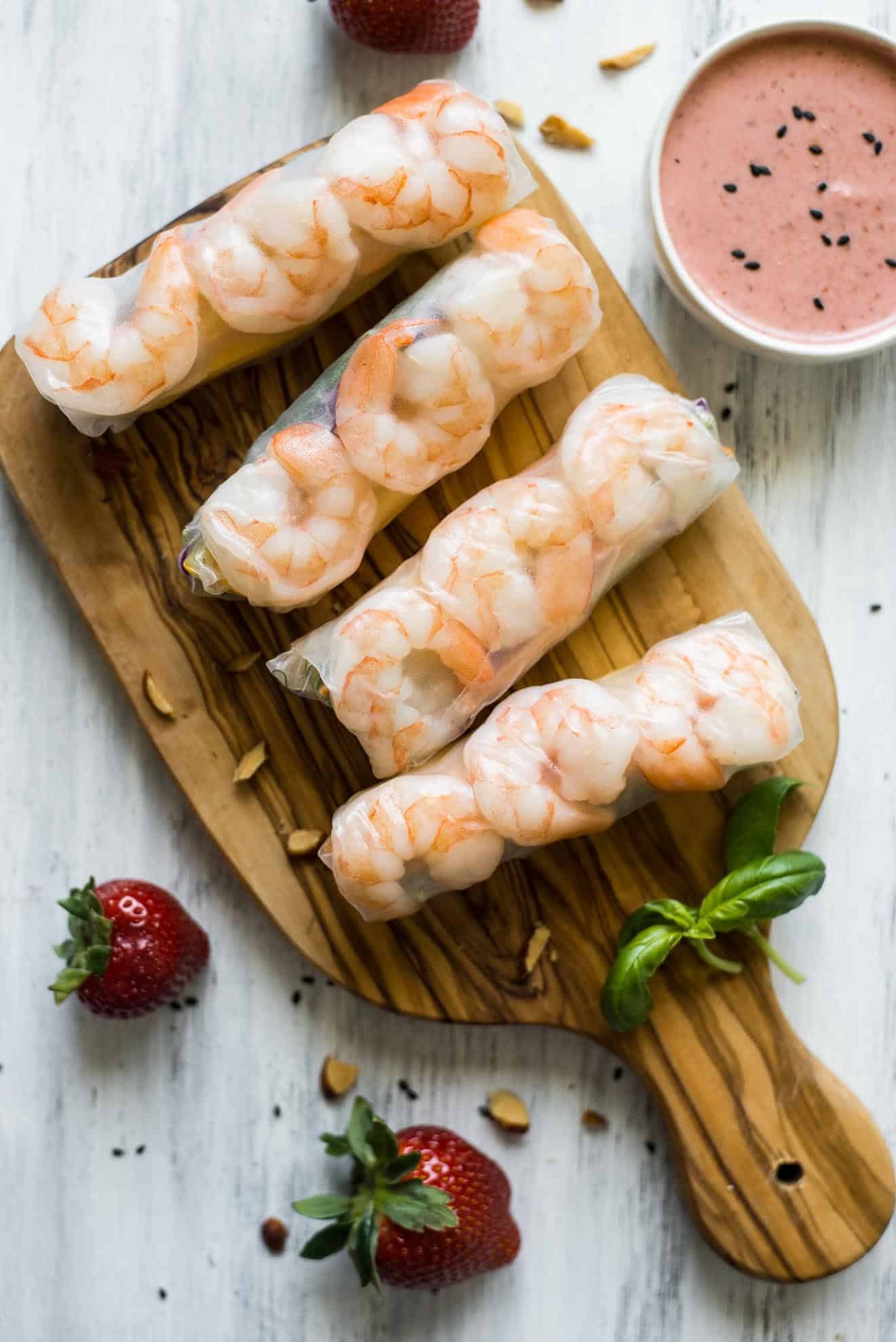 Thank you Blue Diamond Almonds for sponsoring this post! These partnerships help keep me going in the kitchen!
We all know that summer is high time for barbecues, but can I let you in on a secret? I suck at grilling. Really, I don't even know where to begin. I suppose that I can help someone flip a burger that's already cooking on a grill, and that's about it. Pathetic. So, if we're ever going to the same summer party together (you never know), don't expect me to bring the grilling essentials! I'll leave that to the experts.
Fortunately, I have a good arsenal of recipes that I can contribute, like these shrimp spring rolls. Don't let the folding intimidate you! They're super easy to make. All you need is some rice paper, lukewarm water, some filling, and you're ready to go!
I decided to pair these spring rolls with a fresh, naturally sweetened sauce. Strawberries are bonkers sweet right now, and they add such a beautiful color to anything. I added a tiny handful of Blue Diamond's Lightly Salted Almonds to give the sauce a subtle nutty flavor. Nut butters tend to be very overpowering in dipping sauces, and I wanted the almonds to compliment rather than to mask over the strawberry taste. I think it was a good call!
Make these for dinner, or double up the recipe and bring them to your next gathering!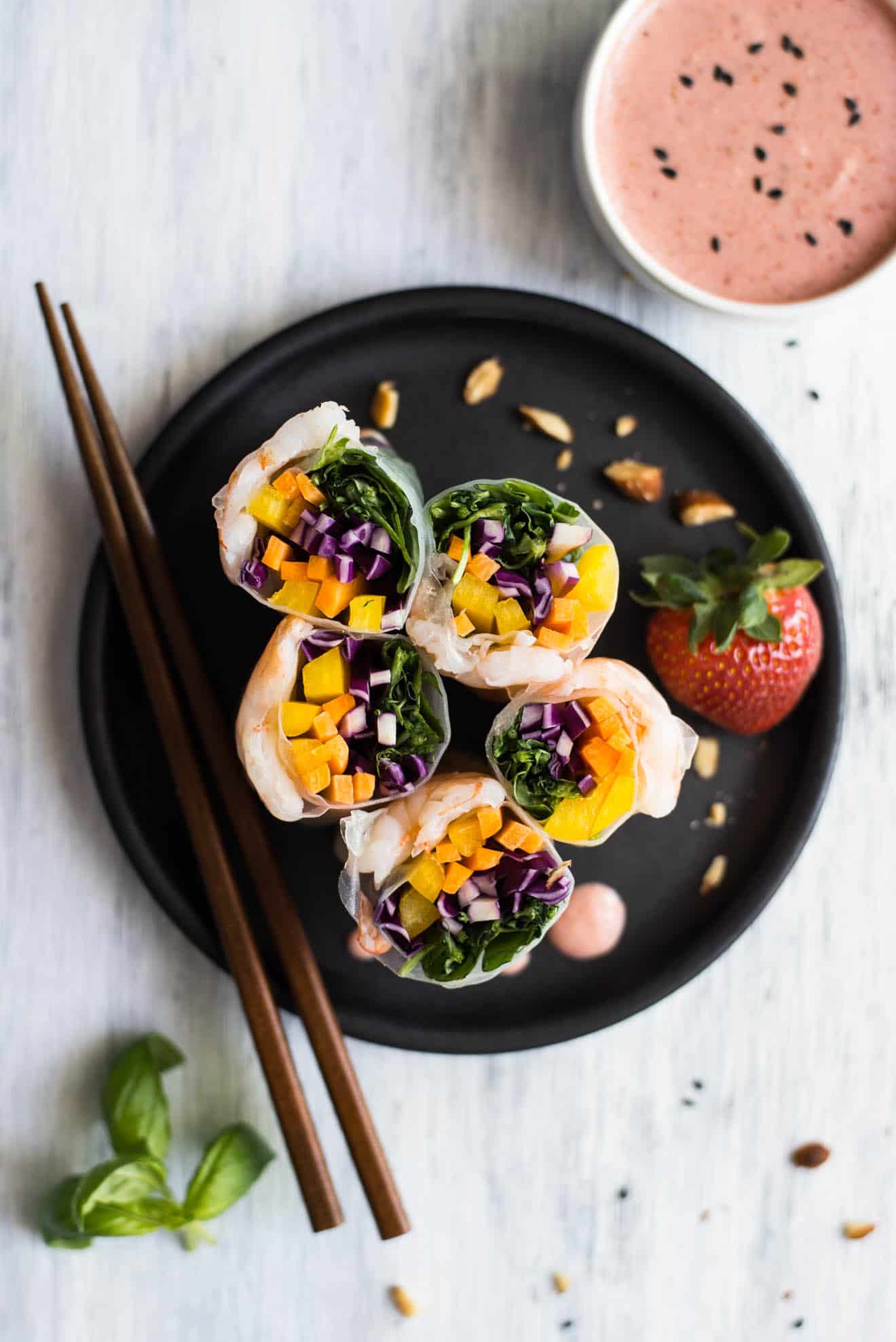 MASTERING MY MISTAKES / COOKING NOTES
There are a lot of notes for this recipe, so make sure to read through them!
Always keep the bottom board wet: Whatever you use as a surface to roll your spring rolls (I recommend a bamboo or wooden cutting board), make sure that it's moist. This helps prevent the rice paper from sticking on to the board like glue. Right before I roll a new spring roll, I'll dip my hands into the water bowl and scoop up a tiny bit of water to spread over the board. You don't need too much, just enough so that the entire surface is wet.
Make sure to use larger rice paper sheets: I've been noticing that most stores out here in Sacramento carry the smaller rice paper sheets. They're fine to use, but you can't wrap much filling in there. I recommend using the larger, 10″ sheets for this recipe.
Don't forget to warm the olive oil! You definitely want to start off with warmed olive oil for the sauce. It will cook the garlic and shallots and take out their raw bite. I forgot this crucial step the second time I tried this sauce, and I was wondering why I had such bad breath right after tasting it. (Too much information?)
Using the immersion blender is better for mixing the sauce: I tested this with my immersion blender, high-speed blender, and food processor. The immersion blender yielded the best, smoothest results, followed by the food processor.
Cut prep time by using pre-cooked shrimp: If you don't have much time to prepare these spring rolls, buy pre-cooked shrimp at your grocery store. You won't have to spend 15 minutes shelling, deveining, and cooking the shrimp!
If you are using an immersion blender to prep the sauce, make sure the almonds are at the bottom: I made the mistake of adding the chopped almonds last when I first tested this recipe. Because the almonds were at the top, I sent shards of almonds flying everywhere as I revved up the immersion blender. Don't let that happen to you.
Rolling tip: When you are laying your vegetables over the rice paper, you want to leave a gap between the vegetables and the shrimp. That way, you the shrimp won't be wrapped in two layers of rice paper, and your spring rolls will look much more vibrant. It's just a presentation thing, but it matters when you are serving food for your guests! I picked up this technique from Betty's Instagram feed.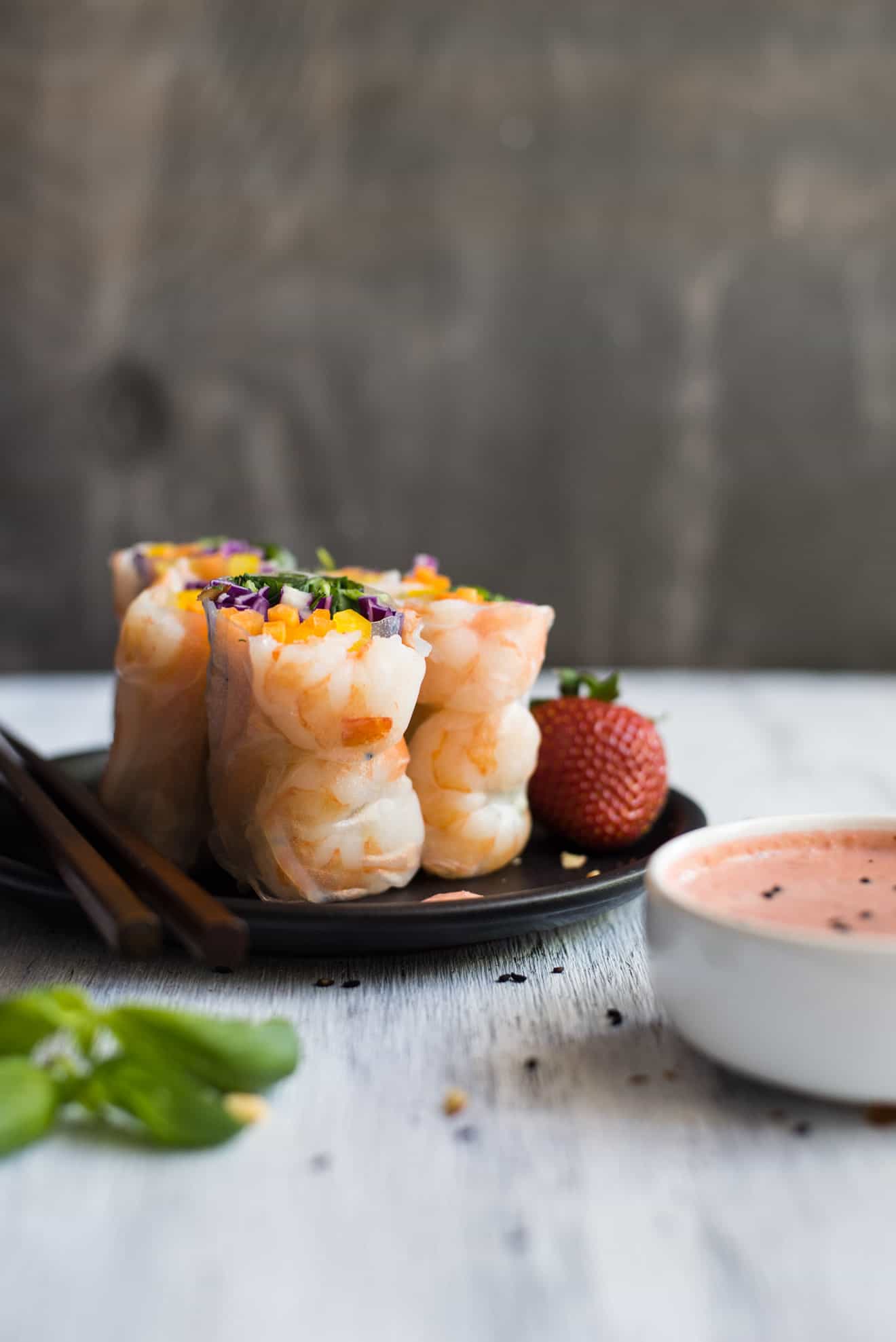 Shrimp Spring Rolls with Strawberry Almond Sauce
Ingredients
Strawberry Almond Sauce
1/3

cup

(75ml) olive oil

1

garlic clove

,

minced

2

tablespoons

chopped shallots

1/4

cup

(40g) Blue Diamond lightly salted almonds

1 1/2

cups

(150g) hulled and quartered strawberries

juice from 1/2 lime

,

about 1 1/2 tablespoons

zest from 1 lime

pinch

of salt
Shrimp Spring Rolls
12

large

10" rice paper sheets

lukewarm water

1

large yellow pepper

,

seeded and thinly sliced

2

medium carrots

,

peeled and julienned

1 1/2

cups

thinly sliced red cabbage

1 1/2

cups

pea shoots

,

or sub with any greens

12

basil leaves

20

cooked jumbo shrimp

,

halved horizontally
Instructions
In a saucepan, heat olive oil over medium heat for about a minute. Turn off heat. Add minced garlic and chopped shallots to hot oil. They should sizzle immediately. Let oil cool as you prep the spring rolls.

Set up your assembly line of ingredients. Lightly wet a bamboo or wooden chopping board.

Dip a sheet of rice paper into lukewarm water and rotate the rice paper until the entire sheet is moistened. Lay sheet on chopping board. Add the sliced peppers, carrots, cabbage, pea shoots and 1 basil leaf about 1/2 inch away from the edge of the wrapper. Lay 3 halves of shrimp (orange side down) about 1 1/2 inches away from the vegetables.

Begin wrapping vegetables toward the center, until you reach the shrimp. Fold in left and right sides of wrapper. Continue rolling everything and seal the spring roll. Repeat for the remainder of the spring roll ingredients.

Pour oil, garlic, and shallots into a wide-mouthed jar. Add almonds, strawberries, lime juice, lime zest and salt. Using an

immersion blender

, blend everything until smooth. Serve spring rolls with sauce.

If you are making these spring rolls a few hours ahead, make sure to cover spring rolls with cling film. Otherwise, the rice paper wrappers will dry out.
Notes
Nutrition information includes 1/6 of the sauce.
NUTRITION INFORMATION: Yields 12 spring rolls; 2 rolls per serving. Amount Per Serving: Calories: 241, Total Fat 14g, Saturated Fat: 1.8g, Sodium: 698mg, Cholesterol: 98mg, Total Carbohydrate: 19g, Dietary Fiber: 3g, Sugar: 4g, Protein 9g
Nutrition
Serving:
2
rolls and sauce
|
Calories:
241
kcal
|
Carbohydrates:
19
g
|
Protein:
9
g
|
Fat:
14
g
|
Saturated Fat:
1.8
g
|
Cholesterol:
98
mg
|
Sodium:
698
mg
|
Fiber:
3
g
|
Sugar:
4
g
Did you make this recipe?
Tag @hellolisalin or leave a star rating and comment on the blog!