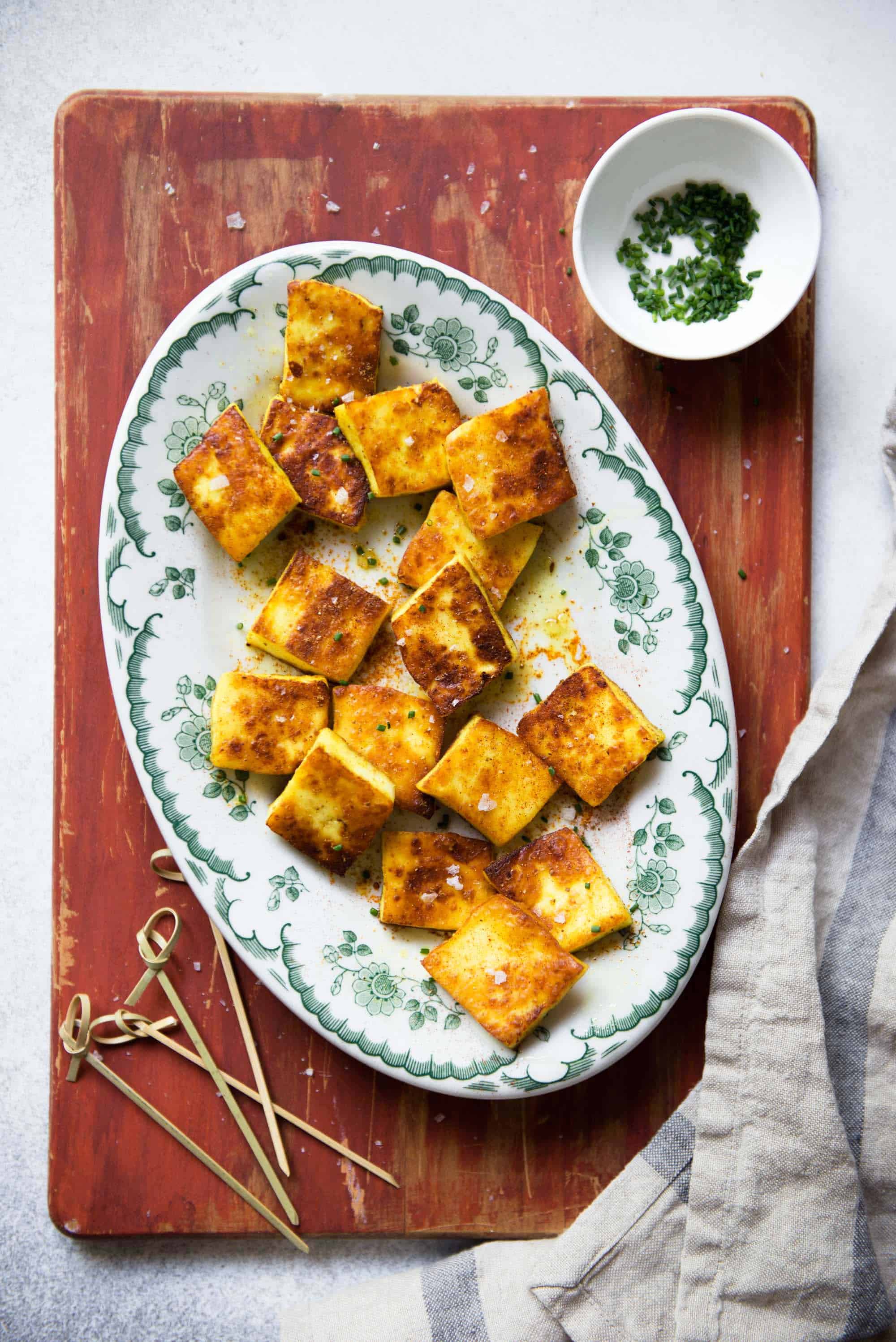 One of my favorite things to order at Indian restaurants is paneer. It is a fresh cheese (i.e., not aged like parmesan) that is common within Indian and Southeast Asian cuisines. Paneer has a chewy texture and generally doesn't have much flavor on its own. To add flavor to the paneer, you can dice the paneer into cubes and add it to flavorful sauces or you can pan fry them.
Although I order paneer in restaurants often, I had never tasted fried paneer until I cooked a curried paneer recipe in Madhur Jaffrey's Vegetarian India. (By the way, if you enjoy vegetarian Indian cooking, that cookbook is definitely worth flipping through.) For this recipe, which I adapted from Vegetarian India, I mixed olive oil with the spices before tossing the spiced oil with the paneer. This allows the spices to coat the paneer more evenly. You should serve the paneer as soon as they're done because the paneer pieces harden once it cools. If you're looking to serve the paneer with something else, try my coconut rice or basmati rice!
Spiced Pan-Fried Paneer
This paneer should be served immediately. If you have any leftovers, the best way to reheat them is to pan fry them again. You can double the recipe for a larger batch
Ingredients
7 to 8

ounces

packaged paneer*

2 1/2

tablespoons

olive oil

,

divided

1/4

teaspoon

turmeric

1/2

teaspoon

ground coriander

1/2

teaspoon

ground cumin

1/2

teaspoon

paprika

3/4

teaspoon

salt
Optional Toppings
paprika

chopped chives

flaky sea salt
Instructions
Cut the paneer into thin slices, about 1/4 to 1/2 inch thick. Then, cut each slice into 1-inch pieces. Transfer the paneer into a mixing bowl.

In a small bowl, mix 1 tablespoon of olive oil, turmeric, coriander, cumin, paprika, and salt together. Drizzle this spiced oil over the paneer and toss to coat with the spices. You may need to use your hands to rub the spices into the paneer.

Heat a skillet with 1 1/2 tablespoons of olive oil over medium heat. Add the paneer pieces and pan fry for about 3 to 4 minutes, until they are golden brown. Flip the pieces over to pan fry the other side. Cook for another 2 to 3 minutes, until golden brown. Transfer the fried paneer to a plate.

Dust the paneer with paprika. Sprinkle with chopped chives and a small pinch of flaky sea salt, if desired. Serve with

basmati rice

or

coconut rice

.
Notes
NUTRITION INFORMATION: Amount for 1/4 of Recipe: Calories: 157, Total Fat 15.2g, Saturated Fat: 1.3g,Cholesterol: 0mg, Sodium: 437mg, Total Carbohydrate: 0.4g, Dietary Fiber: 0g, Sugar: 0g, Protein 5.6g
*You can use fresh paneer for this recipe. If using fresh paneer, make sure that it is fully chilled because the paneer will be easier to work with. Also, make sure to pan fry the paneer in a non-stick pan.
Did you make this recipe?
Tag @hellolisalin or leave a star rating and comment on the blog!