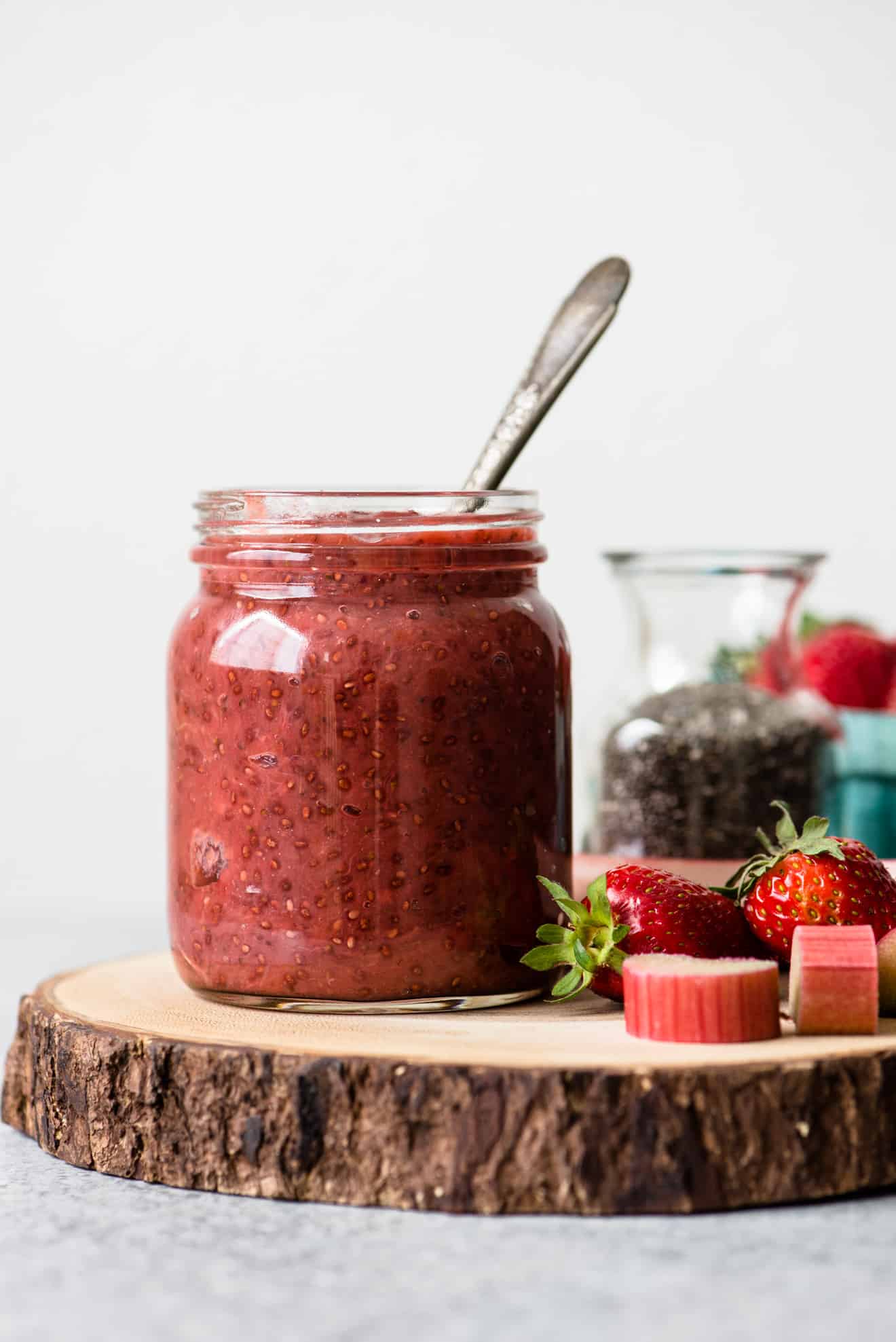 This is an updated version of the recipe that was first published here in May 2015.
One of my favorite spring ingredients is rhubarb. On its own, the faint tart flavor of rhubarb is rather unremarkable. But throw rhubarb into a dessert, and it will add a lovely brightness to the dish. For whatever reason, in the U.S., rhubarb is most commonly paired with strawberries. In the U.K., I've noticed, it's rhubarb and ginger. I suddenly realized this when I watched an episode of the Great British Bake Off, where nearly 4 contestants were making something with rhubarb and ginger.
Well, I decided to meld together the best of both worlds by adding strawberries, rhubarb and ginger into this jam. I like making chia seed jams because the chia seeds act as a natural thickener. You won't need to use as much sugar to thicken the jam!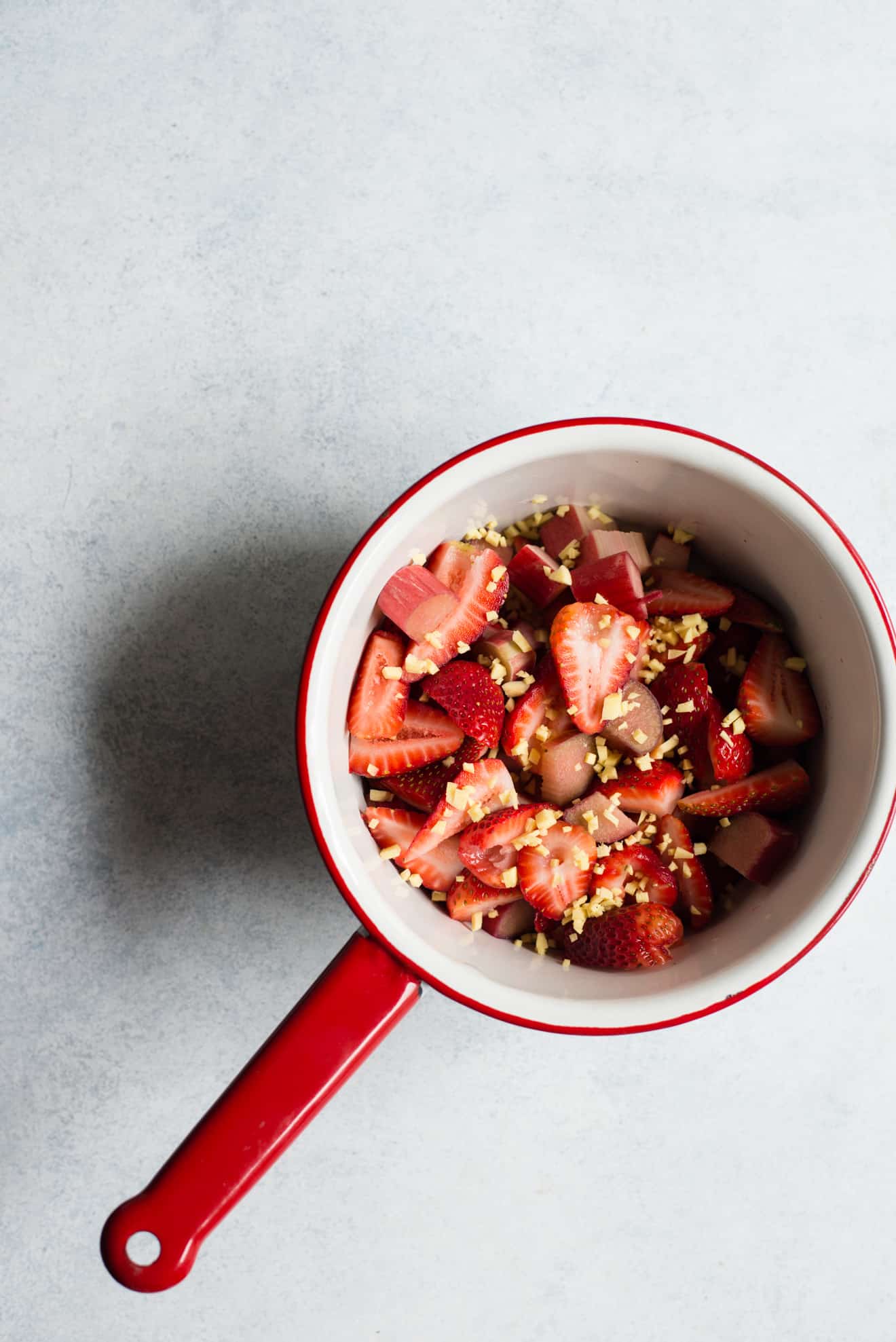 MASTER MY MISTAKES / COOKING NOTES
Stir frequently: Once the jam starts boiling, you'll want to stir the fruit every few minutes to prevent it from burning. I got sucked into checking e-mails while cooking the jam and nearly burned a batch!
Size of the fruit: I like chunks of fruit in my jam, so I kept them pretty big. Feel free to dice the strawberries and rhubarb into small pieces if you want a smoother jam. Because I used minced ginger, I occasionally get small bits of ginger in my jam, which I like. If you don't like bits of ginger, grate the ginger instead.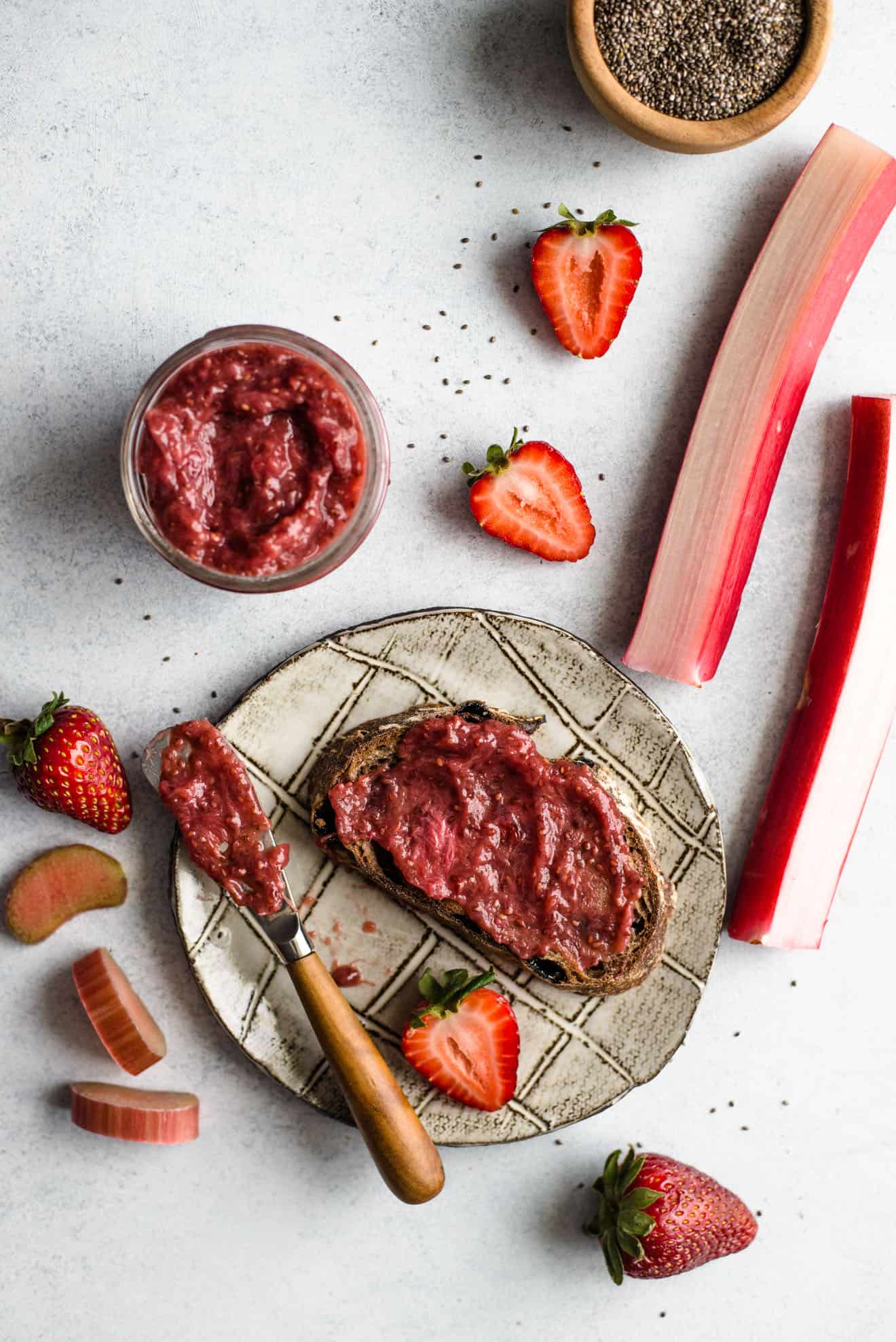 Strawberry and Rhubarb Chia Seed Jam
Ingredients
12

ounces

(340g) strawberries

6

ounces

(170g) rhubarb

1

tablespoon

minced ginger

1/4

cup

(60ml) orange juice

1/3

cup

(80ml) maple syrup

1 1/2

tablespoons

chia seeds
Instructions
Rinse and hull the strawberries. Chop the strawberries into smaller pieces. For smaller strawberries, slice them in half. For larger strawberries, slice them into quarters or eighths. Rinse the rhubarb and slice them to 1/2-inch slices.

Place the chopped strawberries, rhubarb, ginger, orange juice, and maple syrup in a medium saucepan. Cook over medium heat, until it reaches a boil. Reduce the heat to a medium low and let the fruit simmer until it breaks down, another 10 to 15 minutes. I cooked it for 15 minutes. Stir the jam occasionally to keep it from burning at the bottom. If there are still large chunks of fruit after 15 minutes, use the back of a wooden spoon or a fork to break down the fruit.

Reduce the heat to low. Stir in the chia seeds and let everything simmer for another 5 minutes. Turn off the heat and let the jam sit for 10 minutes. The chia seeds will expand as the jam cools, which thickens the jam. When you scoop some of the chia seed jam with a spoon, it should slide down the spoon very slowly. If your jam is still thin, add another half tablespoon of chia seeds and let the jam sit for another 10 minutes.

Refrigerate the jam in a jar for up to 3 to 4 weeks.
Notes
NUTRITION INFORMATION: Makes 24 Servings (2 tablespoons per serving). Amount Per Serving: Calories: 24, Total Fat 0.3g, Saturated Fat: 0g, Sodium: 1.2mg, Cholesterol: 0mg, Total Carbohydrate: 5.4g, Dietary Fiber: 0.6g, Sugar: 4.1g, Protein 0.3g
If you don't want ginger bits in your jam, add 1 tablespoon grated ginger instead of minced ginger.
Did you make this recipe?
Tag @hellolisalin or leave a star rating and comment on the blog!