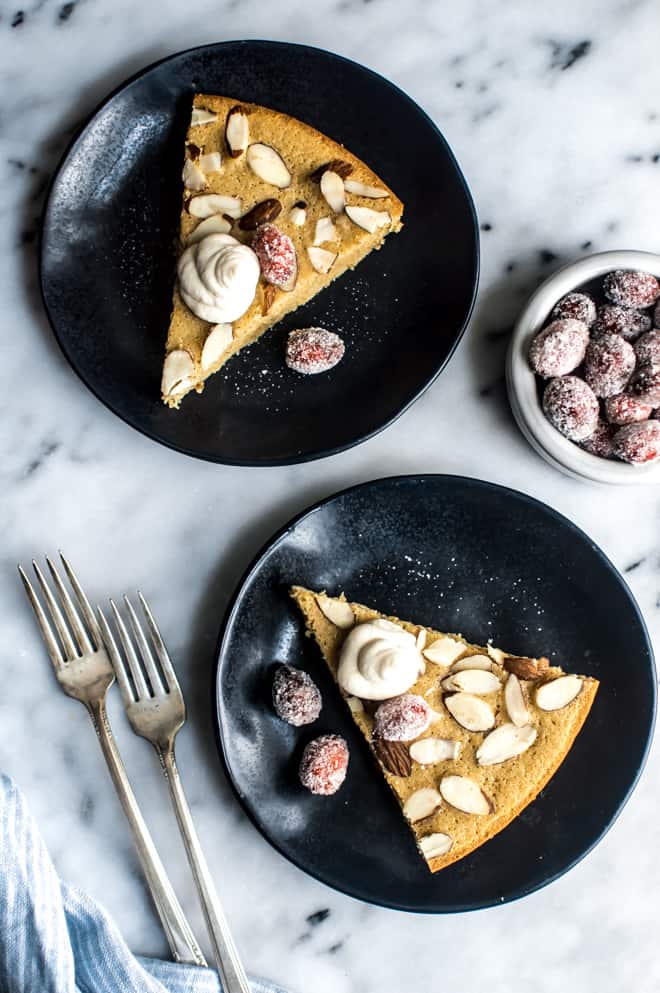 Well, friends, I enter the last year of my 20s tomorrow! Cue Halloween horror music. I'm that crazy person who doesn't make birthday wishes, probably because I immediately forget them right after blowing the candles. Instead, I set intentions—a little checklist of things I want to accomplish, if you will.
Bake More Pies: Because . . . why not?
Make Time for Cooking Sessions with Mama Lin: Mama Lin turned 70 this year, and I think it's time that I learned those family recipes! I feel like I am my mother's last hope on this front.
Relax and Put the Phone Away: I'm addicted to my iPhone. When I'm standing on a street corner waiting for a light to change, I check my phone to see if I gained a new follower on Instagram. Right before I going to bed, I scroll through my Twitter feed to read the latest sports stories. The first thing I do when I wake up is check my e-mails. It's ridiculous, I know! Let's work on breaking that habit.
Visit Grand Canyon and Yellowstone: They have been on my "to visit" for far too long. Plus, I never need an excuse to travel more.
With those birthday intentions in mind, let's eat cake! I adapted this cake recipe from Dori Greenspan's Baking: From My Home to Yours. I made this cake gluten free, pulled back on the butter, and used maple syrup instead of cane sugar. It comes together very easily, and I love the light flavors of the cake. I topped the cake with a bit of Kahlúa whipped cream because it's not a birthday party without a bit of alcohol, right?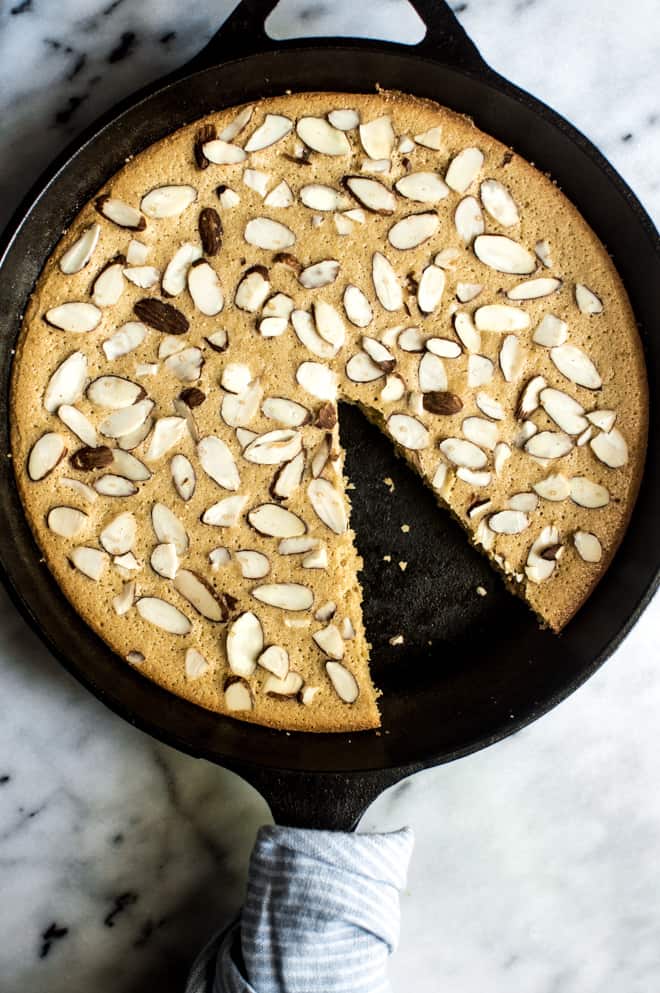 MASTER MY MISTAKES / COOKING NOTES
Gluten-Free Flour Blend: I blended my own flours for this recipe, but a store-bought blend works well. If you're not making a gluten-free cake, you can use all-purpose flour instead. I tested two types of blends: (1) oat, sweet rice, and millet flour; and (2) oat, sweet rice, and quinoa flour. I prefer the texture of the cake when I use quinoa flour, but that kind of flour is expensive. Feel free to use millet flour instead.
Using 2 vs. 3 Eggs: I tested a version of the cake using three eggs instead of two. The cake was a bit thicker, but I found the texture to be too dense.
Adding Almond Extract: Dorie Greenspan suggests adding almond extract to the cake, and I thought that it overpowered the delicate flavors of the lemon zest. It tasted similar to a marzipan cake. If that is your cup of tea, feel free to add 1/2 teaspoon of almond extract to the batter.
Adding Fruit: During one of my test batches, I added thinly sliced apples on top. The cake tasted fine, but I wasn't the biggest fan of how the cake looked. Also, the moisture from the apples made parts of the cake a bit mushy. I left the cake in the oven for a few more minutes to make sure that the batter was fully cooked. I would recommend decorating the cake with fruit instead of baking them right on top of the cake. I made a batch of Karen's sugared cranberries to give the cake a little pop of color. They're delicious!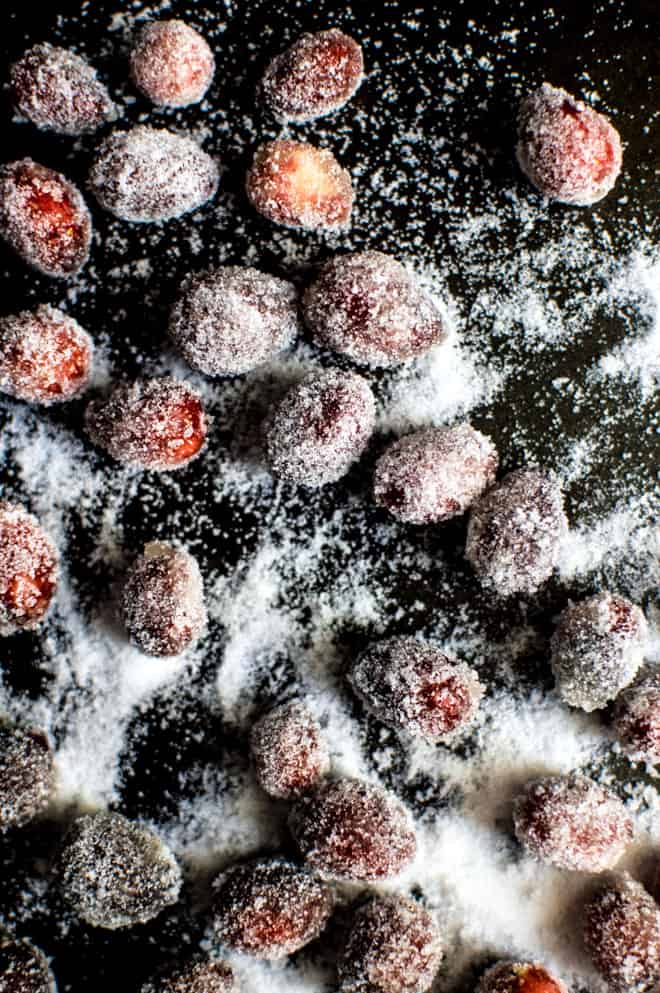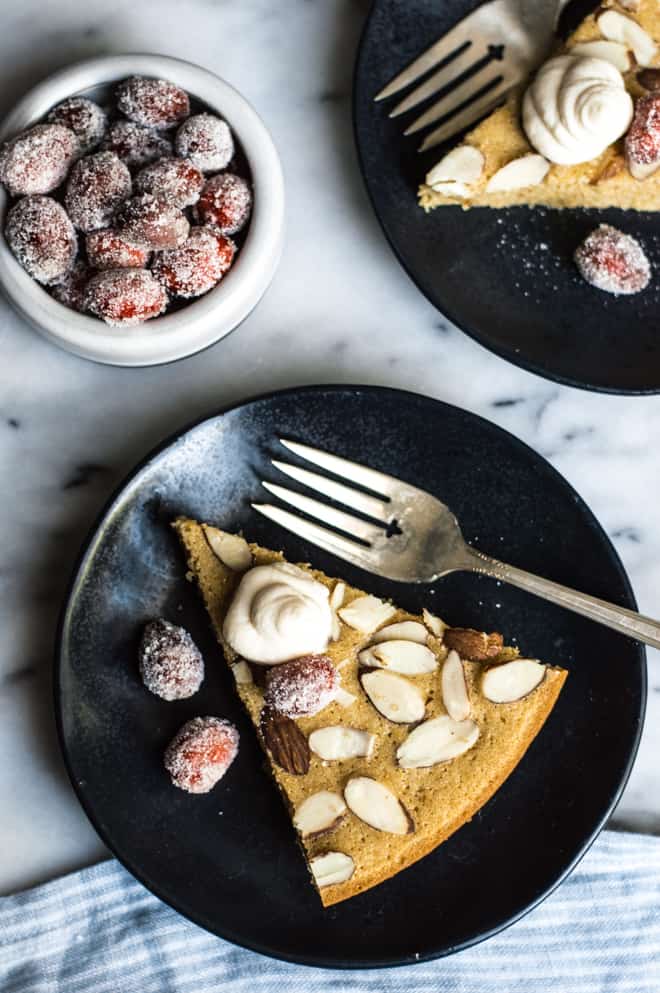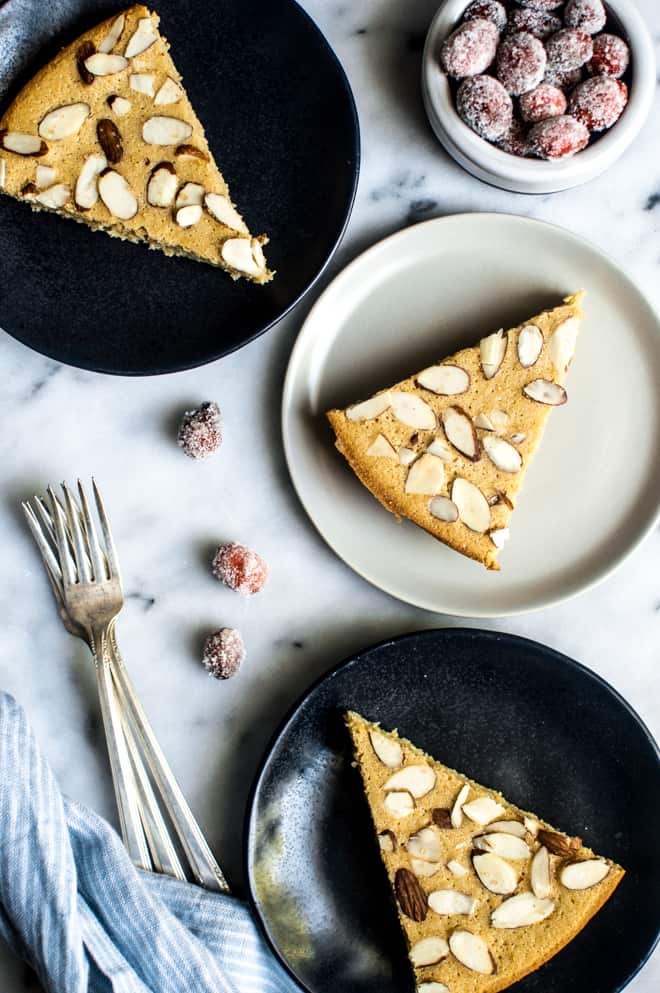 Swedish Visiting Cake with Kahlúa Whipped Cream
This simple yet delicious cake comes together very easily and is perfect for any occasion. Adapted from
Dorie Greenspan
.
Ingredients
Cake
zest of one lemon

2/3

cup

(155ml) maple syrup

2

large eggs

1/4

tsp

salt

1

tsp

pure vanilla extract

1/3

cup

(40g) oat flour*

1/3

cup

sweet rice

,

55g flour

1/3

cup

(42g) quinoa flour (or 1/3 cup, 49g, millet flour)

6

TBS

unsalted butter

1/4

cup

(29g) sliced almonds
Bourbon Whipped Cream
1

cup

(235ml) heavy cream

3

TBS

(22g) powdered sugar (or icing sugar)

1

TBS

kahlúa

1/2

tsp

vanilla
Instructions
Preheat oven to 350 degrees F (175 degrees C). Position oven rack to the middle.

Take 1/2 TBS of the butter and melt it on a 10-inch cast iron skillet. You can also use a 9-inch cake pan for baking the cake. Swirl melted butter around the entire surface of the skillet.

In a small saucepan, melt the rest of the butter over medium heat. Once melted, remove saucepan from heat and set aside.

In a large bowl, whisk the lemon zest and maple syrup together. Whisk in the eggs until well incorporated. Add the salt and vanilla and whisk everything.

Sift flour into the bowl with the wet ingredients. Using a rubber spatula, stir flour and wet mixture together. Add melted butter and stir well.

Pour batter into skillet. Sprinkle almonds on top. Bake for 25 to 28 minutes or until the edges are golden brown.

Prepare Whipped Cream: While cake is baking, prepare whipped cream. Place all the whipped cream ingredients into a glass jar. You want to make sure that the jar can hold at least 2 cups of liquid. Shake jar vigorously. You will hear the liquids jostling in the jar when you first shake it. Keep shaking the jar until you can no longer hear liquids moving around, about 5 minutes. When you open the jar, you should see thick whipped cream. Refrigerate whipped cream until the cake is ready to be served.

When the cake is finished, let it cool for 5 minutes before cutting into it. Serve cake warm with some whipped cream, turbinado sugar, and sugared cranberries, if you like.

Wrap any leftovers tightly and store in room temperature for up to 5 days.
Notes
*You can make this cake with all-purpose flour. Just use 1 cup (125g) for the entire recipe.
Did you make this recipe?
Tag @hellolisalin or leave a star rating and comment on the blog!
Disclosure: This post contains affiliate links to Dorie Greenspan's cookbook.