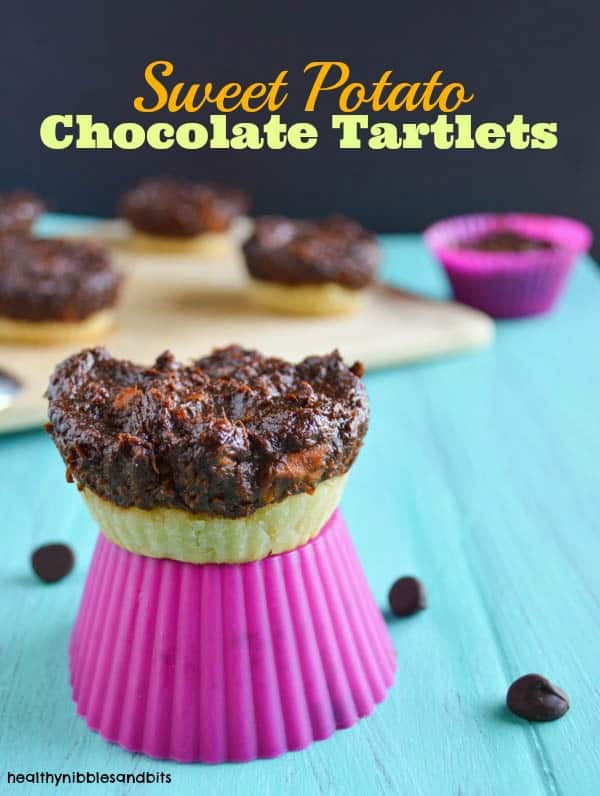 I absolutely love watching food competition shows. It all started years ago with the original Iron Chef (back when I watched Japanese programming to improve my listening comprehension). I know that they're classified as "reality television." Yet there's something about watching chefs at the top of their craft, battling for honor that makes these shows seem less dirty than the typical reality TV series. Then again, I should be embarrassed by the sheer volume of food-related shows I watch every week.
I got into Cupcake Wars reruns a few months ago, and now, I watch it several times a week. Yes, they're on that often. The irony is that I don't actually enjoy eating cupcakes, much to my friends' dismay. I often get cupcakes with frosting that is just too sweet. Perhaps I simply haven't met the perfect match yet.
Be that as it may, I wanted to make a dessert that is inspired by the cupcakes I see on the show. It comes as no surprise that chocolate is heavily featured in the contestants' cakes. However, I did not expect the frequency of sweet potatoes or pumpkin used a key ingredient. One day when I was watching one of the Cupcake Wars episodes, I wondered, "What would chocolate and sweet potato taste like when mixed together?"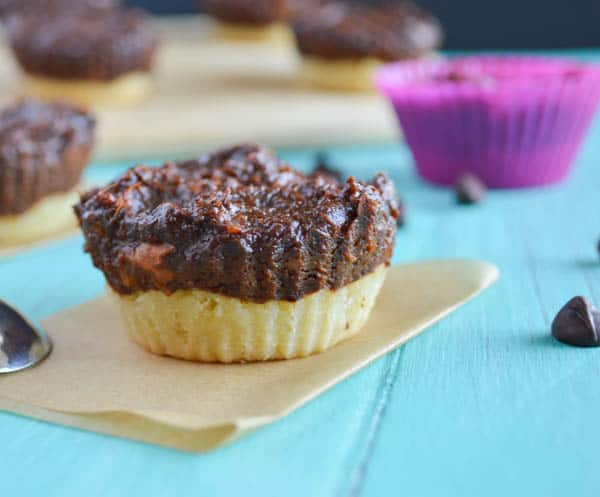 One word: Scrumdiddlyumptious! I was worried that the chocolate would overshadow the sweet potato flavors, but that was not the case at all. Plus, the almond meal crust was the perfect compliment.
Sweet Potato Chocolate Tartlets
Ingredients
2

medium sweet potatoes*

1

cup

almond meal**

2

TBS

unsweetened almond milk

,

any other kind of milk works also

2

TBS

canola oil

1/2

cup

semi-sweet chocolate chips

,

use vegan chips if you're making these vegan
Instructions
Preheat the oven to 375ºF (~190ºC). Line a baking sheet with foil, parchment paper, or a silicone mat. Place the sweet potatoes on the baking sheet and bake for about 40 minutes, or until the sweet potatoes are easily pierced with a fork. Remove the sweet potatoes from the oven and let them cool. Once they are cool enough to handle, scoop out the flesh from the sweet potatoes. It should yield 1 1/2 to 2 cups.

In a small bowl, mix the almond meal, almond milk, and oil together until it turns into a dough. Line 9 muffin tins with silicone or paper cups. Divide the dough evenly among these cups and press the dough to the bottom of the muffin tin. Bake the crust for 10 minutes.

Place the chocolate chips in a microwave-safe bowl for melting. Set the microwave for about a minute and then check the chocolate. If the chocolate has barely melted, continue microwaving at 15-second increments until the chips are partially melted and very soft. Stir the chips together into a creamy consistency.

Mix the sweet potatoes and the melted chocolate together until well incorporated. I mashed the sweet potatoes with a potato masher first so that it would be easier to mix.

When the almond crust is done baking, fill each of the cups with the sweet potato and chocolate mixture. Bake these tartlets for 15 minutes.

Let the tartlets cool before serving. If you are using silicone cups, remove the tartlets by flipping the cups over the palm of your hand. They should come out quite easily.

Refrigerate any leftover tartlets in an airtight container.
Notes
To cut the cooking time, you can use canned unsweetened pumpkin purée instead of sweet potatoes. You'll probably want to add a bit of sugar to the pumpkin purée and chocolate mixture.[br]*If you don't have any almond meal, just mix about 1 1/4 cups of sliced almonds in a food processor.
Did you make this recipe?
Tag @hellolisalin or leave a star rating and comment on the blog!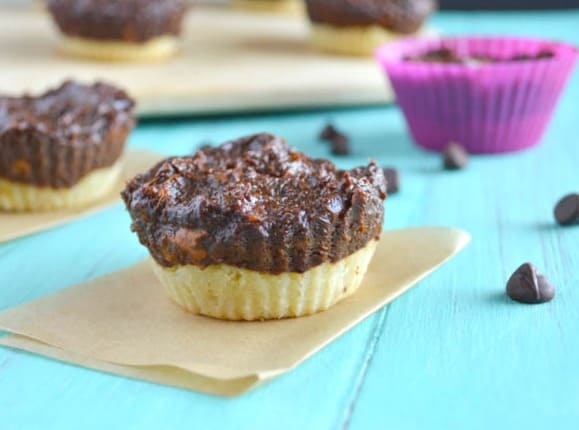 Does anyone else enjoy watching food competition shows?