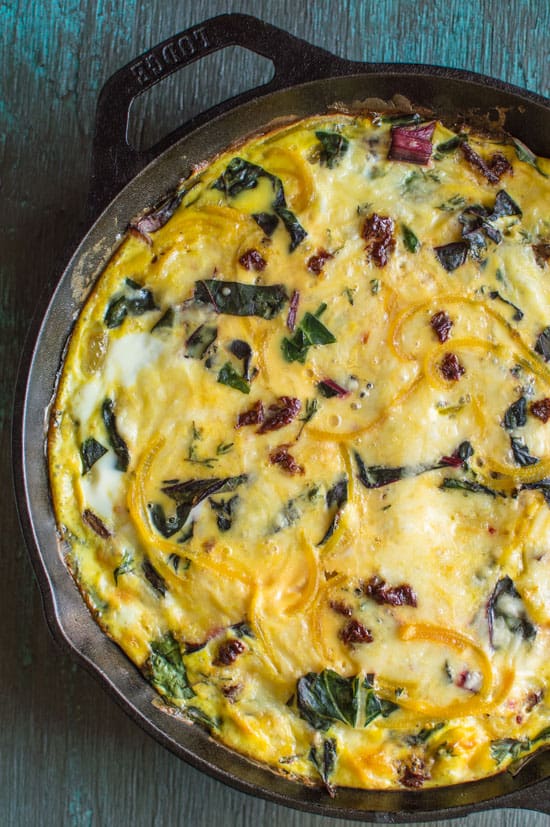 I'm a big time multi-tasker. Not necessarily an effective one, but I wear that badge with pride. I brush my teeth while packing my gym bag, pin photos on Pinterest while browning my onions, and do the tree pose while editing food photos. Yup, tree pose, as I write this. Time sweeps me by so quickly that I feel like I need to do two things at once just to keep up with the pace.
Even as I was preparing for this post, I was busy multi-tasking. I was ogling over Anna Kendrick's red carpet dress at the Oscars, wondering if I would pull off emerald green like Scarlett Johansson, marveling at Common and John Legend's soul-moving performance of "Glory", and cheering after Lady Gaga's "Sound of Music" tribute plus Julie Andrews cameo, all while cooking and writing about this frittata. My multi-tasking effectiveness rating: probably 5 out of 10.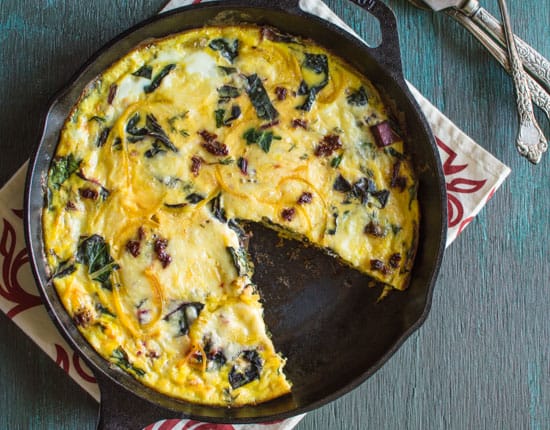 Last weekend, I went on a quick getaway trip with my college buddies to San Diego for good beer and burritos. We've known each other for 10 years now, and score—we're not sick of each other! Life victories. Secretly, I wish that someone would have taken a photo of all of us together while we were still at school because the diversity of our group is so front-cover-of-a-college-brochure worthy. Truth, I tell you!
From the moment I touched down on San Diego, I was whisked away to a brewery where my weekend carb-cation began. AleSmith, Ballast Point, Hodad's, Bakery & Cie, and Lucha Libre: all solid spots to make a pit stop if you're in the area. Fun fact: I chowed down on my bacon cheeseburger at Hodad's while staring at an autographed poster of Guy Fieri. More life victories. After a weekend of the quadruple Bs (beer, burritos, burgers, and bread), my body was ready for another round of de-carbing. I know, we've been having a lot of those around here lately.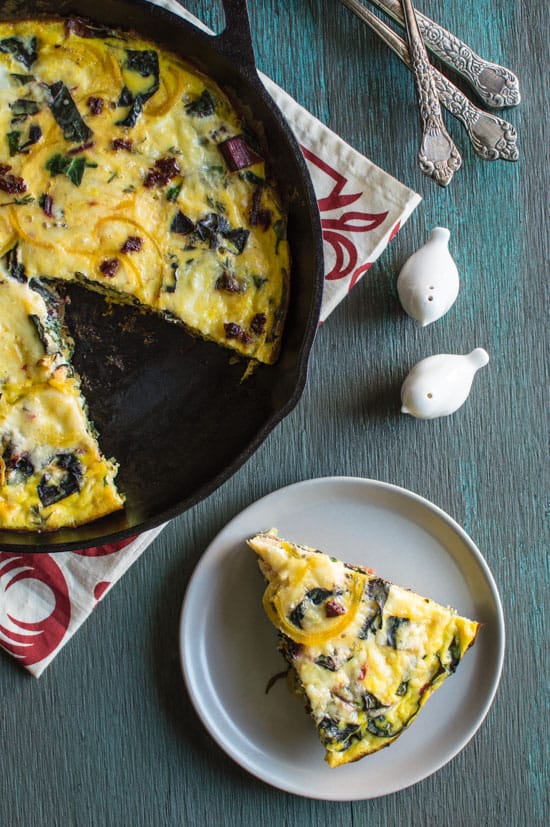 I named this recipe a "swiss chard and golden beet frittata," but between you and I, this should really be called the "whatever I found in my fridge frittata": eggs, half a bunch of swiss chard, half a block of habanero jack, a small golden beet, and less than a cup of milk. It was a frittata waiting to happen, but also an ominous sign that I need to head over to the grocery store.
Golden beets in a frittata sound strange? Don't be afraid. The sweetness of the beets work so well with cheese and the sharp flavors of sun-dried tomatoes. I dusted off my spiralizer after months of neglect to prepare the beets, but you can easily shred the beets with a grater, too.
I'm beyond happy that this frittata was so fuss-free because I had Oscar red carpet priorities. Simple prep, minimal cooking time on the stove, and finishing in the oven. A somewhat classy dinner for a classy awards show.
Swiss Chard and Golden Beet Frittata
Serves 5.
Ingredients
8

large eggs

1/2

cup

(125ml) lowfat milk (I used 2%)

1

small golden beet

,

peeled

1/2

bunch of swiss chard

,

about 6 ounces/175g

1 1/2

TBS

olive oil

1/4

large yellow onion

,

finely diced

1 1/3

cup

(100g) shredded habanero jack cheese (or any other cheese)

5

sun-dried tomatoes

,

chopped

1/2

TBS

fresh thyme

1/2

tsp

salt
Instructions
Preheat oven to 400 degrees F (205 degrees C).

Whisk the eggs in a small bowl. Add milk and set aside.

Spiralize the beet with the blade attachment that makes the small noodles. Chop the leftover core to tiny pieces and add it to the noodles. You can also grate the beet with your cheese grater. Set aside.

Trim off the swiss chard stems and chop the leaves. I like to chop the stems into small pieces and cook it with the leaves.

Heat olive oil in a 10-inch skillet over medium-high heat. Add onions and stir until they start to brown. Reduce the heat a little and add the beets and swiss chard. Cover skillet for a minute or two until the swiss chard has started to wilt. Mix in shredded cheese, sun-dried tomatoes, thyme, and salt. Pour egg mixture into the skillet, and let it set a little, until the bottom starts to turn into the yellow color of cooked egg yolks.

Place skillet into the oven and bake for 13 to 15 minutes, or until the eggs have set.

Let skillet cool for a few minutes before serving.
Notes
SUBSTITUTIONS: Don't have swiss chard or golden beets? No worries! Substitute them with spinach, kale, red pepper, or shredded carrots.
Did you make this recipe?
Tag @hellolisalin or leave a star rating and comment on the blog!
Craving more recipes with eggs? Try this:
Chilaquiles with Homemade Tomato Sauce