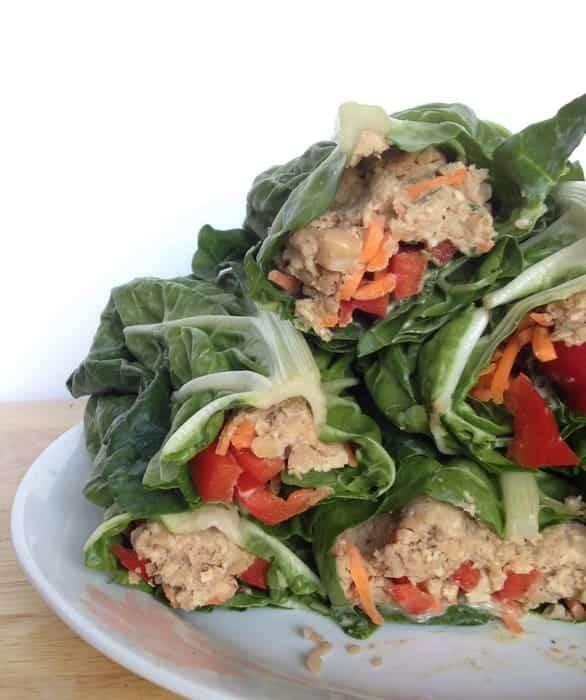 As I searched online for new dinner ideas, I came across a recipe on Dishing Up the Dirt for vegan collard wraps with chickpea walnut meat that looked delicious! Unfortunately, I didn't have any collard greens, but there was a lovely bunch of swiss chard in my refrigerator waiting to be eaten. I was a bit reluctant to use the swiss chard, as I had never eaten it raw before. I wasn't even sure if it was "proper" to eat swiss chard raw. Thankfully, the internet comes in very handy during these situations. Not only did I find swiss chard salad recipes, but I also found a swiss chard wrap recipe by Tasty Yummies. Based on the recipes I found, I made some delicious swiss chard wraps for dinner and enjoyed them with my own creamy cilantro-lime sauce.
Vegan Swiss Chard Wraps with Ground Chickpeas & Walnuts
Ingredients
6

swiss chard leaves

1 14-

ounce

can of chickpeas

,

about 1 1/2 cups, rinsed and drained

1/2

cup

walnut halves

1 1/3

cup

shredded carrots

1

whole red pepper

,

thinly sliced

1

TBS

soy sauce

1/2

tsp

garlic powder

,

optional
Instructions
Rinse the swiss chard leaves and pat dry. Chop off the stems of the swiss chard. You can use the stems for a stir fry dish or soup!

In a food processor, blend the chickpeas and walnuts together.

Pour the chickpea mixture into a small bowl and stir in the soy sauce. Add some garlic powder into the mixture if you want (this is a necessary step for me as I love garlic).

Scoop out even portions of the chickpea mixture onto the swiss chard leaves. I placed the chickpea mixture close to the bottom of the leaves so that they would be easier to fold later. Top the chickpea mixture with the vegetables.

Fold the swiss chard leaves into a wrap. I folded the left and right sides of the leaves toward the center first and then folded the top of each leaf down towards the stem.

Enjoy these wraps on their own or with my creamy cilantro-lime sauce (recipe below)! Note: the cilantro-lime sauce is not vegan.
Did you make this recipe?
Tag @hellolisalin or leave a star rating and comment on the blog!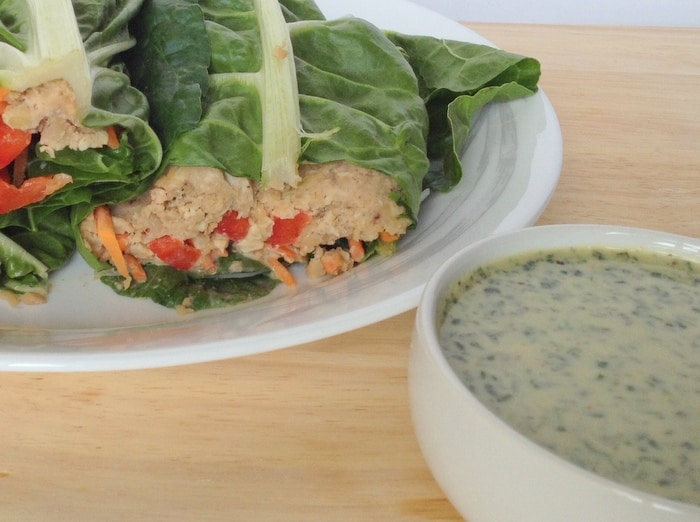 Creamy Cilantro Lime Sauce
Ingredients
1

bunch fresh cilantro

,

about 1 to 1 1/2 cup

3/4

cup

greek yogurt

1/4

cup

sour cream

3

cloves

garlic

1

TBS

lime juice

2

tsp

maple syrup

1

tsp

paprika

1/2 to 3/4

tsp

salt
Instructions
Rinse the cilantro and and chop off the bottoms. It is fine to leave some of the stem in tact.

Add all ingredients into a food processor or blender and mix until well incorporated.

Enjoy with the sauce with the swiss chard wraps or use as a dipping sauce for other dishes!
Did you make this recipe?
Tag @hellolisalin or leave a star rating and comment on the blog!