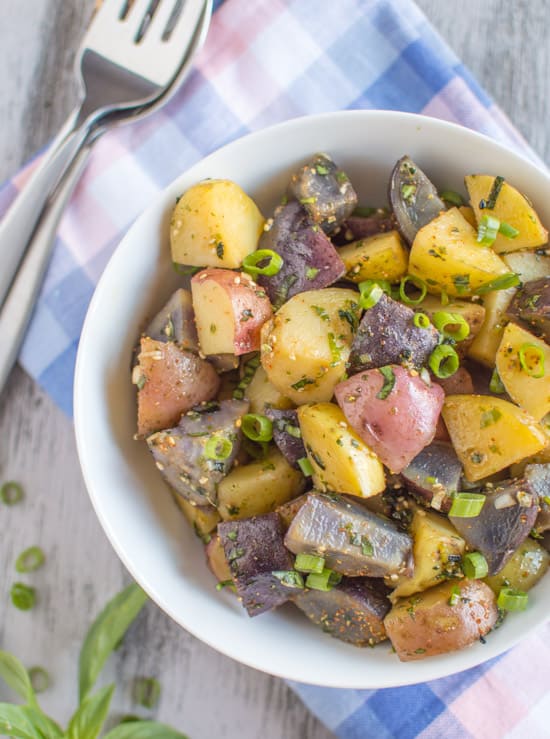 Yikes, it's back-to-school season already! Where has the summer gone? After 20+ years of school, I suppose I should be glad that I don't need to worry about classes anymore. Yet I still miss the excitement of buying new school supplies. Brand new notebooks, highlighters, sticky notes—I bought them all! Does anyone else share the same obsession with school supplies?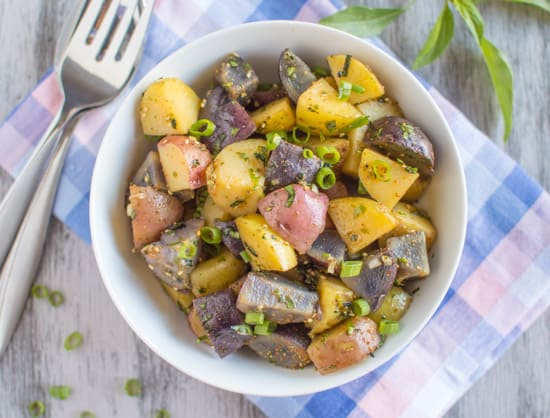 Speaking of back-to-school, this potato salad is a perfect make-ahead lunch dish. When I was in law school, I always dedicated Sunday afternoons to cooking for the week. We're talking a major 2 to 3-hour cooking session where I cooked large portions of 5 dishes. That way, I could just pick a little bit of each dish for lunch throughout the week. Sure, those weekly cooking sessions were a lot of work, but they were a welcome respite from my computer, textbooks, and many, many highlighters. This potato dish would have been the perfect dish for meal prep Sundays.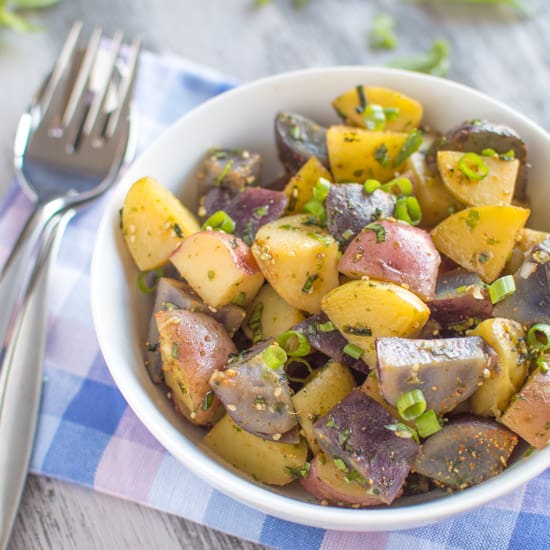 As far as potato salads go, this one has a confused identity. It has a bit of Japanese seasoning, some Thai basil, soy sauce, and sesame oil—pretty much flavors you find in different types of Asian cuisine. As for inspiration, I loved the idea of a no-mayo potato salad from The Floating Kitchen, so I decided to create my own version with a different set of spices and seasonings. Tri-colored potatoes? They're just there for fun.
Vegan Asian Potato Salad
Ingredients
2

lbs

(~900g) potatoes (I used a mix of red, yukon, and purple potatoes)

2

TBS

olive oil

1 1/2

tsp

sesame oil

4

tsp

low-sodium soy sauce

1

sprig green onion

,

sliced

8 to 10

Thai basil leaves

,

thinly sliced (Italian basil works also)

1

TBS

Japanese rice seasoning

,

furikake

1/4

tsp

Japanese seven spice

,

shichimi togarashi (optional)
Instructions
Chop the potatoes into large chunks. Pour the pieces into a small pot. Fill the pot with water, until the water is about an inch above the potatoes.

Cook them over medium-high heat. Once the water boils, let the potatoes cook for a few more minutes. Use a fork to pierce the potatoes. The potatoes are done if you can pierce them easily but not crumbly! Crumbly potatoes = overcooked potatoes, best for making mashed potatoes. The cooking took me about 10 to 15 minutes.

Drain the potatoes in a colander. Let the potatoes cool for about 5 to 10 minutes. Place the potatoes in a large bowl. Add the remaining ingredients to the potatoes and mix until well incorporated.

Serve as a side to you meals! Refrigerate leftovers in an airtight container.
Notes
If you don't have any Japanese rice seasoning, just substitute it with sesame seeds and a tiny pinch of sugar.[br][br]You can also replace the Japanese seven spice with cayenne—just be sure to reduce the amount to 1/8 tsp.
Did you make this recipe?
Tag @hellolisalin or leave a star rating and comment on the blog!