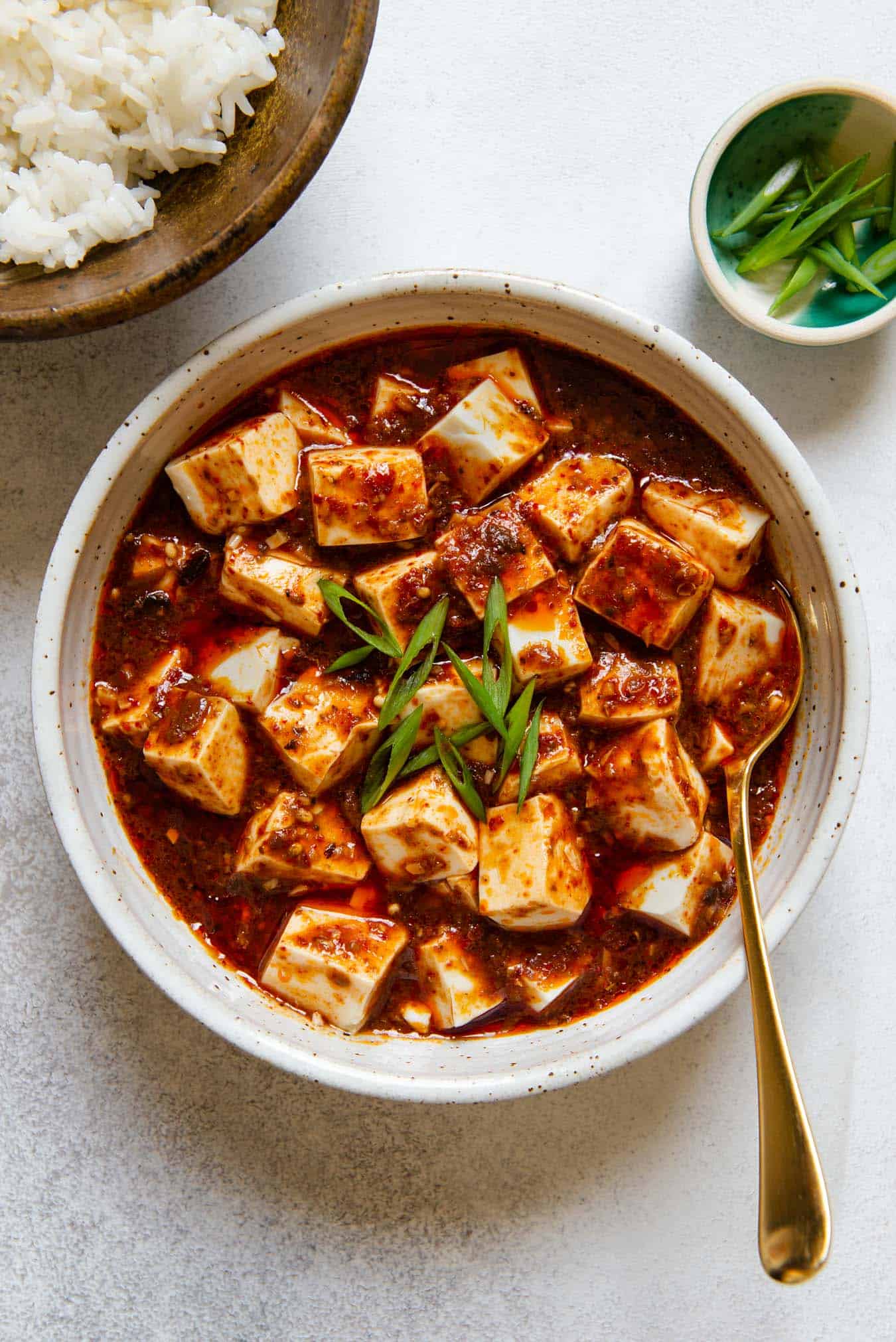 The first time I tasted mapo tofu was about ten years ago in Nanjing. I wasn't sure what to expect when my friends ordered the dish. Certainly, I didn't have in mind a bowl of cubed tofu drowning in a pool of nearly fluorescent red chili sauce. When the waitress set the bowl down on the table, I had a feeling that my mouth was going to be on fire that night. I was right.
ORIGIN OF MAPO TOFU
Mapo tofu (pronounced mapo doufu in Mandarin, 麻婆豆腐) originates from China's Sichuan Province. Legend has it that an old woman in Sichuan was known for serving a delicious tofu dish. This woman had one distinguishing physical characteristic: pock marks covered her face. And so her special dish came to be known as "pock-marked old woman's tofu." You can read more about the history of the dish in Fuchsia Dunlop's post on The Guardian.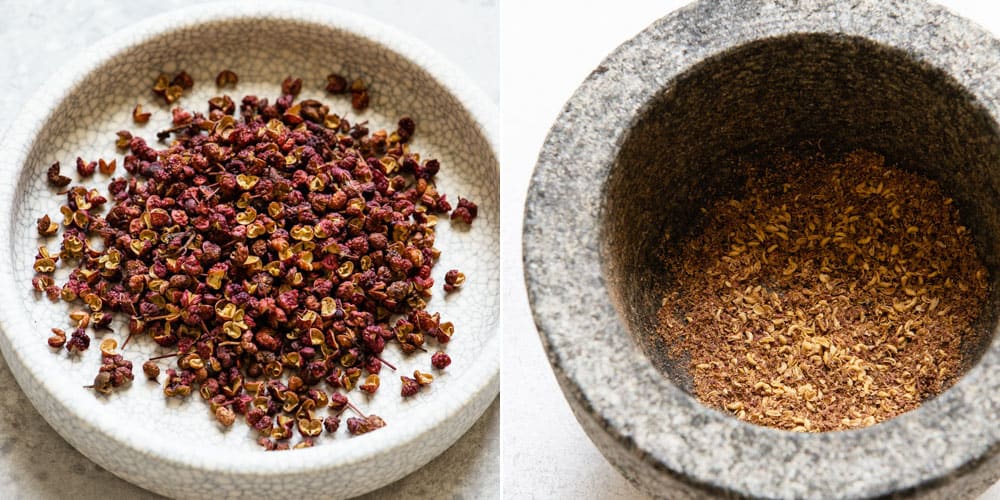 WHAT IS MALA (麻辣) SPICE?
The key to good mapo tofu is mala spice provided by red Sichuan peppercorns (大紅袍花椒) and chili pepper flakes. Mapo tofu was my introduction to the tongue numbing sensation of Sichuan peppercorns. When you bite into one of those peppercorns, you'll feel a slight tingling on the tip of your tongue. In a few short moments, the tingling feeling transitions into a slight numbing sensation. It is a strangely addictive experience that is common when eating Sichuan cooking.
The phrase that describes the unique level of spiciness associated with Sichuan cuisine is called mala (麻辣). In Chinese, "麻" means "numb" and "辣" means "spicy." The combination of Sichuan peppercorns and chili flakes provide the distinctive mala spice.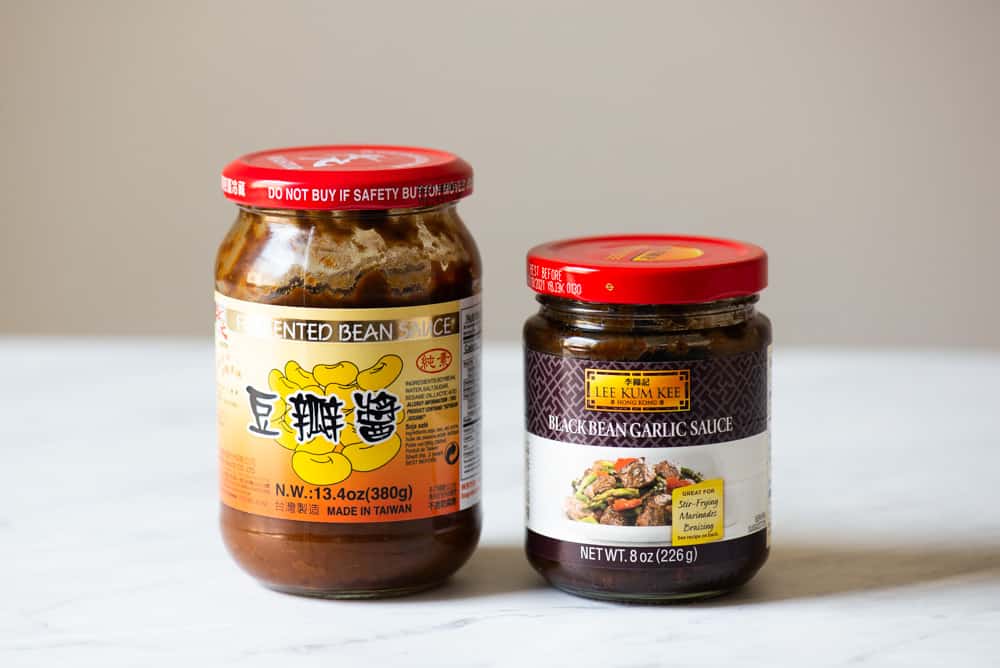 A VEGAN VERSION
Typically, mapo tofu is made with ground pork. In this vegan mapo tofu recipe, I omitted the pork and used a generous amount of fermented bean pastes to give the dish flavor. One of them is doubanjiang (豆瓣醬), a Sichuan-style sauce made with fermented broad beans/fava beans. Most mapo tofu recipes use a little doubanjiang, but this one uses more to compensate for the lack of meat. Another bean paste that I use is black bean garlic sauce (蒜蓉豆豉醬), which is made from fermented black beans (豆豉).
I can usually find black bean garlic sauce in the Asian section of large supermarkets like Safeway, Raley's, or Nugget Markets. Doubanjiang, however, is more difficult to find. You can get it online or in Chinese supermarkets. If you can't get your hands on any doubanjiang, you can use more black bean garlic sauce and mix in another chili paste.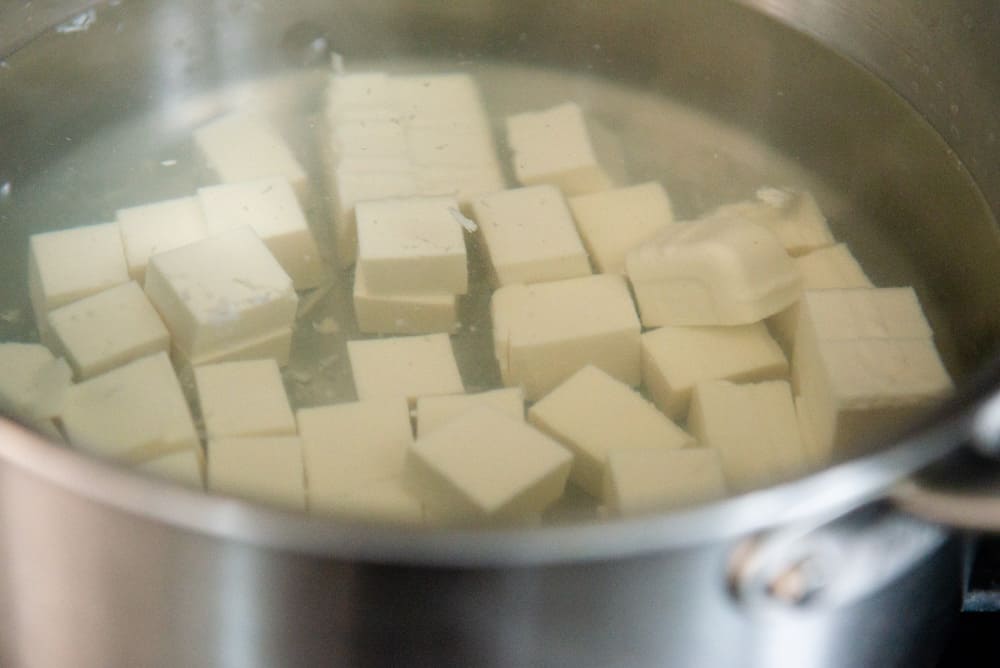 HOW TO MAKE MAPO TOFU
PREPARE THE TOFU
I think mapo tofu tastes better when made with softer, smoother tofu. If you are buying refrigerated tofu that comes in plastic rectangular containers, which is what I usually do, choose the variety labeled "silken" or "soft" tofu. If you are buying small bricks of fresh tofu sold in bulk at an Asian supermarket, choose the tofu that is less firm. The tofu bricks are slightly firmer than silken tofu, but they work well for this recipe.
One thing to note about cooking with silken tofu is that they crumble very easily. As a result, you won't want to toss them in the wok for too long. To heat the tofu thoroughly, soak chopped tofu cubes in hot water for 5 to 8 minutes. Then, add them to the sauce. I read in a Chinese cookbook that soaking the tofu also helps to firm it up.
PREPARE THE SAUCE
The sauce doesn't take long to make. First, heat the oil on medium-low with the doubanjiang. Then, add the black bean garlic sauce, aromatic spices, Sichuan peppercorn, and chili flakes. Finally, add the tapioca starch slurry and simmer the sauce for a few minutes.
I like to grind Sichuan peppercorns in a mortar and pestle so that they're easier to consume. You can add a mixture of ground and whole peppercorns to the sauce if you like.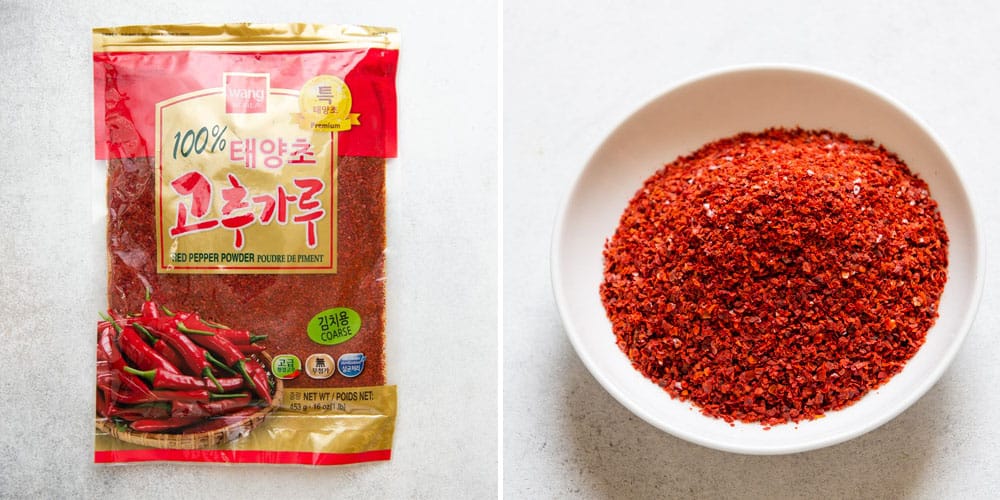 Usually, mapo tofu recipes use Chinese chili flakes. However, I like using Korean chili flakes (gochugaru) because of their brighter red hue. The gochugaru gives the sauce a nicer red color overall.
Tofu naturally releases a lot of liquid, which can make the sauce runny. That's why you should add a tapioca starch slurry to thicken the sauce. You can also use cornstarch or potato starch to make the slurry.
MIX THE TOFU AND SAUCE
After you add the heated tofu to the sauce, use a wok spatula (or any wide spatula) to mix the tofu and sauce. Be very careful when you do this. I usually fold the tofu into the sauce just once and then dish up the tofu.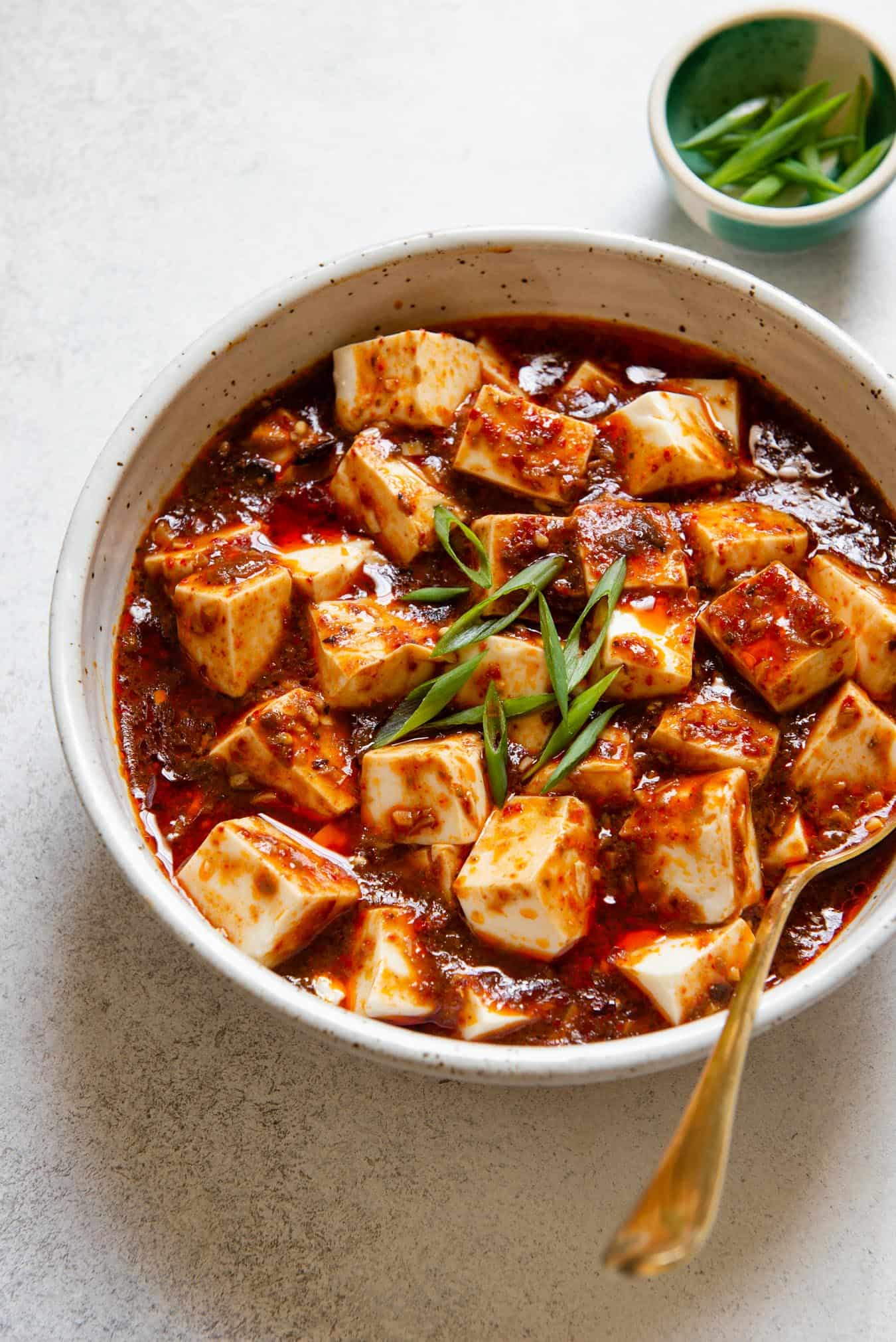 WHAT TO SERVE WITH MAPO TOFU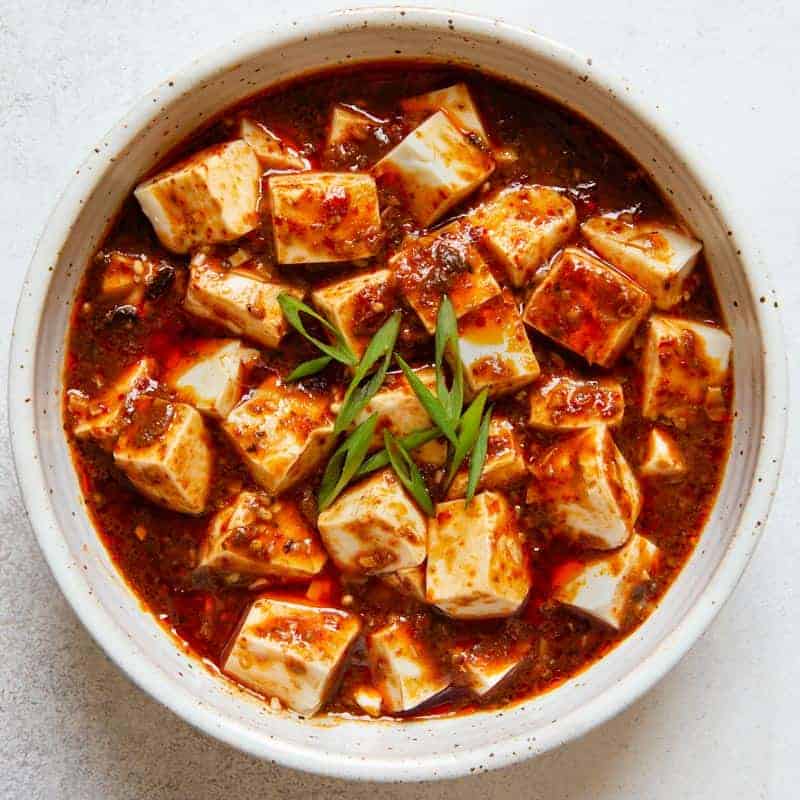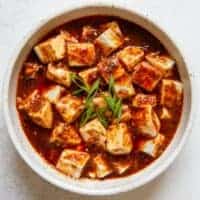 PRINT
Vegan Mapo Tofu (素食麻婆豆腐)
Get ready for some serious spice! This vegan mapo tofu recipe is quite spicy. If you are not used to cooking with Sichuan peppercorns, start with 1 teaspoon of the peppercorns. Increase the amount of peppercorns if you want more spice. Another way to limit the spice is to leave the peppercorns whole instead of grinding them up. Serve the tofu with
jasmine rice
and my
Chinese garlic cucumber salad
for a complete meal. Roughly adapted from
Fuchsia Dunlop
. 
Ingredients
Tofu
1

pound

silken or soft tofu

,

(see note 1)

8

cups

water

1 1/2

tablespoons

salt
Slurry
1

teaspoon

cornstarch

,

(see note 2)

1/2

cup

water
Sauce
3

tablespoons

canola or vegetable oil

2 to 2 1/2

tablespoons

doubanjiang

,

depending on desired salt level (see note 3)

1

tablespoon

black bean garlic sauce

2

tablespoons

minced garlic

2

tablespoons

minced ginger

1

tablespoon

Sichuan peppercorn

,

ground (use less or more depending on desired spice level, see note 4)

1 1/2

tablespoons

gochugaru

,

(see note 5)

1/2

teaspoon

sugar

1

stalk of scallions

,

thinly sliced, dark green pieces separated from light green and white pieces

1/2

tablespoon

sesame oil
Instructions
Prepare the Tofu
If you are using tofu that comes in a plastic container, drain the block of tofu and remove it from the package. Cut the tofu into 3/4-inch cubes. 

Add 8 cups of water and salt to a saucepan and bring it to boil. Remove the saucepan from heat.

Using a skimmer or slotted spoon, carefully lower the tofu cubes into the hot water. Let the tofu sit in hot water as you prepare the sauce (see note 6).
Prepare the Slurry
Add the cornstarch and 1/2 cup water to a small bowl and stir to combine. Set it aside.
Prepare the Sauce
Heat the canola oil in a wok over medium-low to low heat. You don't want high heat to cook the sauce because the sauces and spices can burn. Add the doubanjiang to the wok and stir to combine with the oil. Heat the sauce for about 1 minute, until you can smell the aroma. If you are noticing that the doubanjiang is darkening really quickly, reduce the heat.

Next, add the black bean garlic sauce, garlic, and ginger. Stir for about 1 minute, until you can smell the garlic. Add the ground Sichuan peppercorn, gochugaru, and sugar. Stir to combine.

Give the cornstarch slurry a quick stir to break up the starch that has settled to the bottom of the bowl. Pour the slurry into the wok and mix with the rest of the sauce. Increase the heat slightly and let the sauce simmer for 2 minutes, until it bubbles and starts to thicken. Add the white and light green parts of the scallion and toss with the sauce.

Use a skimmer or slotted spoon to carefully transfer the tofu from the hot water to the wok. Make sure to drain as much water as possible. 

Carefully use a wok spatula (or any wide spatula) to fold the tofu into the sauce. Transfer the tofu and sauce to a serving bowl. 

Drizzle the sesame oil over the tofu. Garnish the bowl with the dark green parts of the scallion. Serve with

jasmine rice

. 
Notes
Some silken tofu comes in 14-ounce packages, which also works for this recipe.
You can also use tapioca or potato starch. 
If doubanjiang is difficult for you to obtain, use a different chili sauce and add another 1/2 tablespoon of the black bean garlic sauce. Be careful when using other chili sauces because they can be a lot spicier than doubanjiang. You can use leftover doubanjiang for other stir fries.
You can find red Sichuan peppercorns in Chinese supermarkets or online. 2 teaspoons of Sichuan peppercorns will give you an adequate amount of spice without feeling as if your mouth was on fire. I don't like using over 1 tablespoons of peppercorns, but feel free to add more to suit your taste. If you are apprehensive about too much spice, you can leave the peppercorns whole.
I prefer using gochugaru because it gives the sauce a nice red color and it has some level of spice. You can use Chinese chili flakes or even red pepper flakes that you can find in supermarkets. Warning: if you are using red pepper flakes that are pretty spicy, I recommend only using 3/4 teaspoon of it. 
If you know it is going to be a while before you actually make the sauce for the tofu, remove tofu from hot water after 5 to 8 minutes. 
Nutrition
Serving:
1
serving
|
Calories:
230
kcal
|
Carbohydrates:
9
g
|
Protein:
11.5
g
|
Fat:
18.3
g
|
Saturated Fat:
3.6
g
|
Sodium:
887
mg
|
Fiber:
1.5
g
|
Sugar:
3
g
Did you make this recipe?
Tag @hellolisalin or leave a star rating and comment on the blog!