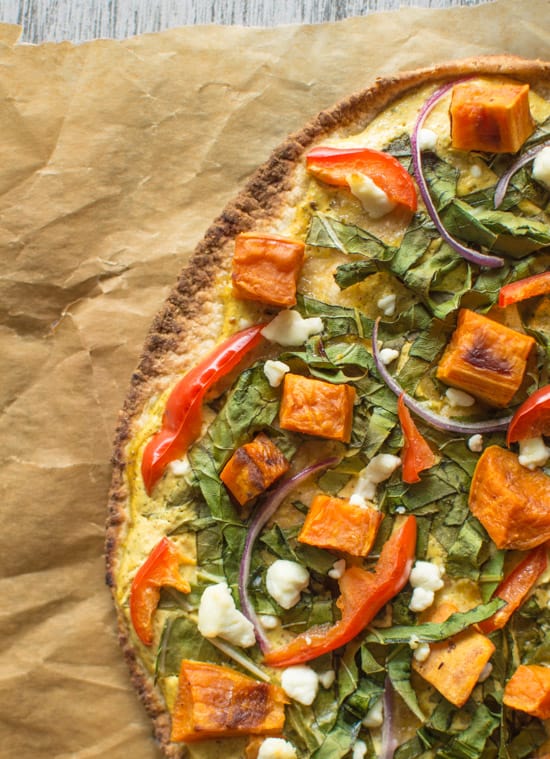 Len Goodman doesn't like foreign food. That lovable head judge from Dancing With the Stars/Strictly Come Dancing (who can be a bit old school when it comes to scoring dance routines) doesn't like anything besides classic English fare. Fish and chips, bangers and mash, roast dinners—that whole lot. These are the things I learn after watching British game shows. Too many game shows.
Here's a question for you. Out of a 100 people surveyed (in the late-1980s), what was the number one answer to this: What is something that people take home from their hotel rooms?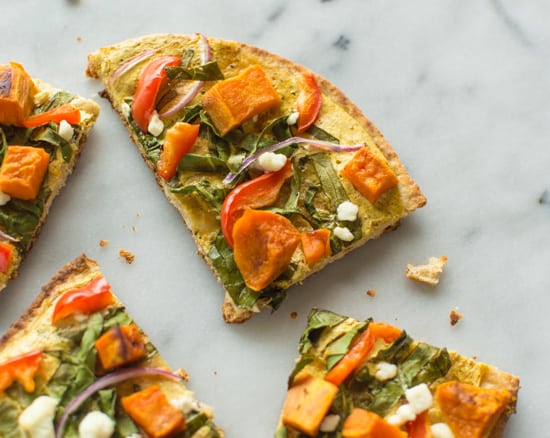 Ashtrays! I completely forgot that the whole smoking in a hotel room thing was socially acceptable once upon a time. Oh, how the times have changed.
As much as I love Len (especially when he exclaims, "It's a 10 from Len!"), I'm all about embracing the different cultures on my plate. Tandoori flavors baked on top of naan, served as a pizza—now that's cultural fusion on a plate.
When it comes to pizza, I prefer the thin crust. I'm horrible at eating doughy pizzas. My eyes are bigger than my stomach, and I stake my claim over much more slices of pizza than I can actually handle. Eventually, I'll grab a knife and fork and remove all the toppings with surgical precision. The melted cheese, vegetables, and meat will end up in the pit of my stomach while the mountain of pizza dough I've left behind, looks back at me with shame. I always feel bad when I'm being wasteful with food.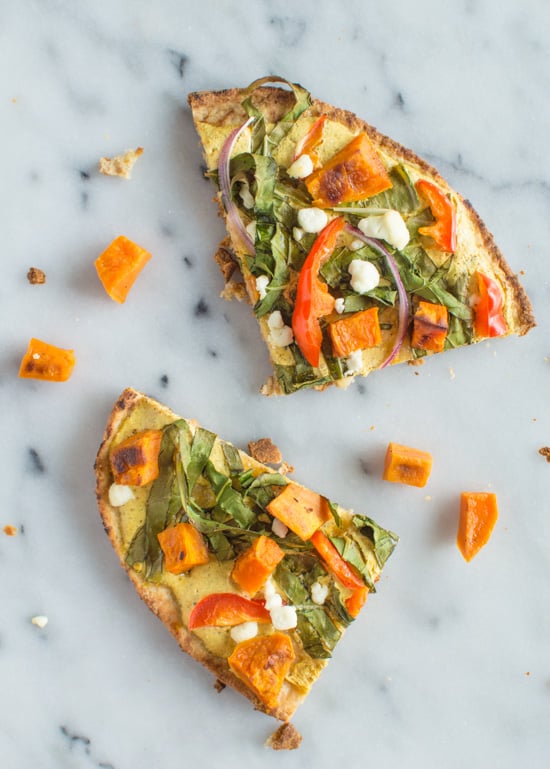 Crispy texture and less waste, my friends, are the reasons why thin crust pizzas are the way to go. And when you don't have time to make your own pizza dough, naan is the perfect substitute. They're usually large enough to hold a lot of toppings and they crisp up like a beauty.
Vegetarian Tandoori Naan Pizza
Makes 2 Pizzas
Ingredients
1/3

cup

yogurt

,

I used non-fat Greek yogurt

1 1/2

tablespoons

tandoori paste

1/4

teaspoon

cumin

1

teaspoon

lemon juice

1

medium sweet potato

2

teaspoons

olive oil

2

whole wheat naan breads

2

collard green leaves

1/2

medium red pepper

,

sliced into strips

1/4

medium red onion

,

thinly sliced

1/4

cup

crumbled goat cheese
Instructions
In a small bowl, stir the yogurt, tandoori paste, cumin, and lemon juice. Refrigerate the yogurt mix for at least 30 minutes.

Preheat the oven to 375ºF. Line a baking sheet with parchment paper.

Peel the sweet potato and chop it into 1/2-inch cubes. Toss the sweet potatoes with olive oil, and bake for 23-25 minutes, or until the sweet potatoes can be easily pierced with a fork. Take the sweet potatoes out of the oven, and increase the heat to 400 degrees F. Remove the sweet potatoes and the parchment paper. Line the baking sheet with a fresh piece of parchment paper.

Stem the leaves of the collard greens from the stalk. Chop them into 1/2-inch thick ribbons.

Time to assemble the flatbread pizza. Spread the yogurt sauce onto both pieces of naan. Lay the toppings (collard greens, red pepper, sliced red onions, goat cheese, and sweet potatoes) on top of the naan.

Bake the flatbread pizza for 8 to 10 minutes or until the edges of the naan are browned.

Serve immediately and refrigerate any leftovers in an airtight container.
Notes
Tandoori yogurt sauce adapted from taste.com.au.
You can always prep the tandoori yogurt sauce and roasted sweet potatoes the night before to cut cooking time the next day.
Did you make this recipe?
Tag @hellolisalin or leave a star rating and comment on the blog!