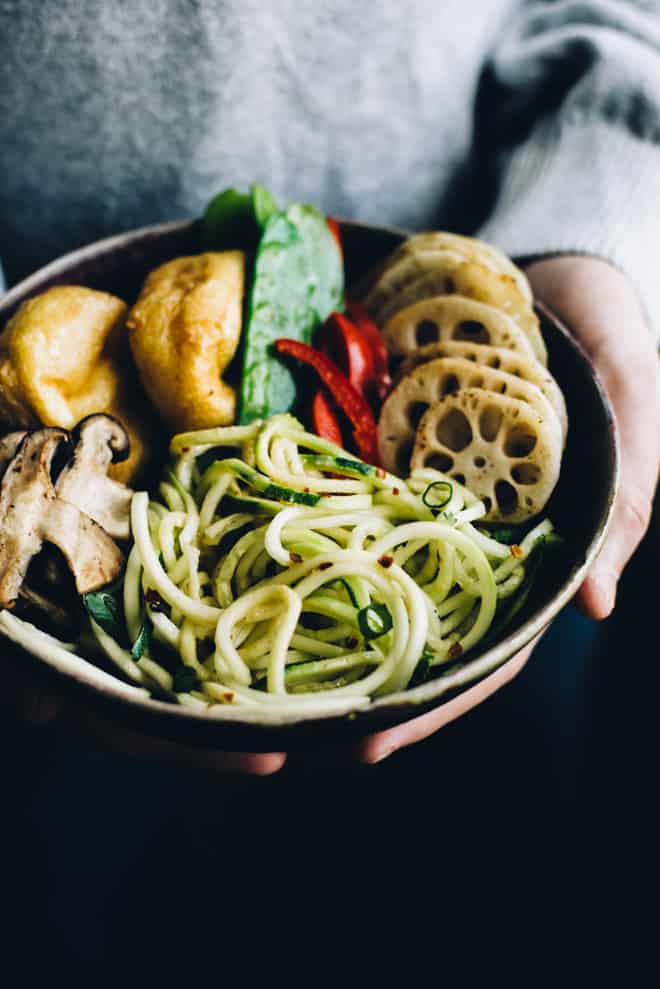 Growing up in Mama Lin's house, Chinese new year was about observing quirky, arguably superstitious, customs: not washing my hair on new year's day, avoiding major cleaning duties, and eating a big vegetarian feast for breakfast.
Over the years, Mama Lin has loosened her grip on imposing these superstitions upon her children. She no longer calls me on new year's day to remind me not to wash my hair. She also doesn't need to know that I stopped listening to her 11 years ago . . .
But the most important parts of Chinese new year's traditions, red envelopes and food, still go strong in our family. At our table, you'll always find a plate of stir-fried mung bean noodle dish with snow peas, shiitake mushrooms, wood ear, and whatever vegetables Mama Lin has around the house. I've added my own spin on the dish by using zucchini noodles and pairing it with a peanut coconut sauce. The sauce is dreamy, creamy, with just the right amount of sweetness. Seriously, I wanted to drink the sauce. Thankfully, the shred of dignity I still have kept me in check. But if you catch yourself pouring copious amounts of sauce on the noodles, I don't blame you. No judgments here! 😉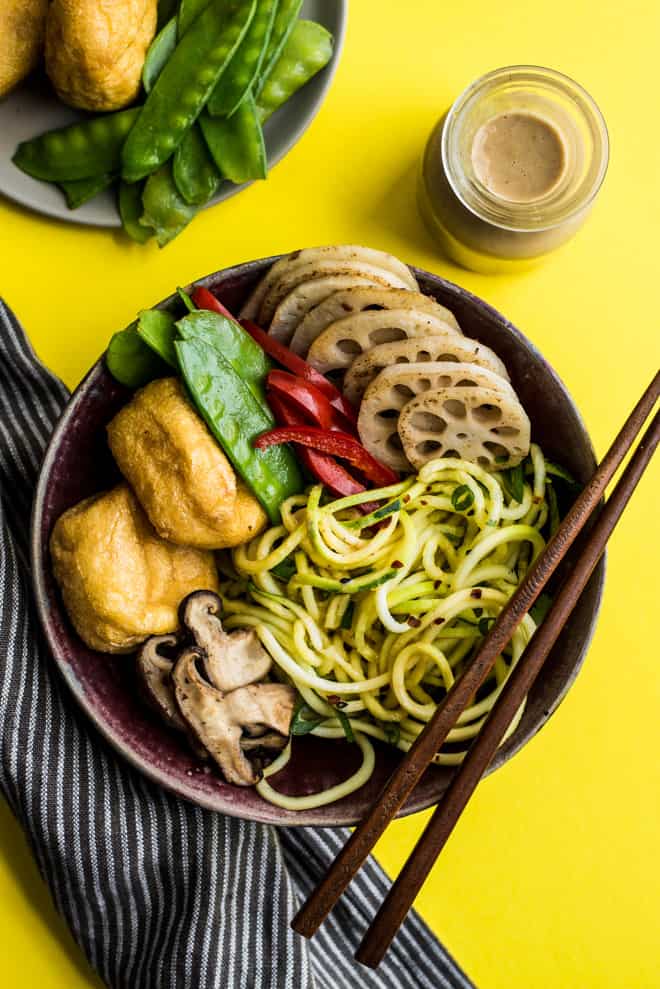 MASTER MY MISTAKES / COOKING NOTES
Leftover sauce: If you have any leftover sauce, refrigerate it. Do note that the sauce will firm up because of the coconut milk. Just microwave the sauce for about 10 seconds, and you should be able to get it runny again.
Zucchini noodles: For aesthetic reasons, I didn't cook the zucchini noodles for the noodles. I do recommend stir frying them for a minute or two. I find that the sauce clings on to the noodles better when they're slightly cooked. Season the zucchini with a tiny bit of salt, too.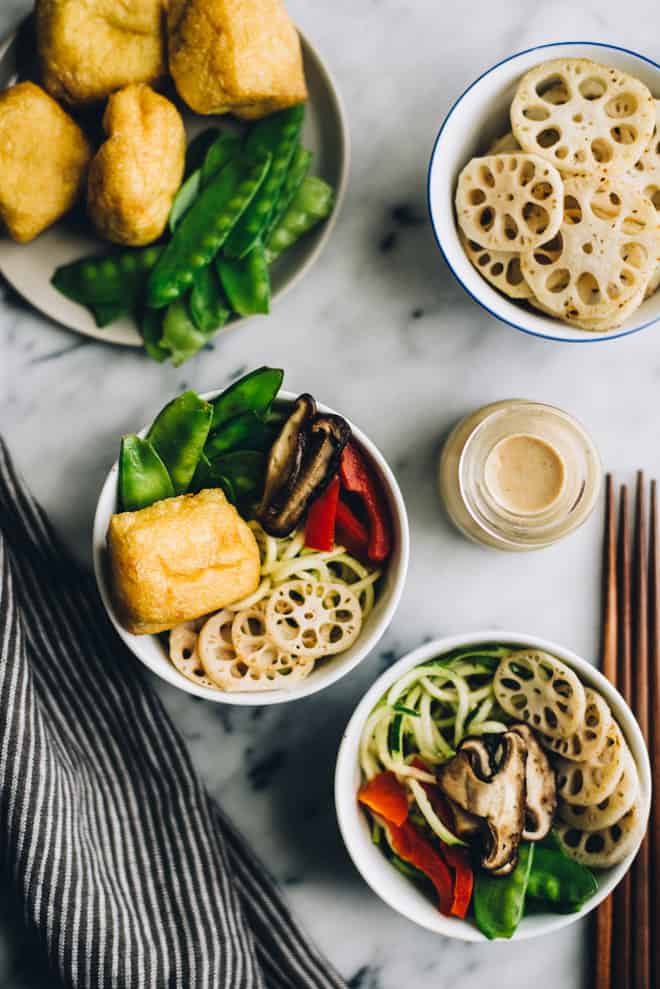 If you try this recipe, let me know how it goes by leaving a comment or sending me a message! Or take a photo of the food and tag me on Instagram so that I can give you a fist bump. I love seeing your creations!
Zucchini Noodle (Zoodles) Bowl with Creamy Peanut Coconut Sauce
This easy zucchini noodle bowl is perfect for those days when you don't have too much time to cook dinner. I've added stir fried lotus root, snow peas, shiitake mushrooms, red pepper, and fried tofu here, but feel free to mix in whatever vegetables or protein you have in the house! This recipe also works well with any noodles.
Ingredients
Peanut Coconut Sauce
4

TBS

creamy peanut butter

1/2

cup

+ 1 TBS

,

135ml coconut milk (I used full-fat coconut milk for a richer flavor)

1/3

cup

(80ml) water

2

tsp

low-sodium tamari sauce

,

or soy sauce if not gluten free

1

tsp

to 1/2 TBS lime juice

,

optional
Noodle Bowl
1 1/2

TBS

olive oil

,

divided

1 1/2

lbs

(680g) zucchini

1

lb

(450g) lotus root, peeled and thinly sliced

1/2

lb

(225g) snow peas

1/4

lb

(115g) shiitake mushrooms, rinsed and sliced

1

medium red pepper

,

seeded and thinly sliced

1/4

lb

(115g) fried tofu (optional)

salt

,

to taste
Optional toppings
green onions

,

sliced

red pepper flakes

black sesame seeds
Instructions
In a saucepan, mix peanut butter, coconut milk, water, and tamari and bring to boil. It may take a minute or two before the peanut butter is soft enough to mix with the other ingredients. Before heating the sauce, I blended all the ingredients together so that it mixed better. When sauce boils, turn off the heat. Taste and adjust seasoning to your liking.

Cut off both ends of the zucchini and make zucchini noodles using a

spiralizer

, a

julienne peeler

, or a knife. You can serve zucchini noodles raw, or cook them with 2 teaspoons of olive oil for 1 or 2 minutes.

Heat 1 tablespoon of olive oil in a sauté pan over medium heat, and cook lotus root for 3 minutes. Sprinkle a tiny bit of salt on top. Dish up lotus root, and add remaining olive oil to the pan. Cook snow peas, red pepper, mushrooms, and fried tofu for about 3 minutes. Turn off heat.

Toss zucchini noodles with about half of the peanut coconut sauce. Save the rest for serving. Top noodles with lotus root, snow peas, mushrooms, and fried tofu. Drizzle more sauce to the bowls, if necessary.
Did you make this recipe?
Tag @hellolisalin or leave a star rating and comment on the blog!
Disclosure: This post contains affiliate links to the Paderno Spiralizer and the Kuhn Rikon Julienne Peeler. I love using both tools to make vegetable noodles!