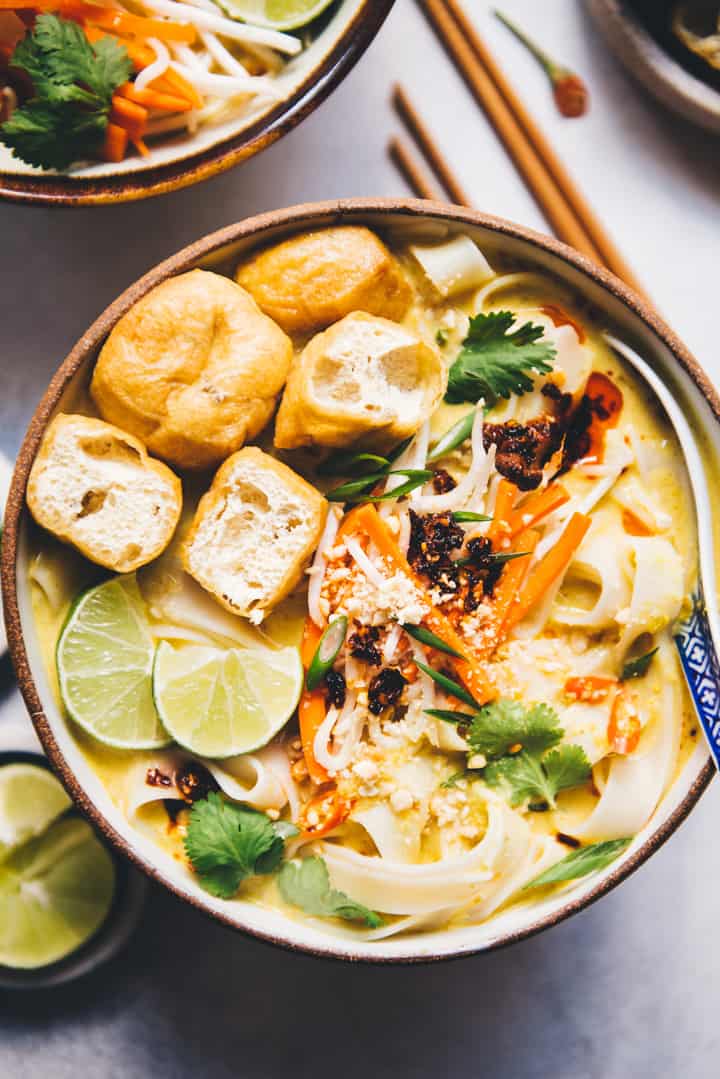 A lot of you asked what I typically cook for weeknight dinners, and this yellow curry noodles recipe is one of my favorites. It's truly one of those dishes that I look forward to eating every time because the broth tastes amazing. The preparation is a lot like cooking laksa, where you make a flavor paste for the broth. Then, you boil the broth, cook the noodles, and add vegetables and protein, that's it!
COOKING NOTES FOR THE YELLOW CURRY NOODLES RECIPE
USING LEMONGRASS
For the broth, I made a paste by blending onions, garlic, ginger, scallions, lemongrass, coriander, curry, and Thai chilis for heat. I know lemongrass is one of those ingredients that may seem intimidating to use. For convenience, I typically use Gourmet Garden's lemongrass paste. It comes in a squeeze tube that is filled with minced lemongrass, along with some oils so that the lemongrass can release easily. One important note for those of you who are vegan: the paste contains whey (from milk).
If you want to use fresh lemongrass, you'll need 2 to 3 stalks. Slice off the end of the lemongrass, and remove the outer layers, about 3 to 5, depending on the thickness of the stalks. You may need to trim the end of the lemongrass a few more times so you can peel the layers off more easily. Slice off the top 1/3 or 1/2 of the lemongrass stalk and discard it (it's incredibly woody and doesn't have much flavor. Then, slice the rest of the stalk into 2 to 3-inch chunks. You can bash the lemongrass to help release flavor. Add them directly into the pot when you add the flavor paste. Fish out these chunks before serving the broth (lemongrass is dry and woody, so you probably won't want to eat it).
Read my post here for more information about how to cook with lemongrass.
NOODLES TO USE FOR THIS RECIPE
On any given day, I use whatever dry noodles I have in my pantry. On the day that I shot the photos, I happened to have wide rice noodles on hand. You can use thinner rice noodles, rice noodle vermicelli, mung bean noodles, or even zucchini or butternut squash noodles. The broth is the real star of the dish, so feel free to play around with the noodles.
WHAT ARE TOFU PUFFS?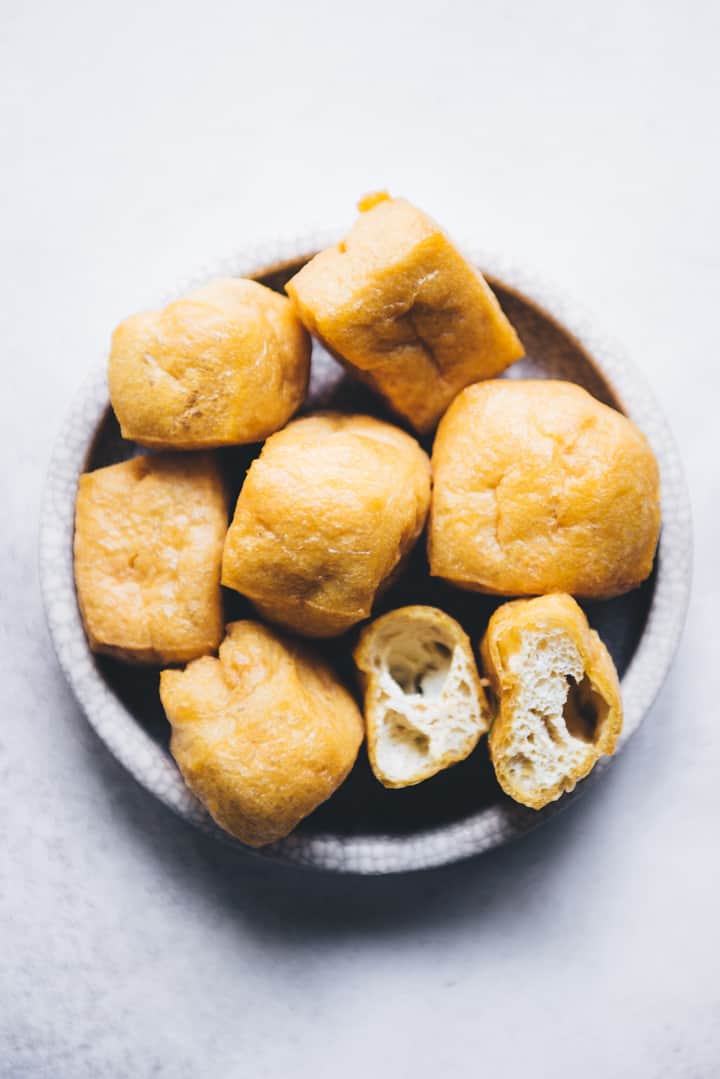 I love fried tofu puffs, particularly in noodle soups, because they absorb the flavors of any broth or sauce. You will need to go to an Asian supermarket to find them, particularly ones that sell Chinese or Japanese food. The ones you see in a Japanese supermarket (あぶらあげ, aburaage) are shaped like thin rectangles. You can slice those up into thinner strips to serve in this curry noodle soup.
I understand that those tofu puffs are not always easy to find. If you are looking for a substitute, try the five-spice pan-fried tofu I have in this recipe. If you are not vegetarian, you can add shrimp or chicken to the dish. Also, feel free to customize the vegetables to your taste! Sometimes, I like adding bok choy, or baby bok choy, zucchini noodles, purple cabbage, or sliced red bell peppers to the mix.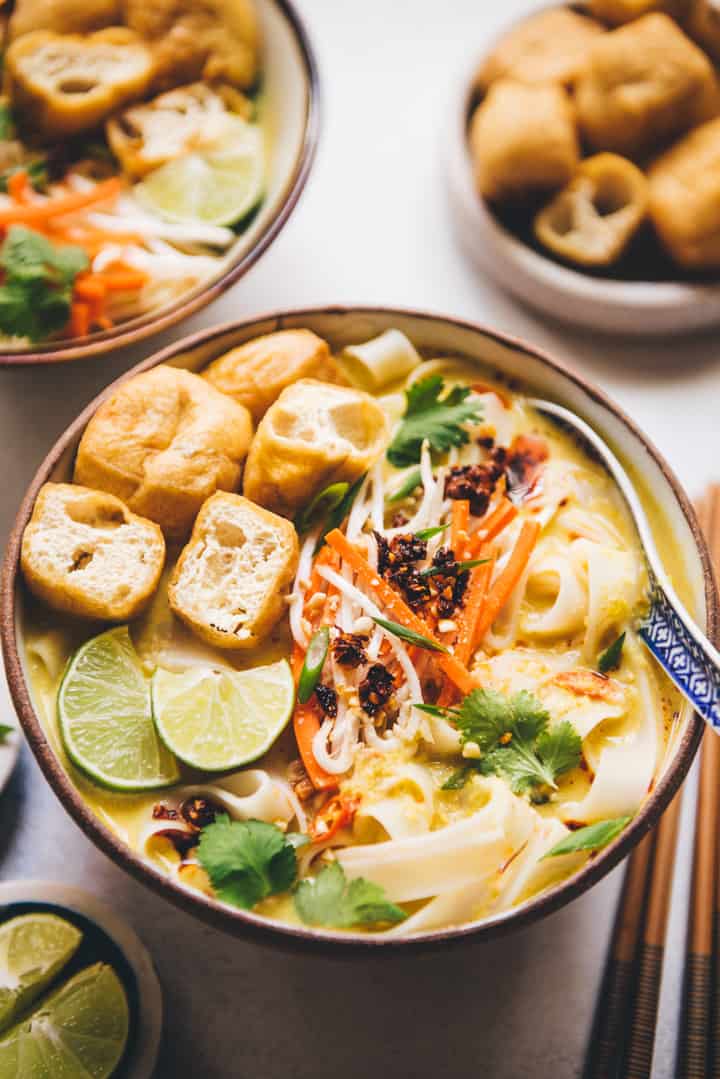 LOOKING FOR MORE NOODLE SOUP RECIPES?
30-Minute Yellow Curry Noodles
This 30-minute yellow curry noodles is something that I cook often on weeknights. The broth is rich and incredibly flavorful. It is a great dish that you can customize with whatever vegetables and protein you have around the house. 
Ingredients
Broth and Noodles
1/2

small yellow onion, roughly chopped (about 1/2 to 2/3 cup)

8

cloves

of garlic, peeled and roughly chopped (see note 1)

1 1/2

inch

piece of ginger, peeled and sliced

3

stalks of scallions, sliced

3

tablespoons

lemongrass paste (see note 2)

2

teaspoons

ground coriander

3

Thai chilis, sliced

2

tablespoons

canola (or any vegetable oil)

5

cups

(1.2L) vegetable stock (see note 3)

2

teaspoons

curry powder

2

tablespoons

honey (or any sweetener of choice)

1

teaspoon

kosher salt

1

cup

(about 240ml) full-fat coconut milk

8

ounces

(225g) wide rice noodles

juice from 1 lime (about 2 to 3 tablespoons)
Tofu and Vegetables
10

ounces

(about 280g) fried tofu puffs

2 to 3

cups

several handfuls bean sprouts, depending on how much you enjoy them

2

carrots, sliced or julienned

lime wedges to serve
Optional Toppings
chopped toasted peanuts

cilantro

sliced scallions
Instructions
Make the flavor paste: Add the onions, garlic, ginger, scallions, lemongrass paste, coriander, Thai chilis, and oil to a food processor. Blend until you get a paste. You may need to scrape the sides of the bowl to ensure all the herbs and spices are fully chopped. Transfer the paste to a large pot.

Cook the broth: Heat the pot over medium heat and cook the flavor paste for about 1 to 2 minutes, stirring frequently to keep it from burning. Add the curry powder, vegetable stock, honey, and salt, and bring the broth to boil. Once it boils, add the coconut milk and stir.

Cook the noodles: Bring a small pot of water to boil and cook the rice noodles according to package instructions. I used wide noodles, so they took a little longer to cook (about 8 to 9 minutes). If you are using rice noodles, make sure to stir them a few times to keep them from sticking to each other. Once cooked, drain and rinse the noodles under cold water.

Add the Tofu and Vegetables: Add the tofu puffs, carrots, and bean sprouts, and cook them for about 2 minutes. I like leaving some uncooked bean sprouts and carrots on the side for serving because I like the crunch of those vegetables raw.

Serve: Add the lime juice and taste the broth to see if it is to your liking. Adjust the seasonings to your taste. Divide the noodles into bowls and ladle broth, tofu, and vegetables over the noodles. Serve the noodles with cilantro, sliced scallions, chopped peanuts, and lao gan ma spicy chili crisp, if desired.
Notes
Yes, that is right. EIGHT cloves of garlic!
See my notes in the blog post if using fresh lemongrass. If you are using it, make sure to fish out the chunks before adding the tofu and vegetables to the broth.
I get questions about what kind of vegetable stock I use. I might lose my food blogger card for this, but I usually use Better Than Bouillon.
This is by far my favorite hot sauce. It is spicy and has a lot of crispy flavor bits (fried shallots and fermented black beans). I usually get it at Asian supermarkets for about $2.50. It's available on Amazon, but at 4 times the price.
Nutrition
Serving:
1
serving
|
Calories:
601
kcal
|
Carbohydrates:
87
g
|
Protein:
9
g
|
Fat:
25.6
g
|
Saturated Fat:
12.5
g
|
Sodium:
1314
mg
|
Fiber:
5.4
g
|
Sugar:
17.6
g
Did you make this recipe?
Tag @hellolisalin or leave a star rating and comment on the blog!