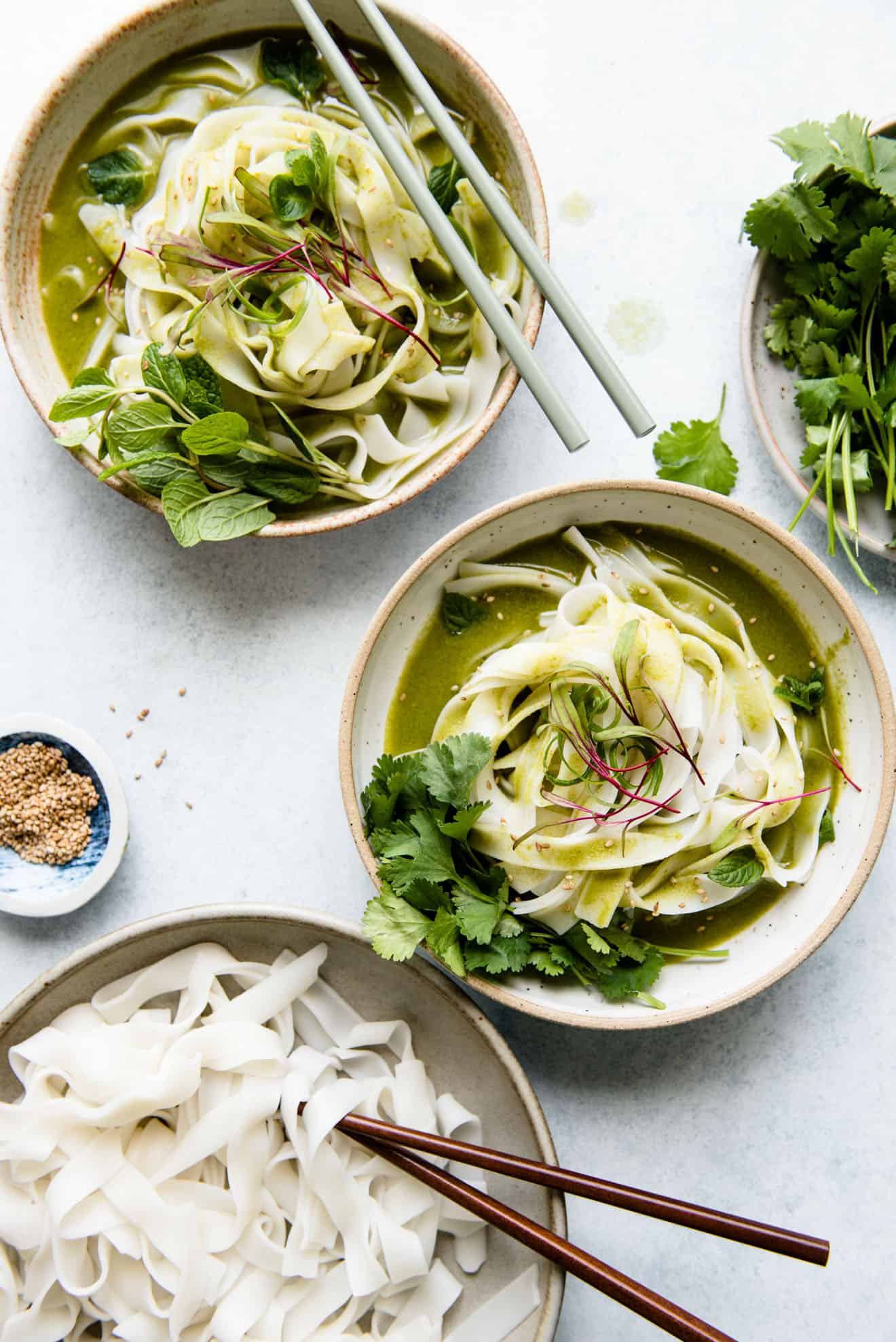 For me, nothing beats a good bowl of curry noodles on a weeknight. It's so comforting, like putting a blanket over my body on a cold day. Typically, when I make curry noodles, I sauté garlic, onions, and ginger for several minutes before adding curry paste, broth, and coconut milk. I simplified the cooking process in this green curry noodles recipe by blending all ingredients for the broth first before simmering. That way, you don't need to spend as much time finely chopping the spices or cooking the broth. The flavor is still all there!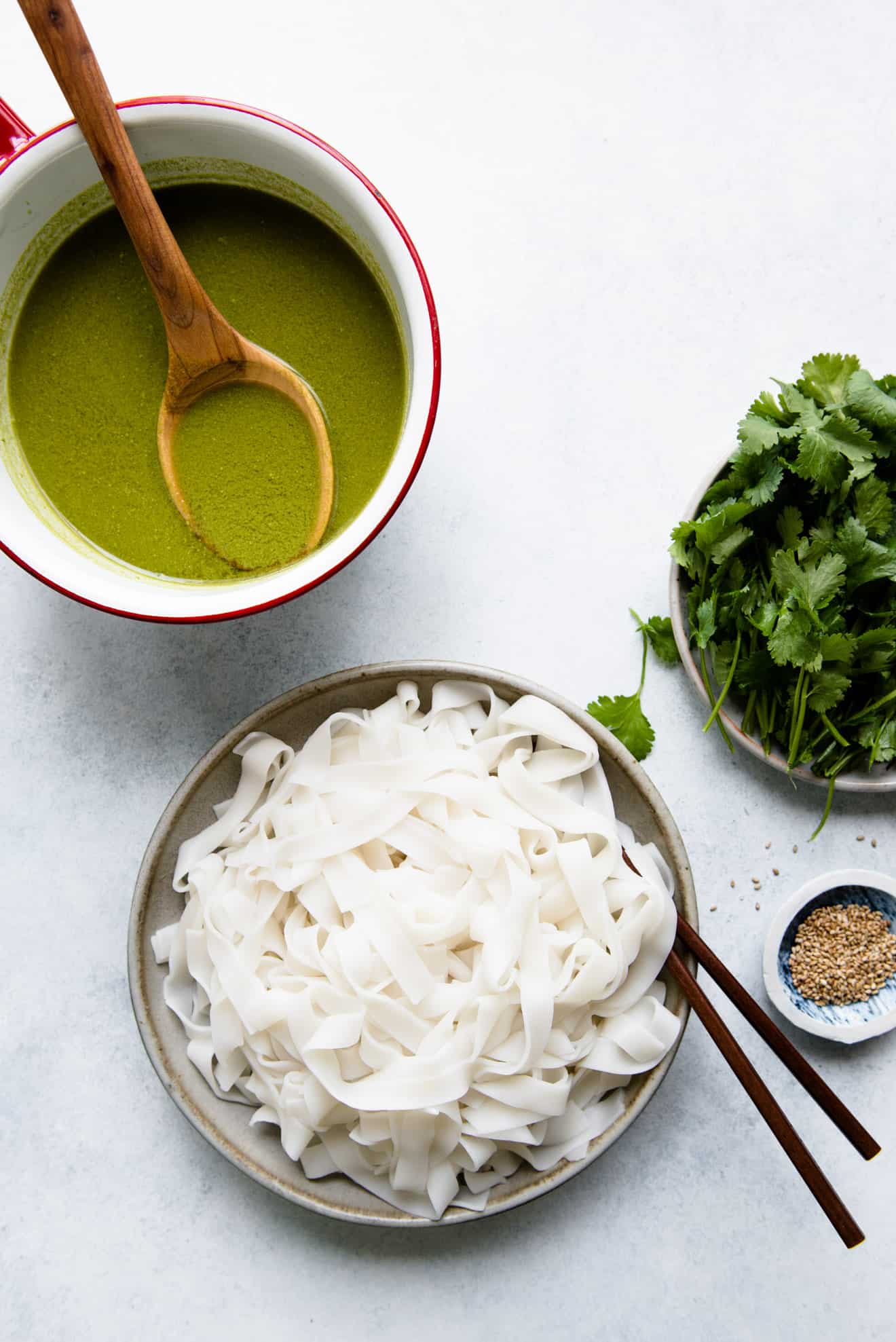 COOKING NOTES FOR THE GREEN CURRY NOODLES
Cooking rice noodles: Flat rice noodles tend to stick to each other when they cook. Stir the noodles several times as they're cooking to keep them apart.
Adjusting the amount of broth: Although the noodles are flavored with a broth, this isn't exactly a noodle soup recipe. If you want this to be a noodle soup, you can add more vegetable broth (2 more cups should do). You will also need to adjust the other seasonings, such as adding more curry paste and coconut milk.
RECIPES WITH CILANTRO, MINT, OR BASIL
Now that you've bought a bunch of cilantro, mint, and basil for this recipe and only used about 1/4 of each, what else can you do with the herbs? Here are a few tasty recipe ideas: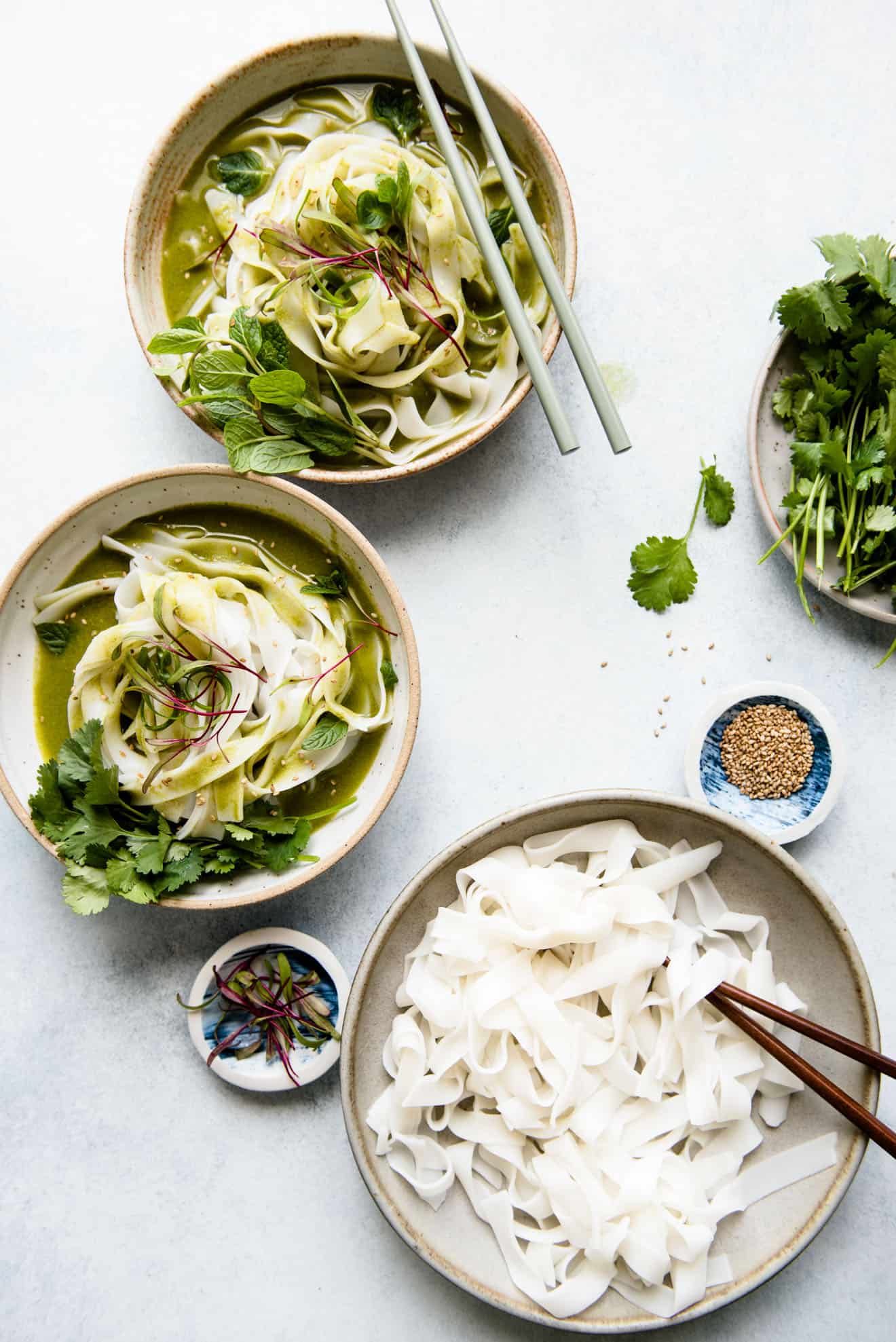 TOOLS & INGREDIENTS USED
Easy Green Curry Noodles
In this recipe, I use a high-speed blender to blend all the ingredients for the curry broth. Check the notes for instructions on how to make the broth with a food processor or an immersion blender.  Feel free to serve the noodles with additional vegetables or protein. 
Ingredients
3

cups

vegetable broth

2/3

cup

full-fat coconut milk*

1 1/2

tablespoons

green curry paste

1/2

teaspoon

salt

,

add more to taste

1/3

cup

fresh basil

1/3

cup

mint

1/4

cup

cilantro leaves and tender stems

4

cloves

garlic

1

large shallot

,

chopped into large chunks**

12

ounces

flat rice noodles
Instructions
Add the broth, coconut milk, curry paste, salt, basil, mint, cilantro, garlic, and shallots into a high speed blender, in that order. Blend until smooth.

Transfer the broth to a small pot and bring it to boil. Then, simmer on low as you cook the noodles.

Bring a large pot of water to boil. Reduce the heat to medium-low and cook the noodles for 4 to 7 minutes, depending on the type of noodles you are using. Vermicelli cooks very quickly while wider flat rice noodles take more time. Stir the noodles occasionally to keep them from sticking together. Drain the noodles and rinse under cold water.

Divide the noodles into four bowls and ladle some broth over the noodles. Stir the noodles with the broth and serve.
Notes
NUTRITION INFORMATION: Amount per serving: Calories: 428, Total Fat 8.6g, Saturated Fat: 7.3g, Cholesterol: 0mg, Sodium: 900mg, Total Carbohydrate: 79g, Dietary Fiber: 3.2g, Sugar: 4g, Protein 7.4g
*For a lighter broth, use light coconut milk.
**You should get about 2/3 to 3/4 cup of the shallots when they're chopped into chunks.
If you don't have a high-speed blender, here are some alternative methods for making the curry broth. Food processor: Add the coconut milk, curry paste, salt, basil, mint, cilantro, garlic, and shallots to your food processor and blend until you get a paste. Transfer the paste to a pot, add the broth, and stir to combine. Immersion blender: First, roughly chop the herbs, garlic, and shallots. Then, add all the ingredients (except the noodles) into a pot and blend with an immersion blender.
Did you make this recipe?
Tag @hellolisalin or leave a star rating and comment on the blog!