My goal for the next few months is to incorporate more varieties of these grains into my recipes.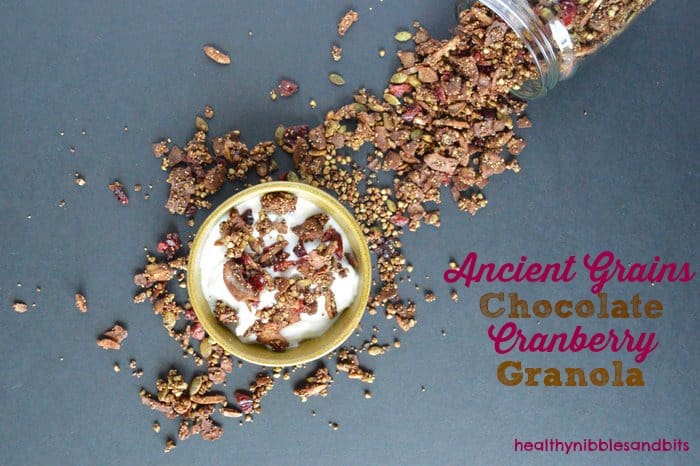 A few weeks ago, I saw a recipe for buckwheat granola on Food52 as part of their weekday breakfast contest. (By the way, my chocolate overnight oats recipe was chosen as a community pick!) The recipe called for buckwheat groats, and my immediate reaction was, "What the heck are groats?" After doing some quick research, I learned that these small grains that are shaped like puffy pyramids are buckwheat seeds!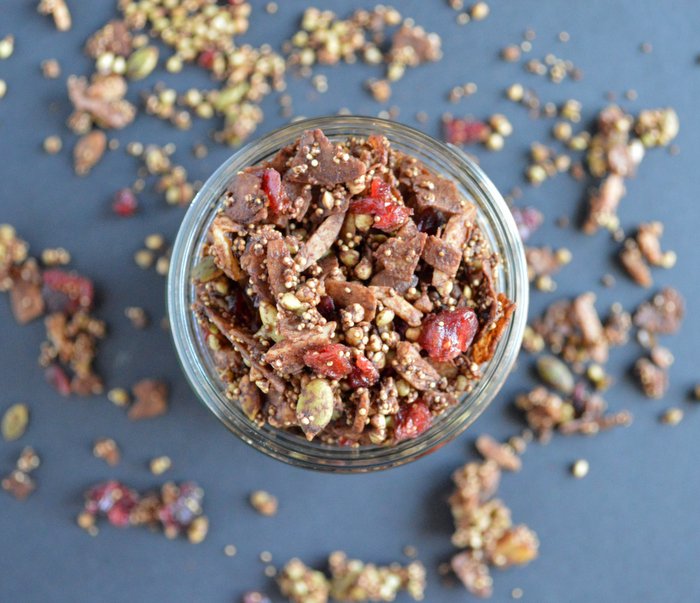 I can be a picky granola eater. My ideal granola packs the right amount of crunch without being too sweet. I also enjoy eating granola clusters, but the clusters cannot be so big and firm that it hurts my gums when I eat it. One of my favorite granola brands from the Bay Area is Nana Joes handmade granola. When I first tried it several months ago, I was pleasantly surprised that their granola contained about 3 to 5 grams of sugar per 1/2 cup serving. Unfortunately, I cannot afford to make a habit of paying $10 for a pound of granola, so I decided to make my own.
Ancient Grains Chocolate Cranberry Granola
Start off your day with this delicious ancient grains chocolate cranberry granola! Makes about 5 cups.
Ingredients
1/2

cup

amaranth

1 1/4

cup

buckwheat groats

1/3

cup

slivered or sliced almonds

1/3

cup

chopped walnuts

1/3

cup

pumpkin seeds

1

cup

flaked coconut

1/4

cup

coconut oil

3/8

cup

unsweetened cocoa powder

1/3

cup

maple syrup

1/4

cup

dried cranberries

,

roughly chopped
Instructions
Preheat oven to 350º F. Line one or two baking sheets with silicone mats or parchment paper.

Heat a medium-sized pot over medium-high heat to pop the amaranth. To test whether the pot is hot enough, flick a bit of water into the pot. If the water sizzles and evaporates quickly, the pot is ready to go.

Pour about 1 to 2 tablespoons of amaranth into the pot. You probably want to cover the pot because these tiny grains can get out of control as they pop!

Shake the pot constantly to make sure all the grains are exposed to the heat. When about 1/2 to 3/4 of the amaranth is popped, pour it into a large bowl, and pop the rest of the grains. Let the popped amaranth cool for a few minutes.

Mix all the other dry ingredients into the large bowl.

Melt the coconut oil in the microwave or a saucepan. Then, mix in the cocoa powder and maple syrup. Stir the chocolate sauce with the dry ingredients until everything is well incorporated.

Spread the granola into a single layer (I used 2 baking sheets for this). Bake for about 8 minutes and give the granola a quick stir.

Bake it for another 7 minutes and remove from the oven.

Let the granola cool for about 10 minutes. Stir the dried cranberries with the granola in a large bowl or on top of the baking sheet.

Store in a sealable bag or an airtight container.
Notes
1. I prefer using a silicone mat to prevent the ingredients from burning.[br]2. After burning about a cup of amaranth, I can say with confidence that you should pop only small amounts of amaranth at a time. The heat will not be evenly distributed when you have too many grains in the pot, which increases the chances of burning.[br]3. Feel free to substitute any of the grains or nuts in this recipe![br]4. If you do not have coconut oil, substitute it with other vegetable oils.
Did you make this recipe?
Tag @hellolisalin or leave a star rating and comment on the blog!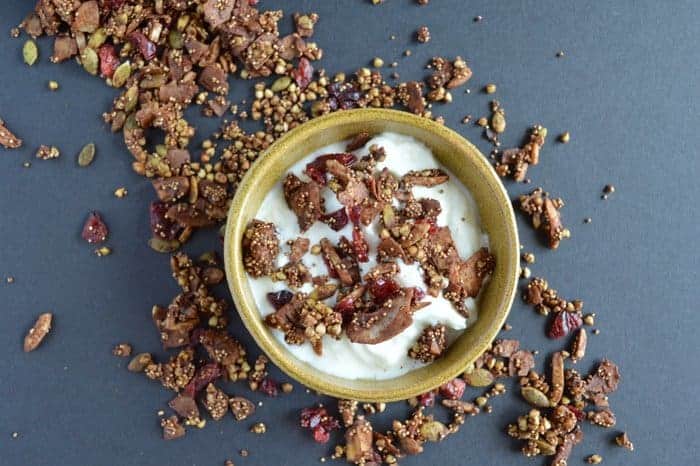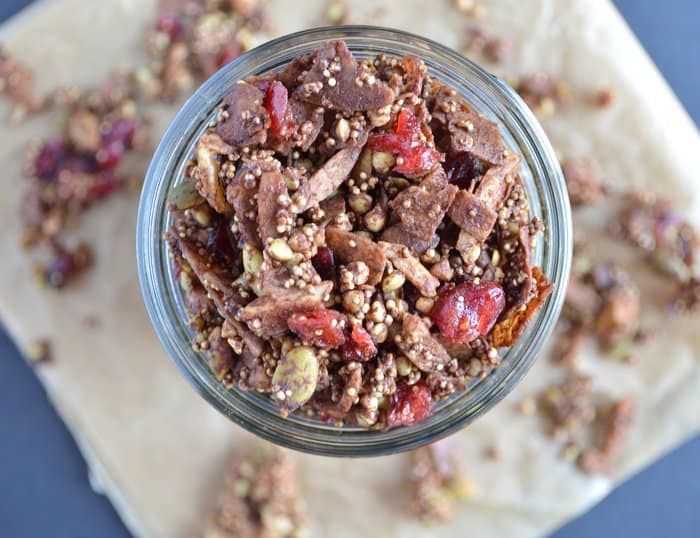 For more tips on how to pop amaranth, take a look at this post from Healthy Living Revelations or this video from The Whole Grains Council.
Q: What is your favorite kind of granola?