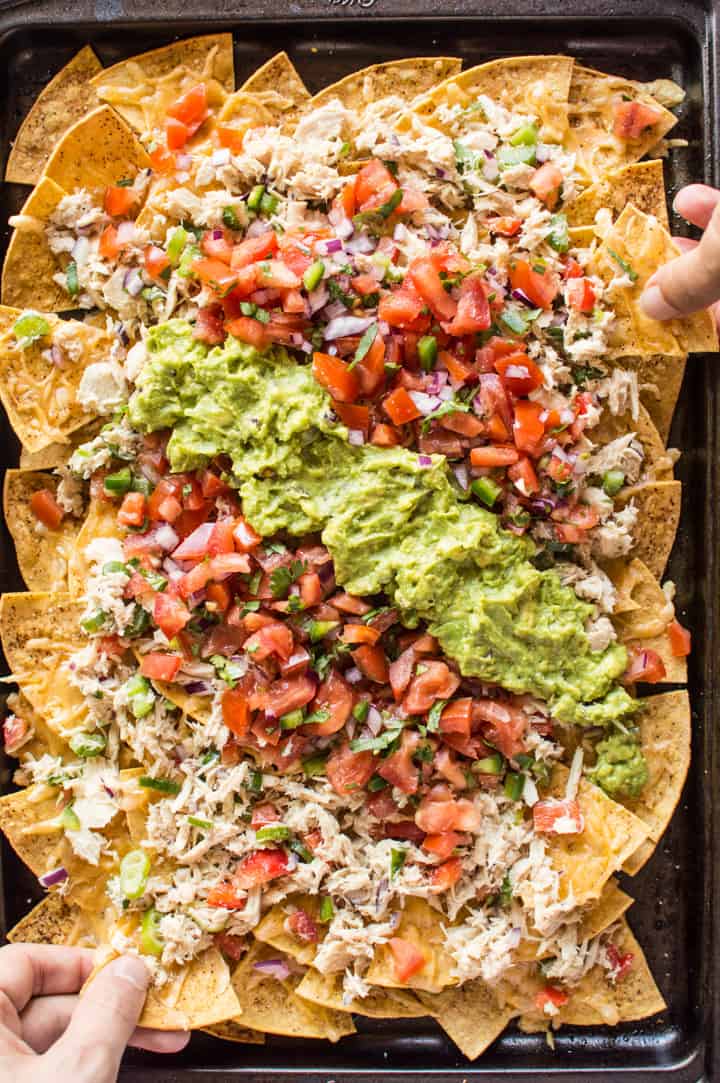 Thanks Bumble Bee for sponsoring this post!
Mind: I know I have been harping on this topic for a little while now, but I needed a little break from blogging, desperately. I started my blog as a distraction from finding a legal job, but I had no idea how much time and energy blogging required (especially when I started to treat blogging as a business). Sure, developing, cooking, and writing about recipes take time. But any food blogger will tell you that creating recipes is just the tip of the iceberg. There's brand development, blog monetization, website traffic, and the beast that is social media. My daily to-do list is never ending, and I started to feel quite overwhelmed.
The funny thing is that the main reason i decided not to pursue a legal career was because I didn't want to work excruciatingly long hours. But between my job and blogging, I was falling right into the same trap. That gray patch in my hair, which I usually keep hidden, has doubled in size over the last two years! Clearly, I needed some time to myself to reset and rest. I don't know about you, but my creative juices do not flow when I feel overworked. If anything, my trip to Alaska reminded me that I need to rest more. Take a break from blogging one weekend a month and have that time to myself or spend it with friends. Let the mind heal.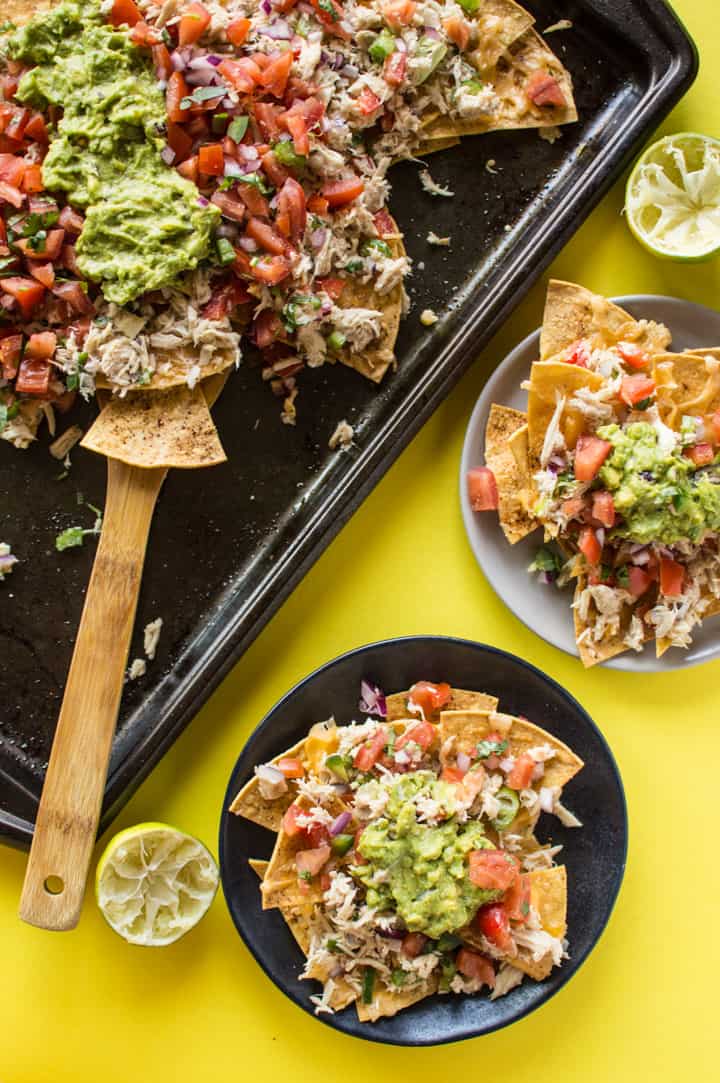 Body: Ever since I signed up for the Spartan Race, I've been so focused on weight lifting that I've forgotten about the importance of rest. Just like my mind needing a break, my lower back needed one too. How lame would it be if I worked so hard, only to find out that I throw my back or injure another part of my body the day before the race?!
Another thing I can work on is to be more mindful of how I nourish my body. Like many people, I'm so guilty of eating in front of the computer. I do it ALL DAY LONG, and I hate it because it makes me forget how fortunate I am to have food in front of me. For the next 30 days, I'm going to break this bad habit and challenge myself to eat two meals a day away from the computer. Nourish the body with good food, and be thankful for it!
Soul: There's nothing like taking a break from blogging to make me ponder about what's most important to me: my loved ones. Seriously, I would have stopped blogging ages ago if I didn't have the support of my friends and family. Too often, I turn down dinner or party invitations because I think that scheduling my 30 pins for the next day is more important than spending time with friends. It's not. Period.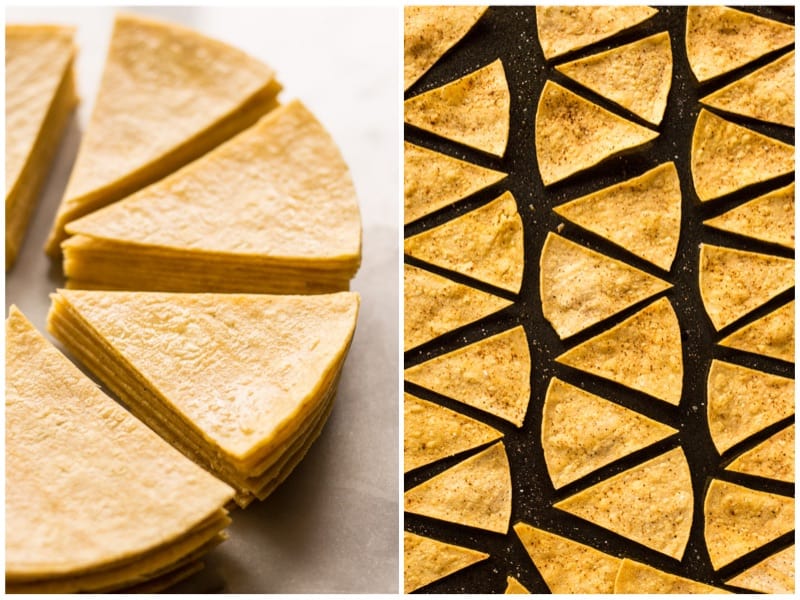 Today, I'm teaming up with Bumble Bee to bring you a Tuna Strong™ dish to help you nourish your mind, body, and soul: Asian tuna melt nachos!! I'm a big fan of their canned tuna. BIG. It's a healthy, inexpensive source of protein that I throw into my salads for lunch all the time. We're talking 13 grams of protein per serving.
But let's think outside the tuna can, and get a bit creative with these nachos. I started off with a bed of baked homemade tortilla chips that are low in fat. Next, I topped it of with a thin layer of melted cheddar cheese and a no-mayo tuna salad. Remember how I told you that sesame oil is one of my secret weapons in the kitchen? Have you tried it in a tuna salad before?? Taste buds, blown away! We're always guilty of overindulging at parties, so why not bring a healthy appetizer to your next party? This is 30-minute tuna nachos is a winner for sure.
Most importantly, I want you to make these nachos, and SHARE it with someone! First of all, you won't be able to finish it all by yourself. Second of all, this is a great dish to get the conversation going about healthy eating.
So take a break from work, nourish your body with these healthy tuna melt nachos, and spend time with your loved ones. Tuna Mind . . . Tuna Body . . . Tuna Soul . . . Tuna Strong™.
If you want to make your own tortilla chips, like I did, here's my tutorial: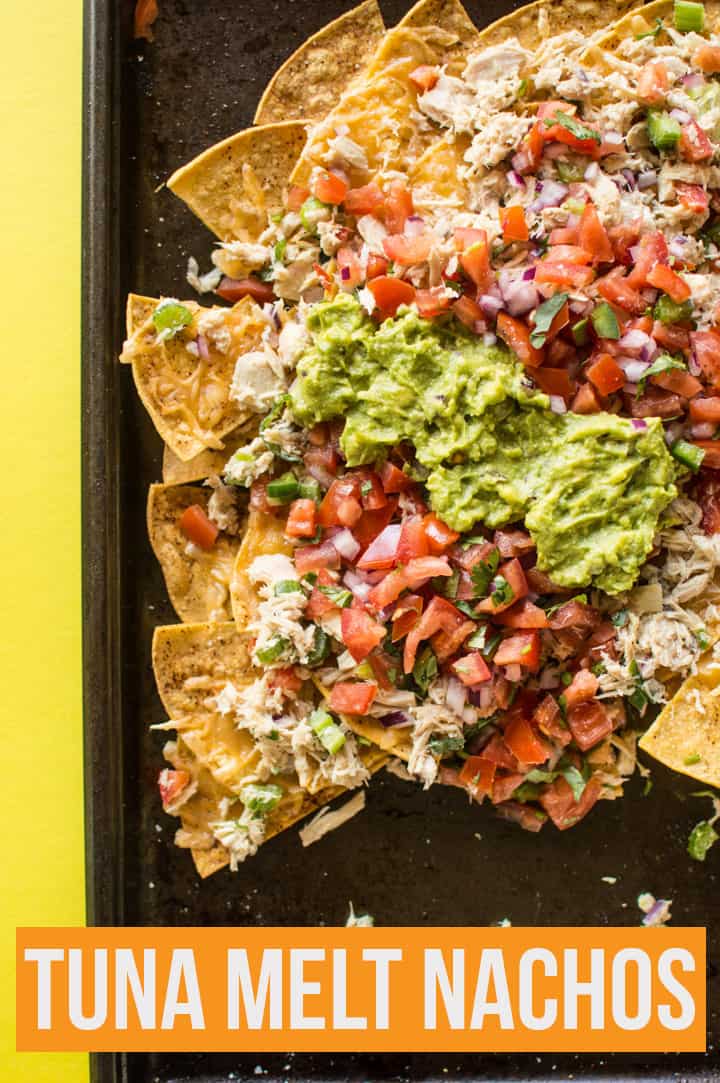 Asian Tuna Melt Nachos
Crispy homemade tortilla chips topped with a no-mayo tuna salad with Asian flavors. This no-fuss appetizer is ready in 30 minutes! Serves 8.
Ingredients
Tortillas
12

6-inch

corn tortillas

3

tablespoons

olive oil

,

divided

salt

chili powder

,

optional
Tuna Melt
2

5-ounce

(140g) canned albacore tuna in water (I used Bumble Bee)

1

tablespoon

sesame oil

2 to 3

teaspoons

fish sauce

,

or soy sauce

2

tablespoons

chopped celery

2

tablespoons

chopped red pepper

1

tablespoon

chopped red onion

1

green onion

,

chopped (green part only)

1

tablespoon

chopped cilantro

freshly ground pepper

salt

4

ounces

(115g) shredded cheddar cheese

1/2

cup

salsa

,

optional

1/2

cup

guacamole

,

optional
Instructions
Preheat oven to 375 degrees F (190 degrees C). Brush 2 large baking sheets with olive oil. I used about 1 tablespoon.

Brush one side of the tortillas with olive oil, making sure to get the edges moistened. Arrange all the oiled tortillas into one stack. Chop the tortillas in half, and chop each half down the middle. Chop each quarter in half so that you get 8 stacks of tortillas.

Arrange the tortilla pieces on the greased baking sheets in one layer. Sprinkle salt and chili powder (if you're using it) on the tortilla pieces. Bake for 8 to 12 minutes, or until they're golden brown.

Make the tuna salad while the tortillas are baking. Drain the tuna. In a bowl, mix the tuna, sesame oil, fish sauce, celery, red pepper, red onion, green onion, and cilantro. Season with some pepper and additional salt, if necessary.

When the chips are finished, spread them all out on one baking sheet. Sprinkle cheese on top and bake for 4 to 5 minutes, or until the cheese is bubbling.

Pull the chips out of the oven and spread tuna salad on top. Add the salsa and guacamole on top. Serve immediately.
Notes
If you're pressed for time, you can use 6 to 7 cups of store-bought tortilla chips for the nachos.
Did you make this recipe?
Tag @hellolisalin or leave a star rating and comment on the blog!
To learn more about Bumble Bee's TunaStrong™ program and more healthy living tips, visit their website.
Disclosure: This post is sponsored by FitFluential on behalf of Bumble Bee.